Rise of the Tomb Raider will look incredible on PC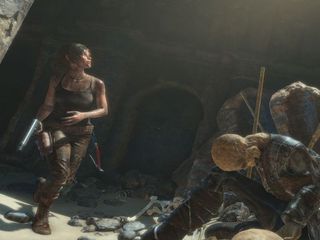 Rise of the Tomb Raider will have a bunch of PC-exclusive tech features when it is released on Thursday, January 28 on Steam and the Windows Store. The game's official YouTube page has posted a video showing off those advanced graphical effects.
Developer Nixxes worked with the game's original developer Crystal Dynamics to add the PC-exclusive features:
Of course, you'll need a powerful-enough PC equipped with the a newer graphics card for that high-end ambient occluding, but if you do... oh, it'll look good.
The Steam version of Rise of the Tomb Raider is already available for pre-order for $59.99. There's also the option of buying the game's Digital Deluxe Edition for $89.99 that includes the Seasons Pass worth of post-release DLC packs.
Pre-order Rise of the Tomb Raider on Steam
Source: Tomb Raider (YouTube)
Windows Central Newsletter
Get the best of Windows Central in in your inbox, every day!
Yeah, 2018 (had to look to find the next Thursday, June 28th, haha).

This should be cross buy... I'd pay a slight premium for it.

Go tell Square Enix that. But they want all your moneys.

PC Master race strikes again muahaha

Unless u have a powerful PC, PC master race is nothing.

the way he said ohh yeaaaahh, indicate he has a powerfull RIG. ofcourse. why wud any one care insipte of that.

If your only criteria for buying a game is how good it looks and not the actual gameplay, then yes.

Exactly my type. :P i rather stand and look aroud in awwwww than play the game.

@Changaizee, get a projector and a Dolby 7.1 surround sound system :P.

Sorry PS4, your graphics abilities aren't even close. Posted via my HTC One M7

Kewl, I'm about to upgrade my PC so the timing is great! One question, if this game is purchased through the Windows Store will the Store automatically handle updates like Steam does?

It should, and grats on the upgrade. lol I'm still a year out on one myself.

I think you meant january?

$2500 PC for this one....

I bet you could get away with less, especially if you upgrade instead of do a complete rebuild.

Mine Exceeds the Minimum requirements, and i spent less than $2500, for that amount you get more than enough power,

@Changaizee, yup but the performance per pound/dollar does drop drastically :P. The bulk of the cost should always by the GPU(s) Imo.

I'm ready to push my EVGA Nvidia 780 GTX SC ACX and 12GB RAM to the max!!!...at 1080p :P

Any recommendations for motherboard??LG1151 i5-6600K
DDR4 8GB GTX 960 4GB PSU 650W.
I don't want to spend to much for MB I can afford like 70$-180$.I

Any motherboard will work. Posted via the Windows Central App for Android

I want a MB with DDR4 HDMI and Usb port 3.0

@SocratesG4, I'd get a much beefier psu if I was you - at least 750W. Personally I would get 850, this way you have alot of head room. Whereas at 650 your going to hit that wall pretty quickly.

At PSU calculator says 450-550 need for my pc so I will take 650.
Are u sure??.At my gpu and CPU
can make overclock but I will never do it.

Well if your not going to over clock and wont expand / upgrade your pc beyond your current set up then go ahead :). I found people who stick with the mid range (best performance per dollar / pound) upgrade to higher end gpus but their PSU is not adequate enough. Also go for a modular psu if you can, makes cable management way easier. As a rule of thumb, I always look at the maximum watt useage of each component then add 200 on top for the psu. It maybe overkill but it provides alot of breathing room and the psu runs quieter too.

Thank you.I think I will change from 6600k to 6600 (skylake) for lower Watt 95-65 and the Gpu MSI 960 4GB OC to Asus 960 with lower Watt.But I really don't know a lot for the motherboard.I need HDMI USB 3.0 and DDR4 but with low cost as possible 900€ budget.

Unfortunately, unlike Steam, Microsoft only made RotTR available through the W10 Store to the US, not other regions. As such, I cannot buy it or prove how good (or bad) the experience of using the store for hardcore gaming is. Not a wise marketing decision, from my pov.

I wonder what the controls will be like. Console ports are notorious for having clumsy control interfaces. Which is ironic since console games are created on PCs. I'm enjoying Baba Yaga on the One right now but will likely get PC version for visuals and (hopefully) mods.

These days the controls will probably be identical to the Xbox One version - Pretty much any recent game I've got on Steam has full controller support

Downloaded it from steam yesterday.

By it being on the windows store, does that mean it will have Xbox achievements? If so and this is the future for Xbox exclusives, I already have my Xbox Two!!!!

Yes, it should otherwise it wouldn't really make sense if xbl achievements was not included. The steam version has achievements, so do the console ports. But don't quote me on that :p.

I find it funny how they throw in all those "anisotropic filtering, tessellation, dynamic foliage" go-words for "the master race", when the game already has all of the named features in on Xbox One.

Excellent game on the Xbox One! Now I'm exploring for other things I missed after completing the game and still have 40% more of the game left plus the Baba Yaga DLC! Posted via the Galaxy Note 5

Does the PC version have the option to use an Xbox One controller and keep the same controls?

It would be very unlikely for a modern game like this not to fully support gamepads and have identical controls to the Xbox One version.
Windows Central Newsletter
Thank you for signing up to Windows Central. You will receive a verification email shortly.
There was a problem. Please refresh the page and try again.