Check out Scandal, Agents of S.H.I.E.L.D and more with new Watch ABC Windows Phone app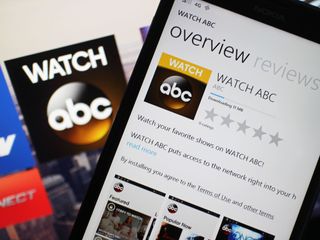 Viewers in the US who want to stay up to date on ABC's shows such as Scandal, Marvel's Agents of S.H.I.E.L.D, Modern Family and more can do so on their Windows Phone with the newly launched Watch ABC app.
The app, which is exclusive for Windows Phone 8.1 users, requires that the owner is subscribed to a local cable TV or satellite provider. If that's the case, the app can be used to watch the most recent episodes of ABC's shows. In a few cities in the US, such as Chicago, Fresno, Houston, Los Angeles, New York City, Philadelphia, Raleigh-Durham and San Francisco, users can actually access ABC shows live.
Do you like the fact that ABC is offering a direct way to watch its shows on Windows Phone 8.1 devices?
Windows Central Newsletter
Get the best of Windows Central in your inbox, every day!
Come on xfinity... Where is our streampix app

DirecTV is the absolute worst provider, they never support this stuff.

I know man. At first I thought it was ABC studios, but in looking at the all providers they have, I'm convinced it's DirecTV's arrogance. I just don't why they're not on this list.

FINALLY!!! Some love from ABC! With thier Samsung Social Center on GMA and the love they give Apple, (did you guys see how much coverage they gave Apple over the iPhone launch) its nice to see this app coming down the pipe.
Slowly but surely Microsoft is plodding its way into the mainstream. Lets hang in there guys. We're at the core, early adopters, and enthusiasts, we're contributing, ever so slightly, to Windows Phone success.,:-)

your correct, hanging I am and if not, I'm going down with the ship... love my windows phone and Microsoft

I'Il try it and see... The Windows 8.1 version haven't been to friendly with the streaming speed

I like how Windows phone is slowing becoming mainstream

I know it states it in the article but it might be worth adding whether an app is restricted to a specific country into the title, it would stop all the "Can't Download it, I'm in (insert country here)" comments.

So... Did nobody notice the Microsoft smartwatch prototype on agents of shield here in WC? Zd net did.

There are a lot of Msft products on SHIELD. I have seen Surface Pros and multiple Windows Phones.

Wow. A lot of commercials in a show. More than Hulu.

Thank you ABC and I noticed Flowers using what appeared to be a Lumia 929/930. Downloaded and of course no support for Direct TV subscribers!

I am so sick of Directv and their walled garden approach. I just have to determine if my hate of directv is surpassing my love of my football team (Sunday ticket). Oh well, I guess I'll just stop watching my team after this season and get a decent cable provider. If directv doesn't want these apps, then make a windows app of your own. Without that, I'm done.

Hope the CW app isn't far behind, The Flash is on a different level to Agents of Shield.

hey, you can use it if you have comcast which is better than most of the apps on windows phone that require a cable subscription like History.

Surprise, surprise... No Time Warner...

Finally, thank you ABC! Edit:
My bad, they don't have a full list of cable providers with subscriptions. Too bad.

Works under my FiOS account...unless you're referring to thier FiOS app - which sucks for iOS and Android, so not missing much anyway.

Now just need a WatchESPN app...

So now we have Watch Disney and Watch ABC. WatchESPN next, perhaps? Here's hoping!

Yes! Here is hoping. It has been there for awhile on Windows 8. Shouldn't be much longer.

This ABC app is "ballin". It's gorgeous. If the WatchESPN App looks anything like this it gonna rock.

Time Warner Cable not eligible.

living in india. Arrr matey :D

I've had this for a while...or at least Microsoft's store seems to think so... I like the app on my Surface and PC.

Now we just need Disney to give us Watch ESPN.

Nice! I like the marvel show!

It's nice to see Disney's support for Windows Phone. It's now time for watch ESPN.

Should a broadcast channel that is available free over the airwaves require a cable subscription? Ugh.

How ridiculous that right? Free over the air, but you gotta have a paid subscription for their online stuff.

Cable is fighting tooth and nail to stay relevant, and this is one of their ways to do it. It's free OTA, but not in cable.
If you have an antenna, you can use Plex to create your own media library of recorded OTA content.

Scandal has been a Windows Phones supporter from day one. I used to love that show.

If you have Directv stay on them I called last week and they say WatchABC and WatchESPN are in the works. I also told them to get their act together and make us a App that is fully functional

FINALLY! I had Hulu Plus just so I could watch their shows (primarily Agents of SHIELD) but gave up because the Hulu Plus app is terrible. Hope this works better!

I want to subscribe to ABC directly not cable. Network broadcasting is outdated. *stepping off soapbox

I cut the cable long ago and choose not to sign up for a 2 year contract with a sat provider. So we stream everything in my household. Pro: Low cost mostly commercial free entertainment. Con: I'm screwed when it comes to sporting events and also apps like this ABC one that requires a subscription service to a provider.

I think everybody should just offer a la carte services for streaming to all of your devices WITHOUT having a subscription to a cable or satellite.

There was no DirecTV support but I was looking through the app anyway and was still able to play some of the agents of shield episodes. Looks like after the first week of airing, it no longer needs the tv provider to watch an episode.

Now how about the watchespn app for windows phone

I have been waiting a long time for watch espn. Hopefully it will be coming very soon.

Agents of shield a great show!

And Australians will just have to continue to pirate.

ABC Couldn't give a s#$T about WP here in Australia :'(

I know this is going to make me sound like an idiot, that can't be helped. What do they mean by a TV Provider account?