Chime in: Is your Surface Pro too noisy?
The Windows Central Surface forums are some of the most active on the site, and today, a thread about Surface Pro noise issues is getting a good amount of attention.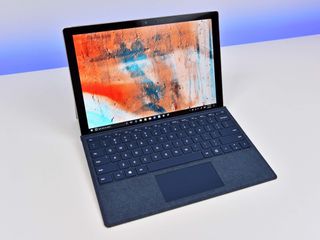 If you own a new Surface Pro, we want to hear about your experience so far.
The new Surface Pro is a serious PC for serious Windows users. It's powerful, reliable and good looking. Read our Executive Editor Daniel Rubino's full review for all the details:
Surface Pro 2017 review: A 2-in-1 tablet you'll actually want to use.
But the Surface Pro isn't perfect. And some Windows Central forum users are experiencing issues, including "light bleed" and noise problems. Forum member CrippsCorner already swapped out one Surface Pro due to concern over light bleed. Now the replacement unit seems to be plagued by an abnormally noisy processor.
A number of Windows Central team members use the Surface Pro regularly, including me. None of us have experienced any serious hardware issues. My Pro (i7/16 GB RAM/512 GB storage) gets somewhat noisy when I'm running multiple resource-intensive apps at the same time, such a Photoshop, Skype and a Google Hangout video call, with lots of browser tabs open, sometimes in multiple browsers. But that's to be expected. It's not that noisy, and it doesn't bother me. For more of my thoughts on the Surface Pro, read:
Surface Pro impressions from a recovering Mac addict.
The bottom line here, however, is that if you're not happy with your Surface PC — or any PC, really — you should exchange it for a machine that satisfies you. Surfaces aren't cheap, and you shouldn't compromise. However, you should also be realistic and maintain some perspective when assessing potential issues. Some light bleed is normal, for example, as is some degree of processor sound.
What say you? Do you own a new Surface Pro? Have you experienced any of the issues described here? If so, which ones? Did you exchange your device? And did the exchange solve your problems? Pop on over to our Surface Pro forums and share your story.
Windows Central Newsletter
Get the best of Windows Central in your inbox, every day!
Al Sacco is content director of Future PLC's Mobile Technology Vertical, which includes AndroidCentral.com, iMore.com and WindowsCentral.com. He is a veteran reporter, writer, reviewer and editor who has professionally covered and evaluated IT and mobile technology, and countless associated gadgets and accessories, for more than a decade. You can keep up with Al on Twitter and Instagram.