Surface Pro impressions from a recovering Mac addict
Windows Central's managing editor recently made the switch from the 15-inch MacBook Pro and macOS to the new Surface Pro and Windows 10. Here are his thoughts on the Surface, along with what he misses about that Mac.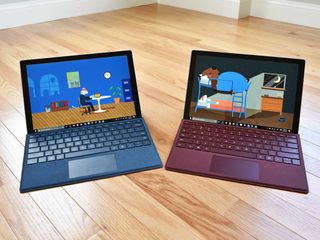 For roughly the past six years, while I worked for a well-known enterprise technology site, I was firmly seated on Apple's bandwagon. Today, I'm the managing editor of the best Windows blog in the whole damn world, and I'm wearing a Windows t-shirt. (Seriously, I love my Windows Central "Colors tee,", and I'm wearing it as I write this post.)
I recently made the switch from a 15-inch MacBook Pro (2016) to Surface Pro (2017), and I haven't looked back. But the transition wasn't always easy. Here's what I learned along the way, in the form of a list of things I like (love?) about the Surface Pro, along with some things I miss about the MacBook Pro.
(Note: While in some ways a comparison between the Surface Pro and iPad Pro makes more sense than a MacBook Pro comparison, I could never use the iPad Pro to replace my main work machine; it runs a mobile OS and is too limited. So in my case, the Surface Pro-MacBook comparison is more fitting.)
What Mac users will love about Microsoft's new Surface Pro
1. Surface Pro hardware is glorious
The look and feel of the new Surface Pro might be the best thing about it. From the second I removed it from the box and peeled away the protective film, I was smitten.
The Surface Pro is super slim. I was used to a 15-inch display, so the smaller 12.3-inch Surface display took some getting used. And if I'm honest, I miss that extra screen real estate when working or watching movies, but it's also nice to be able to take up less room on the tray table of a plane or train. (Of course, there is also a 13-inch MacBook Pro.)
Surface Pro is lovingly light, even with my Signature Type Cover attached. After lugging around the MacBook Pro for a few months, which isn't heavy by any means, the Surface Pro feels feather-light, and it's barely even noticeable in my backpack. I really appreciate that while traveling, when my bag is packed to the brim with other stuff and every ounce matters.
The Surface Pro looks great when propped up by its kickstand and attached to my Type Cover. And I love all the sharp angles and mirrored silver Windows logo on its backside. Apple's MacBook is also a looker, and I like the space gray finish. But it looks like every other MacBook. The Surface Pro is unique, and it grabs the eye.
As with a MacBook Pro, you pay a premium for the Surface Pro. But you can tell where that extra cash goes after spending some time with it.
2. Surface Dock easily turns Surface Pro into a powerful workstation
I use my Surface Pro in a desktop configuration, along with two 27-inch monitors, speakers, a 4K webcam, a printer, wired Ethernet, a backup drive and a charging cord for my phone. All of these things connect instantly to my Surface Pro via Microsoft's useful Surface Dock and my 2-in-1's Surface Connect port. That means I simply plug one cord into my Surface when I'm working at home, and I'm up and running.
The Surface Dock is not cheap at $200, but for me it's invaluable, and I simply couldn't use the Surface Pro as my main work machine without it. It has also worked flawlessly since I first set it up. And it is simple and intuitive to use.
Apple's unwillingness to release a similar docking station for MacBook has always frustrated me, and it shows the company's lack of regard for professional users, who need to connect multiple monitors and various other peripherals to do real work. I had to buy multiple Apple USB-C adaptors to use all the above-mentioned peripherals with my MacBook Pro, and I had to plug in at least three different adapters every time I wanted to sit down and use that laptop at my office workstation. They also were flaky and often didn't work when I needed them to. It was a real pain in the ass, and all the different adapters I needed ended up costing as much or more than the Surface Dock.
There are third-party docking stations available for Mac laptops, including Elgato's Thunderbolt docks that do many of the same things, but few if any offer as many ports as Microsoft's option. And the fact that Apple doesn't offer its own solution just rubs me the wrong way.
3. Surface Pen and Surface Pro are a dynamic duo
I'm no artist, and to be honest, my handwriting is worse than the average physician's. But I also still love writing by hand, and I collect all kinds of pens. So I had to get the new Surface Pen to go along with my Surface Pro.
I haven't really done anything truly productive with the Pen yet. I tested a few random drawing apps and tried the basic features of the Surface stylus. But that's it. Still, it's clear that the ability to draw and sketch or just jot notes in your own handwriting could be very valuable for certain creative types. And it's an awesome option to have.
Though Apple's iPad Pro works with the Apple Pencil and has some similar features and functionality, that tablet runs a limited mobile OS, meaning it cannot run all the apps available on macOS, so it was never a viable option for me. The MacBook Pro doesn't have a touch display or stylus support. So the Surface Pro has a clear advantage there, and I appreciate that.
From iMore: The difference between Apple Pencil and Surface Pen
I mostly use my Surface Pro in desktop configuration along with multiple monitors, or with its Type Cover like a laptop when I'm working away from home, and I rarely use it as a straight tablet. But I still appreciate the ability to lay down with my Surface on the couch and surf the web or read a book in tablet mode while navigating with the touch screen. That's simply not an option on the MacBook Pro.
4. Here's lookin' at you, Windows Hello face authentication
I didn't expect to like Windows Hello facial recognition as much as I do. My MacBook Pro has a fingerprint reader that is reliable and works 99 percent of the time. And I've used various other biometric authentication systems that were simply too flaky to rely on. So I didn't exactly have high expectations. Except for a few cases in extreme environments — such as outside in the bright sunlight or in a dark hotel room — the Windows Hello face authentication has worked flawlessly. And it's even more convenient than having to touch a fingerprint reader, because you don't have to do anything except look at your computer.
Windows Hello facial recognition is not Surface specific and it's available on many other Windows PCs. But there's no native facial recognition on Mac, and I can honestly say I'd miss Windows Hello if I switched back to Mac. Of course, the system isn't perfect, and it took me a while to figure out how to get it to work with my Logitech BRIO webcam. But it turns out that's a settings issue on the Surface.
That, friends, is the good stuff about Surface Pro, from a Mac user's perspective. But it's also just one side of the story.
Switching from Mac to a Windows PC: 10 tips to ease your tech transition
What MacBook Pro users will miss after a switch to Surface Pro
1. Surface Pro 'lapability' is laughable
Before I started editing Windows Central Senior Editor Zac Bowden, I'd never heard the term "lapability." I'd also never really used a 2-in-1 PC. You can't rely on a device like the Surface Pro without at least being aware of its sad lack of lapability.
What, you ask, is lapability? Simple. It's the ability to use a device on your lap without propping it up on something else. And it's damn near impossible to use the Surface Pro as you would a normal laptop on your lap. And that kind of sucks.
For example, I'll often work while sitting in my car, as I wait for my significant other to come out of an appointment or finish shopping. In the past, I'd sit in the front passenger seat with my MacBook Pro on my laptop and get down to business. With the Surface Pro, I have to sit on the driver's side and shift the seat way up so I can prop the Surface Pro with attached Type Cover up so it doesn't tilt too far backward. The kickstand simply doesn't prop the device up firmly enough when it's not seated on a flat surface. It's a huge pain in the ass, and I honesty haven't found a good solution for working with the Surface Pro on my lap when I don't have something to prop it up on.
Say what you will about the MacBook Pro but it's infinitely more lapable than the Surface Pro. Of course, the iPad Pro suffers from similar lapability constraints. And if this was a major concern for me, I could have gone with the Surface Laptop.
2. Google Hangouts slays Surface Pro
Windows Central's parent company Mobile Nations is a remote organization composed of writers, editors and other really smart folks who are located all around the world. When we have meetings, team members call in from the U.S., Canada, the UK and Germany, among other locations. And we always use Google Hangouts for our video calls.
I have no idea what it is about my Surface Pro, but it hates Google Hangouts. In fact, it despises Hangouts and even if I drop the bandwidth settings down to the lowest option, any sort of lengthy call brings my Surface Pro to crawl. I make sure to close all other resource-intensive apps but I still have issues. And I often must reboot after a long Hangout just to get things back to normal. I usually use Chrome as my default browser but I've tried Edge and Firefox too, and I have the same issue. Other Windows Central team members report similar issues as well, so the problem could be a Windows issue and not a Surface Pro problem. But it's still maddening.
I never had this problem with my MacBook Pro, even though I was connected to the same network, and even when the bandwidth was cranked all the way up.
3. Integration between iOS and macOS is grand
I use an iPhone 7 Plus as my main phone. And it was really nice to be able quickly send screen shots from my phone to my MacBook, or vice versa, using the built-in wireless AirDrop feature in both iOS and macOS. There are similar Bluetooth and Wi-Fi Direct file transfer options for Windows but none I've found are as seamless as AirDrop.
Most of the people I communicate regularly with via text messages also use iPhones, and Apple's Messages kind of became my default messaging app over time. The Messages app taps Apple's iMessage service so that you can send texts and other messages from whichever Apple device you're using at a given time. So, for example, I could use my MacBook Pro to respond to texts I received during the day without picking up my phone. It was convenient, and I haven't found any sort of replacement service for sending and receiving iMessages via Surface Pro.
I know, I know, of course iPhones work better with Macs than with Windows PCs. That makes sense. But I miss the phone-computer integration I used to enjoy between my Mac and iPhone. And I'm simply not willing to switch to a Windows phone at this point. Microsoft is working on further integrations between iPhones, Android devices and PCs, so that's something to look forward to.
4. Where the @$%# is the Surface trackpad?
I prefer a trackpad to a mouse. So one of the first things I noticed when I went all-in on the Surface Pro is that Microsoft doesn't offer a Surface trackpad, even though Windows supports tons of valuable gesture controls, and many laptops have useful trackpads that utilize them. Even the Surface Pro Type Cover has a decent trackpad. So why doesn't Microsoft release a desktop version for use with the Surface Studio, Surface Pro and other PCs?
I really like Apple's Magic Trackpad, and it wasn't until I switched to the Surface Pro that I realized how often I use gesture controls these days. Not being able to use them has slowed down my workflow, and I haven't found a suitable touch replacement on Windows.
I'm using the new Surface Arc Mouse, which supports vertical and horizontal scrolling, but there's a lot I don't like about it, and it's definitely not as versatile as a good trackpad, even the one built directly into the MacBook Pro, which is full-featured and works well.
5. No USB-C for you, Surface Pro!
I almost left this one of my list, because the MacBook Pro's lack of port selection is truly unfortunate. But it has USB-C, the latest USB standard, and the Surface does not. That's also unfortunate.
That said, the MacBook Pro only has four USB-C ports and one 3.5mm audio jack. That's it, which means most users need to buy a bunch of adapters that are pricey and don't work well anyway. That sucks. So while I wish the Surface Pro (or even the Surface Dock) had at least one USB-C port, I'd still pick the Surface Pro's port selection over the MacBook Pro's. And the Surface Connect port is also pretty awesome — it does everything — even though it's proprietary.
A former Mac addict's final take on Surface Pro
I switched from my MacBook Pro to Surface Pro about a month ago, and I literally haven't turned my MacBook Pro on once since. That says a lot. I'm completely sold on Surface Pro, and I'm no Windows fanboy.
There are some things I miss about my MacBook Pro, as detailed above. But that's to be expected. And a month really isn't a long time when it comes to learning and mastering a new OS, so my transition on the software side is still very much a work in progress; I still find myself trying to use macOS shortcuts, for example. But again, that's to be expected.
Bottom line: I'm now a card-carrying member of Team Surface, and the Surface Pro is the reason why. I also think I can sell my MacBook Pro now and spend that money on a bunch of new Surface accessories … and maybe another Windows Central t-shirt.
Related reading
Surface Pro 2017 review: A 2-in-1 tablet you'll actually want to use
Updated August 16, 2017: This story has been modified to include details on an issue with the Surface Pro's Windows Hello system and Logitech's BRIO webcam.
Get the Windows Central Newsletter
All the latest news, reviews, and guides for Windows and Xbox diehards.
Al Sacco is content director of Future PLC's Mobile Technology Vertical, which includes AndroidCentral.com, iMore.com and WindowsCentral.com. He is a veteran reporter, writer, reviewer and editor who has professionally covered and evaluated IT and mobile technology, and countless associated gadgets and accessories, for more than a decade. You can keep up with Al on Twitter and Instagram.