Surface Pro impressions from a recovering Mac addict
By Al Sacco last updated
Windows Central's managing editor recently made the switch from the 15-inch MacBook Pro and macOS to the new Surface Pro and Windows 10. Here are his thoughts on the Surface, along with what he misses about that Mac.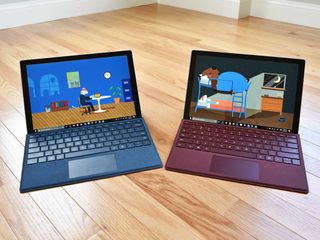 For roughly the past six years, while I worked for a well-known enterprise technology site, I was firmly seated on Apple's bandwagon. Today, I'm the managing editor of the best Windows blog in the whole damn world, and I'm wearing a Windows t-shirt. (Seriously, I love my Windows Central "Colors tee,", and I'm wearing it as I write this post.)
I recently made the switch from a 15-inch MacBook Pro (2016) to Surface Pro (2017), and I haven't looked back. But the transition wasn't always easy. Here's what I learned along the way, in the form of a list of things I like (love?) about the Surface Pro, along with some things I miss about the MacBook Pro.
See Surface Pro at Microsoft (opens in new tab)
(Note: While in some ways a comparison between the Surface Pro and iPad Pro makes more sense than a MacBook Pro comparison, I could never use the iPad Pro to replace my main work machine; it runs a mobile OS and is too limited. So in my case, the Surface Pro-MacBook comparison is more fitting.)
What Mac users will love about Microsoft's new Surface Pro
1. Surface Pro hardware is glorious
The look and feel of the new Surface Pro might be the best thing about it. From the second I removed it from the box and peeled away the protective film, I was smitten.
The Surface Pro is super slim. I was used to a 15-inch display, so the smaller 12.3-inch Surface display took some getting used. And if I'm honest, I miss that extra screen real estate when working or watching movies, but it's also nice to be able to take up less room on the tray table of a plane or train. (Of course, there is also a 13-inch MacBook Pro.)
Surface Pro is lovingly light, even with my Signature Type Cover attached. After lugging around the MacBook Pro for a few months, which isn't heavy by any means, the Surface Pro feels feather-light, and it's barely even noticeable in my backpack. I really appreciate that while traveling, when my bag is packed to the brim with other stuff and every ounce matters.
The Surface Pro looks great when propped up by its kickstand and attached to my Type Cover. And I love all the sharp angles and mirrored silver Windows logo on its backside. Apple's MacBook is also a looker, and I like the space gray finish. But it looks like every other MacBook. The Surface Pro is unique, and it grabs the eye.
As with a MacBook Pro, you pay a premium for the Surface Pro. But you can tell where that extra cash goes after spending some time with it.
2. Surface Dock easily turns Surface Pro into a powerful workstation
I use my Surface Pro in a desktop configuration, along with two 27-inch monitors, speakers, a 4K webcam, a printer, wired Ethernet, a backup drive and a charging cord for my phone. All of these things connect instantly to my Surface Pro via Microsoft's useful Surface Dock and my 2-in-1's Surface Connect port. That means I simply plug one cord into my Surface when I'm working at home, and I'm up and running.
The Surface Dock is not cheap at $200 (opens in new tab), but for me it's invaluable, and I simply couldn't use the Surface Pro as my main work machine without it. It has also worked flawlessly since I first set it up. And it is simple and intuitive to use.
Apple's unwillingness to release a similar docking station for MacBook has always frustrated me, and it shows the company's lack of regard for professional users, who need to connect multiple monitors and various other peripherals to do real work. I had to buy multiple Apple USB-C adaptors to use all the above-mentioned peripherals with my MacBook Pro, and I had to plug in at least three different adapters every time I wanted to sit down and use that laptop at my office workstation. They also were flaky and often didn't work when I needed them to. It was a real pain in the ass, and all the different adapters I needed ended up costing as much or more than the Surface Dock.
There are third-party docking stations available for Mac laptops, including Elgato's Thunderbolt docks that do many of the same things, but few if any offer as many ports as Microsoft's option. And the fact that Apple doesn't offer its own solution just rubs me the wrong way.
See Surface Dock at Microsoft (opens in new tab)
3. Surface Pen and Surface Pro are a dynamic duo
I'm no artist, and to be honest, my handwriting is worse than the average physician's. But I also still love writing by hand, and I collect all kinds of pens. So I had to get the new Surface Pen to go along with my Surface Pro.
I haven't really done anything truly productive with the Pen yet. I tested a few random drawing apps and tried the basic features of the Surface stylus. But that's it. Still, it's clear that the ability to draw and sketch or just jot notes in your own handwriting could be very valuable for certain creative types. And it's an awesome option to have.
Though Apple's iPad Pro works with the Apple Pencil and has some similar features and functionality, that tablet runs a limited mobile OS, meaning it cannot run all the apps available on macOS, so it was never a viable option for me. The MacBook Pro doesn't have a touch display or stylus support. So the Surface Pro has a clear advantage there, and I appreciate that.
From iMore: The difference between Apple Pencil and Surface Pen
I mostly use my Surface Pro in desktop configuration along with multiple monitors, or with its Type Cover like a laptop when I'm working away from home, and I rarely use it as a straight tablet. But I still appreciate the ability to lay down with my Surface on the couch and surf the web or read a book in tablet mode while navigating with the touch screen. That's simply not an option on the MacBook Pro.
See Surface Pen at Microsoft (opens in new tab)
4. Here's lookin' at you, Windows Hello face authentication
I didn't expect to like Windows Hello facial recognition as much as I do. My MacBook Pro has a fingerprint reader that is reliable and works 99 percent of the time. And I've used various other biometric authentication systems that were simply too flaky to rely on. So I didn't exactly have high expectations. Except for a few cases in extreme environments — such as outside in the bright sunlight or in a dark hotel room — the Windows Hello face authentication has worked flawlessly. And it's even more convenient than having to touch a fingerprint reader, because you don't have to do anything except look at your computer.
Windows Hello facial recognition is not Surface specific and it's available on many other Windows PCs. But there's no native facial recognition on Mac, and I can honestly say I'd miss Windows Hello if I switched back to Mac. Of course, the system isn't perfect, and it took me a while to figure out how to get it to work with my Logitech BRIO webcam. But it turns out that's a settings issue on the Surface.
That, friends, is the good stuff about Surface Pro, from a Mac user's perspective. But it's also just one side of the story.
Switching from Mac to a Windows PC: 10 tips to ease your tech transition
What MacBook Pro users will miss after a switch to Surface Pro
1. Surface Pro 'lapability' is laughable
Before I started editing Windows Central Senior Editor Zac Bowden, I'd never heard the term "lapability." I'd also never really used a 2-in-1 PC. You can't rely on a device like the Surface Pro without at least being aware of its sad lack of lapability.
What, you ask, is lapability? Simple. It's the ability to use a device on your lap without propping it up on something else. And it's damn near impossible to use the Surface Pro as you would a normal laptop on your lap. And that kind of sucks.
For example, I'll often work while sitting in my car, as I wait for my significant other to come out of an appointment or finish shopping. In the past, I'd sit in the front passenger seat with my MacBook Pro on my laptop and get down to business. With the Surface Pro, I have to sit on the driver's side and shift the seat way up so I can prop the Surface Pro with attached Type Cover up so it doesn't tilt too far backward. The kickstand simply doesn't prop the device up firmly enough when it's not seated on a flat surface. It's a huge pain in the ass, and I honesty haven't found a good solution for working with the Surface Pro on my lap when I don't have something to prop it up on.
Say what you will about the MacBook Pro but it's infinitely more lapable than the Surface Pro. Of course, the iPad Pro suffers from similar lapability constraints. And if this was a major concern for me, I could have gone with the Surface Laptop.
2. Google Hangouts slays Surface Pro
Windows Central's parent company Mobile Nations is a remote organization composed of writers, editors and other really smart folks who are located all around the world. When we have meetings, team members call in from the U.S., Canada, the UK and Germany, among other locations. And we always use Google Hangouts for our video calls.
I have no idea what it is about my Surface Pro, but it hates Google Hangouts. In fact, it despises Hangouts and even if I drop the bandwidth settings down to the lowest option, any sort of lengthy call brings my Surface Pro to crawl. I make sure to close all other resource-intensive apps but I still have issues. And I often must reboot after a long Hangout just to get things back to normal. I usually use Chrome as my default browser but I've tried Edge and Firefox too, and I have the same issue. Other Windows Central team members report similar issues as well, so the problem could be a Windows issue and not a Surface Pro problem. But it's still maddening.
I never had this problem with my MacBook Pro, even though I was connected to the same network, and even when the bandwidth was cranked all the way up.
3. Integration between iOS and macOS is grand
I use an iPhone 7 Plus as my main phone. And it was really nice to be able quickly send screen shots from my phone to my MacBook, or vice versa, using the built-in wireless AirDrop feature in both iOS and macOS. There are similar Bluetooth and Wi-Fi Direct file transfer options for Windows but none I've found are as seamless as AirDrop.
Most of the people I communicate regularly with via text messages also use iPhones, and Apple's Messages kind of became my default messaging app over time. The Messages app taps Apple's iMessage service so that you can send texts and other messages from whichever Apple device you're using at a given time. So, for example, I could use my MacBook Pro to respond to texts I received during the day without picking up my phone. It was convenient, and I haven't found any sort of replacement service for sending and receiving iMessages via Surface Pro.
I know, I know, of course iPhones work better with Macs than with Windows PCs. That makes sense. But I miss the phone-computer integration I used to enjoy between my Mac and iPhone. And I'm simply not willing to switch to a Windows phone at this point. Microsoft is working on further integrations between iPhones, Android devices and PCs, so that's something to look forward to.
4. Where the @$%# is the Surface trackpad?
I prefer a trackpad to a mouse. So one of the first things I noticed when I went all-in on the Surface Pro is that Microsoft doesn't offer a Surface trackpad, even though Windows supports tons of valuable gesture controls, and many laptops have useful trackpads that utilize them. Even the Surface Pro Type Cover has a decent trackpad. So why doesn't Microsoft release a desktop version for use with the Surface Studio, Surface Pro and other PCs?
I really like Apple's Magic Trackpad, and it wasn't until I switched to the Surface Pro that I realized how often I use gesture controls these days. Not being able to use them has slowed down my workflow, and I haven't found a suitable touch replacement on Windows.
I'm using the new Surface Arc Mouse, which supports vertical and horizontal scrolling, but there's a lot I don't like about it, and it's definitely not as versatile as a good trackpad, even the one built directly into the MacBook Pro, which is full-featured and works well.
5. No USB-C for you, Surface Pro!
I almost left this one of my list, because the MacBook Pro's lack of port selection is truly unfortunate. But it has USB-C, the latest USB standard, and the Surface does not. That's also unfortunate.
That said, the MacBook Pro only has four USB-C ports and one 3.5mm audio jack. That's it, which means most users need to buy a bunch of adapters that are pricey and don't work well anyway. That sucks. So while I wish the Surface Pro (or even the Surface Dock) had at least one USB-C port, I'd still pick the Surface Pro's port selection over the MacBook Pro's. And the Surface Connect port is also pretty awesome — it does everything — even though it's proprietary.
A former Mac addict's final take on Surface Pro
I switched from my MacBook Pro to Surface Pro about a month ago, and I literally haven't turned my MacBook Pro on once since. That says a lot. I'm completely sold on Surface Pro, and I'm no Windows fanboy.
There are some things I miss about my MacBook Pro, as detailed above. But that's to be expected. And a month really isn't a long time when it comes to learning and mastering a new OS, so my transition on the software side is still very much a work in progress; I still find myself trying to use macOS shortcuts, for example. But again, that's to be expected.
Bottom line: I'm now a card-carrying member of Team Surface, and the Surface Pro is the reason why. I also think I can sell my MacBook Pro now and spend that money on a bunch of new Surface accessories … and maybe another Windows Central t-shirt.
See Surface Pro at Microsoft (opens in new tab)
Related reading
Surface Pro 2017 review: A 2-in-1 tablet you'll actually want to use
Updated August 16, 2017: This story has been modified to include details on an issue with the Surface Pro's Windows Hello system and Logitech's BRIO webcam.
Al Sacco is content director of Future PLC's Mobile Technology Vertical, which includes AndroidCentral.com, iMore.com and WindowsCentral.com. He is a veteran reporter, writer, reviewer and editor who has professionally covered and evaluated IT and mobile technology, and countless associated gadgets and accessories, for more than a decade. You can keep up with Al on Twitter and Instagram.
The part of the text messages caught my attention. I use Skype on my phone and PCs to achieve that but I thought I was alone in the camp of using text messages in these days. Nice reading. I might buy a Surface when it's time to replace my laptop in a couple of years. PS: Lapability is "important" to me but it's a once a month situation in which I need to have it.

I just started using Skype as my SMS default across devices. Love the ability to read and reply from any computer I'm using, and have a record of work conversations too. I'm using Windows 10 Mobile and Windows 10 PCs, does anyone know if Skype SMS works with iPhone and Android too?

I was just going to tell him the very same thing.

Just wondering how you made Skype the default for SMS messaging. I looked in on my Android device at the skype settings and there is nowhere where I can make it the default app for SMS (like you can for Hangouts).

You need a Windows phone for SMS/Skype to work.

I tried to use Skype as my default Win10 mobile messaging app for about a month or so. It was too glitchy. Some messages were delayed, in back and forth messages would display out of order, and for some contacts, it keep switching to other non-mobile numbers, so I was never aware my messages were sent to a landline until too late. Even though I miss using it with my surface pro, I switched back to regular SMS in my Lumia 950.

I have problems whenever the Contact app is updated since it un-links my contacts. I have to open contacts and hunt down and re-link my usual contacts, other than that and the few minutes it takes the changes to propagate to Skype I'm happy.

I had the exact same experinece on my Lunia 950. Last night I updated my 950 to the latest Insider Fast Ring build, and i am now seeing full sync of my text messages in Skype on my Surface Pro (on Insider Slow ring) even though I don't have skype installed on my 950!

Same here on my x3, skype gets installed automatically, even after you remove it. Text through skype can be turned off in the skype settings.

I was having a lot of those issues, so I switched away. I've switched back, and for me, it now seems to work fine. I still have the issue of messages out of order. I can see the pattern of when it happens, but it's still annoying. Still not perfect.

Lapability is (and rightly should) be important to anyone purchasing a laptop/hybrid. Our two Surface Pros (SP3) were the best pc purchases we've made - so flexible in many scenarios from chilling, veging out on Netflix, casual browsing to working, office tasks and programming. They certainly are not as lapable as full-on laptops, but I wouldn't say they are 'not lapable' - maybe it took a few weeks to find the sweet spot, but I use my surface on my lap 90% of the time... and it is comfortable. (just for reference if considering a surface/hybrid, but are put off by these types of comments/reports)

Well, I have a small, silly, but amazingly useful solution for the lapability thing. Just use a writing pad. Keep it on your lap, and put the device on it, and then use it.
For myself, I have found a perfect shaped board, which is light yet very strong, and I use my 15" Asus ROG on my bed by keeping it on it. Renovation work had been going at my place, so they had removed the wallpapers from the walls, and some part of them were very intact. As the paper was thick, I stuck it to my board, and put a nice black tape around the edges. So it looks really posh and fresh. So that's how i made my own table. ;)
I know i use a laptop, so it has those rubber feet, which prevents them from sliding, which isn't the case for surface pro. The solution? Simple. Find a sweet spot on the board and put a double sided tape there, so that it works as a stopper for the surface pro, and it doesn't slide away. ;)

I agree. I have had a number of Dell laptops that I used while commuting (two XPS 15s from 2 or 3 generations ago, plus an XPS 12 with the screen that flips in its frame). A while back, I gave the XPS 12 to my partner as the old XPS 15 that she'd inherited from me died and got a Surface 3 to use on the train while commuting to and from work. I was concerned about how the kickstand might feel on my legs because it's so thin, but the device is so light that there's no enough pressure for me to feel any discomfort. My new Surface Pro is bigger and heavier, so I was again concerned about how it might feel on my lap but I have had no issues again. I'm typing this on the Surface Pro on my lap right now and I've been pleasantly surprised at how stable it feels. Because the kickstand extends back from the device, you need to push it slightly further forward in your lap than you would a similarly-sized fixed laptop, so that might be a slight issue for touch-typists, which I'm not. Other than that, I'd say that a Surface Pro has at least 80% the lapability of a traditional laptop.

Same here. I have a Google Pixel and I installed Cortana. Now all of my text messages pop up in the notification center. Works perfectly well for me. I reply inline on my HP Spectre to all my text messages when I am working.

Telegram has a desk top app and since Telegram is cloud based it works great on phone or PC.

I'm getting tired of reading about Surface this and Surface that as if they were the only Windows devices existing. Can you please talk also of other Windows devices, often more affordable and better than Surface series. This site starts to feel like a Surface advertising site.

My last two reviews have been more affordable and/or budget devices and I have a third next week. You're just seeing what you want to see and ignoring the rest. Also, this was a personal story about a Mac user switching to Surface. Mac users don't switch to budget PCs.

"Mac users don't switch to budget PCs" I love it, so true! I use a mixture of apple kit and a lone surface pro. I do quite like the Surface and the cost does clue you in that it is aiming for high build quality, which is novel for a windows machine. I don't use the pen either generally and I just use it for work and don't need the extra processing chops of the MacBook. I also miss the integration of the mac ecosystem though and the trackpad of course, and would have gone back by now if the new MacBook Pro wasn't such a wallet busting ripoff in the uk. In terms of Lappability I mainly use it on my desk at work. Using it in your lap is precarious at best and a cracked screen at worst. Laughing at the hardcore windows users who hate that MS is hell bent on becoming Apple...because a sea of plastic ****** feature laptops running spinning HDD's and covered in stickers was somehow preferable.

Remember that Surface is largely responsible for triggering the whole new generation of hardware that you are referring to... (Windows) PCs were mostly as dull as android phones until Surface (and dell XPs) started to demonstrate flair and ignite the industry to put some effort in. ... Plus remember - he's used to buying Apple products, he's probably still getting over the shock that he had change in his pocket despite buying a surface.

Hey Al, cool article! Please do the same with a Surface Book!

No USB-C? Please do tell us, which USB Type C devices would you connect to it? An iPhone, nope, that is USB-A and proprietary lightning. Your external HDD? None of the major makers have a Type C external drive, and if you did it would still run at a speed that would not saturate the bandwith. Type C is the most overhyped connector since Apple's FireWire. Maybe someday it will become popular, but not for a while. And just yesterday USB 3.2 was announced, if Microsoft started shipping last month a device with 3.1, people would be complaining about Microsoft shipping an outdated device for not supporting 3.2.

Oh, and as for lapability, Apple's solution to the SP is the iPad Pro. How is lapability on that device with the keyboard that requires a college degree in origami to fold properly?

Not to mention awful keys.

Not to mention a single position to stand up the iCant which was something every tech site ripped the original Surface Devices for.

There is a USB-C to lightning cable available from Apple. Seagate, LaCie, and several smaller manufacturers (e.g. Glyph) make USB-C external drives; Samsung and SanDIsk make USB-C external SSDs that eat up that lovely bandwidth. The USB 3.2 spec won't even be finalized until the end of this year at the earliest, with hardware coming sometime in 2018 (at the earliest), so it's pointless to bring up.

So carrying around an adapter is the fix? Apple tries to make everything slimmer, smaller so that you have less to carry, but then they heap adapter after adapter on you to use for something such as charging a phone. SSDs do not eat up bandwith of a Type C cable. Even though SATA-III is 6Mb/s, when they are connected to a SATA-III port they do not operate at that speed. For example, some of the faster Type C, USB 3.1 paired with faster SSD (such as Samsung 960 Pro) only work around 4 to 4.5 Gb/s (read the reviews of Type C, 3.1 enclosures on the more reputable sites). Not the 10Gb/s that Type-C supports. The maximum speed of USB 3.0 is 5Gb/s, so you are not anywhere near saturating the connection. The problem is the drives are not fast enough. I have a Samsung M.2 960 which is about 3200 MB/s or 25 Gb/s, but they do not make Type C enclosures for those drives, yet. When I got my Lumia 950XL, I went out and bought all the Type-C cables, cards to plug it into my PC, enclosures, etc. I would love for devices to be all Type-C, 3.1 compliant, but it is going to be a long time until that happens. Not just because of device manufactutrers and devices like the SP, but because the devices to attach through Type-C is not there yet. Why force conversion to a new cable when there is no benefit to it yet? Why make people throw away their old cables and buy adapters, when they get no speed benefits (yet)? Type-C is nice, it is reversable, the ends of the cable are the same shape, you can power things off of it (but a consistent output is near impossible), but there is no reason for it and I don't see it happening for a couple years.

Yeah, all the apple fanboys keep harping on USB C as the future, and they are "futureproofing" their computers. By the time USB C becomes the standard....if it does, They will have purchased new computers again....ha ha. Apple knows whatever they say the fanboys will eat it up and take it as gospel.

A) it would help adoption B) who the hell uses a display port these days?

You did not just say that about DP. DisplayPort especially over tb3 is currently the most powerful display tech right now.

Try this if you are from Mac.
Type "aple" then press space, "aple' will be highlighted. How do you normally fix it?
1. move your cursor all the way across screen, right click on "aple" and then click on "apple"
2. press left → press menu key (or shift-f10) (→ you might need to press down key in the older windows) → press enter. * window / task manager
win, win+a, win+b, win
win+m, shift+win+m
win+arrowKeys
win+number
alt+tab * dialog
alt + underlined letter
ctrl+tab * in editor / notepad
ctrl+left/right
ctrl+shift+left/right
shift+alt+arrowKeys (this one will normally be available in ide or advanced text editor)
home, ctrl+home
end, ctrl+end
ctrl+backSpace, ctrl+del etc, etc Eventually, I can operate Windows (os, dialog, chrome, edge, file explorer, settings, visual studio, office, etc) with no pointing device (except graphical applications).

With OSX it is as if there is 40% of the OS that you can use only with the keyboard, 40% you can only use with a mouse, and 20% where you can use both mouse or keyboard.

Lapability is why I went with the surface book. It counters every con you had against the surface pro, except for maybe the Hangouts part. I don't use hangouts so I'm not sure.

Maybe it's a Hangouts problem not working well with Windows and not a Windows problem not working well with Hangouts.

It seems to me that most of your problems would go away if you got yourself a decent laptop rather than a Surface Pro. You'd still be using Windows, but in a form more agreeable to you. The Surface Pro brings the tablet form and probably the best pen integration in the business, but are those things necessary for you?

Sounds like he just needs the HP Spectre 360

Here are my thoughts about it.
I have MacBook Pro 2015 year model and I have two ipads and iphone. But I also have powerful PC at Home and at Work.
I write apps for all mobile platforms so I must have Apple PC. MacBook Pro is an excellenr device, Windows works on it flawless. I use MacOS only for iOS development and that's it. For me Mac OS is too unfriendly , UI is awful and everything there look like it came from an alien, not human :) I would rather buy Surface Pro and enjoy Windows, but iOS is still most profitable platform so I have to use MacBook. So, if you do not write apps for iOS, I see no reason to my MacBook Pro at all.

Agreed Ray Adams....MacOS is terrible. Plus no touchscreen on macbook/imac is another NO WAY for me. I LOVE TOUCHSCREEN devices. Windows 10 is the best OS for personal computing!

Touchscreen is a MUST! Pen is becoming that way for me as well. Using it more and more everyday.

MacOS terrible? Geez.. And the majority of Windows users aren't using, or want/need a touchscreen. I've used Windows a big part of my life, and I have W10 in my gaming rig, and I like it! But MacOS sure is a thing of beauty when you learn how to use it. Especially if you also own other iDevices, like an iPhone or iPad. MS tried to reach the same connection between Windows 8/10 and their Windows phones, but that didn't go too well. But then again, when MS themselves release apps for other mobile OS's that are actually better on those platforms than their own mobile platform, it's not a good sign. A good example is Skype, which for a LONG time was horrible on Windows Phone, but worked great on iOS for example. I remember the pain..

MacOS is a mess. How do you close out a program in MacOS. You have to go into the menu by the apple and select close...or some keyboard combination. In windows....you hit x. that's it nothing else. In MacOS you NEED to learn keyboard short cuts if not, you cannot use it correctly. Windows you can use very simple mouse actions and touch. Its way more intuitive than MacOS. I own both, and Win10 is still miles ahead. Yes, IOS and MacOS work together great. BUT thats fine. I don't NEED that. I would love for apple to release a imessage app for windows though. That would be the best!

well... Apple finally implement resize-window-from-any-corner in 2012... and is still keyboard-user-unfriendly.
Plus, there are a lotta inconsistent UI/UX in MacOS if you know where to look.

there's absolutely no substitue for Logic Pro, Final Cut, AirPlay, AirDrop, iMessage, and if you care about it, resale value. There are some advantages to the surface too, obviously. But I just casually create music and videos and ive found nothing close to even the free apps of GarageBand and iMovie.

There are alot of subustitutes for Logic Pro and Final Cut. I agree with you on Imessage. and the other two are meh.

Try the OneDrive for files transfer between phone and surface. It's perfect

I'm glad you like the SP dock, but it is inaccurate to say it is flawless. I have an LG ultra wide monitor that works perfectly with Windows 10 on a standard desktop computer. However, it would not work at all with the SP4. I found it was necessary to use the dock, which I tried. Forget HDMI. You need to use the digital ports on the dock and the monitor. Even then, after almost 3 months working with Microsoft, only one of the ports will output a stable image. The other does not. It's an interesting problem, and I've worked with them at their highest level of support, but the bottom line is that they have no idea what causes the problem, nor do they intend to pursue it any further. I also found that dock's currently available in the store were not upgraded to the latest firmware, and using the utility to upgrade them, following explicit instructions from MSFT, destroyed a brand new SP4. The bottom line is that docks may work, but there is not guarantee. Be sure your dock is checked to have the latest firmware, and if not, let MSFT take the risk and do the upgrade. And with all that said, I love the SP4, and the dock is useful ... but it's just not flawless. The SP4 is my "grab and go" computer that allows me to do all my work away from my desk when desired. I never use a computer in my lap but if I did, I would simply use my lightweight platform and it would work fine.

Pushbullet will sort out your SMS integration. Can't speak of the iOS app but it works perfectly with Android. There are some other options out there too but I've found Pushbullet to be best for me.

Windows 10, nor its app ecosystem is where it should be. I bought a SP4 last year in favour of a Mac, and it is simply the perfect form factor for my lifestyle in academia. Hands down. Only thing though, the app selection is woeful (especially touch friendly/Windows store apps) and even after resetting my system numerous times, Windows 10 isn't stable. It crashes randomly, my system's fan starts up randomly as my Surface suddenly heats up (no processor intensive app running, unless Drawboard is so considered), battery life is hit and miss. I would put my Surface in my bag and return and my bag is almost on fire and my Surface is no longer sleeping. Seriously MSFT? I recently purchased a 2017 MacBook Pro, and I must say I prefer using MacOS and I enjoy the integration with my iPhone. My i7 Surface Pro 4 is at home as my entertainment device hoping the new Windows 10 updates helps alleviate my problems.

It would be really awesome if you could perhaps get hold of a SurfaceBook and use that. To be honest that's the real device that MS made to compete with MacBook, hence the name Surfacebook. Obviously Lapability and touch gestures would be far superior to the Surface Pro. Just think it would be awesome to see your perspective in the real rival to Macbook. And the best bit is it still is a tablet for sofa surfing to. Sure the cost is more, but an Ipad + a Macbook would cost more.

Sorry Richard, the surface Pro or surface book is NOT the best tablet for EVERYTHING...the glaring lack of apps rule it out as a tablet for me. No texture app, etc is a dead end.

There are 10 million programs for it and not one of the handles textures?

Texture is an app for magazines. and NO not one app handles texture. so no...10 million misses. and there are many others that both my wife and I use that are either not available, are crap, and web browser version are not as smooth and polished. However, being that both of you are total MS fanboys...you would not know whats available on other platforms.

So there isn't a program or site for magazines in the whole world. Strange.

Not the one I PAY MONEY FOR NO.....give it up fangirl. No app I have used is as good as texture....NOT STRANGE....what is strange however is your ODD love for anything Microsoft. Thats not healthy. Try something new and better.

I can speak to that LG Monitor issue you have.
MS does not make it clear (in fact they don't talk about it AT ALL) that to use a Display Port to DVI or DP to HDMI, or even DP to DP monitor with the Surface Dock you MUST use an "Active" dongle. The "Passive" dongles (or just straight cables) do NOT work properly. The "Active" dongles cost about $10 more, but are more than worth it. As for HDMI, you must use the proper HDMI version cable. At least HDMI v1.2 or higher. If you bricked your SP4 by using the "MS Surface Dock Updater" then you really did something wrong (or you had a defective Surface Dock.) I have updated over a hundred of them with no issues at all.

I was completely unaware of the distinction between active and passive dongles. I've used the Surface VGA adapter without any problems. I've also used a miniDP-HDMI cable on my SP4 without any problem, but will keep your info in mind.

Sorry, but you have made some false assumptions here. 1) I do have the proper cables. I'm using a Display Port Mini to the monitors Display Port. I obtained the appropriate cable and Microsoft confirmed the cable is correct. ALSO, it works on the right dock port but not the left. 2) The SP4 was brand new, as was the dock. Microsoft sent me step by step instructions which I followed EXACTLY. I've done this professionaly for 35+ years, so I'm not about to make mistakes. Of course, don't accept that from me. After this happened, I took both items back to the local Microsoft Store and they swaped them out. My support person at Microsoft then said he had found out that the utility posted for me to use, and Creators update, had a major issue ... so what happened to me was a KNOWN issue. I might add that an earlier dock I had for use with the Surface Book did upgrade fine. I have been working with what is supposed to be the highest level of escalated support at Microsoft. You don't have to accept what I shared, but it might be helpful to others. I'm very careful about any posts I do make ...so I know the representations I made are accurate.

The lapability thing is interesting for me. I've been using the Surface RT, then the Surface 3 since the day each was released. I use them exclusively at work. I have zero problem using them on my lap like any laptop. What's difficult about it? Maybe my legs are longer?

I'm short and I have no Lapability issues. Think it just takes finding the sweet spot before people find a comfortable position.

Glad to see you making a wise choice! Skype can replace Hangouts and Messaging integrations and VOIP calls and International Texting and Call Forwarding and much more. Trackpad might be on a way, Who knows? Anyway, we have the very intuitive touch screen, Pen, and Dial. THe best combination in computing devices history. Notifications on Windows devices are the best and becoming Actionable and they are only getting better every day. Surface Pro may be not good lapable device because it's not a Laptop. There are Surface Laptop and Surface Book for that sole reason. Type C - I don't know if you were missing them or you were confused about comparing ports on Surface Pro and Crapbook Pro.

There is nothing wrong with the lapabilty of my Surface Pro 3. I think I'm using it 60-70% of the time on my lap. The only difference with a common laptop is the less lower weight and the fact it doesn't burn my legs.

Logitech does make an expensive touchpad, but I also have been baffled at the lack of options, especially having no Microsoft made option. I have a $50 Jelly Comb one, but it's as nice as it costs. Does the Apple's magic touchpad not work on Windows? I never used gestures until I had a Mac work machine. I'm back on Windows now, and constantly use gestures. Some actually make more sense to me on Windows than they did on Mac.

I have the logitech trackpad myself. Was very dissapointed in it overall. Also have the Microsoft Touch Mouse which is awful. Definitely a market here waiting for someone to get it right.

Perhaps it comes with experience ad I've been using surface since the SFP1 and Surface RT release, but I have very little lapable issues, I really don't see this as a problem.

Windows hello Iris biometric user authentication is also available in three windows phones: Lumia 950/950xl and hp x3 elite. And yes all you have to do is look at the screen...

They are different. Phones use Iris. Surface devices etc. Use facial recognition. Facial is much better, quicker and more reliable. Iris is good, just not as flexible and limited in distance.

Iris is a lot safer though.

Does anyone know if the x3 Elite has a better iris scanner? My 950 works great but I have to put the phone about 16 to 17 inches from my face, which is a bit disconcerting.

"Before I started editing Windows Central Senior Editor Zac Bowden" - I think a word is missing here.

Maybe Zac needs a lot of editing?

Maybe, 'editing' is a euphemism for....

Edit: This goes without saying, but great article! I made the same switch (2016 MBP to 2017 Surface Pro) about a month ago. Lapability hasn't been much of an issue for me - I'm happy to just use it as a tablet when I'm sitting anywhere but my desk. But that Surface Dock thing cannot be overrated; I had so many dongles for my MBP, and using one magnetic cable to run my two 4K 27" displays, speakers, and a couple USB peripherals is awesome! I use my Surface Pro more than I used my laptop, because I now use it in bed, too. For some reason it got me back into reading comic books, which I haven't done in about 20 years - but it just seems so natural now given the shape and the apps available. I use it all the time to markup PDFs and take handwritten notes for work. This thing is amazing. But I agree with the trackpad issue. I don't understand why it doesn't exist. I, too, use the Arc Mouse. It's not a worthy replacement for my Magic Trackpad.

I use the Logitech touchpad. I only have the cheaper one and it works great. Logitech has a newer one since I bought mine and I am going to upgrade to that one soon...it's bigger and sleeker (magic trackpadish). But the one I have is AWESOME.

I never fully reallized why the Surface had such a large complecatied charging port. Then I heard the port also allowed you to hook up a display. However, reading this article and seeing the picture of the surface dock is when I fully understood the high utility of the charging port.

I really didn't understand what he meant about there being no trackpad gestures on the surface pro keyboard. They are there and they are great

I think that he's talking about separate hardware other than the Type Cover. Many who use their Surface as a primary work machine will connect a separate keyboard and mouse rather than use the Type Cover, which is more cramped. In that scenario, you lose the gesture support of a trackpad. If you were using a 15" MacBook then you would be more likely to connect just a mouse, given that the keyboard is much more spacious, and thus still have easy access to the trackpad.

Al, try the Thinkpad X1 Carbon tablet. While it still won't have USB C and will still be expensive, it's a better deal IMHO. Also, lapability will always be a 2in1 weakness I'm afraid until the hinge is redesigned to be at the bottom of the screen again as opposed to the middle.

I recently bought a Surface Pro to replace a Dell XPS 15 from several generations ago that I used in the lounge room and a Surface 3 that I used while travelling and about the house. I have a desktop machine in my spare room that I use for gaming and working from home and another desktop supplied by my employer in the office. I decided to get the Surface Dock for two reasons. It means that I can use my Surface Pro as a desktop machine anywhere I go if I want to or need to. Mostly though, I leave it in the lounge room with the Surface-branded Mini DisplayPort to HDMI adapter always connected and an HDMI cable running to my TV. I also have the receiver for a Logitech keyboard with integrated trackpad permanently plugged in. I come home from work, sit the Surface on the side table beside the couch and the magnetic Surface Connect cable almost connects itself. It's close enough that Windows Hello still works so I'm looking at the Windows desktop on my TV in a matter of seconds. It's extremely convenient. One rather odd thing is that I'd find that, while using the Surface Pro connected to my TV, changing video sources or even just pausing and restarting a video could cause the audio to drop out altogether. I'm not sure whether it was being route to some other nonexistent output or what but I could change the video output from the TV to the Surface and back again and I'd get my audio back. I decided to try connecting the Mini DisplayPort adapter directly to the Surface instead of the dock and the issue seemed to disappear. It's less convenient having to connect and disconnect that adapter though, so I plugged it back into the dock several days ago and, since then, I haven't had a single case of the audio dropping out. I'm not sure whether connecting directly to the Surface caused an additional driver to be installed or what but it seems to be working now, so I'm happy.

I understand your frustration at not having your iPhone be as connected to the Pro as your Mac but that's why you need to get yourself a HP Elite X3, Alcatel Idol or 950xl!!!! Seem less. Just take the plunge, go on. You will be surprised how awesome the X3 is. Great article by the way.

I appreciate the effort that went into writing this article, it started out strong and had a positive non-biased point of view to it. Unfortunately the further you read, the worse it gets. This article reads a lot into the love of MacOS and iOS... Unfortunately it doesn't highlight that Android (the OS that takes up over 80% of the global smartphone marketshare) has excellent integration with Windows 10... Firstly, Cortana's support with SMS text messages, syncronising to Windows 10 and the ability to reply to those texts on PC (solving that issue with your iPhone - I'm sure Microsoft is working on a way to get that to work with iOS - but we all know Apple do their best to not play ball with other companies). Secondly, you could just use Skype for both your SMS issue and your Google Hangouts issues. Like Apple, Google is supporting other devices less and less, and I would easily put the fault of their software on the people that make the software... Why would it be Microsoft's fault for a 3rd party program that doesn't run well on their system? Would you blame the car manufacturer because your new 3rd party GPS Navigator doesn't work with your car's built 1st party in functions? Thirdly, I'm not quite sure what gestures you are missing, nor am I sure about why you are talking about the lack of external one for a Surface Studio... This isn't "Surface Studio Impressions" - This is Surface Pro Impressions, the Type Cover works just fine with plenty of gestures (and a few unique to Windows). Then of course there's the touch screen, why not just... touch the screen? Lastly, the lack of USB-C is agreed, somewhat a bummer. Luckily for you and all the dongle fans out there, Microsoft is already manufacturing the Surface Connect to USB-C dongle. Glad you like the Surface Pro, I understand that these are just "impressions", but like you said, this is the most popular platform for all things Windows and I feel to avoid giving the wrong impression to users that use Windows Central as a source of knowledge, I feel that this article should be a bit more well rounded. I think this article would be more balanced if, like you said in the beginning, you listed the things you love about the Surface Pro and not 4/5 things you miss from the Mac. I understand this OS is new for you, but you are surrounded by fellow Windows Central users who are very knowledgable (you're kind of in the best place to be to learn about all things Windows and Surface...) so some of these points could have been solved. I'm quite direct with my writing (I'm no article writer) so, I apologise that this probably comes across as arrogant/childish/fan-boy like...

I am a Apple person that recently started using a Surface Pro 4 that I have had for a year or two. Finally updates fixed the horrid battery drain so good job Microsoft. I love windows and the surface as a form and as a college student it is well... a pro. But I have yet to find a email app that is on the level that the built in Mac mail app is on. This is really crucial for me since I have roughly three personal emails, one school email and two work emails, all different accounts. I'm currently using the built in windows one, which I finally figured out how to do a unified inbox, which really should be as hard as it is. But the UI is just so horrible. The colors throw off the email and I have difficulty focusing on an email without colorful distractions. is there just a simple email app that is as powerful as the Mac one, has a unified inbox, and isn't colorful? Menu bars being colorful is fine and whatnot, but having full sidebars being a royal blue, and another sidebar being black isn't working. I need a white/neutral colors so I can read email efficiently. Please someone help me!

Google Hangouts? Really? That piece of crap?

I'm on board with Surface Pro needing USB-C. Microsoft, please ditch the proprietary charger and go USB-C and slap on a few more USB-C out for good measure. I don't know of anyone that uses Google Hangouts, so I can't comment. I'm not sure why you guys don't use Skype. I respond to SMS on my Windows 10 computers without adding Skype as my SMS client. I think you'd be happier of you break the Apple ecosystem altogether and ditch the iPhone for Android or Windows 10 Mobile.

I think the picture of the Surface Dock answers the question why Microsoft did not include a USB-C.

If the surface pro was at least 15.6 inch and had USBC it would be my first choice when I finally upgrade my trusty crusty. Until then I'll be looking at other options/waiting.

If the surface pro was at least 15.6 inch

The Surface Pro was modeled after a sheet of letter sized paper. I think the problem is the bezel. If you take that bezel border out and enlarge viewable area, it would solve most of your problem.

absolutely not, it is too small, bezel or no bezel. I don't care about to size of a letter; that has nothing to do with a productive workspace. Even A4 is too small.
I am not saying to do away with to smaller version just get on board with current thinking and design, -Wacom , HP, Lenovo. All have 15.6 convertibles with pens, surface is lagging in this necessary form.
I am specifically talking from a designers P.0.V in regard to usable working space (excluding room for tools) . This is not about reading emails or b
rowsing webpages.

You can buy the surface studio, if all you want is large screen size

Thanks for the suggestion, however,
you miss the point entirely... Portability, 15.6 can still fit in hand luggage . A studio is fixed to the office , like my current cintiq and desktop , which will remain until they need replacement ( the studio btw is sexy but not up to spec in any means).
I do have a portable solution, for the moment but it is too small @ 13, those extra 2.6 inches take up the slack for tools, I did state that clearly.
So I don't actually need advice ... I'm no noob.
The current surface pro is toy sized , for reading basically, if the pen is to be used, then make the screen up to task.

Microsoft is not going to sell a 15.6" laptop. Microsoft has a very specific market position with Surface. They are not going to sell any hardware at a "cheap" price, meaning they will always have a big premium above the manufacturing cost. They want to let the OEMs supply the bulk of the demand. The 15.6" laptop is a big market for HP, Dell, and others. If Microsoft sold a high ned 15.6" laptop, they would "pissoff" alot of OEMs. The Surface in part is to lead the ecosystem. Surface is to improve the image of the WinTel ecosystem from cheap high utility computers to expensive premium creative devices (yes and just as much utility as before). But the WinTel ecosystem has to evolve beyound the desktop PC with a mouse. So touchscreen is a big deal. Inking is a big Deal. Voice controls are a big deal. Cortana trying to pull data out of your texts and emails to imporve your productivity is a big deal. But all this is a big stretch for the typical PC user. So surface and the Windows 10 efforts is all about building a stronger WinTel ecosystem to improve the overall profitiability of the ecosystem. The margins on hardware is far lower than the margins on Software. Surface is a low margin business. It exists to help Micorosft build a stronger foundation for the OEM''s to supply a growing ecosystem. Again, does anyone think Microsoft gaining more and more market share in hardware a winning strategy for a shrinking market? Would the OEM's be happy losing more and more marketshare to Microsoft Surface? SO, Mcirosoft spcifically targets the Surface at a market segament that is difficult to satisfy (high production and engineering costs) but leads the ecosystem to a better furture. OEM's will be glad to follow once these new market segments grow and take hold.

Who said anything about laptops?
Nope, I said I'll buy a surface pro when it has a larger screen 15.6 is a good size.
The pen and touch yes, are crucial, so big is better. The examples I gave aren't laptops, they are windows tablets and convertibles all with pen and touch...
Actually you remind me of the computer salesman in a department store a few years back, when I said I wanted a tablet but all they had were laptops, dozens of them , all the same... he told me with 'absolute authority' that 'no one uses tablets or pens , they were a gimmick that didn't take off ... so we don't stock them.'
Anyway, I don't need to tell you the rest of that story, that dude was just out of touch and just liked to spout.
Oh sorry unless you are a MS spokesperson with the secret juice on product development? Oh crap, you are ! and releasing the treasured info here in this internet backwater, not at a product launch or secret boardroom meeting!
.
Hey everyone! this person knows exactly what MS is releasing! It's gonna be a smart bike isn't it?
Or a surface backpack?
What is it then? The Microsoft hat?
Clever pants.... MS are issuing clever pants, that alert you if your fly is down , I can't wait.

Great piece! My experience is -- long-time Windows user, obliged to use Macs at work. (I oversee a Mac media lab at a college and my office computer is a MacBook Pro, but I own a Surface Pro 3 and Win-based home music studio.) I like this article because it acknowleges the strengths of each platform, and the corresponding trade-offs. But I wouldn't ever buy a non-touch/non-pen computer for myself. As to labability of the Surfaces -- for me my Surface Pro 3 is _better_ on the lap -- smaller footprint, the heat is away from your legs, and it's far more stable. Plus it also works great when you cross your legs, so I can change position and sit differently with it, which is more comfortable for long sessions. I'd love to see someone use it who finds it not "lapable" because, honestly, I don't get what the problem is. And yet almost every review says this. I use my SP3 maybe 90% of the time on my lap, and prefer it to my MacBook in that position.
Anyway, welcome to Windows World!

The lapability comment is 100% subjective. I sit in the front passenger seat all the time with my SP4 in my lap, typing out chapters while my wife does some shopping. Is it as good as a laptop in that setup? No... but it's not at all unstable, wobbly, or uncomfortable.

For me, SP3 is more "lappable" than any other laptop for use in car, in the airplane etc.
Since I am always a driver, I rarely sit on the other place, so in case of necessity, I place my SP3 like this: https://1drv.ms/i/s!AnmHnAm70h5Npo0e77oCcERjFNl8mQ and it turns out to be quite convenient! Surprisingly, though...

I think quite a few of the issues he had will be resolved with the Fall Update... I'm hoping the lapability will be better with the improved utility of the pen (being able to use it for scrolling, more handwriting options in Edge & other Windows apps, etc.)... so I think it'll be easier to use without the keyboard (finally). Also... downloading the Cortana app on his iPhone would help to provide some of the benefits he enjoyed with iMessage... and there will be even more seemless sharing b/w phone & PC with the Fall update. I'm fine with the type cover trackpad and the surface arc mouse... he may forget that most of the gestures he would have wanted a trackpad for can be achieved by touching the screen........... since he would have never been used to a touchscreen on a mac. Haven't had any problems with Hangouts... but then I have the i7 version, w/ 16GB of RAM. NOTHING slows my Surface down. The only point he brought that I can agree with is the lack of usb-c. That's disappointing.

I still in love with my HP convertible laptop. Just love every bite of it.

I found that when I ditched my MacBook Pro a couple of years ago for a Surface Pro 2 using Pushbullet have me pretty much the same functionally when it came to SMS text etc. I've been a long time Skype user and I've never had problems with it. Apple has made great hardware and I don't understand why they've not made on OSX iPad of MacBook Pad it whatever clever name they'd come up with.
The Surface Pro 4 with the i7 CPU that I own now it's just fantastic. It has become the only device I use now for pretty much everything from work, movies, news, music, and even a little World of Tanks or Warships. I think my home computer just might be headed for retirement soon.

The only thing u would disagree with is the lapability. It's great on my SP4...and I've had a Surface for like 3 yrs (SP3 before).

are you seriously using google hangout? google hangout sucks, google hate microsoft... you really should switch to some better alternatives

You can always get a surface book, if lapability is a problem.

Great article! I recently switched from macbook pro to windows surface as well. Maybe it's just my comfort zone, but I miss Finder (tabbed, color tags for files/folders, etc).

I recently gave my kid my MacBook Pro and picked up an ASUS 2-1 to try out Windows 10 around the house before I splurge for a SurfaceBook or Surface Laptop. I REALLY am struggling with the iMessage, Maps and Browser handoffs you got with Apple. Also there is no iMovie alternative from Windows now that Movie Maker has been discontinued. Also i tried Skype video versus Facetime and the quality was terrible! I find Cortana and Action center a little better to use vs. Siri and Action Center. I do like the fact that the Windows Netflix App allows you to download movies for offline playback. Price being equal I may go back to a Mac.

Ok... so im not the only one with an issue with Google hangouts. I got my surface a week ago been trying to find out why the F23$K hangouts its killing my system.
Windows Central Newsletter
Get the best of Windows Central in in your inbox, every day!
Thank you for signing up to Windows Central. You will receive a verification email shortly.
There was a problem. Please refresh the page and try again.