Surface Pro vs. Surface Laptop — Which is better (and why)?
Should you buy the Surface Pro or Surface Laptop? Choosing between the two is no easy task.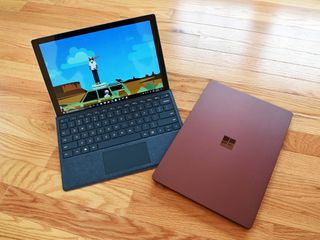 During the last month, I've been extensively using Microsoft's new Surface Pro and Surface Laptop, even jumping between different models to compare and contrast the experiences. I'm often asked which one I prefer. It's an excellent question as there is significant overlap between the two PCs but also quite a few differences.
I'll explain here which Surface I grab the most often and why. I'll also talk about the pros and cons of each.
Surface Pro vs. Surface Laptop
I'm no artist
I've noted many times that although I enjoy the Surface Pen – especially the brand new one – I do not draw and only occasionally dabble in inking. But I use the pen more than I did a year ago. More importantly, I want to use the pen more, and that validates Microsoft's efforts.
I say all of this because the decision between Surface Pro and Laptop is straightforward if you draw, take notes, or just want to ink a lot. The Surface Pro is the obvious choice because the Surface Laptop is not a drawing machine, though it supports inking.
This article is for the many consumers who do not ink regularly. Assuming you do not prioritize the Surface Pen as an essential component to your purchase, the choice between Surface Laptop and Surface Pro becomes much more complicated.
Tech spec comparison
Microsoft uses many of the same components in the Surface Pro and Surface Laptop, but there are differences too. Here is how the two compare on paper. (Note the bold text, which spotlights advantages.)
Swipe to scroll horizontally
Category
Surface Pro (2017)
Surface Laptop
OS
Windows 10 Pro
Windows 10 S (upgradeable to Pro)
Screen size
12.3 inches
13.5 inches
Screen resolution
2736 x 1824 (267 ppi)
2256 x 1504 (201 ppi)
Processor
Intel Core m3-7Y30, i5-7300U or i7-76660U
Intel Core i5-7200U or i7-76660U
RAM
4GB, 8GB, 16GB LPDDR3
4GB, 8GB, 16GB LPDDR3
Graphics
m3 and i5: Intel HD 620
i7: Iris Plus 640
i5: Intel HD 620
i7: Iris Plus 640
Storage
128GB, 265GB, 512GB, 1TB (SSD) + microSD expansion
128GB, 256GB, 512GB
LTE option
Yes
No
Rear camera
1080p
None
Front camera
1080p (With face authentication)
720p (With face authentication)
Ambient light sensor
Yes
Yes
Accelerometer
Yes
No
Gyroscope
Yes
No
Ports
Full USB 3.0, Mini DisplayPort, Surface Connect, headset jack
Full USB 3.0, Mini DisplayPort, Surface Connect, headset jack
Speakers
Stereo speakers, Dolby Premium
Omnisonic speakers, Dolby Premium
Height
11.5 inches
12.13 inches
Width
7.93 inches
8.79 inches
Thickness
0.33 inches (without keyboard)
0.57 inches
Weight
1.69 pounds (without keyboard)
2.76 pounds
Battery (listed)
13.5 hours
14.5 hours
Price
$799 to $2,699
$999 to $2,199
Surface Pro gets the better front-facing camera, and a rear camera, plus it has an option for LTE (coming this fall) and microSD expansion. While it's not revealed on paper, the Pro's solid-state drive (SSD) for storage has significantly faster read and write times compared to the Surface Laptop.
CrystalDiskMark (higher is better)
Swipe to scroll horizontally
| Device | Read | Write |
| --- | --- | --- |
| Surface Pro 512GB | 1,284 MB/s | 963 MB/s |
| Surface Book 1TB | 1,018 MB/s | 967 MB/s |
| Surface Pro 256GB | 847MB/s | 801 MB/s |
| Surface Laptop 256GB | 486 MB/s | 244 MB/s |
Likewise, the Core i5 Surface Pro has a faster processor with a peak turbo of 3.5GHz compared to the Surface Laptop's Core i5 at 3.1 GHz.
What I like about Surface Pro
In my Surface Pro (2017) review, I noted that the Surface Pro (2017) is close to perfect. Microsoft achieved what it always wanted with the Surface Pro in this fifth generation. There are quite a few standout features that I adore about Surface Pro compared to Surface Laptop, including:
Display — I can't say enough about how good the new Surface Pro's display is in enhanced mode. The colors just pop, and it is noticeably better than Surface Laptop. With more pixels and more pixels-per-inch (due to the smaller screen size) combined with new color profiles (sRGB and enhanced) the Surface Pro's display is just gorgeous.
Nimble — At just 2.4 pounds (1.1 kg) the Surface Pro with the keyboard is very light and thin. I can't accuse the Surface Laptop of being heavy, but it is heavier than Surface Pro.
Closeness — I don't usually prefer 12.3-inch displays, but due to the Surface Pro's design, it tends to sit closer to my face than a traditional 13-inch laptop's screen negating the viewing difference. The Surface Pro is more immersive in that regard. I also use the touch screen more because it is physically closer to me.
Surface Pen — I don't draw a lot, but I still like the option. The new Surface Pro and Surface Pen are just too good to resist at times.
Versatility — I don't often switch to tablet mode with the Surface Pro, but again, I like the possibility of having it. It's evident Surface Pro is just a more adaptable PC than Surface Laptop. Again, I'd rather have the option than not.
Performance — Both the Surface Pro and Surface Laptop run Windows 10 with ease, but Surface Pro feels a smidge zippier. It may have to do with that substantially quicker SSD found in the Pro that shines in the 512GB model.
I could also add the corny but somewhat accurate "cool factor" of the Surface Pro. Microsoft's 2-in-1 design is now iconic.
See Surface Pro at Microsoft (opens in new tab)
What I like about Surface Laptop
The Surface Laptop is really nice. It's the equivalent of getting into a $90K car for the first time and realizing why your Honda is a third of the cost. And once you try that luxury, it's hard to go back to anything else as you start to notice design flaws everywhere.
Surface Laptop Core i5 vs. Core i7: Comparing performance and battery life
Compared to the Surface Pro these are the things that are better with the Surface Laptop:
It's a laptop — Going with obvious, the Surface Laptop is truly "lapable," meaning it works well on your lap. Whether you are sitting, laying in bed, or riding the bus, the Surface Laptop has a very natural and sturdy form factor. Surface Pro's kickstand is great, but it's still an extra thing to open and not everyone likes that digs into their thighs.
One-handed open — You can open Surface Laptop with one hand versus the two hands – and some flipping – of the Surface Pro. It's just easier to jump into your work with no fiddling.
Larger display — I like the 13.5-inch screen size of the Surface Laptop. While Surface Pro sits closer, negating some of the difference, at the end of the day, and side by side, the Surface Laptop's screen size is just bigger.
Better audio — Surface Pro has some great front-firing speakers, but the Omnisonic speakers in the Surface Laptop are better.
Longer lasting battery — Surface Laptop gets about one hour to ninety minutes more life than the Surface Pro on a single charge. While I consider both models "all day" devices that last at least eight hours, the Surface Laptop has slightly longer legs.
Colors — While you can get the Surface Type Covers is burgundy or cobalt blue, the Surface Pro is still magnesium. That two-tone looks great, but a burgundy Surface Laptop? It's a whole other look that is stunning.
Larger trackpad — If you're a trackpad zealot who insists on the biggest and best, Surface Laptop is your winner. Surface Pro uses all the same materials and drivers, but the Surface Laptop has the edge for sheer size.
As I wrote in my review, Surface Laptop is about having the best-balanced Windows 10 experience, and I think it delivers. It's not the fastest laptop, it lacks ports, and it's not a value compared to what HP and Dell are making, but you are getting top notch quality, and precision engineering like PC users have never seen.
See Surface Laptop at Microsoft (opens in new tab)
What they have in common
There are many overlapping features that place both Surfaces at the top of their classes, including:
Displays — Both have excellent screens. While the Pro's is better, the Surface Laptop's is also one of the best I have seen.
Ports — With just one USB Type-A, a mini DisplayPort, Surface Connect, and headphone jack, you can't give a lead to either Surface Pro or Surface Laptop. Or can you? I'd argue that Surface Laptop should have enough room for one more port compared to a tablet and yet it doesn't. Also, in favor of Surface Pro is that micro SD slot that Surface Laptop lacks.
Typing — Both Surfaces use the same Type Cover format as the Surface Pro 4. Surface Pro and Surface Laptop feel very similar. Surface Laptop has deeper key travel at 1.5mm compared to Surface Pro's 1.3mm, but in my opinion the Laptop is not automatically better.
Alcantara — If you like luxurious fabrics, you can get that with the Surface Pro and Surface Laptop and Alcantara. You get more Alcantara with Surface Laptop, but should the material break down or wear out over the years, Surface Pro is easier to replace since you can just buy a new Type Cover.
That look — Surface Pro has the more iconic, tradition-breaking design, but these are both handsome devices. It's hard to love one more than the other when side by side.
Premium engineering — The Surface team out did itself with Surface Pro and Surface Laptop. These two PCs are the highest quality and engineering, and they feel it.
Conclusion: Surface Pro wins ... but not by much
Spending the last month with the Surface Pro and Surface Laptop, I learned that one is not leaps and bounds better than the other. There is no critical component or feature with either that makes me grab one when running out the door. In fact, I barely have an answer to this question of which Surface I prefer – I'm OK jumping between either at any moment. That consistency in delivering a satisfying experience is a testament to the Surface team's work.
Nonetheless, the Microsoft Surface Pro wins for me. The display is pure eye candy. The form factor is much more versatile, letting me do more, and I just like its size.
Microsoft didn't cut corners to ditch the fan in Surface Pro (2017) with Core i5
Once Microsoft figured out the battery life and fan situation with the Surface Pro it suddenly became the device it was supposed to be all along. Surface Pro is just a more impressive PC. I'd also argue it's the future of PCs, whereas Surface Laptop is an excellent execution of an old idea.
The new Surface Pro is just too good for me to pass up.
Get the Windows Central Newsletter
All the latest news, reviews, and guides for Windows and Xbox diehards.
Daniel Rubino is the Editor-in-chief of Windows Central, head reviewer, podcast co-host, and analyst. He has been covering Microsoft since 2007 when this site was called WMExperts (and later Windows Phone Central). His interests include Windows, laptops, next-gen computing, and for some reason, watches. Before all this tech stuff, he worked on a Ph.D. in linguistics, watched people sleep (for medical purposes!), and ran the projectors at movie theaters because it was fun.
Why does no one talk of the surface book anymore? I have been nothing but happy with mine.

I'd say because the surface book is in need of an update/refresh.
Its more expensive and running older hardware.

I can understand that, but it still has great specs and I see no signs of slowing. It can run anything and everything I've ever put on it. I'd still choose it over either of these. I just looked online and mine is the same specs as the surface pro. i7, 16gb ram, 512 hd. my processor is 2.60 GHz / 2.81 GHz., the only difference is my Processor is 6th Gen and Pro is 7th Gen, but again, I see no signs of slowing down. I was just curious how it stacks up against the pro.

good for you..i would've if I can :-)

I do put in Surface Book benchmarks for CPU, GPU, and SSD for comparison. May do another article, but these two being launched together seem like a natural quandary for people whereas Book has been out for 19 months already.

Thank you, again, that makes sense. It still holds up and compares quite well though, even being older.

I was very happy with my surface book too but didn't use it in clipboard mode as often as I wanted to because of the size and lack of stand. I just switched to the new Surface Pro and am quite happy I did. The screen is smaller but the keyboard is closer and so I sit closer to the screen and don't notice the difference. Its easier to reach out and touch the screen while typing where I didn't tend to do that much with the Surface Book. I'm using the pen more now too of course as this is most useful in clipboard mode. My biggest fear had been lapability with the Surface Pro but as it turns out this isn't a problem. I used this all weekend without a hard surface to be found and had no problems with it.

That's awesome man. I am glad you posted this. I, too, use my pen often, but on my book and at times, it can be a little awkward, but it does fine overall. You do bring up a good point on the clipboard, when comparing the pro, but with the laptop, it is no different.

I couldn't agree more, I tried the Book, with enthusiasm, I but after two strokes of the pen,1 realised that the screen moved WAY too much. Something needs to change with the Book. The The promise of power and Gpu is great, but the whole thing is dependent on the hinge. Sure flip it, but then no keyboard shortcuts, so it doesn't really work. The surface pro is a better form in many ways but needs more guts and a bigger screen. The surface 'Sketch'?

Your "Surface Sketch" could be a hybrid of the Surface Book & Surface Pro. Essentially, a SP (with the 165 degree kickstand) but that can connect to a SB like performance base. Of course that would potentially cannibalize both category devices. But it would solve the SB's wobbly screen and make it more usable in tablet mode. I thought I heard a rumour that some oem did this already? Unfortunately, most oem efforts so far tend to fall a bit short in 1 or 2 areas (imho) and I feel like I'm settling if I were to purchase something other than a Surface product

my choice would be the same and I am a student ...and I see so much potential in pen for student(one note...man that's one of the best app made for notes taking...)...whenever I use my asus laptop I just think how convenient surface pen would be here

For me, there's no competition at all. The laptop isn't even in the running.

The choice between them is really easy though. The i5 Pro5 is faster than the i5 Laptop. (7300U vs 7200U) The Display rez is better. Display has fancier calibration on Pro5 Detachable keyboard New tilt for pen available just for the Pro5. Pro5 has better battery for i7 for whatever reason. Pro5 has fanless i5. Pro5 is lighter, even with keyboard. Better camera + rear camera MicroSD slot

The emphasis for the pen for normal people should be on note taking, marking up screenshots, and simply using it as an alternative to your finger. These are tasks that you don't have to be an artist to do. Our 11 year old daughter who draws, on the other hand, can do some amazing drawing with the pen. She uses a Nuvision Solo 10 Draw.

Maybe. I still rather type notes than write them out.

It should *not* be an either or thing though, Dan. I've been trying to grab my Surface Pro instead of a sticky note or a paper notepad. Also a tough habit to break. I can tell you that, compared to the SP 3, the Surface Pro makes it easier. Microsoft needs to deliver Whiteboard, and then I think they have a game changer.

I'm smitten with the New Surface Pro. I myself own a SURFACE 3, which is hands down my favorite device I've owned. I think it's a great form factor (I really hope they do an ARM refresh of the device this fall. But I would like to upgrade to the New Surface Pro, the larger screen and much faster processor should be tremendous for me.. though I think at times I might miss the smaller size.... The laptop is wonderful., But I've become quite a habitual user of the Surface Pen, so I wouldn't consider the Laptop unless it had a Quad core processor and a numbers pad, which for me as an Accountant is an absolute must on a traditional laptop.

The Surface Pro looks great and has better specs, but I do like the simple form factor of the laptop.

The Surface Pro beats the Surface Laptop in almost every category, including price. If you absolutely hate the kickstand and flexible keyboard then go ahead and buy the inferior product; however, I imagine most sales will continue to be the Pro variety. I have used a S3 for two years and absolutely love the true 2-in-1 Tablet/Laptop experience. I've had snap on kickstand-free 2-in-1s and flip over laptops, and the experience is not even close to what microsoft offers.

There's a MAJOR difference between the two, and that is the Pro's flexibility. That makes it the winner in my book. I have the SP4 and using a Brydge aluminum keyboard, which makes it a full-blown laptop.

My answer is YES. figure it out if you will!

Really it comes down to do you want a tablet with a keyboard, or do you want a laptop. Hardware and pricing are similar enough.

I'm curious exactly what is going on with the new Pen regards availability. Is it still only availalbe in Platinum for the US only? It doesn't seem to be available at all to pre-order online or in-store in Australia, or New Zealand (but you can get the Pro itself and the keyboards). It's like because it's a 30% use number, it's been bumped down to a low priority accessory now. In fact, asking a store supplier here got an answer of they didn't even know if the Pen would be available anytime soon. Very frustrating.

Agree. I want the blue SL here in Aus but no news yet. 😡

Having been using Surface 3 for a year, it's difficult to go back to traditional form factor.
That speaks volume, especially for someone who used to use a laptop all the time.
.
Having said that, the Surface laptop is very appealing to me. I don't know why but the design is top notch for me. I would be thrilled to own a cobalt blue one.
.
Arrhhh, the Surface team has been too good lately.

I'm curious to see if, after they release the LTE version of Surface Pro, this device will become available at various mobile carriers. Wouldn't that be beneficial to Surface Pro sales? I wouldn't mind if I would have to preorder it from my mobile carrier and wait a few weeks for it to be delivered.

So Daniel there is one con to the Surface Pro not mentioned and one uttered regularly here in comments. Touch mode is not great. I find it disappointing. In fact, Windows 10 desktop interface is just better. I think this is a pro for the laptop and a con for the Pro. Full disclosure: I am typing this on the i5 256 version of the Pro. It is great for the most part. In fact, I like most of it, but live tiles are in need of an update. They don't mesh with the new Fluent Design imo. I like the tiles, but they need a Fluent update.
I actually am comparing the Pro to the Samsung Chromebook plus. The apps do matter. I play Zynga Poker daily and the W10 version is lacking. It works once you get past some connection issues, but the windows store is a mixed basket. Just one example. Still I have to admit I like the overall design of the store. They need to highlight their strengths and update the selection daily. I was looking at games tonight and there are a ton of them on the store. More than I have time to play, I think Windows Central should talk more about the strengths of Windows Store. I mean you will be forgiven for being apologists when the name of your site is Windows Central and Centennial apps are trickling in. I still have hope for W10 and UWP.
Having said all this I do agree the Pro is the best form factor. It's legit and not some experiment anymore. I do hope MS makes a 2 in 1 with a 360 degree hinge though. I own the Surface Book too and while it is great it is heavy and quite frankly more work to use than a 2 in 1. I find the Samsung Plus form factor really good. It's 3:2 like Surface. Maybe Samsung will make a 10s version. I would absolutely buy that. Anyway, thanks for the write-up. I always enjoy what you have to say. Cheers!

It is better to use Surface pro than surface laptop!!!! If battery life 🔋 isn't an issue.

Daniel, there is an error in your specs table. The Surface Pro can record 1080p30 video on the front and back cameras, not just 720p. In fact it is 8mp rear and 5mp front. Ideal for capturing whiteboards or skype calls (which it does very well even in low light at home in the evening).

Got the i7/256 GB SSD/8GB RAM Surface Laptop. It's nothing special. Hardly felt any speed advantage over my Surface Pro 3 and the SSD is a lot slower than it should be at this price. If there is anything I could say about the Surface Laptop, it is nothing more than fashion over function. Contrary to fact-free claims, the Iris Pro graphics are mediocre for actual CAD and imaging work. The keyboard is basic. The Alcantara material is very off-putting. Even the Alcantara keyboard I got last year for my Suface Pro 3 feels more durable, but something about putting it on a laptop (while also glueing and soldering everything that may need repair, making it impossible to DIY) is likely to turn some excited buyers off after a few weeks of use for something that should be designed to last at least 5 years for that price. It simply feels cheap to the touch. The trackpad feels slow as well, and that's with the pointer speed at its maximum. I am returning it this weekend and going to stick with the Surface Pro 3. $1,600 for a laptop used to get you a lot more than style. Microsoft has truly swallowed and digested the Apple Kool-Aid with this one.

Surface Pro all the way, Surface Laptop is an overpriced joke.

It's obvious the Surface Pro.