Windows 10 Insider build 16251 lets you link an Android phone to your PC
Linked phones can send web pages to a PC, and more features are coming.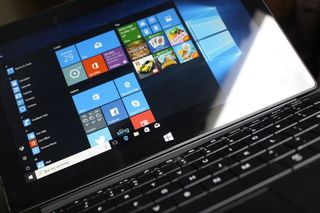 During the Microsoft Build conference, we learned that Microsoft was working on clever ways to link your phone with your Windows 10 PC. The latest Windows Insider build kicks off the first step with some cross-platform magic that lets you send a web page from your phone right to the big screen.
Android apps every Windows Mobile convert should install right away
Users on the Windows 10 Insider Preview Build 16251 for PC now have a new setting called "Phone" where you can get everything started. Hit it (it's with the rest of the settings) to link your phone to your PC to get started. Right now, you can only set things up with an Android phone, but we imagine an iPhone version has to be coming at some point.
Once the two devices are linked, you can send a website to your computer through the browser's native share option. Open it and choose the "Continue on PC" option to get to step No. 2. Next, you need to sign into the same Microsoft account that you're using on your PC, because that's how all this cloud magic works — one account in both places can share almost anything you want it to share.
You'll have the choice to "Continue now" or "Continue later". Choosing "Continue Now" opens the web page on your PC immediately, letting you browse on the bigger and better screen of your computer. If you choose to "Continue later" you'll see an entry in your Windows Action Center so you can have a click whenever is best for you.
Microsoft is steadily leveraging the billions of Android devices out there, and this first step of their ambitious linking project is a good one.
Windows Central Newsletter
Get the best of Windows Central in in your inbox, every day!
I'm an RHCE and Electrical Engineer who loves gadgets of all kinds. You'll find my writings across Mobile Nations and you can hit me on Twitter if you want to say hey.
...and not even W10M can do this...smfh

LOL W10M officially died years ago! Have you been living in a cave?

Been living in your ampit

Yes! people are in denial.

It's gone beyond simple denial now, more like fit to be committed....

And those thinking Microsoft will survive the absence of Mobile don't understand ecosystems.

Doesn't matter. W10 on arm already does...

No, win10 on S835 NOT ARM!....
It's a misleading label!

i fail to see what your issue here is. Windows 10 uses x86 architecture but doesn't work on a lot of older x86 chips...

Native and official is always preferred. We shouldn't beg for this from Microsoft.

how long until google breaks it........or gimps it so it crushes your phone battery life.

Microsoft app "Continue Anyware" that work also with apps that already added the APIs.

Eh, Connected Devices, formerly knows as Share Across Devices, is a UWP app that has been able to do something like this for a while.

This. Connected Devices is even on the Google Play Store so I use the same app wether I'm on my PC, Surface or Nexus 5X.

I can already do this on Windows 10 Mobile. Click share in an app (Mobile edge for example) and select "Hand-Off" and then choose my desktop PC.

Hmm, I don't see the hand off option in the share menu. Is that a 3rd party app you are using to leverage that?

Yes. Either download hand off or connected devices

you need to install this kind of app also on PC/ any other devices

This feature for sharing links and favourites in Edge has been around on W10M for ages. It uses your MS account. Try it. From MS "Windows phones are linked to your PC through your Microsoft account. Here's how to sign in on your phone:".........

Yes, favorites are synced. With at least 10-15 minutes delay... Syncing is not fast interaction

Recently viewed pages also not just favourites, it disappeared in 8.1 at some point

Edge syncs favorites only....doesn't sync history which is in a way very similar to this continue on pc feature.

Nope, Reading List is the equivalent in Edge.

Sharing favourites has been there for years. I use it on my Surface RT.

u can do it on windows mobile... u dont have to connect... edge syncronizes with pc and mobile so u can keep doing on both

Seems like a well hidden feature....

It doesn't seem to work for me, my favourites don't even carry across when I sign into edge on different computers. It is really annoying.

If you use Cortana it will keep track of it for you. They introduced that a couple of builds back I think.

Relying on Cortana just for this kind of feature really don't make sense when Cortana isn't available to every region, every Windows 10 users. Yes, we can manually change the region, but why do that when there is another approach to make it more seprate and just bake that experience natively without Cortana.

reading lists has been available for a long time too... so Cortana isn't required. not exact same functionality, but extremely similar end result. plus if W10M is to be replaced with something else, it doesn't make sense to build it in at this point. And if its not being replaced, well, there's only one other explanation...

Can you elaborate on this please? Sharing to Cortana reminder or something more useful?
Nothing similar in Cortana. Even Pick up where you left off can be seen in Notebook, but it doesn't even allow to see taps opened on PC (mobile to PC won't be possible without Edge === whole OS update which won't happen).
It shouldn't be hard to implement since it is cloud based just display links - they will be opened in Edge (like News feed)

I use an app called connected devices to do the same thing though I wish there was a native option.

Really sad. I still love my windows phone the most.

Actually W10M can, search for Continue App Experiences in settings and there's the Reading List in Edge that does the same thing as this feature.

but w10m is already synchronized with pc by Cortana, Edge and OneDrive..there is also the fantastic app "Continue Anywhere" that already do the same thing of this function for android, but as usually the apps don't integrate this apis because developers are too lazy and stupids! At least there ar apps like "Connected Device" to exchange file and webpages between pc and mobile.

If it's as reliable as sending sms from the PC via Skype, I have some doubts ...

Nope, will work perfectly because the mobile OS is one Microsoft actually cares about.....

Oh yes, I forgot .... Where did I put my head?

Last proper W10M release: RS1. RS2 and after are empty shells.

Until it gets filled with.... wait for it (coming soon).... sea shells!!!! (get it c-shell???) I'll show myself out

Good one! XD Don't forget your sea shells btw when you head out.

So they obviously have a mobile strategy.

Yes, anything but windows phone!!!!!

To me this is a welcome addition. One more reason to get a new Surface Pro.

Why on earth would I need a function like that? MS is killing it's fanbase.

I believe they are expanding it to fend off macOS and Chrome OS users by keeping them in the Windows desktop ecosystem, but letting them use whatever mobile phone that they want.

At some point, all these Android and Apple users will realize that they don't really need Windows much anymore.

You just mad his point for him!

Microsoft's fanbase use Android.

Well its still a good thing, this will make Windows experience extend and bit seamless to other platforms too, especially that Android and iOS are way more popular ones.
The question isn't why they are implementing on other platforms, the question is what about their own too.

Microsoft building for rival companies... the new business strategy. thanks Mandela, soz Nadella

It's an offensive-defensive strategy.

It's an awesome strategy....windows 10 moible is a complete failure. Therefore, doing this will let people (a hell of a lot of them), use their computers with their phones. unlike keeping it to only windows mobile where only a couple of dozen people can take use of the feature. SIMPLE....only a few fangirls left using w10m.

I use Windows 10 Mobile and I can admit things didn't work as expected for Microsoft this time around, but I still believe they have what it takes technically to compete, but strategically..? The reason I said it's an "offensive-defensive strategy" is defending Windows (on desktop) by serving mobile users on other platforms like first party users (offensive move) . They won't think so hard of what other desktop OSs are doing. That frees Microsoft to come at Mobile from another angle, cos they need that mobile play

I use Windows 10 Mobile and I can admit things didn't work as expected for Microsoft this time around, but I still believe they have what it takes technically to compete, but strategically..? The reason I said it's an "offensive-defensive strategy" is defending Windows (on desktop) by serving mobile users on other platforms like first party users (offensive move) . They won't think so hard of what other desktop OSs are doing. That frees Microsoft to come at Mobile from another angle, cos they need that mobile play

I don't like it...they should list it under Devices...

android like supermarket trolley in stream.

sure this function automatically opens up a link in Edge and NOT the default browser. Just to try push that crappy browser down everyones Throats

"we imagine an iPhone version has to be coming at some point" Dona actually said it was in the build announcement.

Now I can finally buy an Android phone....

So much for continuum needs.

Nice.
I mean I have Chrome syncing across all my devices but it's nice to have this more streamlined experience.

Chrome and other web browsers do similar experience, except they don't automatically open the target web browser. Still, its there while Edge for whatever reason, there is no way to reopen closed Tabs and no way to open synced tabs from other devices unless you are fortunate to have and know Cortana.

Microsoft all but must do this, because W10M phones will soon be a memory. The fabled foldable small-screen Surface (aka Surface Phone) will not be considered a phone, but an always-connected ultra portable PC, one that will be marketed to the enterprise only, with "prosumers" allowed to procure one on the side. Maybe someday Windows will have the ability to open a web page to/from any other device, but for now that ability will only be from a non-Windows operating system.

Fable is the word for Microsoft's mobile OSes. Soon they will have Peter Molyneux as head of the moblie department. then we will get a story that even Jason can't dream up.

This will be very useful, I'm sure more functionality will be added in the not to distant future

Time to send some android stuff to my 950xl u microsoft bastards

Ah, so the next version of Windows Mobile is called Android.

This is what really happened to Project Astoria. Instead of porting Android Apps, they are porting Windows Mobile over to Android devices instead of continuing Windoes Mobile.

this is similar to the windows 8 explorer where you could see the web pages you had opened on your phone, worked great then.
will you need to install cortana for this to work, this could stop people using this

My l950ds has a very broken screen - I can literally see the internals - and the front camera is broken (can't use Hello anymore :( ). So I started looking into other phones and borrowed 2 Android phones (Galaxy S7 Edge & LG G5) and dusted off my work provided iPhone 6. With all of them I invested a whole week of using each exclusively, only to go back to my broken Lumia. The iPhone has no dual SIM which basically made it unusable for me. The Lg has a gorgeous design and Android seems to have relative nice Apps in general. But using Android itself was a pain in the arse to use; so was iOS.
The Samsung seemed to be very cheaply quality and material wise. I might actually bite in the sour fruit and buy a still massively extensive hp elite x3 ds. So I personally couldn't care less about Windows integrating well with iOS or Android. I want Windows to integrate well with Windows, regardless the platform. Please MS give Windows on mobile handsets a bump soon!

"The Samsung seemed to be very cheaply quality and material wise." This alone tells me you haven't used the S7 Edge. Try another lie.

Everything is in the eye of the beholder. I sure did use it for the amount of days specified.

You think the S7 is cheaply made, wait until you hold a X3. That thing is a plastic joke for $900!

I'm using an s8 plus and any time I try to share it, the sign in fails. Upon hitting the sign in button, I just see a white screen. Anyone else having this issue?

Look. How. Ugly. That. Phone. And. Screen. In the picture. Is... 😢

Shame on you Microsoft, because it is not available for windows phone

Huh? I can do this already in W10M

From mobile edge for example, select "Share" then "Hand Off" then select your PC. It will open on that PC.

O k now I will. Try it on my 950 XL

Why not to mention that "Hand Off" is paid 3rd party app?

No, you can't, not natively. Where is this functionality in W10M such a privileged few are privy to?

I'm not even aware that this feature exist already, nor seeing one.

This seems kinda kludgy... the native hand-off feature between W10 devices is more elegant. Works great from mobile to desktop

Could you explain how to do this, because I cannot figure it out for the life of me.

I will be getting the Note 8 when it comes out

Nice to see that Satya not only killed and buried W10M, but now he's also urinating on its grave.

Hopefully the Android and iPhone trolls are getting paid to post.

Good. Now release Edge on Android so I could sync my favourites.

Or...you could use Chrome which is a vastly superior browser...Just sayin'

Nah, I don't like Chrome's UI. I'd rather use Opera in that case.

Similar to Pushbullet. Does it open links in my browser of choice?

Joe Belfiore showed @Build. This will also work for Windows Phones.

I remember having this feature on my 1520 before MS killed it, but then it only worked from phone to pc and not the other way around.

For UK users it will work despite looking like you have to enter a US number. Where it says US+1, choose JE+44 and then enter your mobile without the first 0.

Windows Mobile is DEAD!!!!

Android first ios second and win10m the last,well

Hmm, sounds like a feature I'd really like to have :)

Like it or not this is smart business. Make the platform available everywhere. Google does this too. All the BS about W10 mobile support forgets that their long term commitment is Windows 10 period. Full stop. Telephony will come. The direction and vision are solid, even if implementation has had issues here or there. Microsoft is far more agile for Windows 10 than they have been in a long long time. The continue on PC option is also great for future possibilities. Continue App on PC could happen and is another great reason for UWP apps on Windows.

This is not exactly true. Google and Google related app developers didn't make and allow their apps for Windows Phone. Even Google banned Microsofts Youtube app. We all know and remember those attacks.

Google and the other developers do not make apps for any of the irrelevant platforms. Microsoft needed to prove itself first, just like everyone else.

Yes. Android is becoming available everywhere....

How does it work. Is it a seperate server connection, or does it work via cortana? A pity windows phone users are left in the dust in this project. Sound perhaps from a business and marketshare perspective, but controversial from micorosoft's own ecosystem perspective. Makes me weary for any future investment in microsoft's mobile endeavors and their windows 10 on ARM project.

Do windows phone devices really need a similar connection as with iphone and android devices? Or is it already baked into windows 10 mobile?

It doesn't seem to work for me on W10M. Nothing syncs between devices for me.

For web pages Reading List already does this within Edge

This will be great when I get the Nokia 8/9.

So what about android tablets? Those exist too even if you don't want think that tablets exist, Microsoft.

The ability to see favourite from other devices has been around for the last 4 years.

The ability to see favourite from other devices has been around for the last 4 years.

Windows 10 mobile seems to be in the morgue, waiting to be buried soon

This was bound to Happen and is good🙏

How pointless, to view a website on your phone, on your pc??? If your sat in front of your pc to do this...just look at it on your bloody PCs browser!!!

" How pointless " Not necessarily. iOS/macOS have had the ability to share what's open in tabs on various devices. If I do some web surfing on my phone I can quickly open the same link on a different device. No need to do anything special on the original device, just open the same thing from the second device.

Great! I'm going to buy an android device (currently Lumia 640xl on W10M: sucks)

So, the moble leads.... How long before a desktop, offline version of Android? And suddenly......

This also works between my Surface Pro 4 and my Desktop

I already get phone notifications on pc through Cortana app on Android. I can also reply to sms from the notification. How does this new feature work? Does it link the phone using WiFi or Bluetooth?

Hm works only with browser and photo app for me, useless gimmick. I anyway use google photos, so I can open the photo also direct on the pc.
Windows Central Newsletter
Thank you for signing up to Windows Central. You will receive a verification email shortly.
There was a problem. Please refresh the page and try again.