Windows 10 build 16251 for PC and 15235 for Mobile now rolling out to Insiders
Microsoft is rolling out new Insider Preview builds today for Insiders in the Fast ring on PC and Mobile.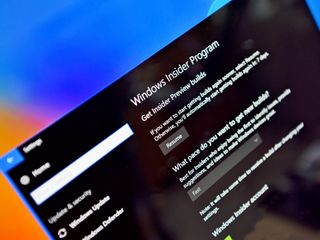 (Image credit: Windows Central)
After a week off, Microsoft is rolling out a brand new Insider Preview build for Windows 10 on PC and Mobile! Today's builds are 16251 for PC, and 15235 for Mobile. At this point, these builds will be mostly focused on general OS improvements and bug fixes on the lead up to release.
Microsoft is actually rolling out two builds for PC today. One build is for the Fall Creators Update, and the other is for Redstone 4, the update coming after the Fall Creators Update. As of right now, these builds are essentially identical, but over time they will diverge.
What's new for PC?
Windows lets you link your phone and PC: You may remember at Build we talked about PCs and phones working better together. With Build 16251, we are introducing the first set of features that enable "linking" your phone to your PC. This build's scenario is focused on cross-device web-browsing. Today, we're asking for you Windows Insiders to help us test this experience out using your Android phones. Support for iPhone is coming very soon, stay tuned.
Get web search results in Cortana without opening your browser: Now you can view the results that Cortana has for you without launching the web browser. For some questions, the Cortana pane will expand automatically, quickly showing you exactly what you need to know. It works with movies, celebrities, stock prices, weather, flight status – you name it!
Use Cortana voice commands to lock, sign-out, shutdown, or turn off your PC: We have now enabled the ability for you to use Cortana to turn off, restart, lock, or sign-out of Windows. While previously announced, we haven't fully enabled it via the cloud until now.
Use sign-in info to apply settings after a restart or update: The advanced Windows Update feature to use your sign-in info to automatically finish setting your device after an update has been extended to regular reboots and shutdowns. When you log in and initiate a reboot or a shutdown through power options available on the Start Menu and various other locations, Windows will automatically setup your account after it's has booted back up.
What's new for Mobile?
Yes, Mobile got a new feature. We can't believe it either.
Switch to portrait mode orientation in Continuum: When using Continuum on a monitor in portrait, Continuum will display in a portrait orientation.
General improvements for Mobile
This build also includes all the improvements from KB4025342.
We fixed an issue where downloading large apps could report out of disk space when there is sufficient space available.
We fixed an issue where installing apps (particularly games) from the Windows Store would sometimes fail with "Error, see details".
We fixed an issue where a device could not be unlocked after removing/turning off Windows Hello.
We fixed an issue where Cortana would not provide the region when saying "Your region is set to" and then "Is that right?".
We fixed a Turkish localization issue where the string "We need to fix your Microsoft account before you can use shared experiences …" was shown in English.
As always, you can check out the full changelog, including a list of known issues at the Windows Blog!
Finally, for those who jumped into the new "Skip ahead" feature this is what to look for when the download begins.
While the build numbers are the same thers3_release (for Redstone 3, or Fall Creators Update) versus rs_prerelease (Redstone 3 plus new inbox apps and code) is the difference. Later, those build numbers will diverge.
Zac Bowden is a Senior Editor at Windows Central. Bringing you exclusive coverage into the world of Windows 10 on PCs, tablets, phones, and more. Also an avid collector of rare Microsoft prototype devices! Keep in touch on Twitter: @zacbowden.
Something new for mobile! How about that?

Low on the mobile news today... Guess Jason had to chill with the Warditorials for a couple days... I tell you the man knows something. If he's not right about MS, then MS is in trouble.

Guess MS is in trouble then.

Mobile added portrait support in Continuum... It's something

Hope next builds includes enterprise features step by step

Yes its happening now 👍
950Xl and 950 Dual sim

"Windows lets you link your phone and PC. This build's scenario is focused on cross-device web-browsing. Today, we're asking for you Windows Insiders to help us test this experience out using your Android phones. Support for iPhone is coming very soon, stay tuned.".
.
.
UGH. 😡
.
This is basically "pick up where you left off" for which we've been waiting for so long and it's not available for W10M.
.
And how are Android and iOS users supposed to use this without Edge?

cortana exist for andorid

Uses Cortana -> works only in a handful of countries - though this feature is not culture-related. How lame is that 😂

I know!!!. It should be as simple as - use English lang, keyboard but your actual region and get Cortana!

Apparently you have to use a voice assistant to enable "pick up where you left off".. Makes complete sense *rolls eyes*

Ohh.... Bring all those continuum features and let our mobiles rest in peace!

I hope it fixed the touch scaling on Surface. I can precisely click on notifications

I hope so too it is annoying

There is a manual fix for that already. See the announcement's Known Issues for that build in the Feedback Hub app.

I saw that change that should help, but after restart the issue persists

I just checked the changelog and it is there, that the issue is fixed, will see after install :)

That manual fix didn't work for me, but it seems they have resolved it with the latest build.

The Cortana inline search was available in 16199 - I wonder if its something they can just turn on...or if it was A|B tested

Just yesterday I dusted off my Lumia 950 which has been sat on a shelf for the past 2 months and put away my iPhone 7. For all its quirks I find the Lumia just nicer to use. Hope this mobile build portends a few more changes

Whatever 'portends' means, there won't be anymore significant changes for w10m. Only bugfixes.

Do a quick cortana search "define portends", it's not that hard buddy.

Well thanks for your kind assistance...

Need to find a rival platform for mobile... I've an iPhone already. Maybe back to android Wm10 is.... Fill in the gap

Wm10 is .......my favorite mobile OS.
I own an iPhone 7 and Galaxy S7 Edge and have always used Windows, iOS and Android at the same time since the iPhone 4 was released.

I have prod build 15063 and Cortana already expands web results without opening my browser

I noticed this too last week. Pretty cool

Comments not loading anymore on W10m L640, no solution found.

Geez... 1005.02 MB for this update on my 950XL

That large!? For what? When reading the change log, should be 200-400MB max.

Idk, I thought the same. Especially since the updates are supposed to be a lot smaller now. Makes me wonder if there is anything else not mentioned in the changelog. Either way I will have to wait until I can actually get to wifi to download :(

Should be 10 MB max, lol.

I decided to just screw it and download the whole 1005 MB over my cellular data. Maybe I got CShell!!!!

I haven't been able to update my 640 for quite a few builds now. Can't delete enough MS Apps to free up space & I have about 1.5 Gb of free space left in Internal Memory

The last build corrupted the windows update database and removed windows update from the settings. How do I manually download this new build to install via USB over my existing?

Wait... what?... How in the world..... My suggestion is to hard reset first

This isn't on phone, SP4. I'll prolly just wait until an iso is released of an upcoming build.

Oh my bad, sorry :( You can do a reset option on your SP4 too, there should be one that will reset the OS but keep everything else

When the we getting landscape for home screen for mobile

I know we won't get it, still kind of hope we do, like the last update for RT gave them a new start screen, I hope we get that eventually

Let them fix copy/paste on desktop first 😉

That will come with CShell, maybe on a surface phone

I'm willing to bet the portrait feature for Continuum isn't actually new, but simply got cleaned up enoughb to turn on.

I like the Fast Ring on my desktop, but half the builds end up disabling RAPID mode on my Samsung 850 EVO, thus cutting its performance.

Well, I'm hoping a new battery will fix my reboot issue since nothing in this build REMOTELY addresses that. Being here at Disney for the week and using my phone as my point-n-shoot has been terribly frustrating. Phone reboots 4 out of 5 times when opening the camera and taking the first picture. Open up instagram and do some scrolling....reboot! Thankful my 1020 has been filling in my 950XL shortcomings.

Sound a battery problem I do not experience any of this on my 950xl, when did you last hard reset? Maybe you have a faulty 950xl?

WDRT'd it this past Sunday. And progressed up through release builds and onto fast ring (I had a bad battery drain on 15086.48?). If my 950XL is faulty then I'm screwed. Already used complete and out of manufacture warranty.

Honestly. Why is the camera still an issue? I get the "Oops... Something went wrong" message almost every.time I use my camera now (elite x3) and sometimes completely kills my 1520. Embarrassing... Frustrating...

This Sounds like a battery pin problem. Try to bring all the pins from every slot from the three slots on the battery, together with something pointy. Just bring them more in the middle,as much as you can. This Lumias are builded like a paper.

Battery seemed to fix mine.

Its probably battery issue.
My 950XL used to shutdown repeatedly when battery level falls below 50%, while using camera or using mobile data.
Got a replacement battery from eBay and now its working fine.
Change the battery ASAP..

Has anyone received the store update on mobile yet. Mine still says Check for updates and my PC's store app has been updated 2X since I read about that minor name change to the button.

I thought that update was just for PC and only on the production ring?

I had an update to Store a few days ago. I can't say I noticed anything different. (Production ring.)

I would just like fitness device syncing to work again on mobile. We all have our dreams, I guess. W10M is like middle age. You look back at what might have been, look ahead at what you aren't sure you want, and look at now and go with it for one more day.

Which fitness device? My Band syncs all day long with the Band app.

Garmin vivoactive HR. Everything has the latest production updates. Garmin software has been uninstalled-reinstalled, reset. Device has been removed and paired multiple times. I have to hand it to Microsoft, the Creators Update has very creatively screwed up Bluetooth. I do a sync with my SP1 via cable every week or two, which isn't convenient, but at least it works.

I was having serious sync issues a couple weeks ago. Now it'***** or miss but I did notice that I now get text, calendar, and push notifications on it randomly. It wasn't doing that at all before. One of the updates fixed some issues. I think Garmin should look into patching their app as there could be something there as well to fix.
Wife could never pair her Fitbit Blaze with her 950. We ended up pairing it to her iPad Mini. I might have her try again as quite a bit of time has gone by.

Garmin regularly updates their app, or at least used to. When I hunted for a solution, somewhere in the Garmin forums Garmin said they had found the problem--in W10M--and they were working with Microsoft and waiting on an OS update to address the issue. Since then I've been happy to see Bluetooth fixes in the OS change logs, only to see syncing still failing. Now I've been conditioned by the unfixing fixes that the last time I saw Bluetooth fixes in the change log my excitement level rose to a solid meh.

So does my Fitbit Charge 2, which replaced my 3 x Band 2's but they were still the best and I'd buy another if I could. Fitbit not has notifications for text, calls and Calendar.

My Fitbit sync perfectly on my Lumia 649 with the production version of WM10

Get lost Microsoft because what you did with windows 10 mobile

Excited about this linking feature!

Do some one could update your Windows 10 Mobile?

Yes ..
If you are promoted with insufficient storage message while preparing to install step - then neglect it and wait for some time.

Zac, I've just noticed my Fitbit Charge 2 now supports notifications for Text, Calls and Calendar from my Nokia 1520 on W10M. They said it was coming a while ago but Fitbit have only just updated their app. This is a feature that was touted to work with Android ware too and it actually work with my Fitbit. Just need to get a decent colour screen and we'll have a Band 2 replacement. yah!

Well.... WhatsApp opens much faster.

Can't see any Wi-Fi networks after updating ( Mobile )
M.S why you do this kind of ****..

Photo app now allows us to use scroll wheel to view the next or previous images. But we can't change the collections view. Its just large view.. Seriously? One step forward, two steps back.

Presently im in production preview,hw can i change to fast or slow ring??any one help me plzz

Go to settings - Updates - Windows Insider Program - Join the program - Select the Ring which you need ( Reboot the device if asked ) - check for updates ..
( Note: Ring targeting may take some time, so be patient )

I would love to try the new phone-PC linking features on Windows, but unfortunately I own a Windows phone.

Try Handoff or Connected Devices, two great apps in the windows store that already do exactly this

There are apps for this feature

Why is "phone-PC linking" feature only on android (iPhone in future) and not started with Windows Phone/10 Mobile? I have a Lumia 950XL and a Surface Pro and would love this feature on both devices as I also have 3 PC's in my house. Sometimes... geesh

Does this release include the Windows ARM edition? Rumour has it that there is a big media console manufacturer looking to release a Windows Media Console (think Netflix), that will be running Windows S for ARM. I'm keen to see ho this compares to the multitude of Android devices out there.

...nobody answers your query.

Sadly if you are using MS EDGE like me you can not answer a query because the REPLY button in this forum throws up an error. To provide this simple response I had to switch to CHROME. At this point I will remind people that I have previously said that unless MS sort out EDGE their WINDOWS S product will not fly. You heard it here first .... or is that second.

T-mobile ending support for their app in Windows 10 mobile in a month. Web browser is the option from now on.

What about battery life in this version 15235

Phone is set for Preview ring, current version is 15063.483. Checked for updates - says that my phone is up to date. Want 15235 for it's fix for the store downloads error message.

You need to switch to Fast Ring for 235
Windows Central Newsletter
Get the best of Windows Central in in your inbox, every day!
Thank you for signing up to Windows Central. You will receive a verification email shortly.
There was a problem. Please refresh the page and try again.