Why Surface Laptop and Surface Pro are no good for gaming
Are the Surface Laptop and Surface Pro any good for gaming? It depends on what you expect, but the short answer is no.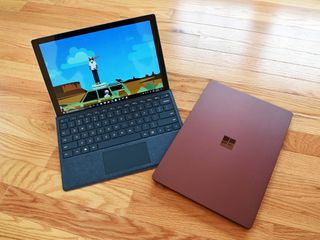 The world of Windows PCs is a bewildering one, with almost too many choices for consumers. Everyone wants thin and light but also the ability to play Star Wars Battlefront or some other high-end game. The sheer number of configurations and user requirements makes recommending a PC a challenging task, especially once price is considered.
What about the new Surface Pro or Surface Laptop for gaming? The question is asked a lot, and while spec geeks may know better, here is what you need to know.
Is Surface Laptop or Surface Pro good for gaming?
PC gaming spans from casual card games to AAA first-person shooters like Gears of War 4 or DOOM.
For casual gaming including Broken Age, Minecraft for Windows 10, or Happy Wars, either Surface Laptop or Surface Pro is OK. In fact, you could play ReCore on the Core i7 models and still have an enjoyable experience even when you must downscale to 1200 x 800 and keep texture quality on low to medium.
Full review of the new Surface Pro for 2017
Playing Halo Wars 2 at 1466 x 977 with texture quality set to low and v-sync off results in a decent looking game with enjoyable frame rates. You could tweak the settings even more by going lower, too.
Even the favorite Rise of the Tomb Raider can drastically downscale and be playable on the Core i7 models. At the lowest graphics settings and 1024 x768 resolution, an average of 30 frames per second (FPS) is achievable. Sure, things will be a bit blocky, but it's not all bad.
Games like Heroes of the Storm or World of Warcraft can be played but you need to customize the graphics by dropping them to lower level settings. Some people are fine with that, but most people consider it a severe compromise.
Where things get terrible is with Forza Horizons 3 or Star Wars Battlefront, which either won't play at all or will be so bad as not to be worth it.
Older games on Steam, game emulators, or arcade style titles like Pinball FX2 for Windows 10 are very playable as well.
Why aren't Surface Pro and Surface Laptop good for gaming?
The answer is simple: hardware.
There are two main elements for a good gaming machine. One is preferably a modern quad-core Intel Core i5 or i7 processor. The other is a discrete graphics processing unit (GPU) or graphics card. A third consideration is the thermal management, including fans and cooling pipes to dissipate the heat.
Surface Pro and Surface Laptop have neither a gaming level CPU or GPU. Both use dual-core processors, what are called 15W Ultra-Low Voltage (ULV) chips for thin and light laptops versus more powerful 45W quad-core CPUs found in gaming rigs. For graphics, they rely on Intel native HD graphics, which do not have the memory or core clock speeds to compete with NVIDIA or AMD-level discrete graphics cards.
Quad-core ULV processors from Intel are expected later this year but, for now, no mobile Surface PC has one.
Full review of the Microsoft Surface Laptop
To make matters worse neither Surface Pro nor Surface Laptop are meant for extended intense CPU and graphics work, such as playing high-end video games. To keep both devices cool – especially on a sizzling summer day – they will both slow down after 30 minutes to prevent the chassis from getting too hot.
Microsoft intended for Surface Pro and Surface Laptop to be general productivity PCs. They're meant to browse the web, edit photos, render full HD video, use Microsoft Office, and play light to medium-level games. While you could install DOOM (2016) on your Core i5 Surface Pro you probably shouldn't if you want a fun experience.
Is Surface Pro or Surface Laptop better for gaming?
Arguably the Surface Laptop is a better gaming PC just due to its configuration of a classic clamshell PC, but that's personal preference.
Both Core i7 models of Surface Laptop and Surface Pro have Intel Iris Plus graphics, but compared to standard Intel HD 620 graphics there is maybe a 10 to 15 percent boost in graphics power. Intel Iris Plus is nice but not extraordinary and doesn't turn either into a gaming PC.
The Core i5 models get trickier compared to the Core i7 ones. The Core i5 Surface Pro has no fan making cooling more difficult for long term usage due to concerns in thermal chassis throttling. Nonetheless, the Core i5-7300U Surface Pro does have a faster CPU (2.6GHz base with 3.5GHz turbo) compared to the Core i5-7200U Surface Laptop (2.5GHz base with a 3.1GHz turbo). That difference matters.
Geekbench 4.0 benchmarks (higher is better)
Swipe to scroll horizontally
| Device | CPU | Single core | Multi core |
| --- | --- | --- | --- |
| Surface Laptop i7 | i7-7660U | 4,714 | 9,535 |
| Surface Pro 2017 | i7-7660U | 4,513 | 9,346 |
| Surface Pro 2017 | i5-7300U | 4,302 | 8,482 |
| Surface Book | i7-6600U | 3,977 | 7,486 |
| Surface Laptop i5 | i5-7200U | 3,725 | 7,523 |
| Surface Pro 4 | i5-6300U | 3,319 | 6,950 |
The Geekbench scores listed above show raw CPU rankings of recent Microsoft Surface hardware.
Just going by benchmarks, it breaks down this way for CPU and GPU performance:
Surface Laptop Core i7 is slightly faster than Surface Pro at Core i7.
Surface Pro Core i5 is significantly faster than Surface Laptop at Core i5.
Neither has enough performance gains to necessarily justify one over the other, but if you are concerned about getting the most bang for your buck with either, there you go.
Is any Surface good for gaming?
Microsoft only positions one Surface device for medium gaming, and that is the Surface Book with Performance Base.
Although using a dual-core sixth generation Intel Core i7 (compared to newer seventh generation models) the Surface Book with Performance Base has one major trick: a real GPU. While the NVIDIA GeForce GTX 965M is not new, it still does let you start to hit real gaming PC levels with its 2GB of dedicated video memory and a higher clock rate.
The Surface Book with Performance Base can play Gears of War 4 at 47 FPS even at 3000 x 2000 resolution when set to medium graphics. Forza Horizons 3 is also not only playable but enjoyable.
For comparison, the Surface Book with Performance Base's graphic benchmarks (Geekbench: 64,108) more than doubles the Surface Laptop with Iris Plus graphics (Geekbench: 31,010).
Geekbench 4.0 OpenCL (higher is better)
Swipe to scroll horizontally
| Device | GPU | Compute score |
| --- | --- | --- |
| Surface Book Perf. Base | GTX 965M | 64,108 |
| Surface Laptop i7 | Iris 640 | 31,010 |
| Surface Pro 2017 | Iris 640 | 30,678 |
| Surface Pro 2017 | HD620 | 20,688 |
| Surface Laptop i5 | HD620 | 19,256 |
| Surface Book | HD520 | 18,197 |
| Surface Pro 4 | HD520 | 17,395 |
Starting at $2,399 for 8GB RAM and 256GB of storage and going up to $3,299 for 16GB of RAM and 1TB of storage you will be paying a lot for the privilege. While you do get the Surface build quality, touch screen, pen and detachable display to be used as a tablet, you could get a more powerful quad-core traditional gaming laptop for significantly less money.
Bottom line: These are not gaming PCs
The big issue with PCs is that you can do a lot with them even if they were not meant for that task. The gray area comes down to your expectations.
For instance, plenty of people do game on their Surface Pro or Surface Laptop, accepting the low-resolution graphics. They have no problem playing Rise of the Tomb Raider at 30 FPS with low texture quality because, after all, it is the story that often makes the game.
Nonetheless, it is very difficult to recommend any Surface if your primary usage is for gaming.
Even Surface Book with Performance Base, while approaching gaming PC specifications, still falls short of any quad-core laptop with a NVIDIA GTX 1060 graphics card, which can be purchased for well below $2,000. (The GIGABYTE Aero 15 or Lenovo Legion Y520 come to mind.)
If, however, you want to play casual games in the Windows Store and occasionally push it with something like ReCore you can do that too with the Surface Pro and Surface Laptop. Gaming and hardware have never been better than today, and even Ultrabooks like the Surface series can do much more than a gaming laptop from a few years ago. I regularly use my Surface Laptop for light gaming using an Xbox Bluetooth wireless controller and it's a blast.
Finally, if you are considering a new Surface Pro or Surface Laptop, think through your priorities. If you are doing 80 percent productivity with 20 percent light gaming, it's a fine purchase. Any more than that and you may want to consider a laptop with a quad-core CPU and discrete NVIDIA graphics.
More on Surface Pro and Surface Laptop
Want to see deeper dives into the performance of the new Surface Laptop and Surface Pro? Check out these articles for more benchmarks and analysis.
Get the Windows Central Newsletter
All the latest news, reviews, and guides for Windows and Xbox diehards.
Daniel Rubino is the Editor-in-chief of Windows Central, head reviewer, podcast co-host, and analyst. He has been covering Microsoft since 2007 when this site was called WMExperts (and later Windows Phone Central). His interests include Windows, laptops, next-gen computing, and for some reason, watches. Before all this tech stuff, he worked on a Ph.D. in linguistics, watched people sleep (for medical purposes!), and ran the projectors at movie theaters because it was fun.