Why Surface Laptop and Surface Pro are no good for gaming
By Daniel Rubino last updated
Are the Surface Laptop and Surface Pro any good for gaming? It depends on what you expect, but the short answer is no.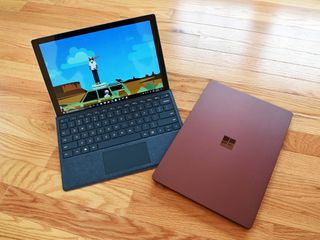 The world of Windows PCs is a bewildering one, with almost too many choices for consumers. Everyone wants thin and light but also the ability to play Star Wars Battlefront or some other high-end game. The sheer number of configurations and user requirements makes recommending a PC a challenging task, especially once price is considered.
What about the new Surface Pro or Surface Laptop for gaming? The question is asked a lot, and while spec geeks may know better, here is what you need to know.
Is Surface Laptop or Surface Pro good for gaming?
PC gaming spans from casual card games to AAA first-person shooters like Gears of War 4 or DOOM.
For casual gaming including Broken Age, Minecraft for Windows 10, or Happy Wars, either Surface Laptop or Surface Pro is OK. In fact, you could play ReCore on the Core i7 models and still have an enjoyable experience even when you must downscale to 1200 x 800 and keep texture quality on low to medium.
Full review of the new Surface Pro for 2017
Playing Halo Wars 2 at 1466 x 977 with texture quality set to low and v-sync off results in a decent looking game with enjoyable frame rates. You could tweak the settings even more by going lower, too.
Even the favorite Rise of the Tomb Raider can drastically downscale and be playable on the Core i7 models. At the lowest graphics settings and 1024 x768 resolution, an average of 30 frames per second (FPS) is achievable. Sure, things will be a bit blocky, but it's not all bad.
Games like Heroes of the Storm or World of Warcraft can be played but you need to customize the graphics by dropping them to lower level settings. Some people are fine with that, but most people consider it a severe compromise.
Where things get terrible is with Forza Horizons 3 or Star Wars Battlefront, which either won't play at all or will be so bad as not to be worth it.
Older games on Steam, game emulators, or arcade style titles like Pinball FX2 for Windows 10 (opens in new tab) are very playable as well.
Why aren't Surface Pro and Surface Laptop good for gaming?
The answer is simple: hardware.
There are two main elements for a good gaming machine. One is preferably a modern quad-core Intel Core i5 or i7 processor. The other is a discrete graphics processing unit (GPU) or graphics card. A third consideration is the thermal management, including fans and cooling pipes to dissipate the heat.
Surface Pro and Surface Laptop have neither a gaming level CPU or GPU. Both use dual-core processors, what are called 15W Ultra-Low Voltage (ULV) chips for thin and light laptops versus more powerful 45W quad-core CPUs found in gaming rigs. For graphics, they rely on Intel native HD graphics, which do not have the memory or core clock speeds to compete with NVIDIA or AMD-level discrete graphics cards.
Quad-core ULV processors from Intel are expected later this year but, for now, no mobile Surface PC has one.
Full review of the Microsoft Surface Laptop
To make matters worse neither Surface Pro nor Surface Laptop are meant for extended intense CPU and graphics work, such as playing high-end video games. To keep both devices cool – especially on a sizzling summer day – they will both slow down after 30 minutes to prevent the chassis from getting too hot.
Microsoft intended for Surface Pro and Surface Laptop to be general productivity PCs. They're meant to browse the web, edit photos, render full HD video, use Microsoft Office, and play light to medium-level games. While you could install DOOM (2016) on your Core i5 Surface Pro you probably shouldn't if you want a fun experience.
Is Surface Pro or Surface Laptop better for gaming?
Arguably the Surface Laptop is a better gaming PC just due to its configuration of a classic clamshell PC, but that's personal preference.
Both Core i7 models of Surface Laptop and Surface Pro have Intel Iris Plus graphics, but compared to standard Intel HD 620 graphics there is maybe a 10 to 15 percent boost in graphics power. Intel Iris Plus is nice but not extraordinary and doesn't turn either into a gaming PC.
The Core i5 models get trickier compared to the Core i7 ones. The Core i5 Surface Pro has no fan making cooling more difficult for long term usage due to concerns in thermal chassis throttling. Nonetheless, the Core i5-7300U Surface Pro does have a faster CPU (2.6GHz base with 3.5GHz turbo) compared to the Core i5-7200U Surface Laptop (2.5GHz base with a 3.1GHz turbo). That difference matters.
Geekbench 4.0 benchmarks (higher is better)
| Device | CPU | Single core | Multi core |
| --- | --- | --- | --- |
| Surface Laptop i7 | i7-7660U | 4,714 | 9,535 |
| Surface Pro 2017 | i7-7660U | 4,513 | 9,346 |
| Surface Pro 2017 | i5-7300U | 4,302 | 8,482 |
| Surface Book | i7-6600U | 3,977 | 7,486 |
| Surface Laptop i5 | i5-7200U | 3,725 | 7,523 |
| Surface Pro 4 | i5-6300U | 3,319 | 6,950 |
The Geekbench scores listed above show raw CPU rankings of recent Microsoft Surface hardware.
Just going by benchmarks, it breaks down this way for CPU and GPU performance:
Surface Laptop Core i7 is slightly faster than Surface Pro at Core i7.
Surface Pro Core i5 is significantly faster than Surface Laptop at Core i5.
Neither has enough performance gains to necessarily justify one over the other, but if you are concerned about getting the most bang for your buck with either, there you go.
Is any Surface good for gaming?
Microsoft only positions one Surface device for medium gaming, and that is the Surface Book with Performance Base.
Although using a dual-core sixth generation Intel Core i7 (compared to newer seventh generation models) the Surface Book with Performance Base has one major trick: a real GPU. While the NVIDIA GeForce GTX 965M is not new, it still does let you start to hit real gaming PC levels with its 2GB of dedicated video memory and a higher clock rate.
The Surface Book with Performance Base can play Gears of War 4 at 47 FPS even at 3000 x 2000 resolution when set to medium graphics. Forza Horizons 3 is also not only playable but enjoyable.
For comparison, the Surface Book with Performance Base's graphic benchmarks (Geekbench: 64,108) more than doubles the Surface Laptop with Iris Plus graphics (Geekbench: 31,010).
Geekbench 4.0 OpenCL (higher is better)
| Device | GPU | Compute score |
| --- | --- | --- |
| Surface Book Perf. Base | GTX 965M | 64,108 |
| Surface Laptop i7 | Iris 640 | 31,010 |
| Surface Pro 2017 | Iris 640 | 30,678 |
| Surface Pro 2017 | HD620 | 20,688 |
| Surface Laptop i5 | HD620 | 19,256 |
| Surface Book | HD520 | 18,197 |
| Surface Pro 4 | HD520 | 17,395 |
Starting at $2,399 for 8GB RAM and 256GB of storage and going up to $3,299 for 16GB of RAM and 1TB of storage you will be paying a lot for the privilege. While you do get the Surface build quality, touch screen, pen and detachable display to be used as a tablet, you could get a more powerful quad-core traditional gaming laptop for significantly less money.
See Surface Book at Microsoft (opens in new tab)
Bottom line: These are not gaming PCs
The big issue with PCs is that you can do a lot with them even if they were not meant for that task. The gray area comes down to your expectations.
For instance, plenty of people do game on their Surface Pro or Surface Laptop, accepting the low-resolution graphics. They have no problem playing Rise of the Tomb Raider at 30 FPS with low texture quality because, after all, it is the story that often makes the game.
Nonetheless, it is very difficult to recommend any Surface if your primary usage is for gaming.
Even Surface Book with Performance Base, while approaching gaming PC specifications, still falls short of any quad-core laptop with a NVIDIA GTX 1060 graphics card, which can be purchased for well below $2,000. (The GIGABYTE Aero 15 (opens in new tab) or Lenovo Legion Y520 come to mind.)
If, however, you want to play casual games in the Windows Store and occasionally push it with something like ReCore you can do that too with the Surface Pro and Surface Laptop. Gaming and hardware have never been better than today, and even Ultrabooks like the Surface series can do much more than a gaming laptop from a few years ago. I regularly use my Surface Laptop for light gaming using an Xbox Bluetooth wireless controller and it's a blast.
Finally, if you are considering a new Surface Pro or Surface Laptop, think through your priorities. If you are doing 80 percent productivity with 20 percent light gaming, it's a fine purchase. Any more than that and you may want to consider a laptop with a quad-core CPU and discrete NVIDIA graphics.
More on Surface Pro and Surface Laptop
Want to see deeper dives into the performance of the new Surface Laptop and Surface Pro? Check out these articles for more benchmarks and analysis.
Daniel Rubino is the Executive Editor of Windows Central, head reviewer, podcast co-host, and analyst. He has been covering Microsoft here since 2007, back when this site was called WMExperts (and later Windows Phone Central). His interests include Windows, Microsoft Surface, laptops, next-gen computing, and arguing with people on the internet.
The surface series to me doesn't make a good business case. I actually like the look and design but they are so pricey For what you get.

So isn't a Mercedes vs. a Honda. They're just cars, drive you places, do the same things. Your argument is against luxury/premium items. For some reason, people here think only PCs are exempt from that category. They're not though. Microsoft is also not pricing these to under cut their OEM partners, which would be disastrous. These are things you want to own, but don't necessarily go out and throw cash at. That's literally the point. Anyway, none of this has anything to with gaming and what the limits of these devices are, which is the point here.

Just for the record, my daughter plays Star Wars The Old Republic on her Surface Pro 4 (also did on SP1). While she does play low graphics, it is enough for her for downtime at college.

First of all, I dont understand the down votes for imo786. And secondly Daniel, your Mercedes vs Honda analogy only goes so far. If I pay a lot more for a car, in this case a Mercedes, I would expect nearly every component in it to be better than the Honda, not just the bodywork. I wouldn't be happy with something that was slower, had a rougher ride, clunkier gears and dodgy steering just because it looked very nice on the 'surface'. imo786 is right, they are pricey for what you get and there is better value to be had elsewhere. The Surface line is aptly named.

I just remember me 2005 buying a Dell for school meanwhile my friends took the cheaper and the much faster Acer laptop. Mine couldn't game like theirs, no doubt about it. But still the Dell was eaily superior to theirs. In the end all added quality made the laptop last longer, work better and in general outperform the Acer in usability. Just the screens is something I think people should care more about. It makes all the difference for me. Surface is the same. I never feel cheated, quite the opposite. Finally I have quality where it matters, something I've been looking for a long time. Of course I don't care if I can't play the latest games on the Surface. What matters is how portable it is, how well that portability plays out in most scenarios and that I am very happy to use it. Actually last quality is the most important one; how much you want to use the device is a good quality stamp.

exactly what they were made for. This doesn't affect Apple, and that's the same user they are targeting.

This artical is no surprise by now, Surface range is not a gamer range, it never has been, the book can do video editing etc and light gaming at a push!

While I agree it's no surprise, I am surprised by the amount of casual users who routinely ask the question in our forums, reddit, twitter, etc. Fact is, most people don't know/understand processors, dual vs. quad core, dGPUs, etc. To them it's all either i5 or i7 (frankly, Intel should have named them differently). Anyway, you can, of course, game on the Surface Laptop or Surface Pro, it just depends on what level of gaming you mean. I play Pinball, Ultimate Word, and some platformers on the Surface Laptop and enjoy it. But for something like Forza, probably not.

For me, as long as they can play Blizzard games, I am fine with it. Just wish Intel would boost their iGPU offerings a little more. Great CPUs but their video stuff is a let down. I used to play D3 on my Ivy Bridge's 2500 GPU. It worked lag free mostly except for the sewer dungeon. I hope to read good news about Cannon/Gemini/Coffee/Something Lake next gen processors.

HD 640 is pretty good though. You need the 16 GB versions because some of that will be used as VRAM.

But I have used my Surface Book with Performance Base to play Halo Wars 2 quite successfully. No machine with the Surface Laptop and Surface Pro's specs is going to cut it for a big game: integrated graphics and a dual core chip.

Sure, you know that. Go to Best Buy and have that discussion with your average customer though. That's who this article is for I'm really trying to get some of you out of your tech bubble into the real world ;)

You would lose your average customer at Best Buy in this article right here: "In fact, you could play ReCore on the Core i7 models and still have an enjoyable experience even when you must downscale to 1200 x 800 and keep texture quality on low to medium." They would wonder what this downscale to 1200 x 800 means and what are texture qualities? I would say this article is more for people with a little knowledge and interest in a higher level of gaming but don't know much about what specs are capable of what. I do fully agree with you though that they are not meant for gaming but I still am amazed at how many games in my library I am able to play on my SP4. Right now I am playing through Fallout: New Vegas (something that if you told me 5 years ago that I would be able to play now on a tablet form-factor I would have thought you were crazy) and spent a lot of time in Rocket League prior to that. While these aren't newer demanding AAA games like GoW4 or Forza Horizon 3 that you need a console or gaming-level PC to play, they are still for quite a different audience from that of Pinball or Ultimate Word.

Fallout: New Vegas doesn't require heavy specs to run. I believe the recommended specs are 2GB of RAM and a Core 2 Duo processor. A Surface 3 (not pro)could run that game. For a real test, try playing Fallout 4.

You are right that it isn't the best example. It is just what I am playing at the moment. Fallout 4 ran at 1280x720 with everything on low on the SP4 i7 and will get you about 25fps with dips at places from my experience. Though I haven't tried it recently but not the best experience I would say and definitely would be recommended to experience it on a device with the hardware for gaming. But my point still stands that it has come a long way in a short time as far as these devices go and that is even with the underwhelming performance of Intel's iGPUs. Also like I said, even though many of the higher quality games that run on a SP are old, these are not games people would typically play as a simple time waster.

"You would lose your average customer at Best Buy in this article right here:"

Kind of disagree. That's like saying a Chemistry book gets too intense for a student. If they came here to start reading, it's OK to add some tech details so that maybe they can learn. Either way, I'm convinced no one really reads these from beginning to end, and frankly you don't need to to get the gist ;)

Any machine, Surface, other laptops or even desktops with Intel for graphics cannot be considered a gaming machine. Intel graphics is getting better but because it's built in the CPU and uses the computers memory it will never achieve the level of performance of a discrete card with its own memory.

I agree, integrated graphics is unmatched to discrete, but have you SEEN what AMD's integrated chips can do? I've been able to get full speed on some Gamecube games using Dolphin on my old 2011 laptop that had Radeon graphics. That's pretty impressive, especially since that was a 1.6GHz CPU, and now I have an i7 in my gaming laptop and even attempting to not use the Nvidia card is painstaking for any type of gaming.

Include in casual games most Blizzard games: I used my Surface Pro with the dock as my desktop and ran Hearthstone, WoW, & Diablo on it. Not stellar graphics but just fine. Blizzard products are always easy on the gpus. I am currently using my Surface studio for same. (Yes, I do use it for other things but you have to game some time). So, depends on what game and what you need. I wouldn't run Call of Duty on 'em.

Good point about Blizzard will keep that in mind.

I would have asked are they any good for hardcore gaming? No they aren't, but perfectly fine for casual gaming. I suspect the average user is more interested in casual games. If they want to play AAA games they go Xbox or PS4 or Switch.

I'm excited to read this article, but my one thought is, the surface laptop and surface book are still a big step up from say a MacBook Air for something as simple as league of legends. With a better graphics card and processor hat should be expected right?

"the surface laptop and surface book are still a big step up from say a MacBook Air for something as simple as league of legends. With a better graphics card and processor hat should be expected right?"

Good question, and yes. Both of these would be more powerful/better than a MBA or even MacBook for gaming and those tasks. MBP is where things would get fuzzy.

Not really fuzzy... The higher configurations of the 13" MacBook Pro (the ones with TouchBar) have 28W TDP CPUs with Iris 650. They are significantly more powerful CPUs with slightly better iGPUs and much better thermal management. Still nowhere near "gaming" grade, but if you're going to play games, an i5 MacBook Pro 13 TB will beat any Surface Pro or Laptop by a comfortable margin.

As always, gaming is very narrowly defined in this scenario. Yes, the thesis is correct for graphic-intensive AAA games, especially of the FPS or related varieties. However, both devices are more than capable of a huge catalog of games. I prefer TBS, Crafting, Survival, Managerial, etc. and I have plenty of options for recent and retro games on even a Surface 3 (x7 Atom). With even an m3 the catalog would get even bigger. This isn't even mentioning the fact my daughter loves playing Minecraft on it.

Exactly! My Dell Inspiron 11 with a Core m3 and 4GB of RAM can play Halo Wars: Definitive Edition and Phantom Dust flawlessly. Also, every pre-2012 game in the Steam store can be played on medium to high settings with no problems. And everyone knows WoW can run on a potato. The game was released in 2004! Even that $79 Windows tablet could run it!

"As always, gaming is very narrowly defined in this scenario."

I don't see how that is so. I open up by saying how gaming spans card playing games all the way to AAA titles and that it's all about context, what you mean about gaming. I then mention games that do play fine e.g. Minecraft, Pinball, Ultimate Word Games, and even ReCore as specific examples. I even end with stating I use the Surface Laptop for light gaming with an Xbox controller. But some of those are a given, it's the "Does it play Start Wars Battlefront" question that I wanted to answer for potential buyers.

In terms of casual gaming, I find that the Surface Pro (2017) handles almost anything ROM-related that I throw at it. Dolphin Emulator works like a charm.

Great article Daniel! That is why it would be interesting to see the next version of the Surface Book, with those new ULV Quad-Cores (and also) a full USB-C Thunderbolt allowing external GPU support... if necessary. Non hard-core gamers could be fine with the internal gpu while others gamers would have the external GPU option. Best of both worlds, in a way.

Thanks, and yeah, new Surface Book will be the one to watch for a harder-hitting PC.

Definitely a good article. This highlight is exactly what the devices needed. They might be premium devices but they're not premium *gaming* devices. We owned the Surface Pro with 2GB graphcis card and while it was great for some games (more than I expected honestly) the heat and battery drain were way too intense for extended gaming periods. Don't purchase these if you're looking for real gaming of any kind. They're fantastic for other tasks but not for crunching pixels.

This is exactly why I changed my mind, sold my SP3 & Razor and got the SB with performance base. I can now do everything on the one machine.

Can you imagine the next version of the Surface Book that has the latest Intel processor and a GTX1060? Won't be cheap, but i'd definitely sell my newly purchased Razer laptop for it.

Yeah would be great but not if they sacrificed battery life which is why I would say they haven't updated yet. That was the only thing I disliked with my Razer I was always tethered to the power cord.

Why the Surface Laptop and Surface Pro are good for gaming: Xbox One streaming and games that are 10+ years old. I'm sure it runs Gex, Doom, Doom 2, Medal of Honor: Allied Assault, Battlefield 1942, COD1. Right? Those are games right? :)

Yeah, streaming is something I should have mentioned, will keep that in mind. I'm not sure that's a regular scenario for users though, but it is worth bringing up.

Surface Book has worked like a beast since I own it. It may not be a gaming rig but it just runs without a hic-cup. More than I can say for Dell's, HPs, etc that I have owned.

You should try giving a go to something like Batman Arkham Knight on the i5/i7 with 8 GB/16 GB versions, see how those run. Just for kicks. Maybe even a test run of the whole Arkham quadrilogy on these. I can max out, 60 fps, no Phyx or AA Arkham Asylum on an i5 SP4 at 720p.

No offense, but just about any modern PC with at least 4GB of RAM can run Arkham Asylum. The game is 10 years old.

As long as I can play Civilization, it's a gaming PC in my book.

I agree. But will Civ 6 run on the i5 SP 2017 ? I think the SP4 i7 struggled with larger map sizes... Have anyone tried, please give feedback. I'm thinking about getting the i5 since it is fanless, but not if I can't play Civ

I think it would be badass if they bought Razer and rebranded them as the Surface X line for the gamer market

Buy an entire Company just so that they can rebrand it & sell gaming pc/laptops ?
ms can do it themselves under the surface brand if they want & will make an awesome device.
But....they won't do that since they don't want to compete unnecessarily with oem's & they will make a new gaming pc/laptops only if they can bring something completely new to the table & aspire oem. :)
Else.....oem are alreday doing a good job in gaming market.

heyy.....sb with performance base is for gaming but y not surface studio ? it has 980M, can play most games on 1080P or may be 1440P as well.

Sure, but I was specifically talking about mobile laptops. Desktops are another case, but the same rules apply. I would not buy a Surface Studio for gaming although you can game on it (I wrote that article already, tbh).

I'm looking to get a surface with a new AMD APU, those should be disruptive chips. Hopefully the next surface has an AMD option.

It should be said that many common games works fine. I often play TF2, Diablo 3 and it works very good imo :)

That's true for big AAA games - but for small social games it's okay. Where it really comes into its own is for drawing games like Interference. Having the Surface and pen are a great combination for artistic games.

I freaking love my Surface Pro 4, when I travel, it's not like I'm going to play Deus Ex: Mankind Divided at max settings, but it can easily handle FONV or Skyrim. or a host of older not so demanding, but still perfectly acceptable, old school AAA and lower games

Any chance you can refresh this thread and include the latest surface models (book 3, laptop 3 and pro 7). I'm not a gamer, but recently bought AoE II DE for nostalgic purposes, but it's not really playable on my surface pro 5. I was already think of upgrading, and I'm hoping that the SP7 could do an OK job of AoE II DE when connecting to a 4k monitor.
Windows Central Newsletter
Get the best of Windows Central in in your inbox, every day!
Thank you for signing up to Windows Central. You will receive a verification email shortly.
There was a problem. Please refresh the page and try again.