Lenovo Legion Y520 review: A budget gaming laptop that's easy on the eyes
Budget laptops don't have to mean huge performance sacrifices, as demonstrated by the new Lenovo Legion Y520. This PC combines impressive value with a smooth design.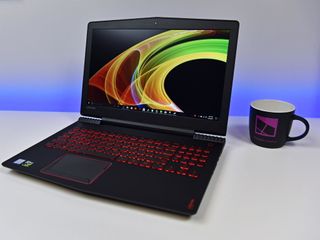 Lenovo is back with a new brand for its gaming laptops called "Legion." The Legion Y520 is the entry-level tier starting at just $849, but it packs enough hardware for mainstream consumers and enthusiasts on a budget.
Typically, I find gaming laptop designs to be esoteric – and tacky – but Lenovo gets a lot right with the Y520. Here is the good, and the not so good, about this budget gaming laptop with a NVIDIA GTX 1050 Ti.
About this review
Lenovo supplied the Legion Y520 for this review. It features a Core i7 processor, 16GB of RAM, 256GB solid-state drive (SSD), 2TB hard disk drive (HDD), and a NVIDIA GTX 1050 Ti GPU. This version costs $1,119.
Lenovo Legion Y520 tech specs
Like many of Lenovo's laptops, you can buy preconfigured versions online or in stores, or mix and match components. Pricing begins at a modest $849, and that's with the GTX 1050 Ti and a Core i5 processor.
Swipe to scroll horizontally
Category
Lenovo Legion Y520
Processor
Intel Core i5-7300HQ (up to 3.5 GHz)
Intel Core i7-7700HQ (up to 3.8GHz)
Internal storage
Up to 512GB PCIe SSD
Up to 2TB SATA HDD
RAM
8GB or 16GB DDR4 at 2400 MHz (2x soDIMM)
Display
15.6" FHD (1920 x 1080) LED Backlit, IPS, Anti-Glare
Graphics
NVIDIA GTX 1050 Ti 4GB GDDR5
Ports
Two USB Type-A 3.0
One USB Type-A 2.0
One USB Type-C (no Thunderbolt 3)
One RJ45 LAN Ethernet
One HDRMI
3.5mm jack
SD card reader
Audio jack
Microphone jack
Speakers
Two 2W Harman speakers with Dolby Audio Premium
Wireless
Realtek 8821AE Wireless LAN 802.11ac PCIe
Bluetooth 4.1
Camera
Front-facing 720p
Battery
45 Whr
Up to 4 hours
Dimensions
380 mm x 265 mm x 25.8 mm
14.96 inches x 10.43 inches x 1.01 inches
Weight
Starting at 5.3 lbs (2.4 kg)
Maxing the device out with Windows 10 Pro, 2TB HDD, 512GB SSD, 16GB of RAM and a Core i7 brings it to a reasonable $1,619.
Legion Y520 design is mature
The Legion Y520 has a very conservative and mature look, with a touch of pizzazz. With a plastic faux-Kevlar lid all in black, the Legion 520 lacks the tacky flair that so dominates the gaming PC world.
Nonetheless, when you open the Legion Y520, you get a bit of excitement with red accents for the keys, logo, trackpad and power button. It's the equivalent of wearing a button-up shirt but leaving it untucked – it's just enough to say, "I'm still cool."
Image 1 of 2
I like the look. A lot. I could deal without the angular point on the top of the display, but Lenovo likely wanted some personality instead of making the Y520 just a black rectangle.
Lenovo added some aggressive venting in the back, but it's muted compared to some competitors. Even better, I like seeing the copper from the heat dissipation system.
The bottom is also quite clean with symmetrical intake vents and an angular cut.
Build quality is solid, with no creaking or loose parts.
The lid is slightly prone to picking up fingerprints, but it's better than average for an all-black laptop. On the interior keyboard deck, a smoother material is used that feels like a thin layer of soft touch paint. It's smudge-free, which is welcome, and it feels great to rest your hands on. Due to the weight, you can open the laptop's lid with one hand.
Image 1 of 2
The 720p webcam is adequate. It gets the job done but it was not a focus or highlight of the Legion Y520.
I don't say this much about gaming laptops, especially sub-$1,000 ones, but Lenovo did a fantastic job with the Y520's look. It's the kind of gaming laptop that will appeal to a broad swatch of consumers and general gamers, the Legion's target.
Legion Y520 display is not the brightest
The 15.6" Full HD (1920 x 1080) display on the Legion Y520 is quite good. The screen is anti-glare, which is preferable to gloss for gaming, even though you tend to experience some color loss.
Indeed, the Y520's display only gets about 68 percent sRGB and just 51 percent of Adobe RGB, which is far from high-end systems that score in the mid-90s during calibration. In context, that just means this display does not show a full range of colors. Colors still looked good, though, and the contrast was to my liking.
Putting raw numbers aside, however, and I enjoy the Legion Y520's display. Using In-plane switching (IPS) technology, the viewing angles are quite good, and this screen is on the better end of budget gaming laptops in 2017.
Colors could benefit from some extra punch, but I wouldn't call them dull.
Brightness is below expectations, though, coming in well below 300 nits. On a naturally-lit afternoon indoors, I found it comfortable to use with the display at nearly 100 percent brightness, which is a bit unusual. I did not feel that it was dark at 100 percent brightness, but apparently, outdoor usage will suffer. Gaming indoors, in a darker room, however, the experience is just fine.
Understanding the price point for this machine, I found the display to be enjoyable. While brightness could be better, the color contrast, clarity, and viewing angles were all satisfactory. Text is easy to read, and I didn't experience any light bleed.
Lenovo's keyboard skills are here
The Legion Y520 has slightly-dipped, chicklet-style keys with 1.7mm of travel. A clear ridge around the edge of the key allows for an optional red LED lighting that looks sharp and even. There is also a full number pad on the right-hand side resulting in the familiar slightly off-center keyboard experience that gamers are used to by now.
Lenovo is well known for its laptop keyboards and – like HP – it is becoming much more consistent across product lines. As someone who writes for a living, I thoroughly liked working on the Legion Y520. Key travel is ample, and the way the keys felt is even across the whole deck with no odd clicking or noise.
Image 1 of 2
Getting back to those red LEDs, I think they look great but opinions may vary. Red is Lenovo's color of choice for its gaming line, so I understand its impulse to use it. The lighting is even, and it works exceptionally well for dark environments.
Trackpad is oddly designed ... but it works
Trackpads are often still weak spots on laptops but less so in 2017. The Legion Y520 does not use Microsoft Precision, but it does feature Synaptics, which is the next best choice.
If there is one area I imagine Lenovo will revise in the next release of the Y520 is in the design of the trackpad. It's a weird, angular "gamer" looking thing. There are also two plastic physical right and left keys at the bottom, which are strange because they click easier away from the middle instead of being consistent across.
Despite the unusual design, I did not have any significant problems with the trackpad. It does not click, so tapping is necessary, but that's OK. Moving the cursor around feels smooth, and the trackpad itself is on the higher-end for this range. Synaptics gives users numerous settings for palm rejection, and all the Windows 10 gestures for three and four fingers work, as well.
While the clicking of the right and left buttons take some time to get used to, you do get used to them.
Front-facing speakers give robust audio
On the keyboard deck near the rear are two, two-watt Harman speakers with Dolby Audio Premium software.
The speakers rise and directly face the user. It is one of the best designs I've seen for laptop audio. It certainly beats putting the speakers on the bottom, and while top-firing ones on the keyboard deck are nice, having them angled to fire at your face is even better.
The sound is also quite loud and is more than enough for gaming without headphones. While the speakers lack bass, they were not "tinny." The audio is crisp, and the vocals especially are easy to discern with no distortion.
The Dolby Audio Premium software is a nice touch, too. Users can preselect conventional modes like music, gaming and video, or configure the built-in equalizer.
The Legion Y520 audio is better than average.
Battery life is unfortunate
Do gamers use their laptops while untethered to AC outlets? I'm not quite sure, but you will have little choice with the Legion Y520.
The laptop has a minuscule 45 WHr battery. To put that in perspective, Microsoft's Surface Pro 4 uses a 38 Whr cell. But the Y520 is powering a quad-core processor and discrete NVIDIA GPU versus a dual-core setup in the Surface, which lacks dedicated graphics.
To be fair, Lenovo states on its site that battery life is rated at just four hours.
For once, there is (mostly) truth in advertising, but four hours is on the high-end if you are using the Y520 for light productivity at 30 percent screen brightness. You'll get just over three hours if you use it less conservatively. For gaming, battery life is cut to about 90 minutes.
Is that bad? It depends on expectations. Weighing in at 5.3 lbs (2.4 kg), the Legion Y520 is on the lighter side for gaming laptops in this range. Most gaming laptops I have used – except maybe the $2,000 Razer Blade (2017) – tend to eschew all-day battery life. While hitting seven hours with the Y520 would be great, the technology is just not there yet.
Do you want a portable laptop that's not too heavy, or do you want to lug around a seven-pound rig? That's a tough choice, but it's also a real one that consumers need to make.
If the Legion Y520 has a weak spot, battery life is it.
An excellent selection of ports
For input/output (I/O), Lenovo does a decent job with the Y520.
There are three USB Type-A ports, with two being 3.0 and one at 2.0. There is a USB Type-C for charging and accessories, but it lacks Thunderbolt 3 for video-out and external GPU support. (You can find that in the higher-end Legion Y720
Image 1 of 2
There is an HDMI port for video and display-out, along with separate jacks for headphones and microphones. The SD card reader (SD, SDHC, SDXC and MMC) is ideal for those who want to edit photos or add some memory.
Finally, users should appreciate the dedicated full RJ45 Ethernet jack. Being able to connect to the internet without Wi-Fi directly is a luxury that's not usually found in lower-end gaming rigs, so it's great to see it here.
Power and performance
The Legion Y520 tested here features a seventh-generation "Kaby Lake" Intel Core-i7-7700HQ processor with 16GB of 2,400 MHz DDR4 RAM. Combined with the new NVIDIA GTX 1050 Ti, the Y520 is quite powerful.
In synthetic benchmarks, the Legion Y520 is right where it should be compared to higher-end machines. It's certainly better than any Ultrabook.
Geekbench 4.0 benchmarks (higher is better)
Swipe to scroll horizontally
| Laptop | Single core | Multi core |
| --- | --- | --- |
| Lenovo Legion Y520 | 4,596 | 14,903 |
| Razer Blade 2017 | 4,277 | 13,597 |
| Razer Blade 2016 | 3,774 | 12,638 |
| XPS 15 (9560) | 4,503 | 13,587 |
| Razer Blade Pro | 3,660 | 12,325 |
| Spectre x360 15 | 4,098 | 8,022 |
Interestingly, the Legion Y520 bests even Razer in Geekbench 4.0, which is mostly CPU-intensive. That's quite impressive for a budget machine.
PCMark - Home Conventional 3.0
Swipe to scroll horizontally
| Laptop | Score | Comparison |
| --- | --- | --- |
| Lenovo Legion Y520 | 3,475 | Better than 70 percent of all results |
| Razer Blade 2017 | 3,448 | Better than 70 percent of all results |
| Razer Blade 2016 | 3,280 | Better than 67 percent of all results |
| XPS 15 (9560) | 3,534 | Better than 71 percent of all results |
| Razer Blade Pro | 3,223 | Better than 63 percent of all results |
| Spectre x360 15 | 2,472 | Better than 41 percent of all results |
Futuremark's PCMark Home Conventional 3.0 also puts more emphasis on overall computing, making it more CPU-focused. Again, the Legion Y520 holds its own compared to other high-end laptops from Razer or even the Dell XPS 15.
Where things begin to shift is in synthetic benchmarks that stress the GPU.
Geekbench 4.0 CUDA (higher is better)
Swipe to scroll horizontally
| Laptop | GPU | Score |
| --- | --- | --- |
| Lenovo Legion Y520 | GTX 1050 Ti | 90,367 |
| Razer Core eGPU | GTX 1080 Ti | 223,080 |
| Razer Blade Pro | GTX 1080 | 193,311 |
| Lenovo IdeaCentre Y710 Cube | GTX 1070 | 145,720 |
| Razer Blade 2017 | GTX 1060 | 138,758 |
| XPS 15 | GTX 1050 | 75,636 |
| Spectre x360 15 | GT 940m | 28,868 |
In CUDA testing, which is NVIDIA technology for leveraging the GPU for overall computing tasks, including video rendering in Adobe products, the power of the GTX 1050 Ti is evident.
The GTX 1050 Ti is significantly faster than the GTX 1050 found in the Dell XPS 15, but it is also a distant second compared to the GTX 1060. NVIDIA GPUs bench very evenly and consistently.
In real GPU testing using 3DMark, the GTX 1050 Ti is also well represented.
3DMark - Time Spy (higher is better)
Swipe to scroll horizontally
| Laptop | GPU | Score |
| --- | --- | --- |
| Lenovo Legion Y520 | GTX 1050 Ti | 2,491 |
| Razer Blade 2017 | GTX 1060 | 3,639 |
| Dell XPS 15 (9560) | GTX 1050 | 1,789 |
| Surface Book | GTX 965M | 1,531 |
| Spectre x360 | GT 940m | 613 |
3DMark - Fire Strike (higher is better)
Swipe to scroll horizontally
| Laptop | GPU | Score |
| --- | --- | --- |
| Lenovo Legion Y520 | GTX 1050 Ti | 6,623 |
| Razer Blade Pro | GTX 1080 | 12,976 |
| Dell XPS Tower SE | GTX 1070 | 12,315 |
| Razer Blade 2017 | GTX 1060 | 9,278 |
That GTX 1050 Ti with 4GB of video memory is the real star of the show. While well below the GTX 1060 and higher graphics cards, the 1050 Ti represents a real entry point for high-end gaming.
For real-world gaming performance in Gears of War 4 (Windows Store), graphic settings can be set to high with vertical sync disabled and still hit a very comfortable 62 frames per second (FPS). Using the recommended settings – medium graphics with some specific tweaks – 71 FPS is achievable.
DOOM (2016) also hits 60+ FPS when set at ultra-graphics, and it can peak at 100 FPS when set to high.
For Rise of the Tomb Raider (Windows Store), a similar tale is told. When set to high graphics, an overall score of 54 FPS was achieved, which is quite respectable. In benching an arcade fighter, like Killer Instinct, with settings maxed out a passing score of 1,259 (out of 1,000) was achieved for online play.
Just barely VR-ready
Lenovo does not push the Y520 as a Virtual Reality (VR)-ready laptop, but the GTX 1050 Ti is at the edge of being able to tackle the modern technology.
In Futuremark's new VRMark synthetic test, the Legion Y520 scores 3,753, just slipping by the minimum score of 3,716 for VR to work.
The laptop hit 81.82 FPS, which is just above the 80 FPS recommend for Oculus Rift, but well below the ideal target of 109 FPS.
VRMark notes that with this score users "should have a good experience with the HTC Vive and Oculus Rift ... a VR headset will compensate for missed frames, but you should try before you buy since the results can vary."
The Legion Y520 also meets Microsoft's lower minimum specifications for Windows Mixed Reality, which is due later in 2017.
Storage and performance
Lenovo offers a few configuration options based on your budget and spans different performance ranges as well, such as:
Spinning HDD.
SSD and HDD.
SSD with no HDD.
Option one is the slowest for performance, but it's also the cheapest. Option two is more expensive but is a nice balance between cost and performance. In that scenario, the OS, apps, and frequently used games can be stored on the 128GB or 256GB SSD, while the rest of your games, music, and video can live on the slower 1TB or 2TB HDD.
Option three is the best one for performance, but it costs the most. Users can get up to a 512GB SSD PCIe NVMe solution for $400.
For the HDD, Lenovo uses a Seagate (ST2000LM007) with 128MB cache and it is SATA 6.0Gb/s. It's a decent drive, too, with typical HDD speeds.
CrystalDiskMark HDD (higher is better)
Swipe to scroll horizontally
| Device | Read | Write |
| --- | --- | --- |
| Lenovo Legion Y520 | 119 MB/s | 67 MB/s |
| CHUWI Hi13 eMMC | 295 MB/s | 141 MB/s |
| CHUWI 14.1 LapBook eMMC | 265 MB/s | 118 MB/s |
| Surface Book 512 | 782 MB/s | 573 MB/s |
| Dell XPS Tower SE (HDD) | 133 MB/s | 150 MB/s |
| Kangaroo Notebook | 128 MB/s | 43 MB/s |
Things look better on the SSD side, though, where Lenovo surprisingly puts in a Samsung PM961 drive, a.k.a., a Samsung 960 EVO. That's one of the fastest consumer drives on the market today, and it delivers excellent read and write speeds.
CrystalDiskMark SSD (Higher is better)
Swipe to scroll horizontally
| Device | Read | Write |
| --- | --- | --- |
| Lenovo Legion Y520 | 1,838 MB/s | 1,151 MB/s |
| Razer Blade Pro | 2,571 MB/s | 2,467 MB/s |
| Razer Blade (960 EVO) | 2,079 MB/s | 1,809 MB/s |
| MacBook Pro 13 (2016) | 1,549 MB/s | 1,621 MB/s |
| Spectre x360 512 | 1,332 MB/s | 589 MB/s |
| Surface Studio 1TB | 1,327 MB/s | 512 MB/s |
| XPS 13 (9360) 256 | 1,287 MB/s | 794 MB/s |
| Surface Book 1TB | 1,018 MB/s | 967 MB/s |
I'm quite impressed with the hardware choices made by Lenovo for the Legion Y520.
Heat and noise
Gaming laptops can get quite loud under heavy GPU load when gaming, which often necessitates the use of headphones to drown out the whooshing sound of the fans.
I'm pleased to report that is not the case with the Legion Y520. When left on its own during gaming, those two front-firing speakers and a relatively quiet fan work well together. The fans are audible, but not distractingly so.
During non-gaming, the fans rarely come on. It's a pleasant change from typical gaming laptops.
Lenovo also includes its software for tuning the fans. Specifically, there is an "extreme cooling" toggle that ramps up the fans even higher. That mode may be too loud for in-gaming experiences, but it cools down the laptop significantly. It's a good option if you plan to wear headphones during a battle but still want a non-throttled experience. This setting and more are all found under the useful Lenovo Nerve Sense software.
For temperatures, the Legion Y520 peaks at 120 degrees F (49 degrees C) right at the vent. On the keyboard deck, especially near the number pad, temperatures were around 106 degrees F (41 degrees C) under extended GPU load for 20 minutes. Despite those peak temperatures, the laptop overall felt fine to use, with no uncomfortable "hot spots."
Conclusion: Legion Y520 is a fresh start with a bright future
The Lenovo Legion Y520 is meant for a broader consumer audience that wants to get into gaming but is not quite ready to jump into the deep end. Its design is also intended to appeal to non-gamers who are looking for something less flashy.
Starting at $850, it doesn't quite beat Dell's $799 starting point for similar PCs. But it's an excellent value. Even the "maxed out" version costs only $1,619.
Highlights of the Legion Y520 include a pleasing display, excellent keyboard, solid audio, great component selection for storage, and an attractive, thought-out design with consistent build quality.
Image 1 of 2
The trackpad, while a bit weird looking, is OK to use but it could be improved. Battery life is below average, but that's somewhat forgivable due to its nature.
Bottom line: I would happily use this laptop for gaming and even non-gaming tasks like word processing, web browsing, and general Windows productivity. The design and feel are enticing.
The NVIDIA GTX 1050 Ti is the best value gaming card right now, and it shows. Gamers can play all the major titles currently on the market and hit 60 FPS at Full HD and medium-to-high graphics. That's impressive, and it makes this configuration easy to recommend.
Bonuses such as a Samsung PM961 SSD and DD4 2,400 MHz RAM demonstrate that Lenovo is not cutting corners with the Legion series.
For those looking for a similar setup but even more, Lenovo makes the Legion Y720, which starts at $1,119. That version offers the following upgrades compared to the Y520:
NVIDIA GTX 1060 6GB.
An optional 4K display panel (due summer 2017).
3W subwoofer and Dolby Atmos support.
Larger 60 Whr battery.
Xbox wireless controller integration.
Full Thunderbolt 3 support.
Optional RGB Zoned Backlit keyboard.
The weight also gets bumped to 7.05 lbs (3.2 kg).
I highly recommend the Legion Y520. It's an excellent value with outstanding performance. The only downsides are the battery life, ad the fact that you'll need a mouse for serious gaming.
Pros:
Perfect entry-level gaming laptop with excellent performance for high-end games.
Great value.
Mature, subtle design with just a hint of flare.
Very good selection of components and hardware.
Cons:
Trackpad is odd and not ideal for gaming.
Battery life is not great.
Display could be brighter and have more color punch.
Get the Windows Central Newsletter
All the latest news, reviews, and guides for Windows and Xbox diehards.
Daniel Rubino is the Editor-in-chief of Windows Central, head reviewer, podcast co-host, and analyst. He has been covering Microsoft since 2007 when this site was called WMExperts (and later Windows Phone Central). His interests include Windows, laptops, next-gen computing, and for some reason, watches. Before all this tech stuff, he worked on a Ph.D. in linguistics, watched people sleep (for medical purposes!), and ran the projectors at movie theaters because it was fun.