Lenovo Legion Y520 review: A budget gaming laptop that's easy on the eyes
Budget laptops don't have to mean huge performance sacrifices, as demonstrated by the new Lenovo Legion Y520. This PC combines impressive value with a smooth design.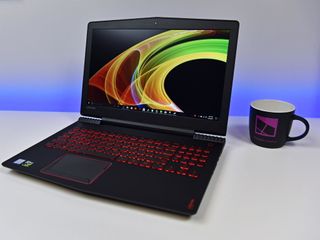 Lenovo is back with a new brand for its gaming laptops called "Legion." The Legion Y520 is the entry-level tier starting at just $849, but it packs enough hardware for mainstream consumers and enthusiasts on a budget.
Typically, I find gaming laptop designs to be esoteric – and tacky – but Lenovo gets a lot right with the Y520. Here is the good, and the not so good, about this budget gaming laptop with a NVIDIA GTX 1050 Ti.
About this review
Lenovo supplied the Legion Y520 for this review. It features a Core i7 processor, 16GB of RAM, 256GB solid-state drive (SSD), 2TB hard disk drive (HDD), and a NVIDIA GTX 1050 Ti GPU. This version costs $1,119.
See at Lenovo (opens in new tab)
Lenovo Legion Y520 tech specs
Like many of Lenovo's laptops, you can buy preconfigured versions online or in stores, or mix and match components. Pricing begins at a modest $849, and that's with the GTX 1050 Ti and a Core i5 processor.
Swipe to scroll horizontally
Category
Lenovo Legion Y520
Processor
Intel Core i5-7300HQ (up to 3.5 GHz)
Intel Core i7-7700HQ (up to 3.8GHz)
Internal storage
Up to 512GB PCIe SSD
Up to 2TB SATA HDD
RAM
8GB or 16GB DDR4 at 2400 MHz (2x soDIMM)
Display
15.6" FHD (1920 x 1080) LED Backlit, IPS, Anti-Glare
Graphics
NVIDIA GTX 1050 Ti 4GB GDDR5
Ports
Two USB Type-A 3.0
One USB Type-A 2.0
One USB Type-C (no Thunderbolt 3)
One RJ45 LAN Ethernet
One HDRMI
3.5mm jack
SD card reader
Audio jack
Microphone jack
Speakers
Two 2W Harman speakers with Dolby Audio Premium
Wireless
Realtek 8821AE Wireless LAN 802.11ac PCIe
Bluetooth 4.1
Camera
Front-facing 720p
Battery
45 Whr
Up to 4 hours
Dimensions
380 mm x 265 mm x 25.8 mm
14.96 inches x 10.43 inches x 1.01 inches
Weight
Starting at 5.3 lbs (2.4 kg)
Maxing the device out with Windows 10 Pro, 2TB HDD, 512GB SSD, 16GB of RAM and a Core i7 brings it to a reasonable $1,619.
Legion Y520 design is mature
The Legion Y520 has a very conservative and mature look, with a touch of pizzazz. With a plastic faux-Kevlar lid all in black, the Legion 520 lacks the tacky flair that so dominates the gaming PC world.
Nonetheless, when you open the Legion Y520, you get a bit of excitement with red accents for the keys, logo, trackpad and power button. It's the equivalent of wearing a button-up shirt but leaving it untucked – it's just enough to say, "I'm still cool."
Image 1 of 2
I like the look. A lot. I could deal without the angular point on the top of the display, but Lenovo likely wanted some personality instead of making the Y520 just a black rectangle.
Lenovo added some aggressive venting in the back, but it's muted compared to some competitors. Even better, I like seeing the copper from the heat dissipation system.
The bottom is also quite clean with symmetrical intake vents and an angular cut.
Build quality is solid, with no creaking or loose parts.
The lid is slightly prone to picking up fingerprints, but it's better than average for an all-black laptop. On the interior keyboard deck, a smoother material is used that feels like a thin layer of soft touch paint. It's smudge-free, which is welcome, and it feels great to rest your hands on. Due to the weight, you can open the laptop's lid with one hand.
Image 1 of 2
The 720p webcam is adequate. It gets the job done but it was not a focus or highlight of the Legion Y520.
I don't say this much about gaming laptops, especially sub-$1,000 ones, but Lenovo did a fantastic job with the Y520's look. It's the kind of gaming laptop that will appeal to a broad swatch of consumers and general gamers, the Legion's target.
Legion Y520 display is not the brightest
The 15.6" Full HD (1920 x 1080) display on the Legion Y520 is quite good. The screen is anti-glare, which is preferable to gloss for gaming, even though you tend to experience some color loss.
Indeed, the Y520's display only gets about 68 percent sRGB and just 51 percent of Adobe RGB, which is far from high-end systems that score in the mid-90s during calibration. In context, that just means this display does not show a full range of colors. Colors still looked good, though, and the contrast was to my liking.
Putting raw numbers aside, however, and I enjoy the Legion Y520's display. Using In-plane switching (IPS) technology, the viewing angles are quite good, and this screen is on the better end of budget gaming laptops in 2017.
Colors could benefit from some extra punch, but I wouldn't call them dull.
Brightness is below expectations, though, coming in well below 300 nits. On a naturally-lit afternoon indoors, I found it comfortable to use with the display at nearly 100 percent brightness, which is a bit unusual. I did not feel that it was dark at 100 percent brightness, but apparently, outdoor usage will suffer. Gaming indoors, in a darker room, however, the experience is just fine.
Understanding the price point for this machine, I found the display to be enjoyable. While brightness could be better, the color contrast, clarity, and viewing angles were all satisfactory. Text is easy to read, and I didn't experience any light bleed.
Lenovo's keyboard skills are here
The Legion Y520 has slightly-dipped, chicklet-style keys with 1.7mm of travel. A clear ridge around the edge of the key allows for an optional red LED lighting that looks sharp and even. There is also a full number pad on the right-hand side resulting in the familiar slightly off-center keyboard experience that gamers are used to by now.
Lenovo is well known for its laptop keyboards and – like HP – it is becoming much more consistent across product lines. As someone who writes for a living, I thoroughly liked working on the Legion Y520. Key travel is ample, and the way the keys felt is even across the whole deck with no odd clicking or noise.
Image 1 of 2
Getting back to those red LEDs, I think they look great but opinions may vary. Red is Lenovo's color of choice for its gaming line, so I understand its impulse to use it. The lighting is even, and it works exceptionally well for dark environments.
Trackpad is oddly designed ... but it works
Trackpads are often still weak spots on laptops but less so in 2017. The Legion Y520 does not use Microsoft Precision, but it does feature Synaptics, which is the next best choice.
If there is one area I imagine Lenovo will revise in the next release of the Y520 is in the design of the trackpad. It's a weird, angular "gamer" looking thing. There are also two plastic physical right and left keys at the bottom, which are strange because they click easier away from the middle instead of being consistent across.
Despite the unusual design, I did not have any significant problems with the trackpad. It does not click, so tapping is necessary, but that's OK. Moving the cursor around feels smooth, and the trackpad itself is on the higher-end for this range. Synaptics gives users numerous settings for palm rejection, and all the Windows 10 gestures for three and four fingers work, as well.
While the clicking of the right and left buttons take some time to get used to, you do get used to them.
Front-facing speakers give robust audio
On the keyboard deck near the rear are two, two-watt Harman speakers with Dolby Audio Premium software.
The speakers rise and directly face the user. It is one of the best designs I've seen for laptop audio. It certainly beats putting the speakers on the bottom, and while top-firing ones on the keyboard deck are nice, having them angled to fire at your face is even better.
The sound is also quite loud and is more than enough for gaming without headphones. While the speakers lack bass, they were not "tinny." The audio is crisp, and the vocals especially are easy to discern with no distortion.
The Dolby Audio Premium software is a nice touch, too. Users can preselect conventional modes like music, gaming and video, or configure the built-in equalizer.
The Legion Y520 audio is better than average.
Battery life is unfortunate
Do gamers use their laptops while untethered to AC outlets? I'm not quite sure, but you will have little choice with the Legion Y520.
The laptop has a minuscule 45 WHr battery. To put that in perspective, Microsoft's Surface Pro 4 uses a 38 Whr cell. But the Y520 is powering a quad-core processor and discrete NVIDIA GPU versus a dual-core setup in the Surface, which lacks dedicated graphics.
To be fair, Lenovo states on its site that battery life is rated at just