Chimpact 2 Family Tree swings into Windows and Windows Phone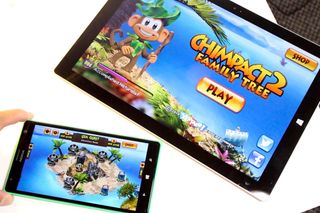 It's hard to describe Chimpact 2 Family Tree. It's categorized as a platformer game, but it doesn't feel like any other platformer game I've played. Nevertheless, it's fun and it looks great. What's also cool about it is that you can buy it once, and play it on your Windows and Windows Phone devices. Want to see it in action? Watch our gameplay video with the Lumia 1520 and Surface Pro 3!
Features:
Enhanced 3D graphics include dynamic depth of field and tilt parallax environments!
Two games modes; Gem Quest and Mini-Game Challenges
Tag-team feature lets you access new areas of a level by playing as a different character, 6 in all.
Epic Boss Battles
Score points to rank up and collect 100 wacky costumes
There are two game modes. In Gem Quest, the goal is to collect as many bananas, gems, and other fruits as you can to unlock the next levels. You jump from vine to vine to proceed through the levels. Pull back on the vines to launch the main character, named Chuck, in the air.
Chuck has three lives per level. Try to avoid hitting snakes, fishes, or birds. Bigger bananas have a time limit. If you take too long, they disappear.
Some levels require certain amount of points to earn keys. You need these keys to unlock the boss levels. In one level, you use Chuck as a pinball. The boss levels aren't too different from what we're used to. Look for the boss' weak points to defeat them.
If you want to play quickly, check out the mini games section. There are several to choose from and they're all very entertaining. My favorite is Pop Party, which requires you to pop balloons and collect fruits.
Chimpact 2 Family Tree costs $1.99. There's no free trial available, but buying it once lets you download the game for your Windows Phone or tablet. Go download it now and let us know what you think!
Thanks for the tip, minhlong3693!
Get the Windows Central Newsletter
All the latest news, reviews, and guides for Windows and Xbox diehards.
This is one of my favorite games to waste time with :)

Yet not available here in Brazil... :(

this is bad. i think u need a better support from your people there to convince devs. if this matter isnt sorted soon then u guys will also suffer when windows 10 comes out and devs start making new apps and games for windows 10.

Same company that released Terraria recently. They are on a roll.

Same Terraria publisher but not Xbox...

Those graphics are beautiful. Can't wait to try it soon !

The graphics are BEAUTIFUL!!!!

Sweet! The original was one of my favorite games... I'll be giving this one a go as well.

I have Chimpact already and the gameplay is plentious! I was ready to pay and download this version, but it is for WP8.1 only. I don't have 8.1 for my 1020 yet (or rather I haven't downloaded it yet), so I guess I will download it on my PC since it's universal and play it. Chimpact was the first of only 2 games (both were on sale) I've ever purchased that didn't have a trial (and I have a lot of games), but the gameplay far exceeds the purchase price.

Welp, the game doesn't support mouse and keyboard, so no download. 505 Games will be waiting a long while before they get my money, I guess.

Hi, The game does actually support mouse and keyboard - this was an error. We are really sorry for that, but you should be able to download and play it without any issues.

Hey i'm having an issue with the game store.. It wont let me buy any coins. It gives me an error message that reads "Sorry, we've searched the store, but can't find what you're looking for". Any ideas?