Why I chose the Lenovo ThinkPad X1 Yoga over Microsoft's Surface Book 2
By Daniel Rubino last updated
Picking a premium laptop is a tough choice, but what if I was forced to choose only one? Here's what I'd choose.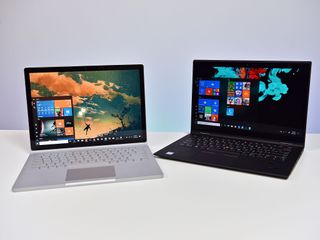 (Image credit: Daniel Rubino / Windows Central)
One of the perks of my job is being exposed to a lot of laptops. While that may seem like a dream for many the question of which laptop is the best for my usage is, well, complicated.
I recently did a comparison video between the new Lenovo ThinkPad X1 Yoga (3rd generation) compared to the Surface Book 2. While there are plenty of similarities between the two, there are some core differences as well.
Microsoft Surface Book 2 vs. Lenovo ThinkPad X1 Yoga (2018): Unfolding the best convertible PC
But if I had to choose only one laptop, which would it be? In our latest video I'll tell you why I think the X1 Yoga is the better laptop – at least for my needs – compared to the Surface Book 2.
To be clear, I'm not claiming the X1 Yoga is the better choice for everyone – far from it. But when it comes to features, what you pay for, and what you need, well, it's not always about the specification list or raw power (see my HP Envy x2 review, as an example).
The bottom line is this: even for me picking the right laptop in 2018 is getting harder. After we shot this video, I received our review unit of the new Dell XPS 15 (9575) 2-in-1, and I'm now reviewing the HP EliteBook 1040 G4 – both of which are too tempting to ignore.
Where to spend your money on a new laptop is now a reality because there are so many good choices – but that's a problem worth having, for once.
Daniel Rubino is the Executive Editor of Windows Central, head reviewer, podcast co-host, and analyst. He has been covering Microsoft here since 2007, back when this site was called WMExperts (and later Windows Phone Central). His interests include Windows, Microsoft Surface, laptops, next-gen computing, and arguing with people on the internet.
I would most likely get the x1 carbon or the x1 yoga. I already have an iPad Pro 12.9 with the pen and logitech keyboard case. It's a dream to work with and the keyboard also is great. Plus battery life last me a few days. I still use my x1 carbon 3rd generation but can only get around 4-5 hours of battery out of it. I use it for work. I now use my iPad Pro for everything for home, excel, YNAB app, word for college and work and outlook.

Off topic, but if you ever get a chance to review a ZBook Studio, I'd love to hear what you think.

I have yet to use a device that feels as good as the surface book and laptop. There is nothing available today that feel as good as these computers. macbooks are crap, I used one for 20 mins at staples the other day, found myself stabbing at the screen, tapping to open stuff on the touchpad with nothing happening, and the overall build quality and feel was subpar compared to the Microsoft offerings. MacOS is terrible. I would take the book 2 over ANY available laptop right now.

I have used both quite a bit, but the Surface book isn't a well built as the MacBook Pro. A touchscreen might be nice on the MacBook but certainly wouldn't be a deal breaker. The Surfacebook is large and feels bulky compared to the Mac. The round corners and edges make the Mac feel more "completed" while the Surface feels like a brick that still needs to be shaped. The only improvement I would like for the Mac is less bezel, otherwise it is nearly perfect. The Surfacebook has a couple flaws. The hinge is solid, very solid, but it is also very bulky, making the device much thicker than it should be. The speaker area is also a huge issue. It is a big WTF moment the first time you grab the screen near the speaker and the whole thing squishes in. It is a terrible feeling when you are expecting the grab a solid device. I am not familiar with MacOS at all, so I won't address software, but their certainly would be a learning curve. Hardware wise though, the Surface isn't quite the same level as the Mac.

The materials used on Surface devices are much warmer and more pleasurable to hold period. Fact Mac is going with a mobile OS on all of their devices since they do not know how to innovate. I really don't care who likes Apple they are meaningless to the corporate world, which means they are a waste of my time.

OS X is not a mobile OS, and the operating system is top notch. I am not sure what you mean they don't innovate? They had the notification center in the mac years before windows. Another fact: they were able to integrate their mobile OS with the regular operating system and execute it. Things like texting from your mac... etc. I am a windows fan, I dislike mac OS X interface.. but to say it isn't innovative is crazy.

OS X is really quite good (even if i think is very ugly, like WinXP). Still, there are too many limitations and Hardware restrictions (serious gaming ... tablet with the same UI-feel, Active Directory Integration ...)

If that a fact? Can you show me the press release where Apple says that they are going to iOS on Macs? The materials are basically the same on each. Aluminum vs magnesium doesn't seem to make a difference. They both feel like cold metal. Actually, is the Surfacebook magnesium?

It has been 8 years since touch screen started becoming mainstream on desktop/laptop devices. OSX fails to develop for it, there are plenty of mentions if you google it, iOS will dominate the apple line up if they decide to offer touch on devices other than iPhone/ipad. That's what happens when you don't write your own OS language (OSX) and instead steal it, none of the apple engineers know how to go in and recode their Fisher Price's for touch.
There is nothing innovative about OSX and in its current state, it is stale and a joke, if you call innovating an "app store" into a desktop environment then ok yeah apple did that years back... and again that would be the driving factor for going to iOS on all of their weak offerings, huge base of apps and they all need touch input. bleached brains are you? aluminum vs magnesium this isn't hard and the difference in feel is huge, for an anal complainer such as yourself this should have been a no brainer. One is cold and feels unfinished against skin, that's Aluminum the other exudes an expensive desirable feel almost soft touch like.

Ok, So you have used both "quite a bit" but you are unfamiliar with MacOS? Come on Bleached, you will have to do better than that. The surface book 2, leaving the size of the hinge out of it is way better built than the MBP. NO keyboard issues and hokey touchbar.

Yeah I would also not choose any other laptop over my surface book 2, it's by far the most versatile choice and it's more powerful than anything excluding gaming laptops, while retaining a reasonable weight and awesome looks

Lenovo used to be decent before MS started making products. I guess if you didn't care for the aesthetics it isn't a bad option, but they are even lacking in battery use, weight and premium feel to MS products. I would personally grab a surface laptop over the X1 I have no use for USB-C ports atm. Besides you can't go wrong with MS store customer service either. I personally use the Surface pro 2017 as my ultra portable and an Asus GTX 1070 gaming laptop for VR.

The design is the best point for a Lenovo. But while i was a big fan of first generation of Tablets (Miix 1 ), they lost a bit of appeal compared to Surface and Dells XPS.

For me the decision was easy - because I am often working directly from the laptop the aspect ratio of the Surface Book 2 makes the choice an easy one. 3x2 is superior to 16x9 for everything other than watching movies and for professional devices like these the 3x2 aspect ratio makes the Surface Book 2 a better choice. I hope that by the time we get to the 4th generation x1 Yoga that Lenovo switches to 3x2 aspect ratio.

8750H x GTX1080 is whats on my mind now, day or night.

If the X1 had a 3:2 screen instead of that blasted 16:9 shyte it would be a no brainer.

SB2 is still my favorite. Perfect balance of power and versatility. Tablet mode is handy for toilet readings. Can't beat that.

I was going to develop a mount for ipads that bolts to the toilet bolts called the ipooed! holds your ipad while taking a deuce!

I bought a surface pro i5 around Christmas and just recently purchased my mom a Surface Laptop in burgundy. I grew a little envious while setting up her Surface Laptop. Very nice build quality and all. I'd say if I had to do it over again I would get myself the 13inch surfave book. I love my surface pro and really loved the surface laptop just because of how easy it is to sit it on your lap and get things done. I'd think the surface book is the best of both those worlds.

Yesterday: Best Overall 13" laptop: Microsoft Surface Book 2
1pm Today: Why I chose the Lenovo ThinkPad X1 Yoga over Microsoft's Surface Book 2
5pm Today: Best Overall 2-in-1 laptop: Microsoft Surface Book 2 I get that the middle one is a personal choice, but the word ThinkPad doesn't even appear in the other articles. Where they considered? Did they not make the cut? The reporting seems inconsistent or incomplete. On the bright side, it doesn't seem biased or out of left field, as I've see at another Microsoft/Windows/phone site. ;)

Really cool insight Daniel. As someone that is forever vacillating on what is the "perfect" laputer device, this totally speaks to me. What works for individuals to me is a very interesting deviation from the spec-out standard. Not that the latter isn't wanted as a staple. I have a need for a lightweight, long lived, + resolution/brightness, high horsepower device.
I have a want for an aesthetically pleasing, small form (e.g. less than 13" x 9" x .6"), touch device. The 'almost theres' are everywhere but they all need just that one thing to make them whole. Dell XPS 13 2-in-1 - negative on horsepower
Dell XPS 13 9370 - if I get the bits I want, the 4k display works over the battery
Spectre x360 13 - battery underperforms the XPS 4k variant so a non-starter
Lenovo X1 Carbon - love everything about it but the odd combos to get the HDR
Lenovo X1 Yoga - large on the dimensions and battery drops sub 8 hours on HDR
LG Gram 14Z980 - interesting entry but not feeling the LG
Surface Book 2 13 - good gravy I love this but those dimensions are killing me for the $$
Surface Laptop - pretty much hits every note if it just had the 8th gen CPU kit (and speedier SSD)
Surface Pro 2017 - really up there but concerns of battery (and 7th gen chips) So if I could just see that Surface Laptop refreshed (chip and ssd) then that's the golden ticket. Otherwise, the X1 Carbon / 9370 are there on the second step. As for the question of what do I "really need" - I do a fair bit of virtualization testing and typically run two laptops (and bigger one and smaller) with one dedicated to VMware (for my sanity) and one running Hyper-V for work compatibility stuff. So the i7 isn't the need, but the 16GB is (and the larger sized SSDs) and as no vendor seems to want to make i5 16GB offerings, I am stuck with the top spec line. I need the long (battery) life because I don't want to have to be tethered to a plug. I like a decent display because if I am spending this much.... :)

That's an interesting choice from you Dan. You've been pretty vocal about 4:3 so it's a surprise to me that you chose one with 16:9. If you don't need dGPU, Surface laptop would be a natural choice. My work issued me a ThinkPad, believe me it's not that durable nowadays.

It kinda is. Cheaper and with a power charger that actually works as advertised. 🤔

There's quite a few MSI machines, for gaming, that also drain the battery so it's nothing that new.

"Picking a premium laptop is a tough choice..." One installed spyware on their PCs and the other did not... I think it's pretty easy.

I've used a lot of machines, over the years, being an I.T. guy and there's only two choices after those years: Surface Book or Surface Pro. I would never, ever, want to use a clam shell laptop again as the SP and SB have simply made them obsolete... in my eyes. Too heavy, too clumsy, silly tent mode and not much else. Plus I'm not being paid to write articles and push certain machines. Tablets/ 2 in 1s owned: HP TC1100/TC4200/TC4400/2740p/2760p/TM2/Slate2/Split13x2/608G1. Tosh M400/M750. FujitsuTab. Acer 1820/W500/W3. Archos9. SamsQ1u/7slate/Ativ500t/AtivTab3. Sony VGN-UX1XN. Viewsonic10. Asus R2h/EP121/ VTabNote8. LenovoX220/Yoga11/11s. CL900. Microsoft Surface RT/Pro1/Pro2/SP3i7,i3,i5/ SP4i7/SP4CoreM/Surf3/Book. Dell XT/XT2/Lat10/7139/7140/9250. iPad Air/Air2/mini4/Pro9.7/Pro12/
Current: ipad 2018, SP 5 i7.

I just bought the new X1 yoga with the HDR screen and i5 processor. I am very happy with it.

It's really great to have so many choices and thanks for the video . I personally am Just loving my sp3 & if I could I wouldn't hesitate to get the new one ! I see some ppl picking one up & I'm So jealous... lol

Have a Surface Book 2, 15", I7 bought about a month ago. There is no way I am getting near the battery life advertised by Microsoft, which is the reason I bought this as I travel a lot and wanted to have as much battery life as possible. Using simple tasks like working over Internet (browser like Firefox or Chrome), and email, battery goes maybe to 6- max7 hours at best. It also sometimes gets to heat strongly from such things and the ventilation starts. Very unhappy with the product unfortunately, as I have passed from a Macbook Air doing same things and using same browsers where I could get 9-10 hours easily, with no system over-heating. Not to mention that the Mac is slimmer, lighter, and was also half price from what I paid on this Surface Book 2... Also, when in stand by, Windows drains quickly, if I leave it 3 days I have no more battery, while on Mac after 1 week I was down maybe 20% of battery. Looking over background processes, honestly I have no idea what there is, nothing installed by me, everything is from Microsoft. After such an experience and given my disappointment to the battery life difference from what is advertised, I would not recommend to anyone this system
Windows Central Newsletter
Get the best of Windows Central in in your inbox, every day!
Thank you for signing up to Windows Central. You will receive a verification email shortly.
There was a problem. Please refresh the page and try again.