Lenovo ThinkPad X1 Yoga 2018 nearly perfects the X1 Carbon as a convertible with a pen
This 2-in-1 business convertible is in every way an improvement over the X1 Carbon.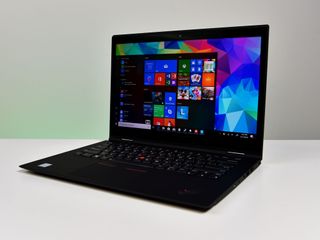 (Image credit: Windows Central)
The Lenovo ThinkPad X1 Carbon (6th gen, 2018) is arguably the perfect traditional laptop – but what if you could make it better – and slightly more expensive? The Lenovo ThinkPad X1 Yoga (3rd gen, 2018) is that laptop, because it is a convertible that has a built-in pen. But there's are a few more tricks with the Yoga that make me prefer it over the capable Carbon.
I've spent the last few weeks with the X1 Yoga, and while the fingerprint reader is as terrible as the X1 Carbon's, it's a much better laptop in many other ways.
ThinkPad X1 Yoga 3rd gen what's new and features
The business-focused ThinkPad X1 Yoga is very much a sister device to the X1 Carbon but with a few signature moves like turning into a tablet with a 360-degree hinge. Because of that, the X1 Yoga follows the Carbon with new and improved features for 2018, including:
New powerful and efficient 8th generation quad-core Intel processors.
New HDR display with Dolby Vision and 100% AdobeRGB color gamut.
New 360° far-field microphones for use with voice assistants and Alexa (coming soon).
The new processors include up to the highly-performance Core i7-8650U, which can clock at 4.2GHz for turbo – a very impressive choice for a convertible laptop.
And like the X1 Carbon, the X1 Yoga features a 14-inch display that ranges from full HD (1920 x 1080) up to WQHD (2560 x 1440). Seeing as there is native pen support for the Yoga (versus the Carbon) these are all multi-touch displays that have an anti-reflective coating. While not quite a matte display, they are less glossy than standard screens.
Swipe to scroll horizontally
Category
Lenovo X1 Yoga 3rd gen
Display
14-inch
1920 x 1080 or 2560 x 1440
Multi-touch
Anti-reflective, anti-smudge
Dolby Vision HDR (optional)
Pen
Yes (built-in)
Wacom AES (2,048 levels, no tilt)
Processor
Up to 8th Gen Intel Core i7 8650U with vPro
Graphics
Intel UHD 620
RAM
8GB or 16GB DDR3 2133MHZ
Storage
Up to 1TB PCIe-NVME SSD OPAL2.0
Ports
2 x USB 3.1 Gen 1 (one Always On)
2 x USB 3.1 Gen 2 Type-C / Intel Thunderbolt 3 (Power Delivery, DisplayPort, Data transfer)
HDMI
4-in-1 MicroSD card reader
Ethernet Extension Connector
Connectivity
Intel Dual-Band Wireless AC (2 x 2) 8265 + Bluetooth 4.2
Audio
Dolby Audio Premium
Dual speakers (bottom edge)
Noise-cancelling dual-array mic
Battery
54Wh, up to 15.4-hour battery life
Dimensions
333 mm x 229 mm x 17.05 mm / 13.11" x 9.01" x 0.67"
Weight
3.08 lbs (1.4 kg)
Colors
Black or silver
Pricing
Starts $1,480
Availability
Now
See at Lenovo (opens in new tab)
That premium display – the new Dolby Vision with HDR – is just $160 extra, but now is touch and pen-enabled and anti-reflective. Those were two criticisms of the X1 Carbon, which now makes sense considering the X1 Yoga's positioning as a 2-in-1 laptop. However, just like the X1 Carbon if you opt for the Dolby Vision HDR display, you give up the right to an infrared camera (IR) for Windows Hello facial recognition. You still get a fingerprint reader, but it's awful.
Additionally, there is a built-in Wacom AES active stylus that pulls from the right-side of the X1 Yoga's bottom chassis. A 15-second charge will allow the pen to be used for up to 100 minutes. Users can also bring any Wacom AES pen to use with the X1 Yoga including the Bamboo Ink. That's good too because while the AES stylus is great for quick notes, highlighting a PDF, or signing a document anything more than few minutes will cause some hand fatigue due to the super thin design of the stylus, which lacks good ergonomics.
For configuration options, users get the same bevy of processor, RAM, and storage options as the X1 Carbon, which is excellent. That includes the newer Samsung PM981 SSD and up to 16GB of DDR3 RAM.
X1 Yoga – The good
Make no mistake the X1 Yoga is a bigger beast than the X1 Carbon. The Yoga's footprint is slightly larger, and the extra half-pound is noticeable when comparing the two. But on its own, it is hard to be too critical of the X1 Yoga's design or dimensions. The deep black, soft-touch paint with the more modern X1 and Lenovo labels are a nice touch too.
Audio is surprisingly much better than the X1 Carbon – something which I dinged it for in my review. With the Yoga, there is much more resonance, with a richer, more satisfying sound likely due to the including of Dolby Audio Premium.
The HDR display is also better because of the anti-glare coating and touch abilities – both of which are lacking on the X1 Carbon. Like the Carbon, that HDR display yields 100 percent sRGB and AdobeRGB color accuracy – a stunning achievement. With 500 nits of brightness the Dolby Vision HDR display looks like an OLED, but performs like an LCD.
Battery life is well below the fifteen hours that Lenovo claims but within eight hours on a busy day and can push towards ten for lighter processing. All of that is improved with the USB Type-C fast charge and 65W charge, which with a 30-minute charge will give you half a day's battery back.
Image 1 of 2
Inking is also very good with the X1 Yoga, but don't confuse this laptop with a Microsoft Surface. The latter is geared towards more regular pen usage including artistic endeavors with things like tilt support. Compared this to the X1 Yoga, which is more business-focused the pen is aimed at signing documents, taking quick notes, and light sketching. That stylus is good too with the built-in Wacom AES controls, which results in lower pressure activation compared to what the Surface series uses.
Typing and trackpad (with Microsoft Precision drivers) are also excellent just like the Carbon. However, because the Yoga has a larger footprint due to the bezel around the display, the trackpad on the Yoga is also larger than the Carbon's. While the Carbon's trackpad isn't too small having a larger one on the Yoga is welcomed.
Image 1 of 2
The ports are also like the Carbon giving a great mix and match of forward- and backward-looking options including USB Type-C, one of which is full Thunderbolt 3 (4x PCIe lane and 40Gbps).
For performance, the X1 Yoga is no slouch. Assuming you get it with the vPro-enabled Core i7-8560U the combined 16GB of RAM and ultra-fast Samsung PM981 SSD (with 3,000+ Mbps read and 2,000+ Mbps write speeds) the X1 Yoga is arguably one of the most performant convertibles on the market (at least until Dell's XPS 15 (9575) arrives this spring).
The X1 Yoga passes 12 MIL-STD 810G tests too like the X1 Carbon making quite resilient for those who travel a lot.
X1 Yoga – The bad
Like the X1 Carbon, the X1 Yoga has a terrible fingerprint reader. Sure, it works, and it keeps your fingerprint on the chip ("Match-in-sensor"), but you'll find yourself punching in a PIN on occasion as it fails to read.
A bad fingerprint reader is not a problem if you get the Windows Hello IR camera for facial recognition. However, to get that IR camera you must surrender the stunning Dolby Vision HDR display. Sure, the full HD version and the normal WQHD option are fine alternatives, but that HDR screen is drool-worthy. Tough choice.
The X1 Yoga also has some larger bezels around the display – totally understandable being a 2-in-1 convertible, but aesthetically it's less pleasing than the Carbon, which has thinner bezels.
There's also the usual complaints like the price – it can get very high if you opt for the 1TB of storage – and the black paint that picks up fingerprints all too easily (the silver body is much better than this regard), but we are now nitpicking.
It's also not clear when the option for 4G LTE-A will be available although Lenovo lists it as a product feature for the X1 Yoga.
ThinkPad X1 Yoga a jack of all
I gave the Lenovo X1 Carbon a 4.5 out of 5 rating only pointing out the high price, lackluster speakers, and mediocre fingerprint reader as cons. Still, aiming to be a traditional laptop, the combination of features, performance, and being so light and thin is a success for the Carbon.
If you liked the idea of the X1 Carbon but want touch and inking well, the X1 Yoga is your choice. The best part of the X1 Yoga is it feels like all the best of the Carbon with some bonus features. There's no trade-off here for performance, battery life, or even options – this is the X1 Carbon that can also now act as a tablet PC. That may seem trivial, but a few years ago the downsides with a 2-in-1 were often much greater.
Even if you use the X1 Yoga as a traditional laptop 95 percent of the time being able to convert it to tablet or pull out that stylus? Priceless. (Actually, it's about $100 difference between the Yoga and Carbon, but that's still reasonable).
Image 1 of 2
As a tablet, the X1 Yoga is not light, but it's not bad either. That's due to the Lenovo Wave keyboard that pulls the keys into the X1 Yoga's chassis in tablet mode resulting in a flush back. For watching movies or presenting a video that presentation mode is excellent (audio is also better now since the speakers are top-firing).
You're also getting one of the best typing experiences around, a Precision touchpad, much-improved audio, and that dazzling HDR display.
Review: Lenovo ThinkPad X1 Carbon (2018)
I'd still prefer a 3:2 display aspect ratio but being a business laptop, I'm probably in the minority – for now. I'd also like to see Lenovo try to ditch the TrackPoint system (the red "dot" in the keyboard) as it results in a smaller trackpad and is starting to feel dated (sorry road warriors, it's time to move on).
See at Lenovo (opens in new tab)
Pros:
Great 2-in-1 design and looks.
The HDR display is now anti-reflective.
Built-in active pen for whenever you need it.
Pretty good audio!
Cons:
Odd configuration options and limitations.
Terrible fingerprint reader.
If I had to choose a model for myself, I'd get the Core i7-8650U processor, 16GB of RAM, that HDR display with the silver color scheme. Assuming Lenovo brings the 4G LTE-A option to market in May (like the Carbon) I'd wait for that too as it will greatly enhance this laptop's usefulness.
Choosing between this laptop and the X1 Carbon if you can spring the extra $100 get the X1 Yoga. While it is a half-pound heavier, it is better in many ways (and will be more future proofed).
In conclusion, Lenovo has a winner here. Putting aside a couple of grumbles this is a fun laptop that can also get work done for the pros.
Windows Central Newsletter
Get the best of Windows Central in your inbox, every day!
Daniel Rubino is the Editor-in-chief of Windows Central, head reviewer, podcast co-host, and analyst. He has been covering Microsoft since 2007 when this site was called WMExperts (and later Windows Phone Central). His interests include Windows, laptops, next-gen computing, and for some reason, watches. Before all this tech stuff, he worked on a Ph.D. in linguistics, watched people sleep (for medical purposes!), and ran the projectors at movie theaters because it was fun.
You're really paying $1800+ for the MIL-SPEC chassis. The other hardware alone would not justify the high price. Surface devices are not MIL-SPEC tested, and yet are in the same price bracket. Regardless, if I could afford any 2-in-1, this would be it (in silver, of course).

Recently ThinkPad build quality and support is horrible. Last year I bought ThinkPad X1 Yoga and it only last me 5 days and it's touch screen spoiled. Lenovo initially refuse to warranty it, after I show them the prove, they just said no parts for it. Not until I want to go to consumers tribunal, then Lenovo only refund me.

I'll paste some first impressions that I wrote on the lenovo forum. I have the i7/16GB/1TB model with HDR screen, which replaced my three year old ThinkPad Yoga 12 i5/8GB. The good
- specs, ports, looks, trackpoint, super bright screen, fingerprint reader, full size keys
- great looking screen. Glossy, yet I can't really see my reflection in a reasonably well lit room unless the screen is dark/black
- no more sticky tape on the webcam thanks to the included shutter
- trackpad click is really nice and quiet, and the trackpad is very responsive, and way larger than on the TPY12
- the case and the palm rest have a nice soft touch, less metallic than the TPY12
- the fan has more of a 'whoosh' sound as opposed to more of a whine on my TPY12
- the thunderbolt/USB-C charging cable is nice and slim. A notable improvement.
- the screen feels nice to the touch for scrolling The bad
- the yoga hinge has a bit of a 'snap' to it as it reaches 270deg, where it starts retracting the keys. Feels kind of broken tbh.
- it gets quite warm very quickly during only moderate CPU work (few percent), possibly related to an issue with the X1Y3 always running at 4GHz when connected to power (on factory Win10 install, fresh Win10 installs don't have that problem).
- it can get very hot, as in 'uncomfortable to hold' when working hard (indexing large Groove collection)
- in media mode / stand mode on your lap, the fan blows the hot air right onto your privates. Ouch. :)
- no volume rocker, making changing the volume while in media mode a bit of a hassle
- smudges stand out pretty quickly on the glossy screen
- the lid fits a taller screen, maybe 16:10 or even 3:2. Business users would like seeing more of their documents, should be a no brainer
- the fingerprint reader is reliable for me, but it's a bit slow. It takes a full second before it registers.
- so very very expensive The ugly
- Too heavy at 3.08 lbs at this price point. This really shouldn't be half a pound heavier than the equivalent X1 Carbon
- the location of the microSD slot on the back and behind a cover is odd to say the least. If you swap cards a lot, this will be an annoyance
- finding a bunch of preinstalled children's games on a ThinkPad is frankly kind of embarrassing Overall I like how speedy it is and the screen is awesome, but the heat and the clacky keyboard are notable negatives.

Had all the same issues with mine, as well as some others. The constant turbo frequency was extremely annoying, my machine routinely getting up to 90c with a single Chrome window open when connected to power. That can be fixed with a clean Windows install, so it's an issue with the included Lenovo power plan, that really should have been addressed by now. Then the keyboard backlight started flickering after sleep states, only resolved with a restart, but always returned. These weren't problems associated with one bad machine, as the Lenovo forums are full of people with similar complaints. I'm afraid these machines currently aren't worth the extremely high price all things considered, and I ended up returning mine. I was fortunately granted a full refund due to all the issues, but wouldn't recommend buying from Lenovo direct under normal circumstances due to their 15% re-stocking fee if you're not satisfied with an otherwise working machine. One comment on the review: I totally disagree regarding the trackpoint, and I am not a longtime Thinkpad user. This was my first experience with it, and not a reason I bought the machine, but I wanted to see what the fanboy fuss was about, so forced myself to use it for a week, and now totally get the appeal. Very accurate once you get the hang of it, and awesome to be able to leave your fingers on the keyboard when moving the cursor around in documents.

A 16:9 is no good for business Office works. I really hate it.

Hey Daniel! Great review on both the Carbon and Yoga. Thanks for included that little fact on eGPU's, it's expensive, but it's just fun knowing that you could connect it if you wanted to.

This should have had a 16:10 screen, 16:9 makes no sense for business laptops and especially not for business 2-1's. We still have an old HP Elitebook (>8 years old) lying around and which has a 16:10 15 inch screen, and the vertical space is very practical in applications and browsers. Baffles me who thought it was a good idea to use 16:9 screens for these business devices (and this is coming from someone who is used to 16:9).

I have to say I probably going to get an Surface Pro with LTE for my next 2 in one. I can wait for my buy tablet phone and smartphone smartwatch that s surface team working on

Keep the TrackPoint thank you very much. It is the reason I pick the ThinkPads over a surface book.

> "I'd also like to see Lenovo try to ditch the TrackPoint system (the red "dot" in the keyboard) as it results in a smaller trackpad and is starting to feel dated (sorry road warriors, it's time to move on)." So, Daniel, you continue your inexplicable crusade against the TrackPoint system because "its stupid" (= you just don't get it). Unfortunately, what would really be stupid: Removing the TrackPoint. Would Lenovo gain users if the Trackpad was slightly longer? No. Would they loose many of their fans? Yes! In 2013, Lenovo removed the buttons above the trackpad to appease TrackPoint-haters like yourself and integrated them into the touchpad. And it was a disaster, in sales and in public backlash. So they would be wise not to listen to you on that. They should listen to you however on the 3:2 displays, which I am pretty certain will happen. If that happens, there will be more room for the touchpad anyway, as 3:2 screens are taller and thus increase the palmrest area. Though, it seems likely you would still insist that Lenovo should remove the TrackPoint in that case...because variety in laptop design is totally a bad thing.

I do not usually comment but I do not agree with your conclusion on the TrackPoint interface. People and companies who have actual work to do specifically purchase ThinkPads for their trackpoint interface.
For some reason, this imput device is not the favorite of Apple sheeps and soldered-on SSD surface laptop fanboys, such as you.
Your ignorance and lack of historical knowledge, and thus your lack of credibility is clearly displayed in one sentence "I'd also like to see Lenovo try to ditch the TrackPoint system". Just search for ThinkPad T440 trackpoint and you will be able to educate yourself. Integrated the trackpoint buttons into the touchpad to make it look like a Macbook or a surface laptop (pretty much the same devices anyway) was a failure by Lenovo. So much that they had to brought it back because more people were buying previous generation devices.
If you've ever had to work with Excel standing inside of a crowded train, one hand holding the device, one hand going back and forth between trackpad and keyboard, you will be able to recorgnize the superiority of the trackpoint in less than 30 minutes. But then again, I'm not sure you have been in such work situations.