Chuwi AeroBook review: A 13-inch notebook that costs less than it probably should
By Cale Hunt last updated
The price might scare some away, but the Chuwi AeroBook has a lot to offer.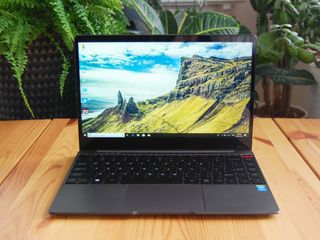 The AeroBook is the result of another crowdfunding project from Chinese laptop manufacturer Chuwi, which sets its aim on providing affordable laptops. The AeroBook has a certain MacBook look that seems to translate to the name, and if you passed it by because of the bargain price, you might want to look again. I spent a week with the AeroBook to see what it's all about and whether or not it's worth your money.
$448Bottom line: At $448, the Chuwi AeroBook is easy to recommend. The display is colorful and bright, the Intel Core m CPU is a step up from the usual Atom options, and it's all contained in an elegant chassis that's well on the premium side.
For
Intel Core m processor for decent performance
Excellent build quality
Includes USB-C port
Bargain price
Bright display with great color
Against
Camera and speakers are average
Might not have enough power for your needs
Chuwi AeroBook at a glance
Chuwi supplied Windows Central with a review unit of the 13.3-inch AeroBook. It has inside a dual-core 6th Gen Intel Core m3-6Y30 processor (CPU), 8GB of LPDDR3 RAM, and a 256GB SATA solid-state drive (SSD). The 13.3-inch display has a 1920 x 1080 (FHD) resolution and no touch function. Expect to pay about $448 for this laptop.
Here's a closer look at the exact specs within.
Category
Spec
Display
13.3 inches
1920 x 1080 (FHD)
Non-touch, IPS, glossy
Processor
6th Gen
Intel Core m3-6Y30
Dual-core
Up to 2.20GHz
RAM
8GB LPDDR3
Storage
256GB M.2 SATA SSD
Graphics
Intel HD Graphics 515
Ports
Two USB-A 3.0
USB-C
Micro HDMI
microSD card reader
3.5mm audio
Keyboard
Backlit
Touchpad
Precision
Audio
Dual Stereo speakers
Camera
Front-facing 2.0MP
Wireless
Intel Dual Band Wireless-AC 3165
802.11ac
Bluetooth 4.0
Battery
38Wh
Dimensions
12.15 x 8.32 x 0.6 inches
(308.5mm x 209mm x 15.2mm)
Weight
2.76 pounds (1.25kg)
What you'll love about the Chuwi AeroBook
There's been a noticeable improvement in build quality from Chuwi lately, and the AeroBook is no different. It's not quite as sleek as the 15-inch LapBook Plus, but it's still a device that will easily fit into a boardroom or coffee shop, and you'll have no issues carrying it around with you thanks to a weight of just 2.76 pounds (1.25kg). It's just 0.6 inches (15.2mm) at its thickest point, and the alloy chassis is sturdy. There's no flex in the base, and even the lid doesn't bend when open. The single wide hinge allows for the lid to be opened with one hand, something that's usually reserved for premium devices, but it's stiff enough to prevent the lid from moving around if you're working in a moving vehicle.
There are some signs that might give away the price in the overall design, like how the lid doesn't quite sit flush with the base for a smooth seal or how the palm rest portion doesn't have a more hidden seam with the rest of the chassis, but at a glance this looks like a laptop that costs a lot more than it really does. Opening it up, a backlit keyboard stretches from edge to edge with no wasted space. Keys are large and have plenty of travel, providing a comfortable type even if you're working for hours on end. Below the spacebar, centered in the chassis, is a sizeable Precision touchpad. It's smooth, there's lots of space for Windows 10 gestures, and for the most part, clicking feels firm. Quality won't match that of the more premium Ultrabooks out there, but for the price, it's stellar.
Along the left side of the laptop is a USB-A 3.0 port, Micro HDMI, barrel charging, and USB-C with Power Delivery. I bemoaned the lack of USB-C on the LapBook Plus, so it's great to have it here on the smaller device for modern accessories and docking stations with better performance. On the right side is another USB-A port, a microSD card reader, and a 3.5mm audio jack.
Image 1 of 2
Image 2 of 2
The display in a budget laptop often takes a heavy hit to keep the price down, but Chuwi has done a good job offering a quality 13.3-inch IPS screen. It's not touch-enabled, but it does have a glossy finish. Luckily, it gets brighter than expected — well above 300 nits — so glare isn't as much of an issue if you're working in a well-lit space. The bezel is relatively thin, especially on the sides, and color and contrast are excellent. I measured 96% sRGB and 74% AdobeRGB color reproduction, and it's evident every time you look at the display. There's only one FHD option here, so you'll have to look elsewhere if you're interested in making the jump to 4K.
The dual-core 6th Gen Intel Core m CPU is underpowered compared to the latest-gen chips, but it's a far cry from the Atom options you'll usually find in Chuwi laptops and still lives with a 4.5W TDP. Coupled with 8GB of LPDDR3 RAM, it can handle general productivity tasks — word processing, web browsing, email — with ease. It's not really cut out for gaming or any specialized tasks, but I had no issues using it for work for a few days. The SATA SSD offers balanced read and write speeds that are far better than eMMC storage, and you can add an M.2 SATA SSD with ease thanks to a quick-access panel on the bottom of the laptop.
I saw between seven and eight hours of life from the 38Wh battery with brightness at about 60% and using a balanced battery plan, but that was while going about low-impact tasks. If you're streaming video, you should be able to watch a couple of movies without needing a charge, and if you really need to push battery life, you could drop performance and display brightness. It might be risky leaving for a workday without the AC adapter, but at least it's small and easy to tuck away in a sleeve or bag pocket.
I ran some synthetic benchmarks to see how well the AeroBook stacks up against other laptops we've recently reviewed.
CPU
Geekbench 4.0 Benchmarks (higher is better)
| Device | CPU | Single core | Multi core |
| --- | --- | --- | --- |
| Chuwi AeroBook | Core m3-6Y30 | 2,678 | 4,911 |
| Chuwi LapBook Plus | Atom x7-E3950 | 1,289 | 3,970 |
| Chuwi HeroBook 14.1 | Atom x5-E8000 | 884 | 2,417 |
| Surface Go | Pentium Gold | 2,078 | 3,934 |
| Galaxy Book2 (ARM) | SD850 | 2,262 | 7,405 |
| Huawei MateBook 14 | Core i7-8565U | 5,327 | 17,522 |
| Dell Latitude 7400 2-in-1 | Core i7-8665U | 5,469 | 15,800 |
| Lenovo IdeaPad S940 | Core i7-8565U | 5,101 | 14,089 |
| HP Spectre x360 13t | Core i7-8565U | 5,056 | 14,767 |
| Surface Book 2 13 | i7-8650U | 4,862 | 14,694 |
The dual-core Intel Core m CPU easily outpaces the Atom options in other Chuwi laptops and beats out the Pentium Gold option in the Surface Go, though it's not going to compare to Core i CPUs often found in Ultrabooks.
PCMark
PCMark 10 Home Conventional 3.0
| Device | Score |
| --- | --- |
| Chuwi AeroBook | 2,140 |
| Chuwi LapBook Plus | 961 |
GPU
Geekbench 4.0 CUDA (higher is better)
| Device | GPU | Compute score |
| --- | --- | --- |
| Chuwi AeroBook | HD 515 | 13,641 |
| Chuwi LapBook Plus | HD 505 | 10,326 |
| Chuwi HeroBook 14.1 | HD 400 | 4,007 |
| Surface Go | UHD 615 | 16,490 |
| Razer Blade Stealth | MX150 | 49,982 |
| Surface Book 2 13 | GTX 1050 | 75,665 |
| Huawei MateBook X Pro | MX250 | 45,365 |
| Huawei MateBook 13 | MX150 | 48,430 |
| Surface Laptop 2 | UHD 620 | 35,473 |
| Surface Laptop | Iris 640 | 31,010 |
SSD
CrystalDiskMark (higher is better)
| Device | Read | Write |
| --- | --- | --- |
| Chuwi AeroBook | 530.1 MB/s | 476.2 MB/s |
| Chuwi LapBook Plus | 539.4 MB/s | 482.2 MB/s |
| Chuwi HeroBook 14.1 | 148.2 MB/s | 87.63 MB/s |
| Surface Go (eMMC) | 260 MB/s | 145 MB/s |
| Surface Go (SSD) | 1,185 MB/s | 133 MB/s |
| Dell Latitude 7400 2-in-1 | 3,110 MB/s | 2,825 MB/s |
| Lenovo IdeaPad S940 | 3,383 MB/s | 1,979 MB/s |
| Huawei MateBook 14 | 3,470 MB/s | 1,920 MB/s |
| HP Spectre x360 13t | 3,085 MB/s | 1,182 MB/s |
| LG gram 14 2-in-1 | 558.1 MB/s | 523.1 MB/s |
The SATA SSD is balanced for read and write speeds, and it's far faster than eMMC storage. You can add another M.2 SSD up to 1TB in size through the easy-access panel on the bottom of the device.
What you'll dislike about the Chuwi AeroBook
Considering the bargain price, it's easy to overlook the slight design hiccups that I mentioned — the visible seam between main chassis and keyboard deck and lack of smooth seam between lid and chassis — and they fade away into the overall premium look of the laptop. One thing I really dislike is the red border around the power button on the keyboard, but that's more a personal issue.
The camera is just alright, and you're going to see some grain in low and high light. It's not the worst camera I've seen, but if you're often conferencing, you might want to check out a third-party option. The dual down-firing speakers aren't anything special either; they get loud enough, but they're rather thin.
While performance is far better than the Atom-powered Chuwi laptops we've tested, it's still not as powerful as a laptop with an Intel Core i CPU. If you're interested in heavy multitasking, some editing work, or gaming, you'll probably want to check out something else with more powerful modern hardware.
Should you buy the Chuwi AeroBook?
Considering the $448 price tag, the Chuwi AeroBook is easy to recommend. The display has great color and is plenty bright, the keyboard and touchpad make use of the space available on the chassis to promote comfortable productivity, and it's all wrapped up in a chassis that could easily be mistaken for something far more expensive. It's built well and feels like it will last for years to come.
The Intel Core m CPU easily outpaces the usual Atom chips found in Chuwi's laptops, and you shouldn't have any problems getting through a usual day's work, especially because the battery lasts between seven and eight hours without a charge. The camera and speaker are just OK, but that's an easy compromise in a laptop that's cheaper than most 13-inch options out there.
13-inch budget notebook
Compact laptop for the office or coffee shop

Chuwi's AeroBook has the hardware to tackle productivity work, and the 13.3-inch display offers deep color. The design and build are spot on, and at the asking price, it's easy to recommend.
Cale Hunt is a Senior Editor at Windows Central. He focuses mainly on laptop reviews, news, and accessory coverage. He is an avid PC gamer and multi-platform user, and spends most of his time either tinkering with or writing about tech.
Got mine for $399.99 on prime day. Absolutely love it. This is my 3rd Chuwi pc thanks to windows central for making me aware of the company!

It looks like it can provide some great value as a secondary/backup laptop.
Windows Central Newsletter
Get the best of Windows Central in in your inbox, every day!
Thank you for signing up to Windows Central. You will receive a verification email shortly.
There was a problem. Please refresh the page and try again.