CHUWI MiniBook hits Indiegogo: An 8-inch workstation running Windows 10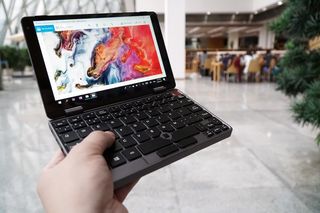 What you need to know
CHUWI's MiniBook-Mobile Workstation launched on Indiegogo.
The device is an 8-inch convertible PC with a 360-degree hinge.
Early backers can receive the device for a discount.
CHUWI's MiniBook is a portable PC with a 360-degree yoga design that lets it flip into a tablet. It recently launched on Indiegogo and has already reached 600% of its funding goal. The device features an Intel Core m3 8100Y processor, 8GB LPDDR3 memory, 128GB of storage, and supports M.2 SSD expansion.
The device is marketed as a portable PC that's powerful enough to handle real work and portable enough to be taken anywhere. The MiniBook can also be used as a desktop as it supports Bluetooth and has a USB-C port. It also has a front-facing camera.
The launch video for the device shows it off in PC, yoga, and tablet modes. The MiniBook has a full keyboard, but with an 8-inch screen, the device has a smaller keyboard than just about any PC on the market. The launch video has a brief clip of someone typing on it at the 0:32 mark.
The Intel Core m3 8100Y version of the CHUWI MiniBook is available to backers who the products with $530. The full listed price of the Core m3 version is $670. There is also an Intel Celeron N4100 version which backers can receive for $429.
This mini PC has an 8-inch screen and can be used as a laptop, tablet, or in tent mode thanks to its 360-degree hinge.
Affordable accessories that'll pair perfectly with your PC
Every one of these awesome PC accessories will enhance your everyday experience — and none cost more than $30.
KLIM Aim RGB gaming mouse (opens in new tab) ($30 at Amazon)
Whether you're a gamer or not, this is an absurdly good mouse for the price. It's ambidextrous, has a responsive sensor, a braided cable, tank-like build quality, and, yes, it has RGB lighting, though you can turn it off if that's not your thing.
AmazonBasics USB speakers (opens in new tab) ($16 at Amazon)
These neat little speakers may only pack 2.4W of total power, but don't let that fool you. For something so small you get a well-rounded sound and a stylish design. And they only cost $16.
Razer mouse bungee (opens in new tab) ($20 at Amazon)
Use a wired mouse? You need a mouse bungee to keep your cable tidy and free of snags. You get no drag on the cable, and this one has subtle styling, a rust-resistant spring and a weighted base, all for $20.
News Writer and apps editor
Sean Endicott brings nearly a decade of experience covering Microsoft and Windows news to Windows Central. He joined our team in 2017 as an app reviewer and now heads up our day-to-day news coverage. If you have a news tip or an app to review, hit him up at sean.endicott@futurenet.com (opens in new tab).
So any windows tablet with a permanent keyboard? I would rather have a regular windows tablet that could have a magnetized keyboard attached to it over a permanent one at that size of device, anyday.... I guess this device just isn't for me but I don't understand the need for an 8" laptop with a permanently attached keyboard. Now if we just had a surface mini like we've been asking for years for, that thing would sell hecka good.

Some people (like me) just like laptops. I despise using a Windows tablet and I always want a keyboard. Likely not alone. Plus, a permanently attached keyboard in theory at least allows more room for more electronics. Not cramming all the computer bits inside the display bit. Like here with an m.2 SSD slot.

What about when you're in bed, or on the can, or in the messy kitchen? I too want an 8" Windows surface type with removable keyboard.

I thought that when I bought my surface go, but if you're running windows, presumably you're after doing real work, so you end up using a keyboard most of the time, so on both my surfaces, the keyboard may not be permanent, but they are both permanently attached. After about a week of carrying a portable keyboard, I bit the bullet and bought the keyboard, it hasn't left my surface go ever since. I wonder if 8" is a big enough to do much on, the surface go is pretty much the sweet spot, but then if it's lighter or has better battery life, maybe the compromise would be worthwhile.

This would be ideal if it was an 'always connected' device, but no mention of that so I guess not. Still, very interesting.

This model seem good. but when i check and search by google. i found that another model which call onemix 1s look better than this one.
1s seem better quality , also i like the stylus pen design. storage chose better than mini book. the most important is~~ it cheaper than mini book~~~
God! i really dont know how to choose it
guys, probably you can check this link to check it
https://www.windowscentral.com/e?link=https2F2Fcli...
i m a customer of CHUWI. but i bought 2 tablet of CHUWI. but now i really feel 1s look better

GPD P2 Max: The world's smallest Ultrabook For Ultrabook, our definition is: the screen can't be smaller than 8.9 inches and no larger than 10 inches, and the weight should be limited to 700g. The best user experiences of the GPD P2 Max are: an unrestraint feeling when tapping the keyboard with both hands, being able to carry it and hold it in one hand, and having it fit easily in a mini backpack. It can only be called Ultrabook when these design standards can be met. Of course, the keyboard should adopt the standard "QWERTY" layout, instead of a variety of perverted, anti-human designs. It should have four advantages of being light, thin, fast and small. Too small is not suitable for two-handed input, and if too large, it is reduced to a cumbersome laptop. We think there is no Ultrabook on the market that meets this standard. From the moment Intel defined Ultrabook, ASUS, Toshiba, Lenovo, Acer, HP, Dell, Samsung, LG, ThinkPad all have launched the so-called Ultrabook, but none of them are really Ultrabook. If just considering the weight and volume of the plate, even 2in1, which features the concept of "both tablet and PC", doesn't have any advantages compared to the criteria we defined. After all, the tablet of Surface Pro 6 already weighs 770g alone, and the overall weight is more than 1,000g if the weight of the keyboard cover is added. We have launched P2 Max for the purpose of proving that the weight of Ultrabook can be controlled below 700g and 8.9 inches is enough!
Windows Central Newsletter
Thank you for signing up to Windows Central. You will receive a verification email shortly.
There was a problem. Please refresh the page and try again.