A closer look at Windows Phone 8's High Contrast display mode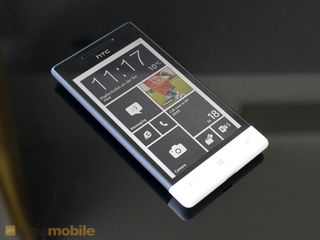 It Don't Matter If you're Black Or White...or does it?
This photo of the HTC 8S has been generating a lot of comments on Reddit with most people throwing out the word "sexy" to describe it.
The question you may be wondering is what's the deal with the black and white? Is that some HTC thing? The answer is 'nope' as it is part of Windows Phone 8's "ease of access" settings, meaning you can do this on any new device you choose. (We erroneously reported this earlier as an added theme--that's close but not 100% accurate).
The "High Contrast" mode was first detailed by WPArea.de back in July when the first SDK initially leaked. In short, it allows you to go to an all "black and white" theme including white on black or vice versa. Obviously this is meant for people with visual impairments but evidently a lot of you are enthralled with its appearance—guess we can call it Metro extreme mode?
Ease of Access aka Ultra cool mode
The other screen shots show how you can adjust the font size for Phone, People, email, messaging and the lock screen and use a screen magnifier. The magnifier works by using a two-point double tap to engage and then you can pan with your fingers to zoom in or out. Finally, you can use speech assistance for speed dial, call forwarding and announcing caller ID.
So while Microsoft has gone ahead and given those with visual impairments a helping hand for using their OS, the rest of you can benefit by finally making your Windows Phone 8 device even more eye-catching. Everyone wins!
Source: AreaMobile.de, WPArea.de; via Reddit
Windows Central Newsletter
Get the best of Windows Central in in your inbox, every day!
Daniel Rubino is the Editor-in-chief of Windows Central, head reviewer, podcast co-host, and analyst. He has been covering Microsoft since 2007 when this site was called WMExperts (and later Windows Phone Central). His interests include Windows, laptops, next-gen computing, and for some reason, watches. Before all this tech stuff, he worked on a Ph.D. in linguistics, watched people sleep (for medical purposes!), and ran the projectors at movie theaters because it was fun.
MS really needs to call Vader and get some ads going....

Strangle a guy by pinching to zoom :)

yea, that's not an 8X guys!

8x, 8s, tomato...potato, whatever ;)

haha, i'll gladly trade you an 8S for an 8X since they're basically the same, right? ;)

Looks great! I would prefer an (almost) black on black theme though.

"This photo of the HTC 8X ..." I'm pretty sure that's the 8S. And yes, it looks amazing!

Yes, the other 200 comments noted that.

That it looks amazing? But of course it does! I just wished they would have chosen this design for the 8X. I just love that two color design.

Every time you respond harshly to a post im going to inform you that your coming across like an ass. Consider yourself informed.

and you'll probably be banned. Just get used to his way of posting. At first (a year or so ago) I was alarmed. But now I crack up at it. Daniel is coolbeans man, he's got his own writing style and is very knowledgeable on windows phone.

Then it really says alot about the site if your banned for something as silly as that. And yeah, I'm sure some of the other regulars will come with comments telling people to lighten up, toughen up, whatever the WP Central speak is for "STFU if you don't agree". It doesn't really bother me in the slightest. But I can see why it would be off putting for others.

It's funny because I believe in my first week of visting this site, I said such a similar comment about his way of writing. His "tone", if you will.
But his expertise in windows phone and usually-spot-on predictions kind of balance it out. It gives him, I guess... personality rather than just simple writing. If you want someone more light in their comments and posts, look no further than RB himself.

C'mon , that's the way he replies to people , he's not being mean.
There's bloggers that just ignore questions like that .. at least he takes his time to reply.
AAAAAAAAAAAAAAAAAANNNNNNNNNNNDDDDDD , he's funny . lol

Yeah I am with you he should be banned. Thinks he can talk crap and get away with it. Total show off. Which he is really don't know of wp at all.

the theme looks awesome on this device

It will look equally as awesome on the white nokia lumia 920. Which I'm getting.
truly shocked it polled so low on this site...

My dad will be happy to hear about the screen magnifier stuff. He usually has to place the phone accross the room and operate it with a stick. Alright, he's not that far sited, but it's pretty pathetic to watch him stretch his arm out as far as possible to use the phone.

There is a hack for it if you have a developer unlocked device. I like using that exact theme on my Samsung focus S. It's white & zebra under themes.

Same here but don't you find that sometimes links and other things will be black on black and you can't see them? That happens to me in different apps.

With HTC 8S color accents, this looks great. Though I'd have to test how this impacts the rest of the experience beyond just the start screen.

Send the phone to markets also I'd like what the wp7.8 will bring with it

That is truly awesome. I retract my previous post about push settings. On my pop3 accounts I only have an option for Every 15 mins. My carrier said this was a WP issue and BB has different push protocols. Seems they were talking bullsh@t. I want to love WP, I really do, and this image should be used in their marketing.

THIS... excites me
Something so simple. Microsoft devs knew what they were doing..
They call it a handicap-aid, but it's really a model :)'
It's an escort
I shall cal this setting (theme) Escort

Is this also included in 7.8?

The question I'm wondering is, "How can a phone be described as sexy?" I suppose if it was resting on the butt of a beautiful woman lying on my bed maybe. Even then, I would just throw it on the floor and then focus on the the matter at hand. To each his own I suppose?

This may sound asinine to most, but I would choose this phone over a night with many a woman.
Yes it depends on the woman but still... I've turned down girls before (actually that's only because I have a gf)

I suppose if I'd already boned three times that day maybe I'd prefer the phone, too. Otherwise the phone is getting thrown on the floor. Regardless, I won't think of the phone as sexy. Maybe it has some ports and sensors I'm unaware of?

There is an export ports for you to use. If you know what i mean :-P

I'm sorry, but that really is mentalist talk.

I'm abstaining until marriage. This is likely the exact sort of thing I would do... no matter what woman you put in there with me. Mentalist? Perhaps. True? Yes.

Look no further than this old WP7 ad:
http://www.youtube.com/watch?v=4mhrKWVQ0sk&t=0m17s

I loved that ad! It was (and still is) hilarious!

You're confusing sexist with libidinous.

You should change your name to Dummy La Polack. http://dictionary.reference.com/browse/libidinous?s=t

LOL! Whatever, bro. You're probably a convicted rapist typing from prison.

Would be cool to find out what other US carriers will be getting the 8s

Love everything about this picture.

HTC 8S ... if only it had NFC.... :(

I cant get over this picture

Wrong grammar in the title. It should be "It doesn't matter...."

It's a reference to a Michael Jackson song where the king of pop obviously throws grammar to the wind.

Just got home from school, huh?
Watch and learn:
http://www.youtube.com/watch?v=zjZwi_PJiio

Sorry not in the title but on the first sentence.

Looks great. Can't wait to try it.

I wonder what color the links/accent colors would be?

HALLELUJAH about increasing font size!! I know I'm out of my mind to some of you, but even on a Titan's massive screen I've always thought the font size was too small in some places.

Doesn't this drain the battery??

Thats what I would like to know to!!

Read this:
Everyone is getting excited as if it is a theme. The question becomes if this a ease of use feature is it system wide? On iOS and windows it flips colors throughout the os and other apps/programs...so...
Can I use this as a theme or does it change all my colors on WP8?

Look at that picture hub tile, not inverted. SO it can be used as a theme?

Sexy as F***. Black should be a theme :)

Now that is all kinds of sexy! *heads to bathroom to take a shower*

They have the same thing on Windows 8 (the pc version). Looks much better on a phone.

This is purevie...i mean pure love this look.

I use the black on white on my iPhone with the WP7 theme.

The 8S is such a nice looking phone... Too bad its hampered with dismal specs...

This is also available in Windows 8 as well (at least in RTM).

Totally changed my preference in color. Getting a black or white phone now.

Very slick... It will look really good on the white Lumia 920...
BTW I do like Daniel Rubino's comments to others' posts... Very refreshing

It's not really the High Contrast mode that makes the UI pop (although it makes it better), it's actually the display itself and how it is fitted around the hardware. Even on a capacitive screen there is usually a noticible gap between the display and the surface (glass) but with the 8S the gap is minimal so it looks like the display is floating and not encased. Jeff Han was one of the first to talk about this before the iPhone and iPad was released.

While I think it's stupid to refer to as any electronics as "sexy" I definitely like this look and will seriously consider using it whenever I'm able to finally afford WP8.

You sound like a Romney voter

Changing the font size for messaging - that's really good news.

Whoa, is that a slider? That's the first slider in Metro (modern UI, bleh) I've seen!

Slider or not, that ease of access stuff should be ported to WP 7.8. That would let us give our old WP7 phones to our parents instead of throwing them away. Also, while new cheap WP7.5 handsets are and will be still sold, that stuff would help adoption among new elderly smartphone users.

when You set the background to Black it looks even more 8bit-ish :) cool


And here I was, with a new white 920, wondering what theme to use. :D

I know this is an old article... it doesn't point out that when using high contrast... it doesn't even try to download images or anything in Email... it doesn't even give you the option. They should just go with High Contrast or Black or White as a Theme Color.

Regarding the Clock+temperature tile on top, is that using an app? If so, which one?

Would perfectly suit the 620 with the white backplate IMHO!!

And how much extra battery does the light setting use as opposed to dark?
High contrast on dark looks better.

pretty nice display i guess windows phone 8 is trying to make every user confortable

just came across this article. changed to high contrast in ease of access settings and love it!
Windows Central Newsletter
Thank you for signing up to Windows Central. You will receive a verification email shortly.
There was a problem. Please refresh the page and try again.