Clown House – a creepy game of Hide and Seek for your Windows Phone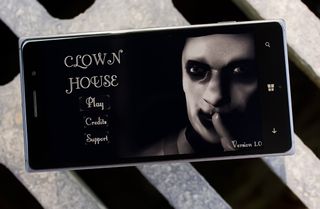 Clown House is a very simple Windows Phone game where you are trapped in a house and have to search for a key that will let you escape out the front door. Basically, it is a game of hide and seek with the key finding a new hiding spot with each game.
While this sounds easy, the house lights are out, you only have a dimly lit flashlight to guide you and to top things off, the house is filled with creepy clowns that want to kill you. Graphics help set the horror game feel for Clown House and while game play isn't all that difficult, not knowing what is around the corner will keep you on the edge of your seat.
Available low-memory Windows Phones, Clown House may not appeal to everyone but can be a hair-raising experience, especially when played with headphones on and the room lights turned off.
There's not much to Clown House's main menu with options to jump into game play, view the gaming credits and view the support information available.
When you jump into game play Clown House will greet you with a series of instructional screens that explain you are locked in a house filled with lunatic clowns, some of which want to kill you. You are armed with a pistol to defend yourself but need to find a hidden key to use to unlock the front door and escape the madness.
The gaming screen has you in the house with the only lighting available being a flashlight that illuminates a small portion of the screen. Your pistol icon sits in the upper right corner and when tapped, your character will draw the pistol and a cross-hair will appear on the screen along with a shoot button. Just remember, you cannot move while your pistol is drawn and if you shoot an innocent clown (as if there is such a thing) you'll lose the game.
Movement is accomplished by tapping on any of the glowing circles that appear on the game screen. Your point of view (or pistol aim) is changed by sliding your finger around the screen.
You will stumble upon several creepy looking clowns while you search the house for the door key. Some sit idly by on the couch and others seem to follow you around the house waiting for an opportune time to hack you to pieces.
Finding the key can be a challenge in and of itself. There will be times it is sitting out in the open on the fireplace mantle and other times, you have to look a little closer to pick it out in the dark. Once collected, you'll need to make a bee line to the door before the clowns become impatient and hunt you down. Should you survive and decide to play Clown House again, the key will be hidden in a different location and the clowns will change also.
Overall Impression
Clown House is an interesting Windows Phone game. It has a suspenseful mood and is mildly challenging. If I didn't know better, the layout of the house changes with each game or it feels as if the layout changes. The demeanor of the clowns will vary from game to game, helping things stay spooky.
I don't think Clown House is a game you will want to spend lengthy periods of time with but for short bits of time, it can do nicely. It's also a game that is best played with headphones on and the room lights turned down low. Having the right room setting will help enhance the spookiness of the game and may make you jump out of your seat when the clowns attack.
Overall, Clown House has appeal as a Windows Phone game to pick up from time to time or share with friends when you are in the mood for a little scare. The game is fairly new in the Windows Phone Store and at last check pulls in a 4 Star rating, which is about right for Clown House. There is a Windows 8 version of Clown House available but for some reason the game plays out with a little more suspense from the smaller screen of a Windows Phone.
George is the Reviews Editor at Windows Central, concentrating on Windows 10 PC and Mobile apps. He's been a supporter of the platform since the days of Windows CE and uses his current Windows 10 Mobile phone daily to keep up with life and enjoy a game during down time.
This game really worth trying. Keep it coming! :)

Lunatics clown that's why..

Try Silent Hill 1 and 2. The mobile version.

I will use my Beats headphones and play that game in night with lights turned off....
.
.
.
.
.
Seems Challenging

Stare the clowns, they look hilarious. Btw its a short game, killed two took the key and over!

This one has only 1 star rating

Indians like suspense thriller horror:)

And also pr0nstars posing as movie stars.

This game looks really good. I like this kind of games. But hey, am I the only one that cant play games on a smartphone? My fingers hurts after a time.

Its like Terrorift on Oculus .

Like acedia indie horror...

Bingo! I like that game as well..

Now that is rather a good game.

Reminds me of Amnesia: Dark Descent, is it correct btw?

In Amnesia you're a total coward, can't fight back and can't even look at the monster lol

Lol serius emang? Ane blm pernah main serius sih dlu cuma bantuin adek pacar doang gan wkwk itu juga game trial

by fg nyvyr hats Ru vutfr Posted via the Windows Central App on my Lumia 640 XL

I killed a clown who had a knife in his hand, but he was innocent. I think it makes sense.

He just wanted to give you a slice of birthday cake!

Quality of games improving vastly
Keep it coming

Five nights at Freddys and Slenderman

Acedia indie horror wins hands down :D

Its good just so damn short. Needs to be much longer.

I Invited my crush to play it with me and this game scared a shit outta her and she hugged me so tight that I feel I am in heaven!

A​ game like this...with HoloLens, now that would be sweet (and scary) :)
Windows Central Newsletter
Thank you for signing up to Windows Central. You will receive a verification email shortly.
There was a problem. Please refresh the page and try again.