Cocktail Master 2, a Windows Phone game that is shaken not stirred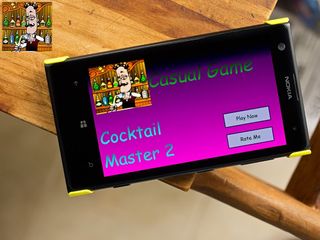 If you're in the mood for a casual (almost novelty) game to help you pass the time, take a look at Cocktail Master 2. The Windows Phone 8 game has you directing your faithful bartender Miguel around the bar.
The goal is to mix a concoction that will delight Miguel or at least not kill him. The interface is straightforward and Miguel is full of comical reactions to your drinks. Cocktail Master 2 may not be a challenge packed Windows Phone game but it is an entertaining option to consider.
Game Layout
Cocktail Master 2 takes place at the bar. The main menu for Cocktail Master 2 has two options, rate the game and play the game. When you hit play a series of options will appear to send you to the bar, reset your game progress, view the help screens and view the online leaderboards.
The help section does a nice job outlining how to play Cocktail Master 2 and lists your entire bar stock that will become available as you progress through the game.
Game Play
Game play, as you would guess, takes place in the bar. You have Miguel at the ready with all your ingredients scattered around the bar. Four control buttons line the bottom of the screen that control pouring (or adding an ingredient), shaking the cocktail mixing tumbler, serving the cocktail and viewing more games from the developer.
A small window sits at the bottom right of the game screen that will display your mixing tumbler's capacity. The game is ad-supported and the ad banner runs across the bottom of the screen, partially blocking this information window. While the ad-support does help Cocktail Master 2 be a free Windows Phone 8 game it just gets in the way.
To create your cocktail, just tap on the ingredient you want to add and press/hold the pour button. When you use a liquid ingredient, the longer you press/hold the button the more is poured into the mixing tumbler. Pressing and holding with the ice or lemons simply places one handful of either into the mixing tumbler.
When you have all your ingredients in the mixing tumbler (or the tumbler is full), you will need to press/hold the shake button to have Miguel shake the concoction. Just be careful, if you shake the tumbler too much your cocktail could become explosive.
Once mixed, tap the serve button and Miguel will pour himself a cocktail. His reaction will be based on how successful your mixology is. Get the combination of liquors and mixes wrong and Miguel will hold nothing back in letting you know how bad the drink is.
Your score is based on how well Miguel likes your drink. There is some logic to the scoring. For example, champagne and kahlua can't taste good and should get a low score. Cocktail Master 2 will also give you a hint on what went wrong with your scoring summary so you can improve your bartending skills for the next round of play. As you score more points, additional items will become available to create your cocktails with.
Overall Impression
Cocktail Master 2 is an entertaining, casual game for Windows Phone 8. Animations are well-done, game play simple and while you may not find yourself playing Cocktail Master 2 for hours on end, it is a nice gaming option when you need help passing short bits of time.
While an appealing game, Cocktail Master 2 has room for improvement. For starters, the ad banner is just in the way. The banner needs to be relegated to the game's menu and scoring screens but as is, it ruins a decent looking game screen. I wouldn't mind seeing an option to pay to remove the banner all together.
Next up, while you can find out what each of the bottles are in the game's help screens it would be nice to figure out what is what while you are playing the game. It would be helpful if as you have Miguel grab a bottle, its identity would appear in the information window.
Lastly, and this might be too picky, but everything you mix is yellow. Regardless of what you pour into the mixing tumbler the end result is always yellow. I wouldn't mind seeing a little variety in the end results appearance.
Overall, while there is room for improvement, Cocktail Master 2 is an appealing game for Windows Phone 8. If you are in the mood to play a low intensity, fun game Cocktail Master 2 is worth a try.
Cocktail Master 2 is a free, ad-supported game that is available for Windows Phone 8. You can find your copy of Cocktail Master 2 here in the Windows Phone Store.
George is the Reviews Editor at Windows Central, concentrating on Windows 10 PC and Mobile apps. He's been a supporter of the platform since the days of Windows CE and uses his current Windows 10 Mobile phone daily to keep up with life and enjoy a game during down time.
Probably not available in Brazil.

Yes, you are correct, sadly.

WPC's standards have become so low recently... Smh

Eh, I have to many games!

A lot people have that problem between 'to' and 'too'.. :P

God I played this game when I was a kid *..*

Yeah, but did you play it with a real bartender? LoL

If this the cocktail master 2 , where is cocktail master 1 :D

I need 2fuse :) or how about giving Call of Arena a review . IGN: biribiri

No game/app that uses Comic Sans will ever be intentionally installed on my phone. Ever.

At first glance I thought this game was called "cockmaster". Rodneye would have loved it

Awesome - https://www.youtube.com/watch?v=o7NFuyzO3G8

Nice James Bond reference

Um... Comic sans. And what's with that launch screen? The rest of the game has decent artwork, who is to blame for the start screen?

Wow, that is some necromancy right there O_o The eldest instance of this game I could find on flash sites is from 2007 but I am sure it is even older than that, c.a. 2004 I'd guess...
Windows Central Newsletter
Get the best of Windows Central in in your inbox, every day!
Thank you for signing up to Windows Central. You will receive a verification email shortly.
There was a problem. Please refresh the page and try again.