Come to the Costa Mesa, California Microsoft Store Feb. 9 for its Evolve launch event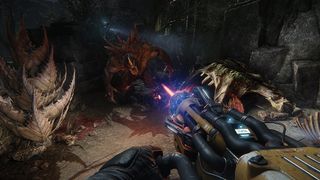 If you are in the Costa Mesa, California, area on Monday, Feb. 9, you might want to drop by the Microsoft Store at South Coast Plaza. It will be hosting a special launch event for the upcoming Xbox One sci-fi first person shooter Evolve on that day.
Microsoft's Xbox Live programming head Larry "Major Nelson" Hryb will be there, along with members of Evolve's development team at Turtle Rock Studios who will take part in a Q&A session and sign items for fans. The event begins at 9 p.m. and Microsoft plans to raffle a number of prizes to select store visitors "including an Xbox One, Xbox Live cards, Xbox Music cards and Xbox One controllers."
The first 150 people in line to buy Evolve during the Microsoft Store event will also get a special gift bag with an exclusive poster, LED glasses (whatever those are), and a neoprene Xbox One controller case. People who pre-order the game will also get a $10 Microsoft Store gift card. The event will end around midnight when Evolve officially goes on sale. That's when everyone gets their game and goes home to play it.
Souce: Major Nelson
Aren't LED glasses...... *gasps* HoloLens!

That ms store is tiny. Its my go to for anything Microsoft.

I live in the valley too but I think I'm going to drive there to be part of the event.

That's not a bad idea. I live in Van Nuys too.

Nice! I live in Huntington Beach!

I work in the same mall as the event, should be fun to watch!

Finally, they didn't misspell Larry Hryb

Nice store, bought my Band there

Should of been Century City. Jeez.

EVOLVE is such a time consuming game. Its fun. I played as the monster and its great how monster vs 4 gunners are well balanced. Its just very time consuming like about 1 hour to battle.

Lol, LED glasses. Just a Microsoft cup that has LED lights. My daughter has a bunch of them.

Glad I don't live in California, a bunch a brainwashed anti-gun idiots... Can't think for themselves.

Says the bigot who repeats NRA and Fox News talking points.

Oh no... anti-gun.... that's horrible....

Please check the new video about new app. Of Microsoft.http://www.youtube.com/watch?v=W5xZbiCm_Dg

The glasses are drinking glasses, rather than ones that go on your head.

Give free more gameloft games please
Windows Central Newsletter
Get the best of Windows Central in in your inbox, every day!
Thank you for signing up to Windows Central. You will receive a verification email shortly.
There was a problem. Please refresh the page and try again.