Evolve is now available for pre-order and pre-download for Xbox One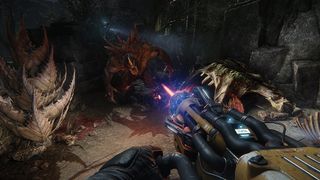 Today, Turtle Rock Studios announced that you can now pre-order and pre-download Evolve for Xbox One ahead of the beta which launches this week. The pre-order comes with some early access in the beta as well as in the full game when it starts on February 10.
As many of you may know, this Thursday, the final open beta for Evolve will be available for all Xbox One Gold members starting on January 15 and lasting until January 19. In it you get to play as new hunters and experience some of Evacuation (Evolve's campaign mode).
As an enticement for eager beta players, if you pre-order the game before or during the beta you will get exclusive instant access to the new monster Wraith and hunters Parnell, Abe, Caira, and Cabot. However, pre-purchase incentives do not stop with the beta.
If you pre-order the game ($59.99) before launch you receive the Monster Expansion pack for free which will go for $14.99 and come with access to the fourth monster, Behemoth. That pack also gives you the Savage Goliath skin.
Now if you want more bang for your buck, you can grab the Evolve Digital Deluxe version ($74.99) exclusive magma skins for Goliath, Wraith, and Kraken and 4 hunters (when they are released) which will go for the standalone price of $25.
There is also a 100 dollar version of the game that comes with all of the above, as well as access to an unannounced fifth monster and some more unannounced hunters. The unfortunate thing about this bundle is that it is exclusive to PC users or what Turtle Rock Studios calls "The Master Race."
So if you're looking forward to the upcoming beta and you know you're going to get the game when it comes out, now would be a good time to buy.
Evolve launches on Xbox One, PlayStation 4, and PC on February 10.
Evolve - Xbox One - 22.43 GB - $59.99 - Xbox Store
Evolve Digital Deluxe Edition - Xbox One - 22.43 GB - $79.99 - Xbox Store
Get the Windows Central Newsletter
All the latest news, reviews, and guides for Windows and Xbox diehards.