Lenovo Yoga Book now available for pre-order in the U.S. for $550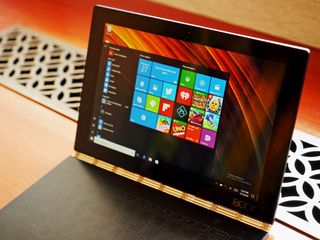 Lenovo has started taking pre-orders for its cool Windows 10-based Yoga Book 2-in-1 tablet. Shipments will begin on October 17 for the device, with the price coming in at $549.99.
We were very impressed with the Yoga Book when we checked it out a few weeks ago at IFA. The 10.1-inch tablet has the "Halo Keyboard" that shows its virtual keys when you need to use it like a regular notebook, but the keys can also be turned "off" so that the surface can be used as a digital drawing surface with Lenovo's Real Pen stylus. The keyboard also flips around 180 degrees so the Yoga Book can be used like a tablet with its IPS screen. Other specs include a 2.4GHz Intel Atom processor, 4GB of RAM and 64GB of storage.
Hands on with Lenovo Yoga Book
Shipments of the Windows 10-based Lenovo Yoga Book are scheduled to begin on October 17, so you might have a while to wait before it reaches your doorstep.
Thanks to William for the tip!
Windows Central Newsletter
Get the best of Windows Central in your inbox, every day!
I really don't like this myself. It seems like a step up from the Touch Cover, but still not something good for typing while not intently staring at keys. That, and with an Atom SoC, it's going to be rather underpowered. Seems like an awkward device that would be better-served as an actual laptop.

honestly for a device like this, I doubt you'd notice the difference between an atom chip, and like a M3, or M5 chip. unless you are doing high processing tasks.

To be fair, I wouldn't buy something with an m3, and I honestly don't know that I've seen one with an m5. I prefer to stick to i-series myself. I just don't see how a market that rejected the Touch Cover accepts the goofy solution Lenovo has put out now.

probably why they are also selling an android tablet version. hedging their bets.

It's extremely noticeable while browsing the web. I had a Venue 11 Pro Atom and moved up to a Core M in the same computer. The difference was night and day. Image heavy pages killed the device's performance, especially when using Chrome. The Core M version still isn't perfect, but is MUCH better.

I guess this is suited best for artists, designers and CG animators. This feels like this is no different from the separate touchpad (with pen) they're used to draw on. Though I'd like to know how this sums up from the touch screen.

Not sure why you wouldn't just draw on the display, though.

Because of your hand blocking the view. That's a problem I regularly have when drawing on a tablet.

Does anybody know if you can use the stylus with the screen?

Screen uses their AnyPen tech. But if you're wondering if it works like a Wacom tablet, then no it doesn't. The Pad portion will but not the screen. For more info on AnyPen, check out the article from WC. http://www.windowscentral.com/lenovo-anypen-tech-carrot-yoga-tablet-2

I want one of these... It looks so interesting!

My first instinct is to pre-order from Lenovo but I would like to see if Microsoft offers a Signature edition.

I liked the surface touch covers. They worked great. I didn't understand why people who poke away with their thumbs on a glass display all day didn't like them. I still have my touch cover 2. I wish they still made them as an option for the sp4.

No USB-C, I'm out. Sorry. Trying to get to all Surface and C chargers in the house...

40000 Rupees for that ? Lol you gotta be kidding me. The touch screen kb is gimmicky, and Win 10 2 in 1s are dime a dozen for around 200 dollars !

Very nice just wish it was more of a laptop size on both screen and storage but its mostly aimed at drawing and more tablet oriented stuff

I have ordered one. It should be fine for my designs and note taking, as well as reading books and documents. I would use another device if I need to write a long paper. It may be more portable than a Surface Pro... Posted via the Windows Central App for Android

Well if your in australia its priced at 999 and available on pre order. Too expensive. Currency conversion between the US price to aud is $730.00. So assuming the $550 us price is the tax free price and in australia we have 10% gst so if you add the currency conversion and gst works out to be $800 aud. So it then seems lenovo give it australian buyers a $200 mark up which is ridiculous. $1000 is too much for an atom and in no way can be justified. I also think 800 aud is too much for an atom. I've read some australian forums and there is interest in a 10 inch windows tablet but there are hardly any options out there particularly with a good screen resolution. Something like this would need to retail for 600 or 700 aud to get any attention and I can't see it getting any real interest. One particular forum in australia on the yogabook had some interest but when the price was revealed everyone in it completely lost interest. Noone can justify lenovos pricing. Very few people are going to spend 1000 aud on an atom tablet and lenovo has done themselves a disservice and their australian customers a disservice with that price.

"The keyboard also flips around 180 degrees ..." This means it can lay flat, doesn't it? The keyboard folds 360 degrees to the back of the display.

Really want to pull the trigger on the pre-order, but thinking I'll wait till people us it in the real world. First thought is why not a bigger screen and less bezel, and then thinking this would be a great replacement for 8" tablet. Love the hinge design and appreciate the concept of the keyboard.

Nice configuration. Only problem with processor. They should go for intel i3 or M

Agreed. The downside of this brilliant device is the cpu & lack of dedicated gpu. Graphic artist would certainly require more processing power for intense graphic designs.

The very MOMENT that it is released in LTE format, it will be summonsed to replace my venerable Lumia 2520! Expecting this Ipad-priced device to have the features and prowess of a Surface is a bit of a stretch folks. I only hope it has the longlife and rugged nature that the 2520 has proven to have.

I haven't got my hands on this, so this is just my own opinion: I have used Wacom tablets for drawing and painting, and in my opinion Wacom tablet+pen on and Intel Atom platform is absolutely useless for graphics (and most likely for handwriting also).
Even the most basic graphics application on my dual Xeon workstation still uses GPU for properly capturing the input for drawing and painting. This device is definitely not good for anyone who intends to be drawing (I don't think you will be running Corel painter or Photoshop on an Atom). Even with other basic store apps you may get away with straight lines, but you should not have any curves in your drawing :)
For handwriting, if you write fast, you still need that processing power to actually capture your real handwriting. otherwise you will see a lot of straight lines and weird shapes where there should have been dots, commas or an "o". I think this device is just some not-very-functional gimmick for some consumer to showoff. Developing markets like that, consumer market might bear, but definitely don't bother with this for doing real work (even school work).