How to make the coolest Lock screen for your Windows Phone in 4 easy steps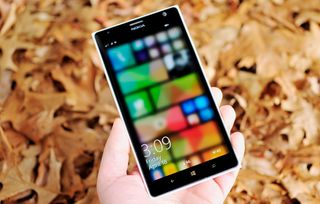 Since I've already shared with you my favorite wallpaper for Windows Phone 8.1 and some of my apps on my Start screen, I figured I'd finish the week up with something on my Lock screen. Granted, I've been known to change this often, depending on which app adds support for that feature. But today I'm back to an oldy but goody: The blurred Start screen.
As you can see in the above photo, it looks like my Lock screen is an opaque but see-through window to my Start screen. Unfortunately, transparent Lock screens are not back, but you can simulate the effect with a few easy steps.
This idea goes way back to March 2013, when user Joe920 posted it in our forums. That thread, found here, has become quite the fun spot to share ideas, and since we have a lot of new users, it's time for a refresh. You can follow the steps in that thread, but there's an easier way in 2014, that I'll share with you now.
Translucent Lock screen effect
Download the free and fantastic app Blur from the Windows Phone Store here
Screenshot your Start screen (Start key + Power on 8.0; Volume up and Power on 8.1)
Launch Blur on your phone and adjust amount of blurriness
Then either save to your phone or just set as Lock screen
That's it. It literally takes seconds to do. Now for tips!
Tips
On 8.1 devices, you may want to edit out the new static Status icons near the top
You can use Tilesparency, found here, to create 'dummy' Tiles in case you have a weather or clock app with info you don't want (this is super picky, but just in case)
You can now also use your favorite Lock screen app to add things e.g. Lock Widgets (found here in the Store) to add weather or battery info, or just keep it plain.
I think this looks super cool and it's easy to read my Lock screen info too. Tell me what you think!
Have a good Lock screen tip? Share them with us in comments or our forums!
Daniel Rubino is the Executive Editor of Windows Central, head reviewer, podcast co-host, and analyst. He has been covering Microsoft here since 2007, back when this site was called WMExperts (and later Windows Phone Central). His interests include Windows, Microsoft Surface, laptops, next-gen computing, and arguing with people on the internet.
I asked Cortana on a date for last night, and she said yes! I was all happy but then she stood me up! :(

.. this is a movie for you bro. ;) http://www.imdb.com/title/tt1798709/

can i upvote your comment? because that was an epic response! great movie btw

Hey Daniel, what is that weather app on your start? Looks gorgeous.

You should try it. It made my phone faster.

Personally I have a picture of our savior and saint Dan Rubino as my lock screen wallpaper. Makes chicks wanna touch it.

I pray in the direction of Dan Rubino six times a day.

It's really all any of us can do.

Nice, my phone's cool factor is up about 5000% this week alone.

Not over "9000!!!!!" thouh -_-

Me neither, but I can't deny it's a cool way of customising your Windows Phone. =) Seen a lot of people who do this on the forums.

These transparency tiles are gonna kill people...smh

Ah I remember I used to sport the Uncharted 3 transparent lock screen. Good ol times. With all the dynamic lock screens we will be getting, I hope transparency is coming back too.

I should delete clock hub tile first :P

It blurs. I didn't bother and I can't see it.

Not for me. Looks appealing on the article but not on my phone. Good article though.

I like the HTC app's weather lockscreen, the images are awsome.

I'd really like this if the image faded away into the start screen, but the way the blurred lock screen goes up over the clear start screen image makes it a little jarring. I'm gonna hold out for the Rudy's lock screen. Man, that's gonna be awesome!

This was my let down too. Caught me off guard the first time I used it and the whole screen/tiles raised. Wasn't what I thought it was going to be.

It's just an image. Did you really think it was going to change how the phone worked?

Blur from Rudy Huyn looks better!!

I'm still using lockmix, its been 3 months and I'm still loving it, reason: the chuck Norris 'facts' widget it provides :)

I like it because the layout of the widgets. :)

I'm hoping that Rudy's lock screen app can perform something similar, but functioning

It's a shame the lockscreen 'slides' away rather then 'reveals' :(

Ditto, not really translucent.

Jesus, some people. It's an image, not a lock screen transition. Is there to makes your lock screen look cool not to change the way you unlock your phone.

So can you make you app transparent????

Thanx for the refresher Dan. I've been doing this since you first wrote about it a year ago and haven't looked back since. Looks great!

I enjoy the daily Bing photos in my lock screen.

Dude, too many lock screen articles. It's overkill! You're starting to look like Gizmodo back when the iPhone 4 was released.

No such thing. Also: you don't have to read these ;) (We also haven't done many Lock screen articles; you're mixing it up with our 8.1 Start screen stuff)

Yup. This is the first one I've seen. We need more. I don't know why people thought the transitioning to the start screen would be different. Silly kids.

I stand corrected. Yes, not that many lock screen articles. Got confused because of the live tiles image.

More please. I for one appreciate them and other WP cosmetic tips. Keep 'em coming!

I'll stick with Bing images for my lock screen. Although I wouldn't mind having Bing as my background to.

the Bing POTD is the only thing stopping me from making this my lock screen.

Ditto! bing pic of the day is just awesone... Even if it chages at 9 o'clock here in Europe... ;)

Why can't Creative Studio edit screenshots?

Creative studio is meant for your raw images, which allows the algorithms to be manipulated.

That makes sense. Thanks!

Nice little article and factoid.. Ive done it now, makes a nice change from Bing for a bit

Daniel Rubino Start Screen looks amazing!

That's so cool! I'm gonna try it, i got the Transparency Tiles app and Win 8.1 HD Wallpaper ready.

Guys is it possible to install windows phone 8.1 in a phone with windows phone 7.8?

Question of the Day award goes to...

I like Bing weather on mine. Useful but just wish there were more pictures other than the same 4 or 5.

I've got the 8.1 update. Im facing some problems with whatsapp...The photos and videos are saved in a folder called 'other pictures'. Now the problem is I cant access the photos or the videos from within the app but I can send from the picture hub. In the store live tile, it no longer displays the number of apps that needs to be updated. Is anyone facing the same problem?
L625

"On 8.1 devices, you may want to edit out the new static Status icons near the top" Not fond of this, to be honest... Reminds me Android. Thankfully, most apps hide the status bar, so it's not too bothersome. :)

Really cool idea. Just wish the translucent slab looked like it was sliding over the tiles as I unlocked it instead of a static imitation -_-

Looks clean and neat. I'd rate this lockscreen idea 8/10, and would totally do it.

Thanks again WindowsPhoneHacker for the Blur app and for jumping my old HTC HD-7 to WP7.8 :-). Had already dome this on my WP7.8...then again when I got my WP8 L925! But currently have the ultrasound photo of my son who is due to be born in August on my lock screen!!!

Really Nice! Thanks Daniel :D


It looks cool when the lock screen is still, but it loses it's wow factor when you start to move the lock screen and it becomes apparent that it's just a picture. If Microsoft added a frosted glass type option as a new lock screen though, I'd be down with that, even though I feel it's done horribly on iOS7.

That may well be an option now we have animated lock screens available in 8.1.

I use blur, lockmix and glance beta. Blurred the lock screen and glance screen.

Transparent lock screen sounds cool. This was a feature in the past? Bring it back!!

Ahh that was a little glitch in WP7 that allowed transparent wallpapers to be a thing thanks to .png files. Sadly, it was fixed in the Tango/Mango update.

Hey, blur works again in WP 8.1. Stopped working for me awhile a go. Thnx for the tip.

That is really rad, seriously!

Blur doesn't work for me in 8.1, does nothing. Worked fine in 8.0. I've found the best way to get a great 8.1 background is to search for whatever scenic thing you want + bokeh. Set the picture as your lock screen and start background. The bokeh effect makes it much easier to read your tiles than a normal picture.

Blurred my lock screen and it looks awesome!! Now my girlfriend is jealous.. She wants to get a Windows phone now lol

I can't tell which weather app that is in the second pic. Any ideas?

Blue Skies. Check the Store. It is free for a limited period...

Oh ok. I had that for a couple of days, but I couldn't handle it not updating every hour. I see they added an option to buy it to unlock new update intervals. Nice

Tried it, didn't like the effect. Instead I just put the same picture I had as background for lock screen as well. Now it looks kinda interesting

Boo, this is some IOS7 transparency effect type stuff!!! (But I do enjoy all the start screen stories)

It would be cool if the lockscreen only contained the blur, so you do not see actual tiles move up. Would be a nice effect.

How do I make my tiles look like yours?

Any news about the diagonal lock screen like the one Joe shown at Build???

I have an even cooler trick (IMO) where I use a wallpaper, cut in half vertically, with the left half on the main lock screen, and the right half on the enabled Kids Corner lock screen. You have to play with it to get it just right, but when you do, you can swipe left and right to both screens and have it all one picture.... Right now, I have a Titanfall wallpaper. And Of course my Kids Corner is renamed "Photography".. I pin all my camera/photo apps there. https://www.youtube.com/watch?v=q3AuOhWl9Vk

Lol using three apps to get a desired effect is a good indiactor of what is wrong with the world.

Hyperbole, much? I mean, are you always so dramatic over hacks posted on the internet, like is that what you do? Cause that's awesome.

Yeah, on the iPhone, Siri reads your mind and just does it.

On my phone screen shot does not works at all after pressing volume up and power button on my wp8.1 Lumia 520. No photohub,no screenshot on locked the screen.

Groovy, thanks for the tips!

How to make my lock screen the same as the picture above? To make the lock screen transparent, who can tell me?

yeah. I've already know how to do that,thx. But I don't know how to reply to you with the app wpcentral.

It's pretty anyway then. Hehe

Can't see a need to 'edit out' the static status indications as they're hidden by the real ones on the lock screen.

Daniel....please keep us updated with your customization so that we can also get updated with you! :)

I would like to see actual transparent lock screen, hope Rudy is listening...

Strange. I can't find blur in the store. The wpcentral link to blur also doesn't work for me.

This needs to be properly implemented by Microsoft. Needs to be more dynamic. It looks ok

That blur app is rubbish though. Best just doing this on the computer

Nokia Play To is not working after wp 8.1 update...anybody else facing the same problem?

I m facing below error while I m using lock widgets
An error occurs
You should have to connect your phone to the internet

Incidentally, I had such a fortunate tile arrangement that with this app, the blurred lock screen image creates the perfect illusion of the phone having a kind of transparent background (HTC 8S) Thanks for the tip!

Nice one. Thansk to update this.

Thank Daniel, this is awesome! Just curious, how do you use Bing Vision for QR codes now, I have Cortana and can't work out how. I used RedLaser and the "Blur" app linked to the Live Tile one too (strange).

My favorite lock screen so far is Amazing Weather HD's. You can point it to a photo album and it overlays weather info at the top. Its the only one I've seen that will randomly cycle through a folder of images and not just pick one.

for you how blury is it on the scale
Windows Central Newsletter
Get the best of Windows Central in in your inbox, every day!
Thank you for signing up to Windows Central. You will receive a verification email shortly.
There was a problem. Please refresh the page and try again.