How to get better restaurant recommendations from Cortana in Windows 10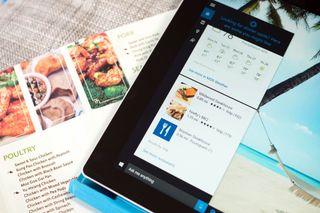 Cortana, the personal assistant in Windows 10, can help you find things on your PC, manage your calendar, track packages, tell jokes, and more. She can also recommend restaurants in the area. You can get better recommendations if you let her know some of your preferences. We'll show you how.
1. Open Cortana by tapping or clicking the search form in the Taskbar. You can also use the keyboard shortcut, Windows key + S. Tap or click the Notebook icon and select Eat & Drink
2. From here, you can add your preferences for cuisine, price range, distance, ambience, and how frequently you eat out. For example, I've added that I like Indian, Italian, Delicatessen, Barbeque, and Thai food. I've also added to narrow the results to restaurants within 2 miles.
Whenever you open Cortana, she displays three restaurant recommendations in a card. Tap or click See more restaurants for the rest of the list. Tapping or clicking on a restaurant opens up the web browser with more information including hours, description, reviews, menu, and more.
Do you use Cortana for restaurant recommendations? Have you told her your preferences yet?
For more tips, we have many more posts like this one in our Windows 10 help, tips, and tricks page.
Windows Central Newsletter
Get the best of Windows Central in in your inbox, every day!
Mark, you forgot a space between "in" and "Windows 10" in line 1... Nice Article btw..

Would be good if zomato is integrated with Cortana.

This doesn't seem to be available for Cortana in Spanish (Spain).

I used the recommendations all the time on my business trips. Love that part of Cortana.

I would like Cortana to just work consitently in Windows 10 on my Surface Pro 3. Rarely responds to voice and yet "Ok Google" works perfectly in Goggle Now. Guess which I use?

I wish there was an option to recommend based on dietary preference.

Cortana should have better Foursquare integration.. In its current state, it just gets recommendations from Foursquare based on location.. It should also have access to my Foursquare account and provide better suggestions.. Some of you might say it's redundant, since the Foursquare app already does that, but it'd be cool!

Use it all of the time. Works great.

Voice commands in win10 Cortana are purely based on luck. As of it's deaf half the time.

I don't like that you have to choose a single price point. It should allow a wider range.

This would be great if Cortana could actually let me decide where I am versus taking a guess based on IP information that says I'm 100 miles away from where I actually am.
Windows Central Newsletter
Thank you for signing up to Windows Central. You will receive a verification email shortly.
There was a problem. Please refresh the page and try again.