Cortana reportedly now serving up coupons for nearby stores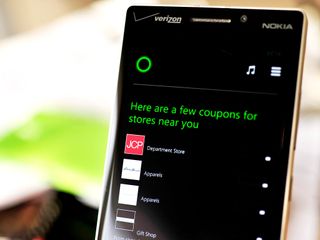 Microsoft's Cortana just keeps on getting better, folks. It appears that the digital assistant is now serving up coupons for nearby stores, at least for some lucky users.
As seen in the image above, it looks like some users are seeing coupons for stores near them. It's likely part of a new interest that is slowly making its way to users, so it could be weeks before everyone starts scoring 20% off at JC Penny courtesy of Cortana.
We have not been able to verify independently the new feature, so take this report with some caution. However, it does seem like something Microsoft would add to the super assistant, which could be very useful for shoppers.
In any event, this is a pretty neat feature, and should lead to a bit of savings on that next shopping spree you have planned.
Need more? Drop by our Cortana lounge to share your stories about Microsoft's personal assistant!
Thanks for the tip, Mohammed!
Dan Thorp-Lancaster is the former Editor-in-Chief of Windows Central. He began working with Windows Central, Android Central, and iMore as a news writer in 2014 and is obsessed with tech of all sorts. You can follow Dan on Twitter @DthorpL and Instagram @heyitsdtl.
Hopefully Cortana will also allow you to dismiss coupons from certain stores entirely as well as learn what stores you frequent the most. I don't need a Kohls coupon notification every time I go to Home Depot (they are right next to each other near me).

I was thinking the same thing.

Yep, "anchored development" had brought us the same store layouts everywhere, so find a Kohls and Home Depot won't be far away! ;)

I had no idea that was common, I was wondering if the OP lived near me because Kohls and HD are right next to each other here too. :)

Did you guys know you can tell Cortana "look for messages about meeting" or "look for messages about baby shower" and she'll find it and show it to you?! Instead of digging through texts for it. That's awesome! You can even have her find pictures, files, ECT!

Wow, Didn't know that! Are you on 8.1, 8.1.2, on Technical Preview? Thanks for the post

I'm on Sprint HTC 8XT. OS version number 8.10.14219.341. Official 8.1.1 & Running Preview for Developers. Idk if that feature is new or not, but I just found out about it.

WHAT! This is awesome. Great tip!

@Sean1 Wow, I did not know that. Just tried and it works, absolutely wonderful functionality you Cortana peeps, big thanks.

She is missing from my 830 since phone 10. This happen to anyone else?

I have her on my 1020 with the 10tp, but hate using her now as she makes her mind up to search the web or my phone.

Yeah, She's been missing on My Lumia 635 after the Build 10051.

Check the Insider blog - reason is probably regional.

Honestly I see Cortana just getting better and better. Its the best of both worlds, combining the personality that Siri had (and doing a much better job imo) while having all the functionality of google now. The future looks bright for Cortana.

Find nearby photoshot places,flights and movie tickets are new things I need that are already in google now....

Cortana is new... Go to android lol

Yep, she'll be better on Android when she gets there.

Already has better functionality than Android. I can use it much better as a completely hands free assisstant, "Ok Google" is quite a ways behind in what Cortana can do where it matters.

Well she already does flights and movie tickets... In her fest test as a beta.

Exactly. That guy obviously is not a WP user.

I'm a WP lover but I'm not in the beta test or even this feature is not mentioned ever on windowscentral ever...

I truly love her...if only she had the other makings of a female...she only speaks when spoken to...almost perfect she would be...

I just found out that you can tell Cortana "look for messages about meeting" or "look for messages about baby shower" and she'll find it and show it to you?! Instead of digging through texts for it. That's awesome! You can even have her find pictures, files, ECT! Is this new?

Dude I just tried this! This is awesome! Thanks:D

That's why the new Microsoft wins, period. Features like these, and more. And Windows 10, fantastic.

COUPONS... FCK'ING REVOLUTIONARY!!!

So this is location-based? That's almost more of an annoyance than of any benefit. I've been really impressed by the Honey Chrome extension - I'm not one for saying, "Microsoft should acquire so-and-so," but if Cortana could contextually provide that kind of experience, it would be a total game changer.

Please explain more. I am not really understanding.

Right now if your in a shopping center, Cortana will show you coupons for stores/resturants nearby (based on your location, at that moment, automatically). This guy wants (I think) is Cortana to give you coupons to stores/restaurants you go to a lot. So if I go to KFC twice a week, but I'm on the other side of town by Burger King, Cortana should give me KFC coupons over the Burger King right next to me. I think that's what he means.

No, not at all - If I'm near a shopping center, and Cortana's coupons are location-based, then my fear is that Cortana is going to spam me with coupons for every store that is nearby, including stores with which I want nothing to do. I cited the example of the Chrome extension "Honey", which automatically applies coupons for a particular site that you are actively purchasing items from, as something more useful. I think that Cortana coupon integration in-browser (in other words, automatically applying all known coupons when you're in the "shopping cart" in Spartan - whether on the desktop or on mobile) would be a killer feature. I'm skeptical (at best) of the utility of location-based coupon notifications, which seems to be what we're looking at here.

Well it's just another feature that will be in Cortana's Interests. If you have it enabled, it'll show up in Cortana. It may/may not have notifications. Even if it does, you could always disable alerts from it in Cortana's interests. It's barely rolling out to a few users so we might get it soonish.

Very true, if I don't want it, then I can turn it off, and I can't knock the addition of any feature that many might find useful. If the location services are accurate enough (as in, I'm shopping at Home Depot and it [only] notifies me of a 20% off Home Depot coupon), then that would be incredible. I guess I just want that functionality without having to sift through coupons for every other establishment within a mile radius, since retail is usually pretty concentrated.

True. I feel the same way. My guess is the latter tho. I feel like it won't be as precise as 'walk into McDonald's, get McDonald's coupons'. But hey, if we can set location-based reminders which are very precise, this could be dead on accurate too. Regarding the new coupons, Shopping centers MIGHT be accurate, but I think shopping malls with 50 stores/restaurants under one roof might not be do-able.

Ever heard of iBeacon on iPhones? I think this is what you want, but for Windows phones. The feature was up and running over a year ago, January 2014: "The apps — such as CheckPoints and List Ease — will receive notifications from the beacons from a set distance. Those notifications can inform the customer of helpful information: an in-store deal on a planned purchase, for example, or a valid coupon for something on a user's wishlist." Source: http://www.theverge.com/2014/1/7/5282872/ibeacons-in-grocery-stores-for-...

So it's tied into Siri then?

iBeacon will most likely differentiate one store from another. It is a Bluetooth solution Apple came up with. They also use it for easy Apple TV configuration using a close-proximity iPhone device.

Bluetooth on all the time, no thanks for my battery and security. Nice idea but no thanks, much prefer Cortana. I have used Cortana for reminders when I am next to a store, this works perfectly.

BT LE on all the time is not much power. And iBeacon data is just a code that could be received by WP. Do you want your phone buzzing every 10ft around a store is the bigger question.

This is where they can make some money. The phone knows where you usually eat and shop. Imagine you walk in to a food court and you qre heading to Subway and you suddenly get a coupon from Panera 20ft away to save 20%. This targeting of consumers and stealing share is huge for businesses.

LOL, then, you turn around to use the Panera coupon and as you are walking there, Subway sends you one that says "What the hell? I thought you were coming to our place? We have $5 foot longs and will give you two feet for the price of one!". (softball lobbed up ever so softly...) ;)

You missed the point. Stealing share is huge for businesses.

Would have been impossible to miss that well-known point, I was just having a little fun imagining the victim being pulled back and forth as Cortana tries to use movement and location data to satisfy the whims of advertisers. At some point, one hopes the poor guy gets to eat. Bonus is that if he has a Microsoft Band, Cortana could step in and state "Congrats! Your indecision and my constant solicitation has resulted in you meeting today's step goal!" :)

It is huge, but I have a feeling SMMinke is right: automatic detection systems like what you describe might actually result in a defensive comeback popping up from competitors. They would simply track your movement and realise at what point you lost interest of a coupon deal because another company stole the customer from you. So, they try steal them back, and another round sets in until ... one company eventually offers a free meal to close the deal. Just like in the ordinary world of business: if a competitor offers more gigabyte data on new cellular subcription plans, your competitors usually do not sit still waiting for customers to take the offer. Sometimes they do, but yeah ... You know what I mean.

LoL Then you head to Subway and Panera sends you another coupon with a picture attached of the cute lady at the counter

This is US only right!? I dunno what to ask her.

Meanwhile, non-English Cortanas ain't getting better.

Oh don't worry, there are some English versions which are terrible too.

It must be great living in the US.

There are Microsoft Stores in other Countries in the Americas, China and coming soon to Australia. I would assume there SHOULD BE at least FULL SUPPORT in these places. Especially Australia because I live there ;)

Cortana will be lucky to ever reach release anywhere outside the US - it's just not MS's strategy.

UK works. Siri works terrific with Swedish now in the latest stable release of iOS. If I wanted nothing but a personal assistent I would change immediately to using an iPhone. However, I enjoy using Windows phones, so I am staying. However, do not expect to see people throw themselves over Cortana in English internationally if Microsoft thinks that the US and UK are enough to focus on. But, I guess they want a certain set of features available and a really high degree of code maturity before they add more languages. You have a couple of alpha-supported languages already, but it is only a small start. We will see what happens in 2016 after Windows 10 developers get less busy working on finishing a whole OS implementation. Of course, you will see a 10.1 at some point, but it should be a lot less demanding and resource heavy compared to now, the initial Windows 10 release.

Cortana is a little more than a language pack for an app. She's got junk in her trunk - a whole stack of backend data. Without the backend data e.g. location and mapping services (or agreements to use someone else's), for a particular territory then it doesn't matter what language she speaks. She'll still be a dumb blond - perhaps fun to talk to, but she ain't gonna deliver the goods.

Ah, W10.1 where they remove hamburger menus and return hubs lol

If only we could get out of alpha in places like Canada.

How do you pull up the coupons? Do you ask her for them, is it in the menus, or does she suggest them automatically?

It says it is in the interests settings, but I am not sure where it would be from there.

Yeah, I am not sure either. None of the categories are coupon related.

Just need stores like CVs, Walgreens, and Safeway to pop up. Awesome addition to Cortana!

Over the past few days, I've opened Cortana and seen a point on a map displayed, with a request to name the place as Cortana has "seen" me there somewhat frequently. I've had six such prompts thus far. Anyone else?

I have had Cortana ask the same thing lately

Cortana is trying to put on stamp on your locations like work, home, etc, the perk being that if you have appointments set in your calendar you can put these locations in and cortana also notifies you of traffic alerts and travel time to said appointment #just an example!

yep ive been seeing them over the past few months. love it!

Now I won't need retailmenot anymore (not that it was on WP anyway.)

I miss her voice on the TP, meaning that using her on the TP doesn't feel as personal as using her on 81.

Sad to say but don't use Cortana anymore gone back to the plain and boring bing search as Cortana is still only in alpha in Australia and doesn't work that well....about as useful as tits on a bull!

Nothing for India. She's just some remainder app here. Ehh weather forecasting app

She said "I'll need quite a few upgrades before I can give you that"

Cortana is becoming an awesome part of WP. It has replaced the news and weather apps for me, and usually I check sports there too now.
I hope they keep putting things like the coupon functionality in there and can make people appreciate a less app centric way of using the phone... Like WP was intended to do in the first place.

wait for it..... US only.

This is why wp is failing and losing apps they seem to only focus on one or two regions

This s a cool feature, hopefully it will get a wider release soon.
Windows Central Newsletter
Thank you for signing up to Windows Central. You will receive a verification email shortly.
There was a problem. Please refresh the page and try again.