Windows Phone 8.1 Update 2 features purportedly detailed (Updated)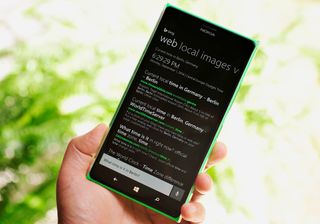 Update 12 PM ET - WPWorld.pl has now retracted the story, claiming the source is not reliable or a Microsoft employee.
According to a report over on wpworld.pl, Microsoft's Cortana is coming to Poland. Microsoft clearly plans to bring (and further develop) the virtual assistant to other markets, but time will tell just when the feature is rolled out across multiple regions.
As well as Cortana allegedly for Poland, there are also some supposed details on Windows Phone Update 2, including a release date for those on the Preview program.
Windows Phone Central is unable to verify the report and we cannot vouch for the cited source, who's alleged to work for Microsoft in Poland.
Windows Phone 8.1 Update 2 alleged new features (unconfirmed):
The ability to create groups of applications in the application list
Sorting options in the Settings
File manager application becomes a system, so as to be able to use other applications
The ability to change the default messages application
News communications - DLNA, WiFi Direct, Bluetooth Profiles
However, like previous GDR updates, Update 2 will likely include additional under-the-hood optimizations and support for new hardware, making this only a partial list.
According to Sałek, October 8, 2014 is the day users of the Preview for Developers can expect to receive their first look at Update 2, through an over-the-air update. This date seems a bit far out to be so definite at this point, though we bet Microsoft does have internal ETAs for such releases, making October a plausible timeframe.
Lastly, Salek states that all currently Windows Phones loaded with 8.1 will receive Windows Phone 9, which shouldn't come as much of a surprise.
As noted above, we've been unable to confirm any of this information. If accurate, do you think Update 2 is going to be a let down or a surprise?
via: wpworld.pl; Thanks, RedbeardPL, for the tip!
Rich Edmonds is Senior Editor of PC hardware at Windows Central, covering everything related to PC components and NAS. He's been involved in technology for more than a decade and knows a thing or two about the magic inside a PC chassis. You can follow him over on Twitter at @RichEdmonds.
I do hope this also includes Cortana for other European countries, especially Germany.

Greece first of all bro! ;)

And I still haven't gotten my update 1.

u can get it by joining dev prev... and this GDR2 will be dev prev soon so GDR1 will be released soon to everyone

Windows "phone" just keeps getting better and better! :)

Well I already have regular update of wp 8.1. Will i have to revert back and make a dev update? And will it ever come to regular 8.1?

No, once you download the Dev Preview App and lunch it it will ask you to register to the Dev Preview Program. Once you have done that, you will have to accept few term and condition and then just do a manual search for an update and it will find Update 1. Download it, install it and enjoy it!! Works very well on my 920!!!

yup works with my 1020 too :)

A 10 million country? Others precede. Anyway, Cortana understands perfectly my Greek accent, so no problem here.

Yes, I second that ::1 ;)

Read the last line wp8.1 to get upgrade to wp9 B)if dats true its nonetheless than totally awesome

Oh, and Denmark (call her Kortana... It's more Danish spelling)... But I doubt it cuz we are a pretty small market (population of under 5.6 million)

Even the smallest countries can make their OS more popular ;)

I could have helped with the population.....but she wasn't really in the mood......not my fault.

...Ukraine! WP is decently popular here

Ukraine + (I'm indifferent to Cortana though) Posted via the Windows Phone Central App for Android

you are stupid asshole...jokes

tried cortanas US version in Austria already and I was only impressed on how it drains the battery :(

netherlands! (they should give access to cortana worldwide, in any currently available language until the languages for currently unavailable countries are finished)

This. A lot of people are good enough with the English language to use the English version. Just give us the option Microsoft. What do you have to lose?

Here's what they have to lose, everyone complaining that Cortana can't understand them. You see it in review videos all the time, someone speaking in very broken English trying to use her and she has trouble understanding. Also the way they phrase their words don't make sense sometimes. And even within other English speaking countries, their words and phrases have different meanings. All of this would and will have an enormous negative skew on Cortana's reviews. I would rather see her get nothing but excellent reviews and take a little longer to be globally released.

hmm, you've got a point there, but still, its a beta, right? so those people haven't got a reason to complain, except if they have suggestions

But they'll complain anyway... Posted via the WPC App for Android!

Might be, but I use all my computers in english anyway. Using finnish would seem very silly... And I love Cortana, I'd just like to use it with my phone set to the fatherland :-) and the language in english. And let the people complan, Microsoft doesn't listen to their users anyway... I say bring it to us now!!!

Yes, they might not be warranted complaints, but they'd be bound to happen anyways :(

but they do. Set your phone to US English. The only drawback is that you can't buy apps until you switch back to your own country, or you can top up on store credit before switching to US. I'm using Cortana in France.

i meant without changing region

Agree, or just let us use the English in the mean time.

I believe Belgium, Australia and New Zealand will get Cortana next. Can't remember the rest.

Belgium also? Where did you saw that? I hope it's true and that it is the Dutch language and not the French one... Posted via the Windows Phone Central App for Android

+930. Berlin here. Also crossing my fingers for everyone else!

In the UK, on a legit Vodafone 635. I have Cyan, but still not 8.1.1, and still no Cortana. (On my dev preview phone, had it for a couple of months. WIsh they'd get on with releases)

they're still rolling out Cyan. Nobody has 8.1.1 except dev preview. "get on with releases"? First world problem.

No love for Cortana in Spain? :(

All phones get the update, like the Lumia 810 and 822 :/

Blame your carrier. It's not like Microsoft is against updated those phones, but those carriers are.

Hey, just want to point out your level of interaction in comments is awesome!

They can get the OS update using the Preview Program...

About who to blame.. couple of weeks ago I read about a big carrier ready and waiting for Microsoft next step. The message was like "we already approve the update, we are waiting for Microsoft now". And then one or two months that carrier says the update is live

And you believe them??? If so, I feel sorry for you; It's more like they were waiting for Apple as always.

I blame Microsoft for allowing the carriers to dictate release schedules in the first place.

We might as well blame you then. You don't have any less influence with the carriers than MS does, so why don't you fix it? MS can almost be happy carriers even agree to sell WP devices at all, much less update them. The only reason carriers are even slightly cooperative is because they'd prefer all the OS providers to be as weak as possible, so an equal three-way split is better than being dependent on just Apple and Google. The entire Telecom industry has practically sworn to never again accept the kinds of contracts Apple forced on them.

Sir , why this people don't update, what d problem with them

You can still update those devices with Developer Preview. It's more then what you get on Android.

Can only hope the developer preview will update to Windows 9....

Ohh good. Bring on the updates :D

Poland? Out of nowhere...Poland? >.

The thing is, even though this highlights Poland, it is unlikely the ONLY country in addition getting Cortana.

I hope it comes to other European countries like Greece

Yep. That's what I think. Its like in Update 1, UK and China were the main attraction while an alpha was released I three countries

We still don't have Cortana in the UK unless we are in the preview program or pretend to be in the USA. Bob

Nie put niek saysza. Or something like that. Sorry. Learn it talking to polish people that I work with. Not sure if the spelling lol

What?! I'm a Pole but now way to understand whay you have just written. BTW: Why i dont't see a blinking curson in comments?

It is supposed to mean something like ' don't get too excited'. I can read the sounds but don't know how to spell. They just told me the bad words and a table with broken legs. I walked around for a while 12 hour shift with cwel on the back of my work gear, not knowing what it meant.

Agreed, absolutely not the slightest clue what that's meant to mean. Doesn't even sound like Polish. O.o

I think he meant "Nie podniecaj się"... ;)

Nie podniecaj się ;) good one anyway I'd love to get my hands on Jen Taylor english speaking Cortana here in Poland rather than wait who knows how many months for the alpha/beta polish one...

Yeah. That's it. Anyways, if you are gonna change your region then go for the American one. The English one is still beta. It is getting better but she sounds very bland

Polish language is very hard. Say this: W Szczebrzeszynie chrząszcz brzmi w trzcinie. There is a video: http://www.youtube.com/watch?v=GHizInxsBz8

Ask a Pole to say "Rural juror".

*says it*
Okay.. Now what

Say ten more time ! But loud in the library ! ;)

I honestly don't get it?
It's just dumb.

Yeah, i've no idea why won't a pole be able to say it lol

Ooh, October 8th? That would be awesome!

That would be awesome, but if update 2 preview comes out on the 8th then that means us update preview users will be behind 2 firmware updates.... I'm not complaining about the early support, but I do find it odd to run WP8.1.2 before we even get Denim for WP8.1.1.....
.............
Maybe this is saying that Denim is coming before October 8.. IDK.

True, I hope they'll be able to send updates out more like Windows computers once everything is unified. Of course, with carriers being the way they are, who knows when we'll get updates.

I wonder if Wifi Calling supported in this update.

Retired. Plus he did phone renders, not internal OS news, so irrelevant.

Please MS, i need WI-FI direct

We already have Wi-Fi direct. What you need are applications that utilize Wi-Fi direct, as that tech is but an underlying means for delivery, not a user-accessible feature. If that doesn't make sense, you need to read up more on what WiFi direct is (and isn't).

What is this? Wi-Fi direct? I don't remember hearing about it before...

I fainlty remember someone suggesting you read up... ehem... http://en.wikipedia.org/wiki/Wi-Fi_Direct ;-)

What we need is WiFi direct for computer Synching which is entirely in Microsoft's court. The ability but not the means is like a car without wheels.

I'm not sure that is a good analogy. MS added WiFi direct so app developers can use it in their own apps. Anybody can make one or more apps to synch content between, say, your laptop and your phone. That's why I'd say it isn't necessarily in Microsoft's court. I'm pretty sure MS is hoping someone might build such an app. I don't know how you expect synching to work, or what your specific requirements are, but there are already a few apps in the windows phone store that would allow you to wirelessly browse the contents of your phone from your PC's web browser and upload or download any files you like, without requiring that a WiFi access point be within range. If you're thinking of something like Zune, just working wirelessly instead of over a USB cable, then yes, that doesn't yet exist (AFAIK).

I cannot transfer music or pictures with the supposed wifi-direct just like in android, so maybe I have wrong information about what it really is.

Maybe. Like Daniel said, you don't just need the technology, but also the correct apps. Moreover, not every WiFi direct enabled app is compatible with every other WiFi enabled app. You can think of it like this: WiFi direct enables apps to talk, but it doesn't say anything about the language. If two apps support WiFi direct, then they can talk, but it still doesn't mean they will understand each other.

Try easytransfer app in windows phone store

Check out "Easy Transfer" for Windows Phone http://www.windowsphone.com/s?appid=5ccb6655-2ff9-4977-bf8b-577e92bbb236
You should focus on your not in play store. Easy transfer is better than WiFi direct.

Easy transfer uses WiFi direct... Possibly you guys can try....
http://www.windowsphone.com/s?appid=5ccb6655-2ff9-4977-bf8b-577e92bbb236

still waiting to have an app like superbeam or flash transfer that utilises wifi direct.

Wifi direct is a need but there's unfortunately no USB on the go :((

Wifi Direct-at long last...

This and a flashlight toggle!

Nice update! But still waiting for Microsoft to freaking make a fix for Preview For Developers for the HTC8X users, I still don't have Update 1 nor Cortana. Major fail of Microsoft and HTC. Hoping to Update 2 tho.

Lumia1020 64gb O2, still waiting For 8.1 and Cyan...

Are you in the UK? I'm on o2 with a 64 gb 1020 and I've got cyan/8.1

I've got 8.1, I've got Cyan I've _not_ got 8.1.1 (folders) I've _not_ got Cortana

Yep, all HTC 8X owners got F'd in the A so I'm not expecting much for us in terms of Update 2.

Where is the info? Is Microsoft going to come up with a fix to allow all phones running 8.1 preview for developers to get on with it and install the 8.1 and Cyan firmware? Have not heard anything on this in weeks.

No, joe tweeted in first week of august that they were working a fix for people having a HTC 8X and that cant get the update, due to htc firmware missing. So thats why i mentioned htc in my post and not Nokia

Still no cursor in the dialer?!

A small feature but a useful one

Yes. Can't edit the pasted number, so annoying that you have to memorize the number.

Even no contact suggestions while dialling a number on the dialler .. Basic feature of an smartphone.

I want arrows in the keyboard... while we're speaking of small but useful features.

Or no scrub feature with voicemails.

Yes, it's a small feature but important!!

And also a slider and shuffle option when we press volume button while hearing music...

We are waiting for new features.

A letdown more than likely. We will see.

Not for Lumia users... Remember WP8.1.2 will have the newest Lumia firmware after Denim, so this list is noun to grow...

You'll get new features on your 1520, but a lot of us won't due to hardware restrictions.

I am on 1520, an excellent phone interms of performance

Well, the world keeps on moving...

If correct, it'll be pretty good...

Sorry to sound naive but can someone tell me what is the use of changing the default messaging service?

Change it to Skype or Messenger perhaps? Or.. even whatsapp? Something we expected in 8.0 release?

And what would it mean, pratically?

I believe it's for the people app... today you have the option to send a SMS... maybe it wil give the option to send a message trough whatsapp.. or another app you have if you change this configuration... and if you think beyond... there's the option to send a default message when you are busy and someone call... with this option this message could be sent by this other app...

I think what he's asking is how this will be different than now. I'm not sure what setting something as the "default messaging service" would do, either, since I'm not sure how Messaging gets special treatment on the OS.

I think this is only relevant to dual sim phones. but that is just a wild guess

Dual Sim? What does changing the messenger app have to do with dual SIM?
I don't get your point

Well on Android you can make Hangouts your default messenger. If the other person has Hangouts it will send them a message through that, if not, it will send them an SMS.

Really? Poland first? What about Ireland? Microsoft is so weird, Ireland uses English so how hard is to release it for us?

I think they're prioritizing by sales or percentages, not language. Outside of the U.S. of course.

Once again, just because a single country is listed, it does not exclude other countries. This is logic.

Since when has logic dictated Microsoft's WP decisions?

It is probably just ONE of the several countries that will start getting Cortana support around that date. But I agree, pretty random country to be leaked, but heres to hoping for a wider coverage. Being in the US, I enjoy the features, but I enjoy it when everybody else gets it too.

I'm sure its not random, but because of significant market share of WP in Poland. Ms really cares about its customers the proper way. U use polish as well, i suppose... Ireland is small and has different accent than GB. For a program like cortana It is like completely different language.

Um.. not exactly true in regards to accents.
It's the same reason Canada didn't get Cortana when the US got it; things have to be localised for better, more relevant search results and functions to suit that particular group of people.

Thanks! It's exactly what i wanted to say. All the neccesary data cannot be shared, even if both languages/ accents sound similar.

That would be awesome! Also, for the file manager, I hope I could find and delete unsupported files sent over Bluetooth.

It's not as convenient, but you can remove unsupported files from your device by plugging it into your PC and using Windows Explorer. I have done this many times from people sending me incompatible pictures and videos via NFC/Bluetooth and SMS to my Icon.

It doesn't work for me. I received 600+ MB of zip file via BT on my Lumia 920. After receiving, opening the file prompts me that I've got no right application to open it, then closes. And after that, I don't know where was it now. Can't find it using Files and other 3rd party file manager app. Plugging to a PC don't do either. And I got 1GB+ of "other storage". Maybe it falls under this storage.

And that it could be used to add attachments to emails.

You can do this using 'Files'

That's something of a weak features lineup, IMO. Let's just hope that it comes with a patch for the Cyan issue, so those of us on the Developer Preview (who don't want to do the rollback) can get Cyan.

Exactly. That patch is seriously needed. I don't have an enterprise phone and therefore no bit locker issues, so it beats me why I have to pay the same price as bit locker devices just because I chose to help MSFT perfect their WP8.1.

Please explain the feature mentioned in the third point.

A little confusing you're right. But i guess File Manager (Files App) will now be part of the system rather than being an application. The last part I don't know though :)

If i'm not wrong, it means that "files" will be part of the OS so every app (maybe the email client) will use it when adding an attachment :)

Just wondering if or when 8.1 update 1 is available in the UK

Try the Dev Prev, maybe? I'm running it on my 930 and no issues. Just an idea.

I haven't even received update 1 for my 1520.3 for At&t. Lol

Damn, get on the dev preview. I've had mine for a long time now, 1520 on at&t.

So we get the next update but there is still no fix over the Lumia cyan update that we can possibly not download without using the recovery tool. Sucks.

Look like a smaller update than GDR1..

Just got the 8.1 three UK expecting this sometime 2016

"Sorting options in the Settings" Oh how I hope this one is true. A fix for that clusterf#@k is long overdue.

Yes, I would like this to happen too.

That system settings contains more than 50 settings! Glad to see Microsoft going to fix that up.

Can any body say I'm not dreaming

Wake up Ananda! You're dreaming!

"I'm not dreaming"- there you go.

First at least fix the bitlocker issues of Lumia cyan and they should go for gdr2

When are we supposed to get update 1...or what is the build # I should see on my ATT 1020?

Current ATT released build is 8.10.12393.890

Oh good, so Verizon subscribers will get it in June.

No, rumour has it 8.1.1 is set for June. Lol. :p

Just download DevPreview then update. My 920 is in Cyan with Live Folders.

Cortana alpha for english countries means that they can change the region to United States and use Cortana in american english.
But, how about alpha status in another languages?? Also change the region to United States and speak in english? I don't see many advantages for it.

Using wp8.1pfd..can I downgrade to wp8 by resetting my Phn frm settings??

You can't downgrade just by resetting your phone.

You need to use recovery tool for that.

No dude, that is not what cortana alpha means. It means that they can use contana without having to change regions to US.

I just wish they'd let us enable Cortana regardless of our region if we choose so. I don't mind speaking English to it (and to be honest, I'm not holding my breath regarding the ability to speak Finnish to Cortana), but I just wish I could use it without messing around with my regional setting and having to deal with weird date formats and other side effects.

you can use whatever date format you want, install extra keyboard languages, use any time zone, etc, as long as your LANGUAGE is set to English (US) and your Country is set to United States. The only drawback is paid apps in the store (unless you use store credit) which can easily be overcome.

I'll give it a try, but I can't help but think why exactly do I have to jump through all these hoops when both Siri and Google Now work just fine with Finnish regional settings (my phones are set to use English as their language anyway). An underdog platform should make it extra easy to use all the goodies available there instead of setting up unnecessary hurdles.

Does that statement from salek means phones with pre loaded 8.1 or older phones with 8.1... The windows 9 update

No I guess it's probably about every phone already out there with wp8.1.
Like it has always been since wp8

I still can't get past the preview update error 308... Are Microsoft still going to work on a fix for that? Lumia 920...

Same here +920 I'm still getting the update error.

I don't think Joe cares about it anymore... And given there's no way to fully backup a windows phone, we're stuck....

Meanwhile still nothing for my 8X, which keeps randomly rebooting on me. That iPhone6+ is starting to look good right now...dispite my disdain for apple products.

Wow MS, but please any news on cyan for dp users ?

I guess respite is not yet in sight as regards that Cyan for WP8.1 pfd users, else Daniel would have said something about it. Perhaps MSFT has even left that as a forgotten issue, never to be re-visited. Hmmm.

It seems this bitlocker issue will be silently abandoned and never fixed. Well done sh*thead JB & co.

Brazuca tb... Mas até agora nada de cortana...

Se vai vir para Polônia, temos chances de chegar ver a Cortana funcionando em português também, afinal, é 2x mais falado que o polonês e tenho certeza que a Microsoft Brasil está empenhada em trazer a Cortana para nós :D

Not to be that guy... Verizon, where the hell is 8.1 plus cyan?

And i am still not able to update to update 1 for DP.. Get the error code.. Come on microsoft... Tried to downgrade to 8.0 via Nokia Software Recovery Tool but still get another error code.

I'm confused as to why there are separate updates now. Didn't some of these features get announced as part of Denim? Thought they'd converge them a bit more.

Denim is update 1 plus "Nokia" firmware and addition. It's not update 2.

Denim is a firmware update. 8.1 gdr2 is software. They're released officially simultaneously. But if you're on the dev program, you're just getting the software update (gdr2).

Want fb integration back which I used to love a lot. The me tile something i loved on wp8. Even the old music hub.

Try Music Hub tile by reker...

Have that but isn't smooth like old hub. And reker doesn't update it properly

Beta Cortana in Canada??? Ehh???

Would be interesting to see what DLNA features are coming. Would it be something like "Play To" in Win 8? That would be awesome. I know we have "Nokia Play To". But, it would be nice to stream audio from any music app.

The music and video apps should be capable of streaming from any DLNA server. Even from a regular Windows computer

I thought Cortana was meant to be released in the UK by now. I'm sick of having imperial measurements and USA centric stuff on my phone.

Man, Microsoft is doing a fantastic job with windows phone operating system. My L920 is looking as new as ever with the continual updates. I am still due for a 920 replacement and I am not looking at you L830.

Update 2 knocking on the door and we still did not get Cyan firmware. I have a feeling that we on DP will also miss Denim.

How about 8.1 + Cyan for the Icon?

Hope MS follow this data do add Cortana in another countries: http://www.wpcentral.com/new-report-shows-us-india-and-brazil-top-three-windows-phone-countries

Already exists, read the comments

Really hope they bring a swipe code to unlock the phone... You know... Like the swipe keyboard?

I'd love to have picture password like on Windows 8!

I hope Cortana will come to South Africa soon

The list sounds good..
And I hope USB OTG also makes to the list!

I may be in the minority here, but I hope with this update, Verizon will release a version of message+ for windows phone. This way, text (both SMS/MMS) can be done via cellular or WiFi and will sync with other phones/tablets that utilize the application also.

Don't hold your breath with Verizon. I have the Icon as does my wife. Still waiting for Cortana and Cyan. Everyone is talking about the next release, and we still have yet to have the latest, unless you buy the M8. Not sure if that device has Cyan but frustrating nevertheless.

I know, it is a long shot, but one can hope. And with the Black update (I think) Verizon was actually pretty quick. This time, it seems to be taking longer. Not sure if they Bitlocker issue had anything to do with it or not, but hopefully soon, the Cyan update will be released for all. I have the developer preview, but getting the firmware updates can hopefully enhance the changes.

Any news on 8.1 Update 1 coming to HTC users on the Preview?

Pretty awesome that the core team seems to have been working nonstop on the OS, a far far cry from the early days of WP7 where it seemed like they took a long holiday.

Wifi direct is must needed for WP

Still no bitlocker fix? I feel pretty abandoned by Microsoft because I don't own a Windows pc to downgrade my phone to get cyan update.

Downgrade will completely clean and brought back or black update and then updating windows 8.1 is the only way best and optimised solution. Seriously! I did it and am totaly satisfied and works great. Now all up to you.

And you will permanently lose all your application settings and game saves and progress, and you better have all photos and videos backed up, because you will lose those too.

When are we getting the official GDR 1 update.

Finally someone with sense!

Yeah! On cyan...two,more updates already lined up!!! Actually three (if count denim as update...will start searching for,colours starting with E )...love ya Ms

Gdr update is going to be awesome :)

in other words, just reversign the mistakes after everybody told them repeatedly that their over restrictive OS is falling flat with consumers and you need to embrace chagne or die.

Yes, groups in app list...

What does this default messages application mean? Can we actually use WP messaging up to tell to fb messages again? I'm fire in dreaming and that will not happen

From what I understand, a user will be able to set a default messaging application, other than the texting one, for replies, etc. So in theory a user can have Facebook Messenger, Skype and any other programs setup to take advantage of the change.

Lets hope that's how it will be.

I'm still waiting for the Cyan update to come to those who upgraded to 8.1 with Preview for Developers.

Interesting, hope they fix the HTC drivers by the time it rolls out

Cortana in Portuguese, please.

M expecting that there should ne uniformity and notification sync as well, when m on pc and received a call or message or app notification on my devices, I should also get notification on pc as well or other devices.

Yessss and we want REAL toggels !!!
We always want to turn off Wi-Fi... We don't want to open Wi-Fi page :/

the wifi page is actually very useful if you think about it..when you go somewhere and you search for wifi for th first time, you need the wifi page to connect to a network

But always i don't want because generally everybody doesn't go to a new place everyday. We go to our workplace and home only.
Press and hold for opening that page would be a nice option.

A bunch of updates that current devices will never see should be the headline.

I hope it improves the perfomance and few animations for lower-end smartphones

October 8 is my birthday. Hope an alpha releases in Ireland. Really excited for grouping apps

I still cant get this on my 920 in Canada. Still get the error message

If this default messaging thing is true I hope we can get sth like this quick switch button where to switch between several messaging apps in one conversation is possible... Like before in wp8 with MSN messenger, SMS and Facebook...

Nothing much exciting new then.

Sorting options for both the alphabetic apps list and also for the settings list. That's great

and I'm just sitting here waiting for the update 1 for my htc 8x

I can't install 8.1.1 on my Samsung ATIV S, and here are the news about GDR2. Hey, MS, what about fixing this shit for users, who can't install without 308 error?

How about getting off the Dev Preview if you can't handle this?

Sorting options in the Settings...finally!

Spanish would be great for people from Latin America and Spain. :D Together we make a lot of WP users.

I just want the ability to attach any file to an email reply... Everything else is a bonus...

If the news about the file manager being integrated is true, then this could happen in a future update!

Still no official gdr 1,,,when are we going to get it

Ppl at Microsoft should know this. Even ppl there use windows phone but

DP users haven't got cyan. now it's almost confirm DP users will get GDR2 before Cyan . may be W9 Threshold too

Update 2 will allow to change the IP address???? Its most needed for many people

I am on developer preview window phone 8.1 update 1 Lumia black, cannot update to cyan. Will i get this update too? Or should i get cyan first. Would love more option on notification center (not just 4 space)

Hope this fixes storage issues ( read they supposed to fix some problems in the next update instead fixing the current version ) I may be wrong, but whatever.. About the firmware.. No idea

And still no Bluetooth keyboard support?

Mmm waiting for denim with 4k for my 930....

I don't think so that creating a group in the app list will be good update. It is easy for me to navigate to an app easily through the app list.... Let us see as it is unconfirmed.

Dzienkuje Majkrosoftski!! (my girlfriend is Polish, so I'm exempt from being in any way racist) :P

Now I can proudly say it closes the feature gap!!!

Talking about updates, when do we get the Lumia Denim?

We just got Cyan, calm down killer!

Static IP address setup for WiFi is a basic feature and we still don't have it... Symbian , Android and iOS have that....I strongly hope WP to acquire that feature...

Meanwhile, OS updates launch faster than carrier firmware approvals. (Hey Verizon...)

As on wpbench the latest build is 8.10.14234.0 (which may be GDR2 or not) but nokia power user states latest build is 8.15.12375.0(which according to npu may be GDR2 or Phi) . http://bit.ly/X7l6ia

Wow, I haven't even gotten update 1 yet and a update 2 almost coming

I don't understand why Spanish is being left behind on Cortana, not only is the second most spoken language in the world, it's where most of the WP users are also.
It's great to see polish is on its way but Latin America and Spain deserve it's place too. I might need to replace my 1020 before that happens, Cortana/location services drain my battery incredibly fast, just not worth it in my scenario

File manager becomes a system, so as to be able to be able to use other applications. What does this mean?

Give swipe for Swedish keyboard!

Still waiting for Cyan update for WP8.1 DP..!! Lumia520-India

I looking foward for the sorting option it's a pain that you must scroll much down before get to about for example

ESPAÑOL!!!!!!!!! Increíble que sera el último idioma en tener soporte. Mal por parte de Microsoft!

Yo tampoco los entiendo, siendo Microsoft de Estados Unidos un país lleno de personas que hablan español y Latinoamérica un lado del mundo en el que todavía la gente recuerda y quiere a Nokia..

Y son países en los que Windows Phone tiene muy buen mercado, como Mexico, España, Argentina, Colombia, los mismos Estados Unidos, como dices. Pero no entiendo el afán de no poner atención en sus mercados lideres, lo mismo que pasa cuando salen nuevos equipos, tardan muchísimo en traerlos. Eso es algo que tengo que criticar de la empresa, su pésima mercadotecnia en donde tiene que estar mas presente.

Where's Cyan roll-out for WP8.1 pfd users? And where's USB OTG in the list? MSFT, what the heck is wrong with you?

Want to,share multiple files on Bluetooth?

Will it allow us to connect to static wifi?

What's static WiFi? Does it mean adhoc WiFi?

I want cortana in Colombian spanish :)

How many times do I have to say it.......... BLUETOOTH EQUALIZER!!!!!!!!!!!!!!!!!!

Awesome, the day I get back from vacancy =]

And here I am, not even on Cyan yet lol.

This is great for HTC (Non-M8) owners! *sarcasm*

200million people in Brazil... Come on Cortana, we are waiting for you.

We use English here in Nigeria. Bring Cortana.

Lol am also a Nigerian bro, I use Cortana all the time.

MSFT is not likely to prioritise that request. If it was Nokia, fine cos they have huge followership and fan-boyism in Nigeria.

WiFi direct and Bluetooth peripherals I've always wanted that where is USB OTG ? One step at a time! I hope there is more.

I don't care what the hell this update brings.. Where is the Cyan update for preview for developer users? What about bitlocker issue? I don't get it, what the dumbs at Microsoft are doing! Even Lumia denim is out now and soon there will be the second update. I guess ms forgot the issue.. Microsoft is never going to change and so is the OS. Microsoft is too slow to implement new features.. Dumb Microsoft!!!

After updating to 8.1 using background wallpaper my start seems to be so laggy :(

Any news about facebook app?I always checking for an apps update 4-5 times in a day,but no surprise from Microsoft and other developers :(
No perfect facebook app :( shame on you Microsoft.

All users from India can enjoy, with this update the Cortana will change from alpha to beta stage like US.. you can use her with full potential..

I definitely feel older device like 820 won't get the cut in for WP 9.No company will keep on updating Ms is no exception.

Lol this is looking very silly :D fail news of the day!

What about mobile data in action center

Just add Cortana for my country and my windows phone would be perfect.. I don't ask for much more. But I know that many others do. ;)

Changing default sms app ❤❤

It would definitely be a surprise. They haven't failed to keep us interested since wp 8.1.

Greek Cortana και τα μυαλά στα κάγκελα!

https://m.facebook.com/?_rdr#!/story.php?story_fbid=723895144314988&subs...

Will we ever see full resolution photos in photos app?
Or Exif data within photos app?
Or editable metadata for music/video app?
Or ability to find/link album/artist art through internet?
Or better attachment/sharing options?
Faster games app?
Lack of loading/updating/resuming screens?
Interactive notifications/tiles?
Live lock screen out of beta?
New versions of office and OneNote?
Better Internet explorer?
More codec/format/subtitle support in music/video app?
Native graph equalizer for music app?
Fetching lyrics from internet and syncing it in music app?

Would also like to see: Map manager from the Lumia Storage Check beta app that was pulled recently included in MS Storage Check instead.

Would LOVE to see the ability to set a freakin HOMEPAGE in IE....

Ahh im curious about Windows/phone 9 hahaha

So WP 8.1 just finished release by carriers(Lumia 920 being the last). I assume Update 1 is now into carrier testing or what? They will still be testing Update 1 when Update 2 hits. I guess MS doesn't want to stagger these releases further.

Personally, I find it more interesting that devices with WP8.1 will get WP9. I really hope this is true. I am using PfD and I hope there are more features included.

Oh ms plz fix bit locker issue.it I pain to downgrade to wp 8.

Cortana will speak Polish before Portuguese...

I respect Poland but doesn't it look strange to concentrate on Polish users? Is the Poland market biggest in Europe? Why not Italy where Windows Phone hone is pretty popular as far as I know? I mean it may be fake news... Posted via the Windows Phone Central App for Android

Let's all hope that this update fixes the constant freezing that's been happening with Lumia 1020's and other phones. :( Anyone else experienced this problem? I have created a post at community.microsoft, so if you haven't had a chance to voice your problems please go there to see if there's anyway they can include the fix on this update. :)

Sounds great but how about update one for 930 :)

I can't even install update 1 and they are releasing another one!!

I'm still waiting for this

WP9 even for Lumia 520? I was looking for an excuse to replace it with a Lumia 830!

Wow... Wi-Fi direct and grouping app list is awesome.

Hoping to see live group tiles & happy abt Wi-Fi direct

So this is a fake story. Shame, that. And whenever this update does come, for real, I hope it includes openvpn support!

"News communications - DLNA, WiFi Direct, Bluetooth Profiles" looks good to me.

Is it just me or Verizon is the worst carrier for updates

Looking forward to getting the GDR2

I wish there is data lock mobile or data sense where can i set the time, like different quota in day and night

I think that depends on the hardware. Passive voice activation needs the Snapdragon 800 chipsets, I think.

will it enable cortana for india??

Cortana is already enabled for India, but it's in alpha stage, and it's nothing like the American Cortana beta. Change your region to India, language to English (India) and speech to English (UK).

If Cortana goes only Poland, I wont be believing the uservoice. Because obviously Turkish is on top of the list with fallowing Vietnamese on secound. They should bring her in these first! Please No Offence Polish People! I am indeed so glad for you. At least you will be happy! :)

Lol, I love the rumometer

Update 2, then Threshold :)

They should really polish the settings coz the list is getting bigger and more confusing, they should arrange them and divide them by categories.

I wish they removed the alphabetical letters that take additional lines in the list. Or let us change it in options.
Maybe they also could make folders in the list. Posted via the Windows Phone Central App for Android

the bigest market of windows phone is asia specially INDIA. so microsof must release cortana frist here than the rest of the region

Dear friend
We need wp to beat Android and ios
Definitely india his biggest potential market for MS has to change there views
I remembered nokia doing business with ego
Now they are on there feet, they never changed according to time and Samsung did now they are leading cellphone manufacturers

Did the update ever come out for Lumia 930 to fix the purple haze

M expecting more. I mean, there are various inbuild or system features requred the updates. Eg: Calender app,is mordern but not showing multiple events for the day on the tile which shows only one one day event. Eg2: Music and video app takes seconds to open up. Eg3: Expecting the apps should open more faster. Eg4: M seriously waiting for the day when we have unified applications and a unified notifications availabe on evey devices we use. Cause we are quite gaining momentum and thingking to achieve one Microsoft stratergy. And lastly, we need to make it more powerful and smoother. Eg: Subway surfer takes extra time to open up and hangs on between. Might be hardware issues, then why not provide time to time updates to make it more stable and hardcore accessable fliudly. Lots more....

So I might get update 2, while I'm STILL on Lumia Black. The gap increases, how interesting.
Fix the damn Cyan bug for preview users already!

Lol I'm still on Amber because of my carrier.

So that means the 920 will get windows phone 9 too!!?

Good night guys in india and asia and good morning to European and American fnds

Good night , from Saudi Arabia

Polish is like, the hardest language ever (purely personal feeling ofc) and Cortana is becoming available already? :( Hoping for a full pt-PT Cortana in the future, I won't settle for a pt-BR...

But can we edit forwarded emails? You know remove the original senders information?

I just want Cyan for DP :(

Yes, please solve the problem at the same time.

Being able to sort Settings would be huge!

I don't understando this: "File manager application becomes a system, so as to be able to use other applications" There is no need to becomse a system, there are the File Picker APIs in WP8.1 that provide support for every apps (including File app) to pick files. Or I did not understand what it means

Become a system which is can't be uninstall?

Too fast,
I think MS is going too fast, but its okk.
Wife direct and DLNA
that means WiFi file sharing is coming to Windows phone or not...??

I bet Hungarian will be the last supported language in Cortana. :(

Alternative massages app, like what?

We need Spanish support c'mon the second most spoken language in the world.

Update 2 started to rumor and it might be true. HTC still didn't fix the issues to update 1. Hope the update 2 will bring it all

Portuguese language is becoming more and more popular so I believe we will see Cortana in portuguese soon although Siri in portuguese never happened :-/

The date of the released of update 2 might be true, because Microsoft will announce the update 2, together with Windows 9 on 30th September.

Daniel (or anyone else), does anyone know A) whether HID profile will be introduced finally with either this next GDR or Denim and B) I had heard initially that Cyan would support AptX but then when it finally hit, I couldn't find anywhere that conclusively included it in the list of firmware updates. Anyone know about either of these?

How about some proper caldav and carddav support? Going to be looking for a new phone soon, and if these arent supported by then looks like I'll be going elsewhere. Shame, cause Im liking WP8.1.

i like this new fatures, sorting options in settings and the ability to change the default messages application... :)

And still no fix for the update 1 error...

Hey look, an update us HTC people won't get, yay.....

Please make Cortana available in Latin America, the 'español latino' voice would be for nearly all countries the same. So do it.

Does anyone know if HTC or Microsoft has come up with a solution for HTC 8x users? The last update stated that it was installed but nothing changed.

Introducing the Verizon exclusive the all new Lumia Icon. It is amazing, fast, reliable, shoots amazing video, and will never get updated because Verizon could not care less about anything other than crApple! I am sick of Verizon dragging their feet on the updates. Sure the Icon may get the new updates, but I'm not holding my breath any longer.

would be good that also remember that the countries where is the spanish spoken would be interesting having cortana enabled in spanish too, of anyway microsoft always forget the spanish spoken countries like Spain, Chile ,Mexico etc etc also why is needed have the GPS aka location on for use Cortana? would be good be usable even without turn on the GPS

CORTANA WHERE ART THOU!
MY WONDERFUL ASSISTANT OF RUMOURED LORE
MY HANDY MAID THAT NEVER SORES
MAKE THY PRESENCE KNOWN TO ME
SO THAT MY HEART GLADDENS

O Cortana my rumoured lore
Make thy presence known to me
Take away that feeling of sore
And be the Assistant you ought to be

Still waiting on update 1. Screw Verizon!!

Bluetooth profiles?? I wonder I they are finally releasing HID profiles!?

There's a lot of things they changed in WP8.1 which they shouldn't have, and I'm not talking about them dropping the big things, but it's the little stuff like rearranging certain lists or functions for no real good reason. I also think they should have a good look at battery consumption, because while idle time is good, when using the phone, it drains the battery fast. It really bothers me that they appear to have left battery life by the wayside, and push for better hardware, but happy to leave one day battery as 'good enough'.

But first when they will give the official cyan update for Lumia 525.

If this is true then there is another update after Lumia Denim, Looks like three updates to WP8 not two before Threshold - Cyan, Denim then Update 2?? October / November does sort of makes sense for PFD as we did get Update 1 early August. Plus the time scale sort of works out as it took about 2 to 3 months for Cyan to rolled out to almost all Lumia Phones. Then we have the roll out for the Lumia Denim which will may take the same time to roll out as well. Followed by another roll out for next firmware update / update 2.. so about another 4 to 6 months before all Lumia phones have been updated to the latest version, by then it would be March / April and given Threshold / windows 9 is supposed to launch spring 2015. We may see a major announcement at the next build event. Just hope we have more news for the users who are running on the HTC 8X / 8S and Atv S / SE soon as it really doesn't put either samsung or htc in a positive light at all. Plus having issues updating the 8x & 8s may hamper sales for the WP version of the M8.

Where's Cortana for India it's available in update 1 isn't it?

I was gona say... Yet another update and still no Cyan. Lol. L925. Come on TMO!

From file manager, there should be an option to direct edit the file such as picture or video.

Well, that escalated quickly. I haven't received Cyan yet :D

There's one thing for sure Cortana does put a drain on one's battery

Please Hungary! http://cortana.uservoice.com/forums/258148-languages/suggestions/5923844-hungarian-language-support

When will the official update 1 coming to Lumia? Somehow the PD still under Black.

The best keeps on getting better. Microsoft to give us Windows Phone 9. This will make me to forever stick to Windows Phone if its true

Rumors online, GDR2 support 2k display, what does it mean? Support on new device or existing device able to be upgrade to 2k such as Lumia 1520 and Lumia 930. Thanks.

Anybody knows anything about HTC 8S getting the GDRs like ever? Its getting freakin annoying now

Wi-Fi direct...awesome...plz bring ASAP this update

We better be getting WP 9. Had a feeling with the way the updates were released. But there will come a point where old phones will not be able to update to future windows phone updates. I will use thus phone for at least as long as I can.

Cortana is at school now, studying Gibrish

I hate to press the mic button to start speaking to cortana.. Hope the remove that mic so that we can start speaking as soon as we press search button... Makes work easy.

Long press the search button to converse with cortana.

Really looking forward to getting an update of onenote and office on WP with GDR2!

Hope they have Bluetooth keyboards

Can I have 8.1 first? Not the developer preview...

C'mon release the GDR2 as earlier as u can, PD users just got 2 straight updates from 8.1.1 and CYAN. Pls improve more on the typing method and sentence prediction and also selections for English and Chinese, we do really need MS to improve a lot on this cuz we're using the keyboard everyday every mins. Thanks.

Windows os will be d best os in recent future... Loving windows...

9/10 still no sign of this update:(

Still waiting for release of gdr2.

It's 15 Oct dude but haven't received fake news
Windows Central Newsletter
Get the best of Windows Central in in your inbox, every day!
Thank you for signing up to Windows Central. You will receive a verification email shortly.
There was a problem. Please refresh the page and try again.