Just in time for Halloween, Costume Quest 2 and How to Survive are now on Xbox One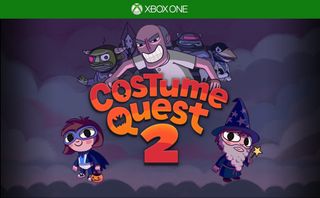 Costume Quest 2 and How to Survive: Storm Warning Edition are both now available for Xbox One. In Costume Quest 2 you once again you take on the role of either Wren or Reynold on a quest to collect candy and awesome costumes. However, Dr. Orel White is doing whatever it takes to banish Halloween forever.
Meanwhile, the much darker How to Survive: Storm Warning Edition throws you back on a zombie infested archipelago and forces you to not only survive the infestation but other natural disasters. Read on for Store links and our exclusive How to Survive gameplay video!
Costume Quest 2 is the sequel to the critically acclaimed role playing game Costume Quest. This time around the twins are trying to save Halloween from an evil dentist. Dr. Orel White has teamed up with the Time Wizard and they have released Grubbins into the human world. It Is up to you to travel through time to save Halloween. Costume Quest 2 features a newly improved battle system and a time travel based plotline.
So download now to get some trick or treating in early with Costume Quest 2.
How to Survive: Storm Warning Edition first released on the Xbox 360 last year, but this year's version brings it to Xbox One along with all of its DLC. In the game you are stranded on a zombie infested island trying to fulfill your basic needs such as food, water, and shelter. The problem is that there are constantly the threat of flesh eating zombies as well as natural disasters.
The game supports 2-player local and online co-op. Even with a friend, it's pretty challenging, even on easy! Luckily, it also offers a free trial. Download now and see how long you can survive.
How to Survive: Storm Warning Edition - 3 GB - $19.99 - Xbox One

(opens in new tab)
Windows Central Newsletter
Get the best of Windows Central in your inbox, every day!
Nice, downloading the demo of "How to survive"

By staying the heck away from zombies. They'll getcha!

Unless you are a zombie, in this case you can survive eating brains.

Yes!!! Been waiting for this! Too much to play at once now #1stworldproblems

You'd think most Windows Phone 8's and Surfaces could handle these games...someone needs ro help make sure they get there.

Costume Quest 2, yes please!

Can't wait ! If anyone has played the first one they know how cool this one will be !!!

Does Costume Quest 2 have local multiplayer? I don't know what it is, but I can never find local multiplayer info on the Xbox games website. Drives me nuts. How do I see if it has local co-op? Thanks.