A big Duke Nukem game announcement is coming on Sept. 2 [Update]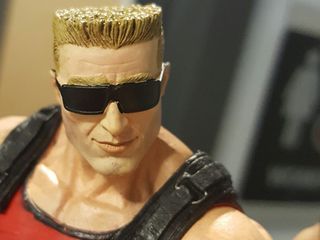 Update: A Reddit user claims that the game that will be announced next week will be called Nuke Dukem 3D: World Tour. The person claims the game will be both a remake and remix of the original Duke Nukem 3D, with both original and new content. As usual with this kind of unconfirmed report, take it with a grain of salt.
The official Duke Nukem website has been refreshed with a countdown clock that will expire on Sept. 2. It suggests that some kind of big game announcement centering on the action franchise will be made on that date.
In addition to the website, the official Duke Nukem Facebook page has been updated for the first time in over four years, and the big man now has official Twitter and Instagram accounts as well.
The Duke Nukem series, originated by 3D Realms, was highly popular in the early and mid-1990s. It started as a 2D side-scroller series, featuring the title character who was a parody of all those 1980s action movie heroes. It culminated in the release of Duke Nukem 3D in 1996, a first-person shooter that remains one of the best games ever made for that genre.
3D Realms then announced another FPS in the series, Duke Nukem Forever, but the game later became notorious for its many, many delays. In the end, the game finally was released in 2011, over a decade after it was first announced, and it was completed by Borderlands and Battleborn creators Gearbox Software. Gearbox later bought the full rights to the franchise, and its website shows that Duke Nukem's trademarks are owned by Gearbox Publishing.
So what will we get to see on Sept. 2? The speculation has already begun on the internet. with some people thinking it will be some kind of re-release, or perhaps a remake, of Duke Nukem 3D. Indeed, the site shows a "Happy 20th Anniversary" banner, even though the game itself celebrated its 20th birthday several months ago in January. Others believe that Gearbox plans to announce a collection of all of the Duke Nukem games. It's also possible we could get the reveal of an all new Duke Nukem game.
Gearbox is scheduled to hold a panel at the PAX West gaming event in Seattle on Sept. 2, around the time the countdown clock on the Duke Nukem site is set to reach zero. The panel description promises "never-before-seen reveals, exclusives, and surprises" so it seems likely that it will be the source of the big Duke Nukem reveal.
Get the Windows Central Newsletter
All the latest news, reviews, and guides for Windows and Xbox diehards.