Cozy – Nest client arrives for Windows 10 using universal app model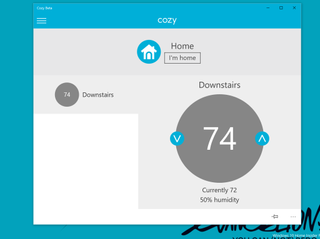 For those who use a Nest thermostat at home, it is hard to find an official client for your tablet, laptop or PC. Sure, you can still use the web, but you miss out on some unique Windows features. Luckily, Cozy is here to save the day.
Cozy – Nest Client has been an app for Windows Phone for some time now. In fact, we highly recommend it if you are on the go and want to monitor your thermostat while out and about. Now, the app is available for Windows 10 and leverages some of the cool features of the OS.
Cozy – Nest Client for Windows 10
Works with Nest Learning Thermostat and Nest Protect: Smoke + Carbon Monoxide
Pin individual thermostats as Live Tiles
Change temperature, HVAC mode, and fan timer on your thermostat
Set away mode on/off
Toast notifications for Nest Protect warnings and emergencies (Nest API does not support push notifications, so it is not instant)
Cortana integration to change the temperature or change away status
The app looks just great on my laptop and tablets and with the Live Tile, I can instantly see my home temperature and status. Need to cool things down? Quickly adjust the temperature within a jiffy without even having to launch a web browser and log in.
Cozy – Nest Client is free to use with ads although you can remove the ads for a one-time in-app purchase of 99 cents. I highly recommend you give it a go if you are running Windows 10 and own a Nest product!
Windows Central Newsletter
Get the best of Windows Central in in your inbox, every day!
Daniel Rubino is the Editor-in-chief of Windows Central, head reviewer, podcast co-host, and analyst. He has been covering Microsoft since 2007 when this site was called WMExperts (and later Windows Phone Central). His interests include Windows, laptops, next-gen computing, and for some reason, watches. Before all this tech stuff, he worked on a Ph.D. in linguistics, watched people sleep (for medical purposes!), and ran the projectors at movie theaters because it was fun.
Glad you like it! If you have any suggestions, just let me know!

Hey! any plans on including the Nest/Dropcam cameras? would honestly pay 9.99 for this...

The Nest API doesn't currently support the cameras. I'll get working on it as soon as it does though!

Blue Skies and now this excellent Nest app...
Looks like Rudy Huyn has competition!
Great to see that you are using official API's. This should ensure Google don't do their usual thing of blocking third party WP apps!

I'm running the beta. How is this any different?

Don't have the main app. :P:P

The beta and the store are currently at the same version so there shouldn't be any differences.

This is a superb app! Highly recommended. Shame they're isn't an official app but it's their loss. Good job!

Thanks! You should tell Nest that they should convert Cozy into an official app ;)

I think Nest won't create Windows app because it's Google/Alphabet things!

I wonder if there are any plans to allow push notifications for the Nest Protect? If my house is on fire, that kind of seems like something that should be taken care of ASAP.

I would really like to but unfortunatly Nest doesn't support that :/

I think they use SMS to deliver those, much more reliable.

Ah, ok, that would work. I'm going to pick one of these up for my mother in-law's house to keep an eye on things. She passed away last year, and my brother-in-law is barely ever home. A century old farm house with original woodwork should have more attention than it gets now, and this along with a Nest Cam could really be the way to go.

I know this isn't the best place for this, but what benefits does one get from a nest that they do not get out of a programmable digital thermostat? I'd like to hear from ppl who have a nest at home. What has it done for you?

I have an ecobee Smart Si, similar in that it is a "smart" thermostat. Benefits would be generally more intelligent algorithms that can include, depending on the brand/model: occupancy, weather, remote access, email/text alerts, but really the one that is key is learning. Ours learned our system + efficiency quickly (ie how long will take to move the temp when the outside is at x degrees) and to use that knowledge to peg the desired temp at the desired start time. So if I want it at 70 degrees at 7 am, it will kick on when it needs to, to accomplish that - could be 6 am or could be 6:50 am. The programming, past initial "get it on WiFi so I can go program it on something else" phase is generally a million times easier than programmable tstats, according to my official calculations. You can tinker away and get a perfectly customized setup (in this regard, I believe Nest is a bit different, but still similar), and of course overrides, vacations, tormenting the house sitter, they are all easier. Plus the WAF is sky high. So there's that. Con would be the price - but it's the age old "suffer once or suffer forever because you saved a few bucks" conundrum. I can't imagine having dealt with a programmable tstat for the last 18 months.

Nest is extremely simple and elegant. Plus the blue background for AC, orange for heat and black for off makes it easy to know what's going on with just a glance. Posted via the Windows Central App for Android

Can Cozy do an enhanced version of this app that asks for the what type of device they have first... add Ecobee to the mix, and any others.

@ RohitRajendran: Any chance you would develop for the Honeywell Lyric thermostat? I like their geofencing feature.

I'll take a look into it!

yes please that the thermastat i am really interested in, breat job on the app

Isn't next a google company? Am glad they have a Windows phone app

1) Yes it is (now). 2) This isn't official.

Love this app tried them all for wp this was the one I stuck with. This is a great addition to Windows.

Thanks for supporting the app! :)

I've been considering installing Nest thermostats for both my cooling and heating systems. Anyone know if you can control 2 different systems from this app? Also, what is the likelihood that Google will do something to block third-party apps for the Nest system? Are there are others around that depend on the third-party API such as systems that integrate with Nest and have their own app? I would hate to invest in it only to find I can't use it anymore.

Could you explain what you mean by 2 different systems? Do you mean 2 different thermostats? In that case, yes it does support it. It's not very likely that Google will block this app since I'm using an official API and they've given me permission for this app and have increased the usage limits.

My air conditioner and heater are independent of one another (old house). The air conditioner is electric and the heater is gas hot water boiler. There is a separate thermostat for each device. It's possible that I might just decide to replace one of them with a Nest thermostat but I wanted to see if it would be feasible to do both. It might also be possible to connect both systems to the same thermostat but I'm not sure and also it would require some rewiring so that they are at the same location. Thanks.

If they have seperate thermostats, it should be feasible to do both. If you haven't already done so, I would check to see if it would be compatibile: nest.com/support/thermostat/#works/?mode=guide

Okay, I greatly appreciate your help. The air conditioner thermostat is definitely compatible and the heater thermostat is most likely compatible but will need to confirm with them to be sure.

This app is great, so is the developer, Rohit. I highly recommend his weather app blue skies.

FU google, we don't need your apps

This very quickly became my go to app for my Nest, well done.

Universal App Model is great but apps ported using Project Islandwood and Astoria aren't universal apps.

Wrong. Ported apps will run on the bridges on all platforms, including the ability to leverage universal Windows features such as live tiles. You will even be able to run apps on Xbox, certainly for Islandwood: http://arstechnica.co.uk/information-technology/2015/08/microsoft-open-s...

Does Cozy work on Windows 10 phones? e.g. Lumia 950XL?
Windows Central Newsletter
Thank you for signing up to Windows Central. You will receive a verification email shortly.
There was a problem. Please refresh the page and try again.