Crossy Road update for Windows Phone adds lots of new characters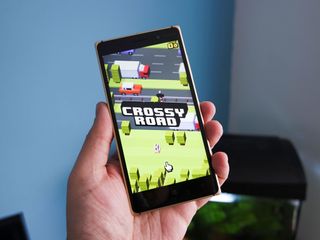 The popular arcade game Crossy Road from developer Hipster Whale has been updated for Windows Phone, adding some new content for the "endless Frogger" title. It includes adding 26 new characters, along with updates for its Pac-Man and Monument Valley-based content.
Unfortunately, the change log for the update doesn't go into any details of what 26 new characters have been added to Crossy Road, nor the specific updates for the Pac-Man and Monument Valley content. The new version number is 1.2.0.0. If you play the game and notice what the specific new content is, please let us know in the comments and we will update the post accordingly.
Thanks to everyone for the tips!
Bout time... Anyone still play? I was addicted at one time.

Only when I'm being challenged by someone in the house.

Uninstalled it Iong back. Now I play Tap Tap Dash

I play it to collect characters rather than to make higher scores. It's like a bunch of lego-stylized figurines.

Cant download it, 80070006 is back since the latest build. Thank you Microsoft.

Getting bored from this...

Never thought I'd love such a silly game.

I want to play as Master Chief and flip all the vehicles over

Great! Thanks for the update!

I'm trying to play it after drugs... It's impossible... All those pixels on my mind.... Like... James bond where is Minecraft for the matrix? Huh? Donuts donuts Mr cop. Or should I say Mr. Robot?!

Try monument valley when you are high. Don't know about drugs. But with weed...man so trippy!!! Lol

Thanks to this developer for actually caring about the platform.............its enabled for Continiuum on new Lumia 950/XL as well.

Android and ios platform got this update early(about of 2-3months delay for wp)...but its nice that we can use it on Continuum...

Even bring update, this game is not optimized.

Actually... in my case it is lagging in Pac man theme

The game is easier to play with keyboard. I score high on desktop and sync with the phone. Double win.

There's different types of cat, frog, chicken, sheep... And a few others too... Installed a week back... I have a feeling I'm gonna get bored of this soon.

On the one hand, they have an app on WP and have updated it. On the other, it's about three months after iOS and Android got their joint update. I guess I'll take the positive from it though, they could have ignored the platform altogether.
Windows Central Newsletter
Thank you for signing up to Windows Central. You will receive a verification email shortly.
There was a problem. Please refresh the page and try again.