Om Nom moves into the Windows Store with Cut the Rope 2 for Windows 8.1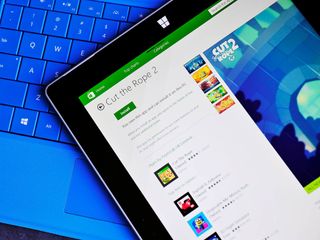 One day after Cut the Rope 2 made its Windows Phone debut, the fun sequel is available for Windows 8.1 making the game a universal app.
Now you can use your big Windows 8.1 touchscreen to control the hungry creature Om Nom as he keeps chopping down on ropes to help you solve physics-based problems and move through Cut the Rope 2's various levels. Here's a reminder of what's included in the sequel:
Cut the Rope 2
ALL NEW LOCATIONS TO EXPLORE! Travel through an interactive map to discover new locations filled with candy collecting, rope cutting action.
ALL NEW CHARACTERS TO MEET! Find 6 new characters, the Nommies, to help you on your unexpected journey.
ALL NEW HATS TO BRAG ABOUT! Customize Om Nom, choose your favorite candy and select your finger traces.
ALL NEW ADVENTURES FOR OM NOM! Experience completely new graphics, sound and gameplay elements, including the ability to move Om Nom.
ALL NEW MISSIONS! Collect the perfect number of stars and strategically gather fruit to complete the mission in each level.
By the way, Cut the Rope 2 syncs up its data on Facebook so you can keep track of your score and progress in-between play sessions
Via: Windowsphoneapps.es
Download Cut the Rope 2 from the Windows Store (opens in new tab) (Free)
Progress synchronization included?

See the part about Facebook.

Sorry. I was in the mobile web version of the site and did not read the entire article before to ask. Shame on me.

Every game needs this. If you want to play between devices, or need to reset/refresh your existing device, it sucks when you lose your progress and need to start over. I stopped playing Hill Climb Racing because I had to reset my phone and I lost all my progress...

Same with subway surfers...i stopped playing It. But Asphalt has game progress save option which is must needed for us

I stoped to play CTR 1 exactly because of that. I had to start the game at least three times and after that I gave up.

Which really is a shame knowing it could sync via onedrive. But well.. got 2 get the user information somehow if its for free already

My windows phone store is lagging to install some apps. First was an update of Candy Crush and now, since yesterday I'm trying to install CTR2

Loaded on the phone yesterday and tablet today. Hope they continue to move forward with Windows again.

Hope so too. And hope Sorcery, or indeed all three Sorcery games make it to wp.

Now imagine this game for Xbox One with Kinect support. Would be amazing. I am a huge On Nom fan! :D

I'd buy that. You never know with Windows 10... it could happen. I'd pay for a universal version than ran across devices for sure

This would be fun with the connect.

Not compatible with ARM :(

No Xbox :( I'll download because I really like this game but, very disapointed...

So Cut the Rope is still a thing? Hmph.

Is line rider still a thing

And another stupid comment when a good app becomes available. wtf is wrong with you. Daniel - please delete my account so I'm not tempted anymore to reply to the numerous idiots infesting this site.

Looks like happy wars xb1 went gold today guessing they fixed syncing back & fourth between 360 & 1

I'm not being able to download the phone version for some reason. The download bar comes up but never gets anywhere.

yeah, many people get that problem too, pending.....

How do I get the game to sync the progress? It's not syncing...


Aw Damn! Can't install it on my RT Tablet. :(

I hope that's coming soon. Some games have launched with no RT support and gained it later. I would like to see that be the case here.

If I have to chose between Wp and W8.1,which one should I choose?
Any difference between phone and tablet?

I'm guessing you're talking about buying a new device? I would go with a tablet, as much as I love Windows Phones you have more versatility on a tablet for doing things like Office, web browsing, the apps are mostly the same. But next phone you get for sure go WP!

Not downloads on my Lumia 630 always on pending.

Not able to install the game on my phone.
Downloading it from the PC and installing it on the phone also doesn't work!

Crap! Once u run out of energy u hv to wait for 5 mins for 1 energy which lasts only one game! Similar to candy crush , game is not free afterall!!

Pending....doesn't install... This wp bug is really very irritating

the same here, pending for over a week

Doesn't work in the netherlands

It does work in the Netherlands. On phone and tablet.

Neither in Romania. 25% progress download and stops. Buggy

I hope ARM support is coming!!!

Here it doesn't sync between my devices.
I installed and played it already on my phone (with facebook account connected).
But on my computer i am still at the first level even when connected to FB.

Not able to install (Lumia 1020,8.1)
Windows Central Newsletter
Thank you for signing up to Windows Central. You will receive a verification email shortly.
There was a problem. Please refresh the page and try again.