Solve a mystery in D4 or save sheep from doom in Flockers, both now available on Xbox One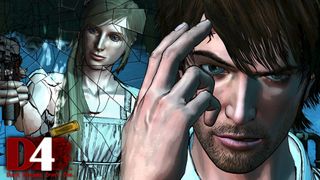 Yesterday we brought you some unique insights into Xbox console games with new previews of Evil Within and Alien: Isolation for Xbox One and 360, FIFA 15 EA Access impressions, and an exclusive interview with the makers of TMNT: Danger of the Ooze. Now today is shaping up to be a day of not just reading about new games, but playing them…
Two new downloadable games have just launched on Xbox One! D4: Dark Dreams Don't Die from Access Games and Microsoft is now available for $14.99, and supports play with either the Kinect or a controller. Team17, maker of Worms Battlegrounds, has just published the lighthearted puzzle game Flockers for $24.99, or $18.49 for Xbox Live Gold members. Read on for links and impressions, plus a list of next week's releases!
D4: Dark Dreams Don't Die
First announced at E3 last year, D4 is the latest game from Deadly Premonition helmer Hidetaka Suehiro (aka Swery). D4 stars a private investigator whose wife was brutally murdered. The protagonist has the unusual ability to travel back in time, which he does in order to investigate his wife's murder. Even though he can visit the past, he can't change it. But of course he'll try to find a way to save his beloved anyway.
D4 is an story-heavy adventure game somewhat reminiscent of Heavy Rain on Playstation 3. But this one features all kinds of weird touches such as the protagonist's roommate, Amanda. She wears cat ears all the time and eats her food from a cat bowl. The game has a very distinct sense of humor. Side objectives like eating as many different kinds of food as you can add some levity to the otherwise serious murder mystery.
Most uniquely, D4 can be played with either the Kinect or a controller. Using the Kinect, you'll interact with objects in the environment using naturalistic hand gestures such as grabbing, pulling, and rotating. You can also answer the NPC's questions with actual voice responses (from the three answers displayed on-screen). Alternately, the game works just fine with a controller as well. There are a few issues with the game switching to Kinect without being told to do so, but we'll detail those in our upcoming review.
D4 is described as the first season of an overall game, with two episodes included in this download. More episodes will follow in the months to come. Give the game a try and let us know your impressions!
Flockers
For the last ten years, all of Team17's games have been either sequels or remakes to past hits like Worms. Flockers marks the first new IP to come from the studio in all that time, although technically it's a spin-off of the Worms series. This one is a puzzle game with 60 levels to test players' wits.
The goal in Flockers is to safely herd a group of mindless sheep to each level's exit. You'll need to instill certain sheep with abilities like building walls or staircases in order to help the endlessly advancing profession avoid amusingly grim deaths (gore can be turned off in the options menu). If that sounds like the classic game Lemmings, it is! Sony owns the Lemmings property so we'll never have a true Lemmings on Xbox, but Team17 has given us the next best thing.
One interesting aspect of Flockers is its pricing scheme. Non-Gold members will pay $24.99 for the game, the same price as Worms Battlegrounds. Yes, those are basically PC prices, a little higher than console gamers are used to for downloadable titles. But Gold members can get the game for a 25 percent discount, making it only $18.49. If more games provide discounts like that, Xbox One users will have yet another strong incentive to subscribe to Xbox Live Gold.
Flockers – Xbox One – 6 GB – $24.99/$18.49 – Xbox.com Link

(opens in new tab)
Next week on Xbox One
Plenty more Xbox One games are in store for next week:
Defense Grid 2 – September 23
Disney Infinity: Marvel Superheroes (retail) – September 23
CastleStorm: Definitive Edition – September 24
Kickbeat Special Edition – September 26
Also, we'll be Twitch streaming an early look at Forza Horizon 2 for Xbox One on Monday, September 22. Check our site that day for the official streaming time!
Windows Central Newsletter
Get the best of Windows Central in in your inbox, every day!
Paul Acevedo is the Games Editor at Windows Central. A lifelong gamer, he has written about videogames for over 15 years and reviewed over 350 games for our site. Follow him on Twitter @PaulRAcevedo. Don't hate. Appreciate!
Had an awesome time with D4 yesterday, its definitely something else, but its GOOD!.

These arcade games are becoming too much on Xbox One....I mean c'mon, make use of the power of Xbox One. Getting bored with the X1 console now. 360 still rocks IMO....I mean we didn't come to next gen to play arcade games...smfh

D4 utilizes the Xbox One-only peripheral, the Kinect 2. That's not enough use of the power of Xbox One? Sounds innovative to me. But, are they any good? That's the question. To the OP, how are the Kinect controls?

The game probably would have worked just fine on the 360 with the original Kinect.

Exactly what I mean bro. 80% of Xbox One games are ARCADISH. Too childish with easy 1000G completions...people are just buying and playing them to boost their gamerscores. How can you call yourself gamers with a high gamerscore full of easy 1000G arcadish games? C'mon guys just be realistic and reply.

How can you call yourself a gamer when you apparently only play AAA titles? There is more to the world than big-budget games. What the hell does it matter how big or massive a game is? Fun is fun. Please don't assume all of us are downloading Arcade games for easy gamerscore, that is asinine.

The Kinect 2 is much more accurate than the Kinect 1. I'm sure they could've gotten it to work on Kinect 1, but I've no doubt the experience is much better using Kinec 2. I really wish Microsoft would start pushing Kinect more. I don't blame them--although I was very disappointed--for unbundling it from Xbox One, but I do blame them for pretending it doesn't exist since then, especially as they release great new Kinect games this month (Dance Central Spotlight, D4) and in the coming months (Fru, Fantasia, Just Dance 2015, Shape Up, Fruit Ninja Kinect 2). They panicked a bit too far when they should've just realized they were marketing it in the wrong places.

When I see people complaining about too many choices, too many games to choose from, I feel like I might have lived a bit too long. Then again, these aren't arcade games, they are simply downloadable games, and no one can judge their merit without having played them or at minimum read a few reviews.

There are plenty of AAA games coming out.... Not sure how its possible to be bored this Fall with all of the great games coming out, big and small.

You just have to have really narrow taste and unwilling to give new kinds of games a chance.

Save a sheep? We can actually convert iPhone users!? /just kidding, just had to. :)
Hope all WP users have a great weekend.

Even though $25 does seem kind of steep for a puzzle game, perhaps it's an experiment in offering the discount for gold members on games.

Isn't wpcentral becoming more about Xbox and PC then WP. I know there's nothing new and exciting in WP but I think its a bit too much already about Xbox. But that's me so no offense.

There is a lot more news coming out of the Xbox front lately than Windows Phone. I'd rather them post Xbox news than to try and fill in space with fluff articles about Windows Phone in lieu of actual news

Is this your first visit to WPcentral sinc 2013? This has been addressed months and months ago, many times. Most readers prefer Xbox, Windows, and WP news. If you don't like a topic, don't click the article just to complain, por favor.

No Te moleste, I read that article I believe it was on Jan. But there's so many things WPcentral can do like compare phones Moto g 2014 vs whatever cheap phone WP iPhone 6 vs icon or 1520, i know they can do it but never do, i know there's pocketnow but they don't cover all WP.

I'll never write stuff like that because all I care about is games. Me writing stories about games doesn't take other people away from comparing phones and stuff.

I know all of you guys have a part in wpcentral, apps, games, devices, rumors, movies, etc. And I normally read every article and I don't mind what it is, I just wanted to say something didn't want offend anyone it was just on my mind.

For the Indians who don't know about Doom they all gonna think first that the respective WPC editor made a mistake while typing Dhoom.

fckn aye i wanted to pick up that sheep game but $25 is way to high for a puzzle game... but i will pick up D4 soon cuz this game looks fun

What you should do is go snag 1-month of Xbox Live Gold, or a free trial of it, then you can pick that $25 game up for $18 and you can download the excellent Super Time Force and the adequate Crimson Dragon for free. That's what I'd do. You should still buy D4, too, of course.

Good advice, Coip! We missed you yesterday - feel free to stop by the stories linked at the top of this one and leave some comments. :-)

its not that i need gold im set with 2 years right now, and im aware that its 18 right now but i feel its to much for a simple puzzle game... D4 is on my 2 buy list with Forza Horizon 2

The sheep one looks uninteresting, but D4 looks cool. But I won't be getting it anytime soon, Destiny is still completely occupying me.

More like Microsoft Central........

More like a comment from 2013. This is old news, hombre. Get on board.

I have a PS4 but this is the type of game I like. I love SWERY!

D4 is getting rave reviews.

It's great. The Kinect controls are superb.

I can't wait to try this game out!!!! Looks really cool.

Omg $25 for flocker. Ahhhh, nope

Having played Deadly Premonition, I only expect great things from Swery, right Zach?

So flockers is just a knock off of lemmings? Sucks Sony owns the IP and we have to get a knock off

The bright side is that someone is making Lemmings style games again. Not that I wouldn't love the real thing, but Flockers is still good for the portfolio.
Windows Central Newsletter
Thank you for signing up to Windows Central. You will receive a verification email shortly.
There was a problem. Please refresh the page and try again.