Daily Deals — Mirror's Edge just $5 with Xbox backwards compatibility, Dragon Age Inquisition discounted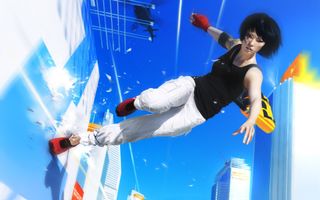 Both Dragon Age Inquisition and Mirror's Edge are currently discounted as part of this week's Xbox Deals with Gold and EA's publisher sale.
Dragon Age Inquisition's Game of the Year Edition received 60% off on Xbox One. The GOTY Edition includes all of Dragon Age Inquisition's DLC, potentially resulting in over one hundred hours of tactical RPG gameplay.
First-person platformer, Mirror's Edge is available for both Xbox 360 and Xbox One via backwards compatibility. On both Xbox and PC, the game is currently available for under $5, making it an awesome deal for people who want to catch up with the series ahead of Mirror's Edge Catalyst, which launches on May 24th, 2016.
Both titles also feature in EA's publisher sale on Windows PC via EA's Origin client.
The Xbox discounts are available for today only (Feb 6th, 2016), but the PC deals will run through until Feb 9th, 2016.
As mentioned, EA are running an impressive publisher-wide sale at the moment, which features deep discounts for titles like Star Wars Battlefront, FIFA and much more on both Xbox and Windows. Head over to here for the full list of EA games currently discounted, and over here to see all of this week's Xbox Deals with Gold.
Jez Corden is a Senior Editor for Windows Central, focusing primarily on all things Xbox and gaming. Jez is known for breaking exclusive news and analysis as relates to the Microsoft ecosystem while being powered by caffeine. Follow on Twitter @JezCorden and listen to his Xbox Two podcast, all about, you guessed it, Xbox!
Is it just Xbox live discount cuz I don't have that right now

There's a discount for non-Gold subs too.

Remember, Inquisition is in EA Access' Vault, though not with the DLC.

Aye, goty will give you all the dlc at least.

Is there discount for non-gold ???

So no sale on Mirrors Edge for Phone? Boo... Also I just bought Mirrors Edge for $10 last week at GameStop, wish I had waited.

Just think of it as paying for the marginal utility of another week of ownership a d getting to play it faster.

Take it back. I think they give you a week.

Mirror's Edge on WP is well worth the price. It's one of the best mobile games I've ever played.

Mirrors Edge for five bucks with backwards compatibility! I couldn't pass that up!

5$ would be 4,47€, but here in germany you have to pay 6,59€ (which is 7,37$, even with gold). Why the difference? (bought it anyway)

All these game deals recently. Well Origins on PC side last night was giving Need for Speed most wanted for free. May still be there.

Its actually cheaper to upgrade to GOTY than to purchase the DLC

Just bought Mirror's Edge from Origin for £1.90. Absolute bargain.

To each his own. Mirrors Edge has an awesome gameplay and story. Once you get a hang of the parkour movements fighting becomes so fluid, it just pulls you even more in the game. You can run, fight shoot (though you fell like a slug holding a gun after running for five mins). I've never finished it but play it every now and then (albeit on my PS3). Definitely getting Catalyst for PC when it drops.

Dragon Age must suck if its being discounted this much. How is it? I really wanna play it.

It's really buggy for me, to the point of causing me to stop playing altogether.

Yeah... this one tempts me every time it goes on sale. This is by far the cheapest yet... I may just bite this time. My problem is I'm sure the investment in hours is more than I can give it. Same with Witcher 3.

Title says: "Daily Deals — Mirror's Edge just $5 with Xbox backwards compatibility"
Article then says: "Mirror's Edge (Windows PC) - 50% off"
​And the site says: "Standard Edition – PC Download"
Xbox site says 14:99
Am I missing something? because it doesn't seem to be available for xbox :| for 5$

Derp derp derp "Mirror's Edge - (Xbox 360 / Xbox One) - 60% off" I think I missed the deal and that's why it was shown at full price.

This games are wonderful you must get them. And especially dragon age inq. is worth to every $you spend. Such a beautiful long and enjoyable game with a good story.
Windows Central Newsletter
Get the best of Windows Central in in your inbox, every day!
Thank you for signing up to Windows Central. You will receive a verification email shortly.
There was a problem. Please refresh the page and try again.