Check out these $2175 diamond-encrusted Lumia 950 covers from Damiani
Microsoft has teamed up with Italian jewellery company Damiani to create some truly premium Lumia 950 covers.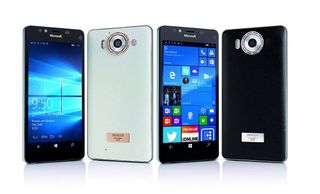 The jewelled leather covers come in white and black and reminisce of Mozo Accessories' covers, adding gold rings and ten brilliant cut diamonds for good measure. Each case also comes with a numbered gold plate to show off the fact only 99 will exist.
The limited edition covers will set fashion-conscious purchasers back a whopping €1,950 EUR, which is around $2175 USD and £1500 GBP by current exchange rates. For now, the covers are only available to purchase in Italy via Damiani's boutiques in Rome and Milan.
Carlo Purassanta, chief executive officer of Microsoft Italy, remarked that the designs were a celebration of Damiani's jewellery and Microsoft's technology:
Damiani's Giorgio Damiani offered similar praise, describing the diamond encrusted Lumia 950 as a 'jewel for life':
The Damiani Lumia 950 will also ship with special packaging, and some early owners have been showing off the cover on Instagram:
(via chiaramizzi)
(via steinerboy)
Italy and Europe have proven to be mainstays of Windows Phone user ship, but I think even the biggest Lumia fans among us might think twice at that price tag. Would you consider picking up one of these covers? Let us know in the comments.
Source: WWD
Windows Central Newsletter
Get the best of Windows Central in in your inbox, every day!
Jez Corden a Managing Editor at Windows Central, focusing primarily on all things Xbox and gaming. Jez is known for breaking exclusive news and analysis as relates to the Microsoft ecosystem while being powered by caffeine. Follow on Twitter @JezCorden and listen to his Xbox Two podcast, all about, you guessed it, Xbox!
Ohh so is it like it will sparkle when u take a perfect snap ☺

You know, this is nothing more than a blinged mozo case? We all see that, right? I have a red mozo on my 950 and the speaker holes, heck everything appears as a mozo case.

why come to a Microsoft site to put down their stuff. Please checkout the good sites that give YOUR smart phone the glory and buy goodies for it

It needs less diamonds. If one of those comes loose and roams around your pocket with your phone, say goodbye to your screen.

Yeah, I wrote a forum question about this yesterday. No one replied. I felt so popular...

You sound like chu need a hug... *hugs*

Your username.... So, is your profile picture real?

I assure you, you know me well.

Ok Windows Central put your money where your mouth is and order a case so we can see a video review! ;)

Lollllllllllllllllllllllllllllllllllllllllllllll!!!!!

And then have a give away.

Lol, DWL! I'D prefer two surface books

Who is not watching the game?

Football is the worst, and most boring sport I ever seen. I'm surprised so many ppl watch it.

+830. I hate watching and playing American football. I don't like sports in general. Although Soccer is fun to play.

From your name you are likely playing video games only

Soccer totally f'g boring. No comparison to the NFL..

I personally don't like huge sports like football but I'm a fan of hype and that's what allows me to watch any (e)sport.

Football is great sport. This murican handball not so.

Is it handball or handegg?

You mean american football right? Football is actually quite exciting.

I only cared about Coldplay's performance. It was awesome, btw!!

I much preferred the Brazzers half time show (yeah, they really did that.)

I watch Canadian football,I find American football to be slower paced overall. Three downs vs four makes a huge diff in gameplay. More pressure to make more yards in less time results in riskier moves. I find NFL is SO much about running the ball than throwing than I'm used to.

I was, damn good game!...Only game that I cannot watch is soccer, yeah it's soccer, not football, find it really boring

Lol what? The game where you use your hands is football and the one you use your feet is not? Lol

I know. It's us weird Americans naming things weird. :).

In Australia we call soccer soccer and football football too

It's called football because it's length is 1 foot, therefore football, don't see anything wrong with that

@aimulaidni, lol no. You guys need to brush up on your history.

Most boring sport in the world. The only sport from the "continent" I follow is cycling..

But wait... Football was created way before American Football, so how can the first to come be named different, that's stupid. America is the only country in the world who calls it soccer, also original Football is the most popular sport in the world, richest and biggest. American football can't compare, not even in salary or popularity.

Um actually, we used to refer to it in some areas of England as soccer. It is a shortening of association football which is to differentiate it from rugby football or the many other variants of the general game of football. To us it became the only 'Football', as rugby football is known just as rugby. It's soccer in America simply because of the time that they split from us. Same as many things we consider Americans say or spell wrong. They were once correct in England but over the years we've changed. Not interesting but true.

In Australia it's soccer and what Americans call football we do too

Apparently foreigners who don't understand NFL football..

Isn't American football touch rugby? Wearing padded brad's or something

The entire World outside the US.

Nobody will ever but these. Only iPhone users would buy diamond encrusted cases for themselves. At least they only made 99.

IPhone users would pay the same amount for a cubic zirconium encrusted case.

IPhone people would say they had it first...

What rich person is going to buy a 950?

I can see the huge Chinese market lol

And that's why you'll never be;)

Me, actually this one with the diamonds. Why u ask?

Talk about a niche market.

Exactly my thought! If it was made for the iPhone 6 or Galaxy S6, but the Lumia 950? Not even all of the Windows fans are buying the device, let alone these insanely expensive cases!! This is a no brainer.

Satya Nadella and his high profile team members will buy to hide in the community that they use cheap windows phone...lol...one of my friends went from 640 to 950 and other friend thought it was same device ...lol...I love my Lumia 640 and got another $20 android device for some apps...!

Need cheap android device for grindr

Aside from the one made for the ad I will bet that zero will be sold.

They already sold some....

Why would they care? They got some free marketing around the world for their brand. If they do not sell they can throw away the 5$ plastics and reuse the other materials...

Phone thieves would be happy to steal this Lumia 950!! Well they'll probably take the case off and only take the case while leaving the phone with its owner.

Hahaha. Yeah, you're funny.... Nope, don't feel to good. You're not! I was just making fun of you.

You're completely wrong. They would take off the case and toss it out thinking it's one of those teenage sparkling cases you see in the mall.

Haha......very funny....hilarious

+1 I was thinking the samw thing XD

Premium enough for you now?

No.... Still doesn't have my banking apps, and the V&H app I need.

Then better switch banks. Like I did. In the end they made an app under pressure. Even if only a few thousand are complaining this is a lot for a call center.

So banking apps are premium now? LOL If you are rich you do not need a banking app. You don't even care about your bank account :P

I bet if you pull off that gold number plate it says Mozo underneath...

Sht, if that's the case (pun intended) it won't ship for a month or two.

Even I felt so. Leather, fitting and design screams MOZO :) Damiani for Mozo for Microsoft

Now people will come to windows phone from iphone, because lumia 950 with this cover costs 3000 dollars, and as i know Apple customers really like big prices. There are millions of people who are buying IPhones just for price to show others - Hey I've got iPhone , I'm cool now because it costs more than any other phone

The iPhone has way more expensive covers than these

Well, people in movies business can put these cover on and show off at the Oscar's!

Famous people love their Instagram and Snapchat accounts. They will never own a Windows Phone...

Without a really full package Instagram and no Snapchat and even no official Twitter I doubt that. Posted via the Windows Central App for Android on my Lumia 950 XL

No official Twitter??? Whatcha talking about?

Really? No official twitter app, huh? What's this? http://www.windowscentral.com/best-twitter-apps-windows-10-pc-mobile Posted via the Windows Central App for Android

Now the iPhone is not the "premiumest" phone in the market...

How about a contest Daniel!

I just want my OEM covers, but that's never gonna happen

For what is in that cover it's not even close to being with that much, those diamonds are tiny.

At press conference: Jez Corden: "is this a joke?" Georgio Damiani: "no, this is not a joke. we feel windows phone owners will appreciate and purchase this rare and beautiful phone case to go with an excellent windows phone. next question." Daniel Rubino: "seriously, is this a joke?" Georgio Damiani: "no this is not a joke, and no more questions about if this is a joke." WMPU reporters: (dropping hands) "awww." Yes, I ripped off an old Simpsons episode.

April fools is here early. I think....

Qi? NFC? I personally don't like the design/arrangement. I would be willing to pay that for one that is more of my taste

Has to be one of the stupidest thing I've ever seen!

So, they're making enough that every 950 owner can buy one? That doesn't sound that exclusive to me.

What were msft thinking...lol

Rich people make trends. That's what MS is thinking.

Throw in the phone and I may consider it.

I know some folks love their 950s and I'm not opposed to having one myself; but, by comparison, buying a case at that price point is putting lipstick on a pig.

Ikr? Phones only last 3-4 years anyway.

White case looks good...if I had money then could have bought it for my girl!

That kind of money? Hell, I'd just buy a girl.

in some countries, you could buy many girls for $2175 USD

He'd probably sell you his...

If you got it, flaunt it...

Even if I became a millionaire, I wouldn't spend so much on a phone's cover. LOL

*drops phone* FUUUUVCK MY CASE

Instead of trying to actually sell or market the device, Microsoft comes up with this?! The device alone won't sell and they think this case, at THIS price, will help?? This is ludicrous and insulting! Microsoft should focus on selling these devices first.

I'm sure they have more than one team

Didn't you hear....every single person on every single team in Microsoft is a resource taken away from the team building Windows 10 Mobile ;) This is true....In the WC comments section at least

They honestly look terrible.

Right! Look at the close up of the diamonds in that hideous ring. As if the washer glued to the 950 wasn't bad enough...let's bling it!

Well honestly, you guys aren't their target market. There are people who don't care much about their phone brand as long as it does their basic functions. And there are probably at least 99 rich people in the world who buy this. And NOT because they love the 950, they will buy the 950 because they love the cover. I deal with high end sales and the psychology is nothing like us common folk think.

Yeah, but they still need their apps....

Don't bring common sense into this.

Exactly. We wouldn't have luxury cars if it weren't for us. (humans) A Honda fit and a Maserati drive you from point A to point B. Just cost differences.

This reminds me of the Porsche designed BlackBerry options

People going to buy this cover??? That too for cheap Lumia 950??? Cheap in sense of worst OS.. Diamond cover to Lumia 950 is like putting copper inside a diamond or gold safety box .... Lol..

Worst OS? Tell us how you really feel! Lol let me guess...you don't use or no longer use Windows Phone/Mobile?

Whoever wants bank apps, go to their URL, they have better security ssl site with html 5 mobile version that allows you to access your account fully.

Bill Gates, Satya Nadella, or Steve Ballmer can buy one anytime he wants! It's the best phone they ask to make so do you disagree?

That ring around the camera is incredibly cheesy Posted via the Windows Central App for Android on my Lumia 950 XL

Man I have a hard time paying $50 for a case, so probably not

I would rather have a titanium back that way I can kill droids and cut fruits

It could use some more cowbell though

Who says iPhone alone gets the bling

Ehm the person owning the 2.3 million iphone xd.

looks ugly af.
i wouldn't buy it even if it was on sale for $10.
the camera rim thing is weird. and as if that was not enough, they had to add an even weirder looking number plate. i mean, designing something that pops out of the mainstream is great. but this literally screams for attention while looking crappy.
even stock phone covers look better than this.

Will it get firmware updates? The case

Wait for the Goldstone build

Damiani?? Is that damian dark's spouse??? :P

And I'm just sitting here waiting to see what Polycarbonate color cases Mozo will release for the 950 XL [/Spiderman@Desk]

the cover is more expensive than the phone..

Kidney 1 and kidney 2 get ready!!

You might have to throw in half your liver too.

I want to use it in my windows phone 521

Good but we need Windows 10 on mobile first without bugs, then fancy dress to wear on it

I would love a simple magnesium-esque backing case for the 950XL. With the same sharp edges on a Surface Pro. I'm sure magnesium wouldn't be an option without some sort of plastic to generate antennae signal from but it would be really nice looking!

You'd be stupid NOT to buy one. Seems like a solid investment.

Wow, Microsoft really knows what W10m needs to make it better. Not more apps, not a real concept or design language, no bug free and fluid experience... Diamonds :D Posted via the Windows Central App for Android

What? No contest for winning one of these?? XD

10 diamonds doesn't really qualify as "encrusted".

Why the 950 and not the XL?

Because it doesn't have the ugly rim around the camera.

No snap chat Nooo Microsoft phone..sorry

**** snapchat. Windows platform is for grownups.

I'm still not seeing real premium product

Tacky sh*te. The uber rich will love it, to go with their tacky cars and chinchilla fur coats

Focus on 950xl , this is just waist

you do know the difference between 'waist' and 'waste', right?

For the 0.001% of the 1% ;) ?

Looks pretty ugly for the price lol

This is tacky on a whole new other level. They finally beat Apple on something in mobile. Yuck.
That said, no one in their right mind would buy such ugly cases for such a **** of a phone. Fortunately for the jeweller, there are still some utterly insane people in the World.

Diamond encrusted. I thought it was pave diamonds all over the back - this case is Accessorized, not Encrusted.

,Α ρε Φλωρινιώτη τι κινητό θα πάρεις...

Cheeseball glue on plaque and what looks like a rejected aluminum hard drive platter spacer ring with some diamonds glued in. Oh hold me back... They didn't even bother to inset the stuff, just slapped it right on top of the Mozo.

In all honesty....Do we think the full batch of 99 will actually sell? (I own a 950, but I won't be buying one of these - Not just hating on the number of handset units sold)

I like how the craftsmenship on these isn't even good: http://i.imgur.com/73l40mi.jpg look at all the dings and bents in the metal ring

That's what I said. I started to wonder if I had a bad render.

So the lumia is going the iphone way?

It's kinda sad to see that there are so many choices cases for lumia950xl but none for my 640xl. I really liked the leather back cover though.

I just happy someone cared enough.

Thats one expensive IAP for gems
Windows Central Newsletter
Thank you for signing up to Windows Central. You will receive a verification email shortly.
There was a problem. Please refresh the page and try again.