Dangerous Golf blows up all the things on June 3 for Xbox One and PC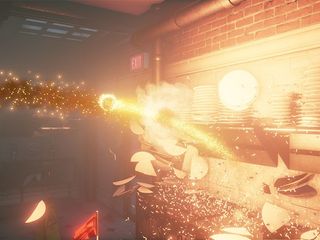 Developer Three Fields Entertainment, formed by some of the creators of the Burnout series, have announced its first game. The arcade-style Dangerous Golf will be released as a digital download June 3 on Xbox One, PC and PlayStation 4 platforms.
Image 1 of 2
Dangerous Golf basically takes the gameplay in Burnout's Crash mode and puts it in an arcade golf game, where the object is to hit golf balls and do as much damage as possible to get higher point scores. The trailers above offer a glimpse of what that means. Here's a look at the locations for each "course":
USA – Kitchen – Make a huge mess. Splat food onto the walls and floor, break microwave ovens and dishwashers. Break open the Store Room, access the Back Alley and trash the Bathroom.
England – Castle – Cause chaos. Knock down the suits of armour, spill paint onto works of art and smash priceless antiques. Explore the Dungeon, Armoury, Queens Corridor and redecorate the Great Hall.
France – Palace – Let them eat cake – but only after you've knocked it all to the floor. Break bottles, vases, tables, grand pianos and grandfather clocks. Drop down to the Wine Cellar, make a noise in the Library or break into the Secret Vault.
Australia – Disturb the peace and serenity of the Outback. Set fire to the gas pumps, break all the windows and run riot in the store. Tee off on the Forecourt, make work for somebody in the Workshop, spray paint in the Paint Shop, rock the Rooftop and light up the Alleyway.
The game has a number of different modes, including offline and online Party Modes for up to eight players and a World Tour, where one or two players can unlock up to 100 different holes. Three Fields Entertainment have already revealed they plan to launch some kind of racing game if Dangerous Golf is a sales success.