The dashboard has been tweaked on the Xbox One Preview, performance fixes coming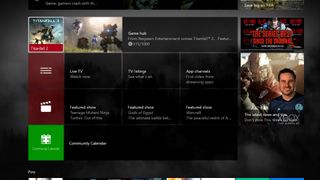 A very small (possibly the smallest) patch of this preview wave will be heading out shortly for Xbox Preview members.
This update is bringing performance fixes for the home dashboard, which received some visual tweaks in yesterday's update.
Yesterday's build segmented the recent apps list to highlight each app's unique functions. Games now highlight their respective Game Hubs, as well as their achievement score. There's quite a bit of empty space, but the game art makes the recent list look a bit more vibrant, almost resembling a populated Start Menu on Windows 10.
The details of this evening's upcoming patch are as follows (via Xbox (opens in new tab)):
DETAILS
OS version released: rs1_xbox_rel_1610.161105-1400
Available: 6:00PM PDT 11/6 (2:00AM GMT 7/11)
FIXES:
Home
Performance fixes when navigating Home.
Hopefully, this update wave will hit public consoles sooner rather than later, bringing Looking For Group, Clubs, Arena, and much more to the community.
Jez Corden is the Managing Editor for Windows Central, focusing primarily on all things Xbox and gaming. Jez is known for breaking exclusive news and analysis as relates to the Microsoft ecosystem while being powered by caffeine. Follow on Twitter @JezCorden and listen to his Xbox Two podcast, all about, you guessed it, Xbox!
When was the last update for non preview members? Are they no longer doing once a month Xbox One updates?

My question exactly. When will all this be public?

Let's see if we get a helpful response this Sunday evening.

They ditched the monthly updates quite a while back, the new features in this one are pretty complex, guess they're working on polish.

Do note, there are problems with each build - so it is not ready for public consumption.

I rather not have a buggy build on my xbox than no update at all.. but he does have a point, I haven't seen an update in ages... Maybe the next non-preview update will arrive with the 3rd generation *cough*band3*cough* of the wearable... Spring 2017?

I certainly agree. Games crash enough on their own, don't want the damn Xbox causing them too!

I got this update a few hours ago. And so far it's not buggy at all. As of late their preview builds have been far more stable. I joined the preview program early on and it was quite an issue. At some point I was thinking of quiting but these days it's pretty stable for the most part. And this update is pretty good from what ive used of it so far.

I am talking about games that people purchased are not working.

Join the preview program. I've received something like 3 updates in the last week. If you don't like it you can always choose to leave the program.

I would love to join the program too but it seems complicated to do so x_x

You can't just "join" it like you can the Windows Insider program. You have to receive an invitation.

Even if you get an invitation, the Preview program isn't accepting new members at this time. The reason is because the preview program will roll into the Insider program once this update goes live. Then you'll be able to enroll your xbox one just like you do with a PC / Mobile / HoloLens today.

Looks confusing as hell. What are those white icons supposed to mean?

When you put the cursor on them, it tells you, like Titanfall 2.

Top one's Titanfall 2, as you could probably tell, next one down is OneGuide (looks like a TV listing menu), then it's Movies/Film & TV (hence the director's board). But yeah, when you hover over them the name appears.

Netflix fixed on this build? I know its not just me

Watching Netflix right now.

But were u having the issue before where certain profiles crash the app, and the interface would glitch and you cant see anything properly?

Nope. It's still screwed.

They still have an issue where scrolling a large collection of games grouped by letters (with the letters headers) regularly makes the focus dissapear and the d-pad would then pan the container instead of change the selected game.
​This means no game can be selected until you force to close the games & apps app and start it again to give it another try. This is quite unacceptable in my book, a game console that fails to let you select and launch a game without micro-managing the shell processes definitely isn't ready for consumers. And yeah, I've been reporting this issue through the feedback system every single build since months. The only "fix" they did was remove the issue from the known issues list several months ago... but without ever fixing it!

Finally fixed the going home lag?

Not sure if it means that unfortunately. Sounds like performance improvements to moving around once you're on the home screen. We can dream though, that button is shocking in terms of performance

Loving Xbox so much. Just need to be able to buy more Xbox Live storage and for the Xbox Guide button to take you home on the first press every time.

Nice additions, looking forward to them arriving on my Xbox! I am hoping for some performance improvements though, it's not always smooth navigating the NXOE. This can't be down to hardware, because if this machine can handle Battlefield 1 without issue, it should be able to make a menu fly. So here's hoping for some well-needed speed-boosting fixes.
Windows Central Newsletter
Thank you for signing up to Windows Central. You will receive a verification email shortly.
There was a problem. Please refresh the page and try again.