Microsoft Band falls out of sync due to time change, automatic fix coming tomorrow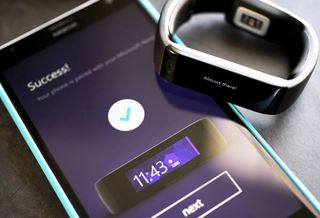 If you've noticed your shiny new Microsoft Band isn't syncing properly today, don't fret. Microsoft is aware of the issue, which is related to today's daylight savings time change, and says it will be corrected automatically for all users tomorrow.
Speaking on the issue through a blurb on the Microsoft Band support page, Microsoft had this to say:
Be sure to check out all of our coverage on Microsoft's new wearable, and let us know in the comments if you've had any trouble syncing your device.
Source: Microsoft (opens in new tab)
Windows Central Newsletter
Get the best of Windows Central in in your inbox, every day!
Dan Thorp-Lancaster is the former Editor-in-Chief of Windows Central. He began working with Windows Central, Android Central, and iMore as a news writer in 2014 and is obsessed with tech of all sorts. You can follow Dan on Twitter @DthorpL and Instagram @heyitsdtl.
I'd love to complain about this, but Microsoft hasn't stocked stores with enough Microsoft Bands for me to get one... so I'll just have to complain about not being able to get a Microsoft Band instead. Step it up Microsoft!!!

Completely off topic....got the Lumia 730...and am loving it...

Completely more off topic, but Darude - Sandstorm is the best song ever made.

I also got the 1520 yesterday! :D

It's a fantastic phone! Great choice!!

Thanks. Yes, I love it. :D

Great choice, I've had mine for 3 weeks great battery life, screen is amazing and the camera fantastic. Got ised to the size, when I pick up a 4" phone it seems so small.

Completely out of topic but my 1020 completed 1 year last week and I'm still loving it

Completely off topic but I thoroughly love my 1520 still :)

In keeping with the off topic theme I love my 930 but who in the fuck comes up with the naming conventions at MS?? Seems like someone at the company has MS!!!

Ya 730 is just amazing phone! Me got this 2-3 weeks! And I'm madly love with it!

Daylight saving time is annoying as hell. The baby is now waking up at 7.30am instead of 8.30. Grrr. Who invented this crap? It should be abolished.

You should sit the thing down and give it a damn good talking to. Finger wagging may be used sparingly. /P

Honestly is this really a surprise

How could Microsoft not foresee that?

Even stranger still, my Win 8.1 desktop time didn't change either. And I don't even own a Microsoft Band. My wife's computer didn't change either.

yup...no steps, no calories recorded

I noticed my app isn't showing me shit. I wanted to see how solid my last workout was :'(:'(:'(:'(:'(

Your workout should still show up under "Activity History". It just wont show up on the home screen.

You need to work out harder.

LOL, why blame the app, it's recording fine, it's you that letting to yourself :-)

Picking the remote and changing channels isn't a workout. -.-'

Ha ha... Sorry I got a laugh as I read it like 'workout' is a new code name for going to the toilet :) and I didn't realise it tracked those as well :D

You mean no one on the Band team thought about this?

Seems crazy to me. Is not a me thing is it.

2K Sports presents Y2K 2K15.

Daylight saving change is actually a huge pain. One place i worked would just close for an hour during fall because it was cheaper than trying to work out the accounting issues.

Ditto. I have teachers all over the world so you can imagine the pain the vendor of my schedules site has making sure every exception, every rule every date is covered. The Band allows all time zones. Ongoing headache. Curious as don't yet have my Band how it handles set in a time zone with no DST as is Japan. Sounds like this may be more problem with the cloud service than the device specifically.

Oh. I knew something happened even tried reinstalling the heath app. But I just replaced one because the guy in MS store didn't give me Starbucks card and screen protector on Day1.

Other big issue is the display doesn't work with other alphabets. Do heavy messaging in Russian and just get squares, pretty frustrating.

Yes for that alone I can't use this... I need to communicate in Chinese.

Ever wonder why its only available in the USA for the time being? :) I'm sure they'll add further language support in future updates

It was meant for US. Other version for other country will come soon!

Its Y2K all over again lol

Anybody have an idea how long till they restock onine

Reminds me of the 1st gen Zune bug.

The Zune had a lot of issues that needed adressing, and I was frustrated at Microsoft for the ammount of time it took to adress them. When I read the forums here and see people complaining that Microsoft is slow to fix their WP 8/.1 issues, it brings back memories.

I was thinking the same thing.

I was going to post this but wanted to see if anyone remembered it first. God that was awful. Happened right in the middle of a four day ski trip for me too.

If I remember correctly, the 1st Gen Zune DST bug prevented it from working. At least you can still use the Microsoft Band.

If this is the worst issue to mar the launch, I'm still thinking "success"

Massive success, sold out every store and online.

Thanks for the heads up. I've been wrecking my brain trying to figure it out.

Ouch. That must hurt considering how I feel after wracking mine.

I love my Band. Really bad timing for MS. I work in a company where we have to deal with daylight saving and I can tell you that every change something gets screwed up. I'm just surprised that Microsoft didn't have this one covered. Their products normally handle the changes ok. I guess everyone needs a slap to the back of the head every couple of years to remind them to keep time/date issues in mind and test for it.

Whoops, didn't account for that.

I posted this to Reddit. I deleted the app, and even factory reset my Band! Really frustrating. The graph still shows correctly, but all the numbers are zero. Freaked my out.

Ahh, so /that's/ why literally every Band at the Microsoft Store wouldn't sync to its display phone counterpart today. I thought I was pretty weird that none of them would sync.

My band is syncing fine, but all the readings are all fucked up. Out of 8 hours of sleep, it shows that I had 45 minutes if restful sleep, and was awake for 7 hours. So far today, I've burned 6500 calories and had 15,000 steps. I've pretty much have sat on my ass all day; and my resting heart rate is constantly over 130, yet when measured manually, its 90. I dont think my issues are related to DST because the readings were screwy yesterday as well. Not very happy with this band thus far....

90 is high. Put down the cigarettes and donuts and get to the gym!

Return it, this seems more like a hardware issue than a software one, but some return it today... Wait until there's stock again.

My band has been working fine so far except for one moment when I was sitting on my couch and it told me that I had a HR of 141. I had to check my pulse to make sure I wasn't having an attack. I leveled back down to 76. I have not noticed that problem since. Calorie burn and steps seem to be pretty accurate for me.

Do us a favor and delete your windows central account. If you are an android switcher please go to the nearest Microsoft store and return all Microsoft and partner products that you bought. You don't deserve them.
This community is not android central sorry.

Didn't even notice the issue to be honest.

Ohhhhhh no wonder. I went in a Microsoft Store today and some of them were not functioning properly.

Same! I thought it was weird, I just assumed the high volume of people screwing with them all the time messed it up.

I had this problem. Good to know it's not me only!

I know right. They are a huge sinking ship! O wait, my bad, their ship is Gold filled with Gold.

A mess of geniuses fixing problem as soon as they arise?

Ok just checked it and it shows 0 steps and calories now. It was fine this morning. But oh well, if MS has a fix for it already I don't really mind it. My run fron today however is just fine?!

For something that was created to show off their cloud based health system it seems the Band is doing just fine. Maybe the testing waters will help MS bring out a hardware update or different model next year!

No release here in Australia but thinking it might be a good idea to wait for 2.0 anyway...

This is certainly unfortunate timing...

Although you see zeros your data is there. You can see it in the bar chart. if you want to see it on screen correctly close the app on you phone and change the time zone to Arizona........... there it is! it will be gone again once you reset the time.

I'm in Arizona, and it shows zeroes O.o

Just relax... Take a deep breath... Work out like you did last week... All will be good in the morning...

What a screw up! How can they not use UTC internally on the damn thing???

OMG I Know Right. How dare they make a tiny mistake that doesn't effect you whatsoever and tell you they already are fixing it within a day. The nerve of them! I'd hate to see you at a store if they happen to be out of your favorite drink. Everybody duck

Much wow such watch many awesome

Not that simple, but please, give them a call.

That's a dumb one in this day in age to let go.

Daylight savings should not exist

Daylight savings is a disruption our society no longer needs.

Mine partially syncs. Steps and heart rate data on chart is updated but shows 0% complete.

I went to the store and looked at it today. I was probably going to get one without having to go see it in person, but I always look at things in person before buying them. I thought it was awesome! It was very nicely made and the UI is also great. I'm going to get one as soon as they are available, which I know is still going to be another couple of weeks :'(. But hey, maybe I will have the band before cyan (I have Verizon).

I never understood what is daylight savings and how it worked. Come on, Benjamin, why? Why?

My understanding is that by shifting the time it changes the amount of daylight available during what used to be waking/working hours. More light means less need for artificial lighting and reduces energy costs.

Something about making sure kids have daylight to walk home from school...

Any idea on a release date for the UK?

You'd think they would've learned from a similar problem with the iPhone a few years ago.

Bleh! I don't need a dum fit band am already fit and i can train myself.

Weird, I feel like something similar happened with the Zune...

The funny thing is I tried to see if it worked on my galaxy s4 and of course it was showing correctly. Smh

Well DST works on Windows Phone and Windows too. This is a 24 tracker, so a bit more complicated than just showing the right time. Still, pretty sure they should have tested for this.

Going downtown this Friday in Chicago for the band, they better have one for me

When it will available in India?

I bet bgr and cnet will pick up on this right away

They also need to fix the fact that when you use Cortana the phone unlocks. You don't want it to unlock in your pocket...

Does not if you have a password set...

My oh my, MS still cant get DST right. They have had issues with DST for years and years.

All big companies have problems with DST sometimes. Just look it up on the Internet.

I know how tech dealing with the time change can stink. Having to go back and edit all my employees hour worked for yesterday because they system doesn't make the adjustment for the time change.

Another reason to live in Arizona. You don't have to mess with that foolishness called daylight savings time. It has to be one of the dumbest ideas that government ever came up with (yes, I know, lot's of competition for dumb government ideas)!

I hope they are updating it to TST

Even AZ, with no DST, got affected, so it must be something in their servers

Exactly. I'm actually really frustrated about this. I was waiting to buy it online during the weekend since I had other things going on in my life, but it was pretty much sold out in a day or two. I heard there were lines in stores, which is ridiculous since they just announced it. I really hope those people were actually die hard Microsoft fans or reviewers rather than some random Android or iPhone users. I never really agreed with the multi platform thing as a WP fan, so it's not surprising that I would be unhappy if I wasn't able to get one and some random guy who happened to pass by did. Of course, what I'm saying is just how I feel and has nothing to do with facts or logic. I'm just hoping they can get some back in stock as soon as possible.

They outsourced the programming of this thing to Apple? :P

Any info if its being released anywhere else?

The data was still recorded if you tapped on steps or calories, just not on the home screen of the app.

Everyone thinks that this was a simple fix...DST, the clock part, sure, easy...now code everything to handle a 25 hour day, calculate the stats, calories, sleep tracker, everything...and make a GA target...not so easy....

Just saw an article lately that says despite their thoughts that DST saved energy, in reality, energy use rises. My grandfather always hated it. He said if you wanted an extra hour of daylight, get up an hour earlier.

hello every body please like my 1520 & suface pro 3 (i7) picture in instagram @hotappnews (NoveltyTM) Thanks <3

That's a novice move MS... LOL :D

What is daylight saving. I do not understand, maybe anyone have easy-to-understand explanation?

well, this is fixable, the size is not. Paul said it best:

Even after less than a day of use, it's pretty clear that Microsoft Band is big, bulky, uncomfortable and complex enough to dissuade many from using it.

I have to agree. They should have curved it. I tried one at the MS store and after just 5 minutes I had to give it back to the sales rep because the thing was hideiously annoying to wear. Thankfully they hat the fitbit which you can barrely notice. Like surface, it will probably take them 3 iterations to get right.

Reminds me of the 2k6 Zune bug

Hey, its not like they knew this was coming. :-)

Mine has only semi-fixed itself. There is data showing in the app for yesterday, but its missing 7000 steps from what the band was telling me last night :(

Now that we're making hardware (like Apple) our software has to fail (like Apple)? Come ON MS. This was the one thing you got consistently right.

Well three days later and the data is still all screwed up. Some is shift by a day, some is just plain gone...

I went on holiday and had some issues syncing my band abroad but managed it; now I'm back and the correct time zone has completely disappeared from the band, as well as it completely refusing to be synced. California -- London -- California. What has gone wrong?
Windows Central Newsletter
Thank you for signing up to Windows Central. You will receive a verification email shortly.
There was a problem. Please refresh the page and try again.