Days Gone and other PlayStation games are coming to PC in 2021
After Horizon Zero Dawn came over in 2020, more PlayStation exclusives are being ported to PC.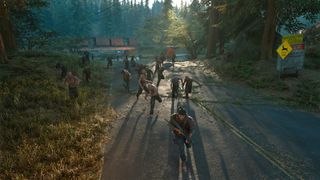 (Image credit: Windows Central)
What you need to know
Days Gone is a third-person survival game developed by Bend Studio and released for PS4 in April 2020.
Today, Sony Interactive Entertainment CEO Jim Ryan shared that Days Gone is coming to PC in Spring 2021.
Other PlayStation titles are also being ported over.
Sony Interactive Entertainment CEO Jim Ryan confirmed today that Days Gone and other PlayStation games are coming to PC later in 2021. Speaking with GQ, Ryan confirmed that Days Gone would arrive in later in Spring 2021, with more games to follow.
When asked about the strategy for releasing these games, Ryan explained "There's an opportunity to expose those great games to a wider audience and recognise the economics of game development, which are not always straightforward. The cost of making games goes up with each cycle, as the calibre of the IP has improved. Also, our ease of making it available to non-console owners has grown. So it's a fairly straightforward decision for us to make."
Days Gone is not the first title from Sony Worldwide Studios to arrive on PC, with Guerrilla Games' Horizon Zero Dawn ported back in August 2020. The sequel, Horizon Forbidden West, is expected to launch later in 2021. When asked about how Sony learned from bringing Horizon Zero Dawn to PC, Ryan said that "...people liked it and they bought it" with Sony continuing to take "mission steps in this direction."
We'll be sure to share more when we learn the exact release date of Days Gone on PC, as well as what other PlayStation titles will be joining it. In her Days Gone review of the PS4 version, PlayStation lead Jennifer Locke wrote that " Days Gone is amazing for what it is: an open-world survival adventure that features a compelling main character and a surprising amount of heart at its center. Despite its faults, it's a terrific addition to PlayStation's outstanding exclusives portfolio."
Main
Samuel Tolbert is a freelance writer covering gaming news, previews, reviews, interviews and different aspects of the gaming industry, specifically focusing on Xbox and PC gaming on Windows Central. You can find him on Twitter @SamuelTolbert.
Based on Twitter, PlayStation fans are still mad at this, but it is a logical step forward when you look at Microsoft's investment into launching Xbox Games on PC. PC gaming is a growing industry, with many of us moving away from consoles. It just makes sense, from a business standpoint to launch the games where the gamers are. I only hope that PlayStation and Xbox gamers can come together to see how this is a win for the industry.

People are not moving away from consoles, last year was a super great year for console sales.... moving away from Xbox consoles, sure. Well, that has been the last decade.... declining hardware sales. I would expect Sony to continue to selectively release titles 2-4 years after console release, in this case PS4 titles. I would not be surprised if they don't release MP type titles on PC at the same time... its really the MP titles that need to be released day 1. I would not be surprised by The Last of Us II (MP Portion) to be released jointly. Either way, I don't see what this has to do with Xbox. Microsoft is just a normal big publisher at this point. Microsoft is the one that has to go where the gamers are. Horrible store and declining hardware sales.

Alert! Alert! Damage conTROLL!!
This guy, err...... girl😆

What does this mean? The first paragraph are simply fact(s) i.e. great console sales but horrible Xbox sales, the second paragraph is just my speculation of the titles that Sony has previously said might come to PC on a selective basis. The third paragraph is my opinion of Microsoft's gaming business which is clearly just a big publisher at this point. The statement about the "horrible" store could be classified as opinion, but I would say an opinion the vast majority of people that have ever used Games for Windows Live, Windows Store, or Microsoft Store would probably agree with.... I would say in the area of fact at this point. To be honest, I don't know what part of my comments anyone could have issue with other than... .they are hurt by words. Actually, a not well known fact is a major part of Sony's game revenue comes from mobile. I expect Sony to do what they have been doing, selectively release older titles on PC or day 1 MP games on PC. The cash cow is consoles though than selling a few games on PC. If Microsoft continues to sell less and less hardware than Sony is in a better position to release more games on PC, although consoles will be the real money maker.

Are you really that dense? "Sony is in a better position to release more games on PC, although consoles will be the real money maker." Consoles are not the money maker. Software and services are. If consoles were the money maker then, how come Microsoft's gaming division, Xbox, makes more than Playstation does??? You telling me, 120 million consoles is more profitable than 120 million monthly Xbox game pass subscribers??? You are an idiot, fr. And that's low balling. With Apple devices and Windows 10 devices this spring. By the end of this generation, which is when we tally which company sold more, Xbox will have amassed well over 200 million subscribers across a host of devices. Including Smart TVs!

C Walk, most of what you said is factually inaccurate. Sony's gaming division has made more than Microsoft's gaming division every single quarter for the past 7 years. In fact last quarter (Oct 2020-Dec 2020) was the first time Microsoft's gaming division surpassed $5 billion dollars in revenue [source: https://www.gamesindustry.biz/articles/2021-01-26-xbox-series-x-s-launch... paragraph 8]. Sony's gaming division passed $8 billion in revenue during the same time period [source: https://www.thurrott.com/games/playstation/246931/sony-shipped-4-5-milli... paragraph 7]. And Xbox has 18 million GamePass subscribers [source: https://www.theverge.com/2021/1/26/22250795/xbox-game-pass-subscribers-g... ].

Psst....... The Xbox series cannot be found on store shelves anywhere. Yep, Microsoft hardware sales are on a serious decline 🤔. Microsoft games are consistently in the top 10 sales on steam. Sony see the results and are pulling their heads out of their behind following Microsoft's lead.
Trollolololololooooool🤪

A lot of people are using both, with a preference skewed to PC where possible. Consoles are a budget dip into the water for a lot of people. However, with Streaming being so popular now, everyone wants a device that can cover all their needs

When your preferred path to being the best is to push others down rather than lift yourself up, you're a bad person. The fact is that Sony releasing games to PC and even Xbox would make zero difference to the experience of a PS owner playing games on their PS. If Sony would allow universal cross-play then the experience would actually improve for many PS owners. These PS owners don't really care how good PS is as long as they can perceive it as being better than the competition and if they have to rely on exclusive games to do that then that's what they will do. Take that way from them and they may have to contemplate how sad their lives really are.

Xbox game on PC/Steam is for 1) for eSports 2) water testing, gain statistics.
GamePass, is still in Xbox's territory. Water testing, etc, Sony might be doing the same thing (but unlike MS, they really need money), but... PSPA? Unlikely.
PS5 is sold at a loss (Sony is shipping more than they can produce too, so the size of the actual user base would be lower, e.g. Persona5 sold 3.2m WW, 96.8 PS4 owners WW ignored it), and so far, the SW attach rate is really low. Xbox since 2016 switched to a platform-as-a-service model (Virtual Machine is the foundation of streamlined BC/FC, quick resume and xCloud and on top of that, Xbox has XPA & win32) and Sony... is still doing the same old Native execution. Sony has to keep buying PS4/5/6/7 Core, need to keep testing games and apps on new hardware, OS and API. On the go PS5 gaming on Alienware laptop, Surface or these,
https://youtu.be/oy67CJmOYrE (has a xbox home button)
https://youtu.be/PuuRdKzJb7U
https://youtu.be/hw4W58mTh1A (TBA)
without a viable internet connection (e.g. during flights, shinkansen, subway, underground, etc)? Doubt...

Days Gone in particular is nothing to celebrate, it's a mediocre game. We alrady have the better version of that game and that's State of Decay 2. And soon 3.

I wouldn't go so far as to say that. I enjoyed the actual story that Days Gone had and the liberty to explore without running out of stamina and have fun without being penalized for not babysitting a bunch of people in my camp that can barely function without my presence. I got burnt out on SoD2, but played Days Gone from beginning to end. To each his own

You would be the only person who actually thinks State of Decay 2 is a better game than Days Gone.

Ask the next comment in this very thread in your way yo metacritic.

Metacritic has a marginally higher average for Days Gone and the next comment didn't even talk about SoD2, only that DG is average. I do not know anyone else that has played both that thinks SoD2 is a better game, but hey, to each their own.

Too bad it's Days gone. Pretty regular game

I won't be playing Days Gone - not really my cup of tea - but I'm keen to see a number of other PS games come to PC. The obvious candidates are God of War, The Last of Us, Uncharted and Demon's Souls.
Windows Central Newsletter
Thank you for signing up to Windows Central. You will receive a verification email shortly.
There was a problem. Please refresh the page and try again.