DayZ is still coming to Xbox One, on track for 2018
Remember DayZ? Apparently, that's still a thing, and coming to Xbox in 2018.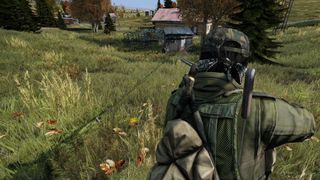 (Image credit: Bohemia Interactive)
DayZ, the once-booming multiplayer open-world survival game remains in development today, following its unveiling over five years ago. Building on a concept established in the "DayZ Mod" for ARMA 2, which saw a surge of popularity in 2012, the standalone release promises to translate this experience into a full retail title.
Despite the game essentially falling into obscurity, DayZ is apparently still in active development today. The standalone game is still seeing new features via its Steam Early Access version, with a full release currently on track for 2018. And according to a recent blog post on the DayZ site, an Xbox One debut is still on the roadmap too.
Back in the day, DayZ was praised for establishing online survival games among the mainstream, gaining traction as one of the biggest PC games at the time. However, once game creator, Dean Hall, departed the project for a new studio, its development and popularity continued to dwindle. Today, DayZ and ARMA 2 are nowhere to be seen among Steam's most played titles – maybe the ship has truly sailed. With hundreds of survival games in the years since, and games that thrive on similar mechanics, the relevance of DayZ is questionable in 2017.
Talk of a console version first arose back in 2014, meaning at least four years will have passed if the game releases late next year. Based on the wording of the blog post, it seems DayZ's console release will have ties to the Xbox platform in some form, specifically naming the platform over PlayStation 4. Whether this could be a debut via the "Game Preview" program, or total console exclusivity, we'll have to wait for the months ahead.
Windows Central Newsletter
Get the best of Windows Central in in your inbox, every day!
Matt Brown is Windows Central's Senior Editor, Xbox & PC, at Future. Following over seven years of professional consumer technology and gaming coverage, he's focused on the world of Microsoft's gaming efforts. You can follow him on Twitter @mattjbrown.
Good they still alive.
If game released on xbox, ill take it

I bought this "game" on steam and it was/is a mess. I hope they fix the bugs and make it a great game. I would make sure its not a mess when you buy it.

Yeah that's a major factor. I got it in a Humble bundle somewhere along the way. Couldn't even get into a map. Though I assume something like that will be more stable on a console. Remains to be seen though.

Thats why its early access

For 5 years... 5 years and people can't even get into a map to demo it?

He never specified when he tried it. I gave it a go 2-3 years ago and It seemed to be working fairly well. Maybe I should check it out again

"a full release currently on track for 2018" Hahahahahahaahahahahahahahahahahahahaha.....aaaaaah.....hahahahaahahahahahahahahahahahahaha! Phew, oh my, that made me laugh! The current version still lacks so much that made the original mod so much fun, the animation and AI on the zombie's is really poor, like very poor amatuer mod that was cobbled together in a hurry poor. Dean Hall took a winning format and threw out everything that was good about the mod to turn it into a boring Bear Gryll's simulator where walking for miles in the dark is the order of the day and the most excitement you get is finding a different colour pair of socks or some nice boots. The micro management and blinkered focus of the UI and inventory system took up so much time from the development its never really recovered. I spent years playing DayZ mod, setting up camps, raids, scavenging in towns and fighting groups of players, zombie hoardes, dragging zombie hoardes into other peoples camps etc it was so much fun and the joy when you found a cache of weapons when you were running low on kit was fantastic but the standalone DayZ leaves me cold.
Windows Central Newsletter
Thank you for signing up to Windows Central. You will receive a verification email shortly.
There was a problem. Please refresh the page and try again.