Solve clever word puzzles with DecodeRing for Windows Phone 8 and Windows 8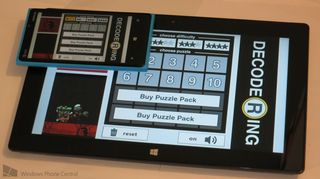 Windows Phone and Windows 8 gamers should be familiar with Babaroga, the studio behind Shuffle Party and Zombies!!!. Babaroga has been a big supporter of the mobile Windows ecosystem since Windows Phone 7 launched. Though they seem to have grown away from Xbox-enabled games (like so many other developers), Babaroga still produces Windows 8 and Windows Phone 8 games as indie titles.
DecodeRing is one of those games. First released on the Zune HD in 2011, it's now back on mobile Windows platforms. Billed as a cross between crosswords and Sudoku, it should appeal to players who love word puzzles. It's available on both Windows Phone 8 and Windows 8 as a freemium game. Head past the break for our impressions and an exclusive hands-on video with Babaroga president Andreja Djokovic!
Spot the letter
A DecodeRing puzzle consists of a large grid of squares. Normally, some grids have letters in them while others have symbols. The object is to replace the symbols with the correct letters in order to spell words. Both horizontally and vertically, every line of letters should spell a word. It's the same rules as crosswords, but without the clues.
To solve the puzzle, you'll scan around and search for a word that is only missing a letter or two. Then place a letter in the empty spot to create a word. Remember, the empty spots all have a symbol in them. You can search for other instances of that symbol in order to make sure the letter really belongs in that space. If the letter wouldn't fit in another place with the same symbol, it's clearly not the right letter. That's the Sudoku influence.
DecodeRing puzzles can be as easy or difficult as you want them. Turn on the Check function and an incorrectly placed letter will show up red. With Check turned off, the game won't point out errors. I recommend playing that way, otherwise it gets too easy.
Additionally, each puzzle can be played on four different difficulties. The higher the difficulty, the less letters will be filled in when the puzzle starts. Crank the difficulty to max and you won't start with any letters at all, which would make the puzzle super tough to complete.
Presentation and Controls
DecodeRing has a sleek black and white design (with a splash of Babaroga red) that meshes well with its crossword puzzle inspirations. The sounds and visuals for placing letters and completing puzzles provide just the right amount of intensity to the otherwise low-key presentation.
The game controls well with touch or a mouse. My only disappointment with the Windows 8 version is that it doesn't support keyboard controls. A game that involves filling in letters as its primary mechanic should allow users to type those letters out instead of clicking and dragging them. It's a oversight hassle that could easily be fixed with an update.
Pricey puzzles
DecodeRing comes with five puzzles by default, all of which can be played on multiple difficulties. If you want to play more, you'll need to purchase additional puzzle packs for $1.49 each. All four packs will run you $5.96. I'm a fan of Babaroga's games and I understand they need to make money, but a player will run through a level pack fairly quickly. 99 cents per pack would be much more appropriate for the amount of content they bring.
Still, word puzzle fans will have a lot of fun with this game. If you enjoy the genre, it's definitely worth trying the free puzzles. Should you get the itch and want more puzzles, they're only an In-App Purchase away.
DecodeRing – Windows Phone 8 – 2 MB – Free – Store Link
DecodeRing – Windows 8 and RT – 3 MB – Free – Store Link

(opens in new tab)
Paul Acevedo is the Games Editor at Windows Central. A lifelong gamer, he has written about videogames for over 15 years and reviewed over 350 games for our site. Follow him on Twitter @PaulRAcevedo. Don't hate. Appreciate!
NO COMMENT! You kow how I feel about this company!!

Of course we do TNT, of course we do.

May I ask what caused the angst towards this company?

He and someone from Babaroga got in argument once about Fairway Solitaire (which Babaroga developed for Big Fish) dropping Xbox Live support.

Don't like to use my brain when I play games. That being said I am very intelligent.

I just downloaded this on my Surface last night. I did not know it was available on my Windows Phone. I'm glad you are doing a review because I was quickly lost. lol.

Cool little game. Only 5 free puzzles is a bit lame - I finished the first one in about 2 minutes, and the addons are $1.99 in my currency - not cheap if all I would get is another 5 puzzles giving only a few minutes gameplay each.

Gameplay-wise my only criticism is that some of the symbols look too much like real letters (e.g. N, O, V), and therefore make gibberish read like a real word (like wh4n y0u c4n r34d th15).

I will get the Surface version and try that too, but the value of the in-app purchases seems too low from what I've seen so far.
Windows Central Newsletter
Get the best of Windows Central in in your inbox, every day!
Thank you for signing up to Windows Central. You will receive a verification email shortly.
There was a problem. Please refresh the page and try again.