Deezer Music Preview for Windows 10 PC and Mobile is now available for U.S. users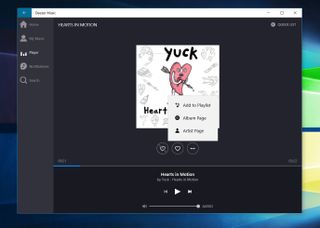 The Deezer Music Preview music streaming service app for Windows 10 PC and Mobile that was first launched a few months ago is now available for U.S. residents.
Previously, the Deezer service was only available in European countries and other parts of the world, but we have indeed confirmed that the Windows 10 preview app can now accept signups from the U.S. for the first time. Other than that, there doesn't appear to be any updates to the app itself
Thanks to Jared for the tip!
Download Deezer Music Preview from the Windows Store
The app for me on my laptop randomly stops playing music, sometimes the artist image and song info doesn't change therefore doesn't reflect the current song that is playing. Have given feedback countless times. These obvious ones still remain. Apart from that it's pretty decent and does a good job of syncing info across from the mobile app.

Hold up... Why is this new news, I've had the preview app for awhile and not to long ago got the full app?

I thought it was already available in the U.S. too. Anyway, it's a great app, I use it for some moths now here in Hungary. So everyone should give it a try. And a little offtopic question. Am I the only one experiencing crashes on the WC W10 app in the last hour? It's strange, because it didnt update at all, but crashes on my PC and phone too, when I try to launch it :S

Mine has been crashing for the last week

Nope, you are not the only one. It was crashing on my Lumia 730 too. After then I checked Store to see whether there's any update for the app. And there was an update. And app is working now.

Nope, you're not :) I experienced it too. Uninstall-install and it should work ;)

A music streaming service, like Spotify.

Personally, I couldn't say they're better than Spotify especially their radio. When a curated radio doesn't have enough songs in it, it won't play.

Guess it just depends on individual preferences :P

I wouldn't say it's better. Their website is clearly top notch, but their apps have always been inferior to Spotify (perhaps this new w10 app can reach them in terms of quality, it seems pretty good already) but they have the TIMmusic partnership, so music downloading and no ads for free makes it a better option, at least for me.

Deezer is expensive compared to Spotify but I guess that 1,411 kilobits (FLAC) per second bit rate is what you're paying for. I'd like to check it out but if I find I like it, I'm screwed. I have my family on Spotify which is more afordable.

Better than Spotify? That's saying something if that's true. Have you been a Spotify subscriber and for how long?

Is Deezer free? Sorry that probably sounds like a dumb question but I can only find info on premium+... Is there a free option?

There is a free option on the website but the app is for premium users only at the moment Posted via the Windows Central App for Android

The app works fine for me and I'm not a premium user. Could be region related though.

Oh sorry, then they must have given up that restriction going from beta to public release.

No they haven't it has a free option also

Well, I was part of the beta and my account went from premium to free for a few days and during that time I couldn't use the app because it was "for premium users only".

They removed this restriction when the app went public.

Every time I see Deezer, I think Deez Nutz........ This is a good app. I oddly enough installed it and started the free trial yesterday before this article was posted.

This app itself needs some fixes here and there

It's already miles ahead of what the W8 and WP8 apps were. The final release was unbearably buggy and ugly. Now it seems we'll get a premium quality app

Now that's a rival to Spotify. I hope both compete to get best in Windows 10 client.
Windows Central Newsletter
Get the best of Windows Central in in your inbox, every day!
Thank you for signing up to Windows Central. You will receive a verification email shortly.
There was a problem. Please refresh the page and try again.