Defense Grid 2 brings tower defense to your Xbox One, now available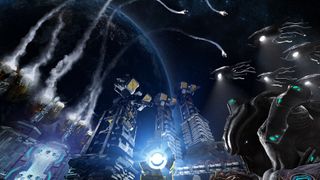 Defense Grid 2 is now available for Xbox One. Never played the original Defense Grid on your Xbox 360? Then you missed out on a really fun tower defense game. You can now redeem yourself by grabbing Defense Grid 2 (DG2) for your Xbox One.
Here's the game description for Defense Grid 2 on Xbox One:
Defense Grid 2 is now available for the Xbox One and will set you back $24.99. You can search for it in the Xbox Games Store or by searching for and buying with Xbox One SmartGlass on Windows Phone or Windows 8.1.
Anyone going to pick up Defense Grid 2? Or are you too busy playing FIFA 15? Look for our review of Defense Grid 2 soon!
Windows Central Newsletter
Get the best of Windows Central in in your inbox, every day!
$25...no thanks. I will enjoy the first which was $10 and free on games with gold awhile back.

This is outrageous! What a rip off.

Too busy with D4, Dance Central Spotlight, and Minecraft.

Too busy with Destiny! Yes, I like it.

Wayyy too busy with Destiny.

I loved Defense Grid 1, but they can keep the sequel if $25 is the asking price. This should be max $15.

So many games coming out for Xbox one my head is spinning. Choses choses choses gotta get a second part time job

This made me laugh my head off.

Yeah man just wait for something which you think is worthy, im planning to spend my next $30 on a tv series season pass tho

This makes me wish I owned an Xbox One...I loved the first DG!...This will be my first XBL purchase after picking up my Halo 5 Xbox One system bundle.

Halo 5 bundle? That, if it even happens, is at least 14 months away. That's a long time to wait.

That will be a long time from now. Who knows if that'll even happen like coip said.

You guys crack me up...History tells us that Microsoft had released special edition Halo Xbox systems for both Halo 3 and Halo 4....To suggest a Limited Edition Halo 5 system bundle may not happen is ridiculous...Look at the new Xbox system bundles arriving soon and tell me I'm wrong....A special edition white Xbox for Sunset Overdrive and a special edition Advanced Warfare edition are just the beginning of these bundles...Can't wait!

I'm not saying they wont make one, but even if history shows this as the normal thing, it doesn't always have to happen. But if they do(which they probably will), You'll just have to wait a long time to get it.

I totally agree with you Sameer...The Halo 5 Xbox One bundle will likely arrive in September 2015 so I have about a year to wait...LOL...That gives me one year to complete my ridiculous backlog of 360, WiiU, PS3 and 3DS games....Trust me....That's not enough time!!!

This just made my week! I LOVED the first game. Totally worth the $25 I'm going to pour into it.

$25 for a tower defense game? I'd MAYBE pay $10, given the plethora of titles in this genre on mobile devices for free. I am pretty sure that this is more than I spent on both Sanctum titles COMBINED, and they seem more like a fresh style of play for the genre than this.

Sanctum is $10 and Sanctum 2 is $15. Neither game is brand new, though I guess Sanctum 2 probably did launch at $15. I think Defense Grid 2's price is a response to the developer losing money on the first game, which launched at $10.

Yes, but Steam's also great at putting games on-sale constantly. I got Sanctum and 2 map packs for $10.99 in November 2011 (launched April 2011), and I got Sanctum 2 in a Humble Bundle for a combined price of $4.33 (also 7 months after launch) , meaning I got 2 games and 2 DLC packs for $15.32. Let's see what this game's standard price on the Xbox Store ends up being in 7 months (next April). I almost guarantee that it'll still be $25, and AT BEST, it'll be $20. Mismanagement of financial resources isn't a solid defense for charging twice what this game should cost. At the end of the day, this is still a mobile game on a console, like those overpriced Angry Brids titles that retail for $40+ at launch.

Wow, I really enjoyed the first game - I've got it on the 360 and PC... $25 for the second is REALLY pushing it. I'll just wait for it to be a Games with Gold freebie and play it then.

I agree with 25 bucks is too much, I played it a little at Pax Prime earlier this month and it seemed almost the same with different levels. I say 15 should be the price.

Yea. I'd pay 15 usd for a digital title with no potential residual for one reason. The original was great, and it came for free. Otherwise, I buy physical.

It does have a much more complex story, greater variety of environments, online multiplayer, tons of modes for each level, and a level creator. It's a little hard to see at first glance, but the DG2 is much larger than the first game.

I love strategy games, and this is the first I've heard of this one. Doesn't look all that appeasing.

As everyone says,25 bucks is insane for a game this recycled.

$15 tops. The reason people were preordering on PC for $25 was because it came with the first game, dlc, and more. I loved the first game, but there is too much other good (and cheaper) stuff on X1 to play

Indeed. AAA titles should cost no more than 50, and Indies no more than 20. Prices are starting to get ridiculous. Remember studios, you want our money more than we want your games.

Glad I am not the only one disappointed with the price, $10 maybe even $15 would of bought it but $25, will wait for a sale.

Would have bought this but too expensive right now will get it once the price drops for deals with gold. Just hope it's not too long cos the first was really good.

wow so expensive. I love defense grid but not 25 dollars love.

DG was a very addictive game, and best of all it was free with Games With Gold. I'll be playing this, but not at $25.

$25.00 would be great if it was a win8, winphone8 xone universal app. One charge three apps with progress sync. ...but what do i know....

$33.45 here in Aus. getting a bit steep for a game like this
Windows Central Newsletter
Thank you for signing up to Windows Central. You will receive a verification email shortly.
There was a problem. Please refresh the page and try again.