Dell announces all-new redesigned XPS 13 (9370) with 4K display, even thinner bezels
Dell has finally redesigned the XPS 13 for 2018 and it's gorgeous. Not everyone will love the changes, but there's a lot to love here.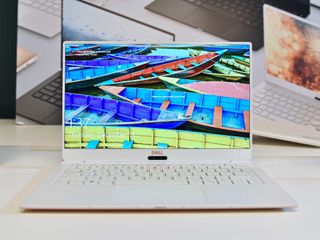 There's no better time to shop and save money on a new laptop. Be sure to check out our continuously updated article on the best Dell XPS 13 Black Friday deals.
Dell doubles down on its popular XPS 13 with the just announced XPS 13 (9370) an overhaul of the aging ultra-thin laptop, which was revised in 2017 with a new processor.
We spent some time with the shiny new wedge laptop and came away impressed. Not everyone will love the changes, but Dell is finally pushing the line forward making it more future proof than ever.
Moreover, there's no waiting for this model as you can now order it today right from Dell.
Dell XPS 13 (9370) – What's new?
Dell has completely rebuilt the XPS 13 for 2018 and beyond. There are new port changes, updated Intel processors, improved displays, and we finally get Windows Hello infrared (IR) facial recognition as well.
Oh, and those InfinityEdge bezels are now even thinner.
InfinityEdge display: the 4mm border is 23% thinner than the previous generation, resulting in an 80.7% screen-to-body ratio
InfinityEdge display: this is the next-generation that can now go to 400nits of brightness (up from 350), higher resolution 4K (vs QHD), 100 percent sRGB color calibrated, and a new anti-reflective coating
New ports: USB Type-C including two Thunderbolt 3 ports, and one USB 3.1
microSD: Ditching the full SD reader the 9370 now uses a microSD reader instead
Now in white and gold: Dell is debuting an all-new alpine white woven glass fiber interior; the original carbon fiber version is also still available with silver
New thermals: Dual heat pipe and dual fan solution and the first to use GORE Thermal Insulation (silica aerogels)
Far-field Cortana capable: The XPS 13 responds to your voice from up to 14 feet away with four built-in microphones
Windows Hello: HD web camera is now in the middle (though still below the display) and supports IR facial recognition; a second, optional, fingerprint reader can also be added to the power button
Dell is using the same Intel 8th generation quad-core processors (15W) found in the latest revision to the older XPS 13 (9360), which I recently reviewed, but the thermals and power management are said to be better with this new model due to the redesigned chassis.
Category
Dell XPS 13 (9370)
Processor
Intel 8th Gen Core i5-8250U
Intel 8th Gen Core i7-8550U
Display size
13.3 inch
UltraSharp 4K (3840x2160), 100% color gamut
FHD (1920 x 1080) touch display, 72% color gamut
FHD (1920 x 1080) non-touch display, 72% color gamut
RAM
LPDDR3 4GB-8GB at 1866MHz
16GB at 2133MHz
Native graphics
Intel UHD Graphics 620
Discrete graphics
None
Ports
2x Thunderbolt 3 with PowerShare
1x USB-C 3.1 with PowerShare
microSD card reader
headset jack
Storage
128GB (SATA); 256GB, 512GB, or 1TB (PCIe)
Wireless
Killer 1435 802.11ac [2x2] + Bluetooth 4.1
Intel 8265 802.11ac [2x2] wireless for vPro + Bluetooth 4.1
Miracast capable
Biometric
Widescreen 720p webcam with 4 array digital microphones; Windows Hello compliant infrared camera; Far Field Cortana capable
Optional Windows Hello compliant fingerprint reader in power button
Battery
52WHr
Dimensions
7.8-11.6 x 302 x 199 mm (H x W x D)
Weight
Starting weight: 2.67 lbs (1.21 kg) for non-touch
Starting at 2.68 lbs (1.21 kg) for touch
Starting price
$999.99
Availability
January 4, 2018, globably
Dell.com, Microsoft.com
Users will be able to configure the XPS 13 (9370) with either a Core i5 or Core i7 processor, with RAM up to 16GB and a 1TB PCIe SSD. The bad news is for pushing forward Dell is also making some changes. For instance, there is no USB Type-A port any longer, nor a full-sized SD card reader – both aging technologies that other companies have already abandoned.
Likewise, the RAM will no longer be user upgradable and instead soldered to the motherboard.
And for you Linux folks, there an Ubuntu-based developer edition of the XPS 13 with Linux preloaded starting at $949.99 as well.
Thoughts and impressions
In my time with the XPS 13 (9370), I can tell Dell has given considerable thought to the changes made – which will be controversial for some, and one reason the company has been conservative with this line till now.
Image 1 of 2
The new white woven glass fiber version is stunning and feels very different – in a good way – from the traditional "soft touch" carbon fiber version. The feel is more tactile and akin almost to linoleum. Dell was concerned obviously with dirt, but the materials can be easily cleaned even if you wrote with a Sharpie pen and left it for a month to dry. It's impressive stuff.
Here is what Dell says about the white woven glass:
It's kind of like the opposite of Microsoft's Alcantara.
Image 1 of 2
Of course, not everyone likes white laptops, so the traditional silver and black scheme is still there for the purists.
The usage of all USB Type-C ports is where laptops are going and lets Dell save a lot of space for battery and more. Those two Thunderbolt 3 ports are 4x PCIe lanes too as the company is finally all in making these ports with the full 40 Gbps bandwidth for external GPUs.
The display though is the real stunner. Did we need to go from QHD (3200x1800) to 4K (3840x2160)? Probably not, but it looks fantastic with those 23 percent slimmer bezels. The tech behind the IGZO panel is also new with a higher level of brightness, better viewing angles, improved contrast ratio and a new anti-glare coating.
The display is still glossy, but now just reflects less light than before. Color accuracy is also now 100 percent sRGB. For those who prefer more battery life, the full HD version (in touch or non-touch) is also still an option.
Speaking of battery, Dell reduced the size from 60WHr to 52WHr in this model. Due to the more efficient CPU and thermals battery life should still be around the eight-hour mark for the 4K model when used as a regular PC, close to 11 or 12 hours for the full HD model. There is also USB fast charging when needed.
Image 1 of 2
There are even changes to the keyboard with a whole new mechanism being used for the first time. Travel is still 1.3mm, and the keys are backlit, but the experience will feel a bit different. Dell is also – thankfully – keeping the Precision Touchpad, which felt better than the current model.
Dell XPS 13 9360 (2017) review
All that makes the Dell XPS 13 (9370) the smallest 13-inch laptop on the market. Dell says this model is now 24 percent smaller by volume than the 9360 from 2017 and at 2.7lbs (1.21kg) you'll struggle to call it heavy.
We'll be reviewing the Dell XPS 13 (9370), but for now, you can feast your eyes on our photos, or order one yourself. The new XPS 13 is available globally beginning today on Dell.com, Microsoft.com and at your local Microsoft Store, starting at $999.99.