Dell Inspiron 13 7000 vs. XPS 13: Which should you buy?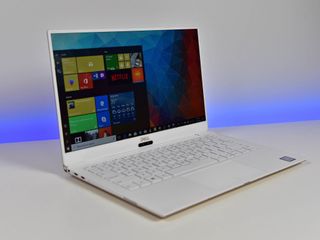 Dell's roster of Ultrabooks includes the premium XPS 13 (9370) — one of the finest laptops on the market — as well as the Inspiron 13 (7370), a cheaper alternative that is no slouch when it comes to mobile computing. While it seems at first like the XPS 13 will trounce it in a comparison, there are indeed some solid reasons why you might want to keep your eye on the Inspiron 13.
Let's compare them closely to help you decide which laptop is best for you.
Dell Inspiron 13 7000 vs. Dell XPS 13 tech specs
Swipe to scroll horizontally
Category
Inspiron 13 (7370)
XPS 13 (9370)
Processor
8th Gen Intel Core i5-8250U
8th Gen Intel Core i7-8550U
8th Gen Intel Core i5-8250U
8th Gen Intel Core i7-8550U
RAM
8GB, 16GB DDR4-2133MHz
4GB, 8GB, 16GB DDR3-2133MHz
Storage
256GB SATA SSD
512GB PCIe SSD
128GB SATA SSD
256GB, 512GB, 1TB, 2TB PCIe SSD
Display size
13.3 inches
Touch and non-touch
13.3 inches
Touch and non-touch
Display resolution
1,920 x 1,080 (FHD)
1,920 x 1,080 (FHD)
3,840 x 2,160 (4K)
Graphics
Intel UHD Graphics 620
Intel UHD Graphics 620
Ports
Two USB-A 3.1
USB-C 3.1
HDMI
3.5mm audio
SD card reader
Two Thunderbolt 3
USB-C 3.1
microSD card reader
3.5mm audio
Biometrics
IR camera (touch model)
Fingerprint reader (non-touch model)
IR camera
Fingerprint reader
Battery
38Wh
52Wh
Dimensions
12.19 in x 8.49 in x 0.60-0.66 in
(309.7 mm x 215.7 mm x 15.19-16.74 mm)
11.9 in x 7.8 in x 0.3-0.46 in
(302 mm x 199 mm x 7.8-11.6 mm)
Weight
Starting at 3.09 pounds (1.40 kg)
Starting at 1.67 pounds (1.21 kg)
Dell Inspiron 13 7000 vs. Dell XPS 13 design and features
Whereas the XPS 13 has taken another step forward in its unique design with the 9370 model — there are rose gold and alpine white, as well as platinum silver and black carbon fiber color options — the Inspiron 13 7000 sticks with a more reserved notebook design, with silver or pink champagne color options. Its chassis is made up of a brushed aluminum that can stand up to daily usage, and it does a good job displacing heat.
The XPS 13 uses CNC machined aluminum and woven glass fiber or carbon fiber palm rests for a lighter build and a bit more of a premium look, with a starting weight of about half that of the Inspiron 13 7000. The XPS 13 likewise has a smaller footprint and is thinner; if you want the most mobile laptop possible, it's the XPS 13.
Both laptops have backlit keyboards and Precision touchpads, though the XPS 13 should offer a bit more key travel. They're both from Dell and pretty evenly matched, so trying them out in person is probably a good idea, especially if you're planning on using the laptop for all-day typing.
The Inspiron 7000 touch model comes with an IR camera for Windows Hello, while the non-touch model has a power button that doubles as a fingerprint reader. The webcam on the Inspiron 7000 remains above the display, while the XPS 13 keeps its IR camera below the display. The XPS 13 likewise has a fingerprint reader option built into the power button. Both laptops come with TPM 2.0 chips for added security.
As for ports, you're getting a more future-proofed selection if you go with the XPS 13. It has two Thunderbolt 3, one USB-C 3.1, a microSD card reader, and a 3.5mm jack. It doesn't have USB-A which will no doubt annoy a lot of people, so if you're holding onto a lot of legacy peripherals, the Inspiron 7000 will probably make more sense. It has two USB-A 3.1, USB-C 3.1, HDMI, an SD card reader, and a 3.5mm audio jack.
Bottom line
The XPS 13 is smaller and lighter than the Inspiron 7000, and it has more of a premium look. The latter laptop might attract you with its port selection, and it certainly can hold its own when it comes to design and build quality.
Dell Inspiron 13 7000 vs. Dell XPS 13 display
Both of these laptops have the same display size, though the thinner bezels on the XPS 13 make it an overall smaller laptop. If you love a lack of bezel, the XPS 13 is among the best, but the Inspiron 7000 isn't too far behind; plus, there's room for a webcam above the display that doesn't shoot up your nose.
The Inspiron 7000 doesn't go higher than 1080p (FHD), but there are touch and non-touch options. The touch version supports inking with the Dell Active Pen, which is sold separately.
The XPS 13's cheaper models come with an FHD display, as well, but you can upgrade to a 4K model with a touch function. The XPS 13 doesn't support a pen, so if you need inking, you'll want to lean toward the Inspiron 7000. However, the XPS 13's display is superior, offering up better color and contrast.
Bottom line
The Inspiron 7000 offers pen support on its touch models, but the XPS 13 has a 4K touch option and it's overall the better display when it comes to picture quality,
Dell Inspiron 13 7000 vs. Dell XPS 13 performance
These two laptops use the same 8th Gen Intel Core U-series processors (CPU), meaning performance will be quite similar. The XPS 13's upgraded GORE insulation no doubt offers a bit of an edge, but overall, either laptop should perform quite well thanks to four cores. Both laptops are likewise using integrated Intel UHD Graphics 620; no dedicated graphics card (GPU) here, but you can still enjoy some light gaming.
While the Inspiron 7000 has 8GB and 16GB DDR4 RAM options, the XPS 13's baseline model is available with 4GB of RAM. Note that the XPS 13 also use DDR3 RAM, which might perform a bit slower than what the Inspiron 7000 has to offer. As for the solid-state drive (SSD), the XPS 13 again has a smaller introductory size at 128GB, but it's using a slower SATA bus. Choosing an XPS 13 with 256GB or larger (up to 2TB) will get you a speedy PCIe SSD. On the other hand, the Inspiron 7000 only has 256GB and 512GB options, and only the larger SSD uses the PCIe bus.
Battery life in the XPS 13 should sit at around eight hours with the 4K display, and you can tack on a couple more hours if you have an FHD model. The Inspiron 7000's battery is significantly smaller — 38Wh compared to 52Wh — so expect somewhere around six hours from a single charge.
Bottom line
CPU performance should be quite similar, though the XPS 13 is available with larger, faster storage and a battery that will last a few hours longer than the Inspiron 7000.
Dell Inspiron 13 7000 vs. Dell XPS 13 price
Here's where things get interesting. So far, the Inspiron 7000 has put up a valiant fight against its premium sibling, but the XPS 13 seems to come out on top in most categories. You have to pay for that edge, and the upper configurations get quite expensive.
For example, an Inspiron 7000 with an Intel Core i7-8550U CPU, 8GB of DDR4 RAM, and a 256GB SSD starts at about $950 (opens in new tab). That's still about $50 less than the cheapest XPS 13 model, which costs about $1,000 (opens in new tab) and comes with a Core i5-8250U CPU, 4GB of DDR3 RAM, and a 128GB SATA SSD.
Heading into the high-end configurations, an XPS 13 with Core i7-8550U CPU, 16GB of DDR3 RAM, a 512GB PCIe SSD, and a 4K touch display costs about $2,100 (opens in new tab). An Inspiron 7000 with Intel Core i7-8550U CPU, 16GB of DDR4 RAM, a 512GB PCIe SSD, and an FHD touch display costs about $1,200 (opens in new tab), nearly a $1,000 less. For a lot of people, that savings will make up for the lack of 4K display, longer battery life, and less refined chassis.
Bottom line
The Inspiron 7000 can be obtained for much cheaper, especially when you get into the higher-end configurations with similar hardware.
Dell Inspiron 13 7000 vs. Dell XPS 13 comparison conclusion
There's no doubt that the XPS 13 takes the premium designation and runs with it. It's one of the nicest Ultrabooks on the market, and it's no doubt worth every penny — if you can afford it.
The Inspiron 13 7000 is likewise a fine laptop, though it doesn't quite have the same luxury features as the XPS 13. It's a bit bigger, it's a bit thicker, and the display has larger bezels. But it also has a port selection better suited to legacy peripherals, and it's far cheaper. As long as you can put up with its shortcomings (when compared to the XPS 13), it will no doubt serve you well.
Related resources
Windows Central Newsletter
Get the best of Windows Central in in your inbox, every day!
Senior Editor, Laptop Reviews
Cale Hunt is formerly a Senior Editor at Windows Central. He focuses mainly on laptop reviews, news, and accessory coverage. He's been reviewing laptops and accessories full-time since 2016, with hundreds of reviews published for Windows Central. He is an avid PC gamer and multi-platform user, and spends most of his time either tinkering with or writing about tech.
I don't know why but I find that white on the xps so cheap looking. Perhaps it is just the pictures.

Yeah, I think it's just the pictures. I think it looks GREAT personally. Finally getting out of the copying macbooks silver/black combo. Two things, 1. Why did the author not compare the 2 in 1 xps with the 2 in 1 inspiron? Two, I wish they made the xps 2 in 1 in white rose gold. I would be having it for my wife.

That is good to hear, I do like the gold on the pictures and more variation in laptop design is a good thing.

So I've purchased the previous gen Inspiron 7378 and 5578 models. I think they provide great value if you don't need 4K support. 2-in-1, Windows Hello, Touch & Pen support is good and then pen is cheap @ $38. You can save some $ if you buy the HDD versions from Dell, then put in your own SSD. My only complaint about the 7000 series Inspiron is that with the i7 editions - they are very loud. Even with a fan swap and thermal mgmt updates - it's just not a great design. The Core i5s don't have that issue...
Windows Central Newsletter
Thank you for signing up to Windows Central. You will receive a verification email shortly.
There was a problem. Please refresh the page and try again.