Dell Latitude 5490 review: All business, all the time
The Dell Latitude 5490 is kind of like a khaki-wearing, hard-working cubicle neighbor.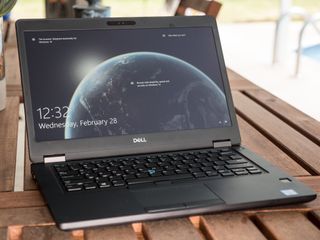 (Image credit: Windows Central)
There's something about a good business laptop that you can recognize right away. Maybe it's that matte black plastic, or the fact that it's got that little extra bit of thickness that seems to telegraph to an IT department, "It's OK, I won't cost as much as you think."
Or maybe it's the exposed VGA port, the saving grace of many a road warrior who just needs to walk through a slideshow and doesn't want to have to deal with some newfangled connection that probably won't work the first time anyway.
That's the Dell 5X90 series. Or, specifically in my case, the Dell Latitude 5490. It's a working man's laptop, with options galore.
Work, work, work
(opens in new tab)
Bottom Line:
This is a Worker Bee's laptop that mostly looks like a Worker Bee's laptop ... but not so much that it'd get you kicked out of the hotel bar in shame.
Pros:
Big, but not too big.Good key travel.Old-school "pointing" stick eraser nub mouse in keyboard.Powerful, with options out the wazoo.
Cons:
It's not the sexiest design.Fingerprint reader isn't fast.Resolution tops out at 1080p.
What you'll love about the Dell Latitude 5490
Ya know, sometimes you just want a laptop that is gonna get stuff done. That's the Dell Latitude series in a nutshell. And that's the 5490 in particular.
Dell dropped us the high-end of the batch. It comes in at close to $1,800, so you're going to need to make friends with your finance folks before requisitioning this guy. But it's loaded with options.
Swipe to scroll horizontally
| Category | Specs |
| --- | --- |
| Form factor | Clamshell laptop. |
| Display | 14-inch FHD touch (1080x1920). |
| Processor | Intel Core i7-8650U. |
| Graphics | Intel UHD 620. |
| RAM | 8GB DDR4. |
| Storage | 256GB SSD. |
| Battery | Four-cell 68Whr (barrel plug) |
| Ports | Three USB 3.1, one USB-C DisplayPort, HDMI, VGA, Ethernet, SD card, and Smart Card reader. |
| Size | 0.8 inches (front edge) x 13.1 inches x 9.0 inches (20.3 mm x 333.4 mm x 228.9 mm). |
| Weight | 3.52 pounds (1.60 kilograms). |
The Core i3-powered base model (with 4GB of RAM and a 500GB SATA drive) comes in at just $800. Remember, our top-shelf model cost more than twice that. So there's a lot of room in the configurations department.
But at the high end, it's the options that were damned exciting. It'd been a long time since I'd used an in-keyboard eraser-style pointing device thingy (with the left- and right-mouse buttons to go with them), and that's a feature I'd long missed. (It especially goes well with a touchscreen in Windows 10.) If I was only given a single option from which to choose, this would be it.
The rest of the keyboard is a decidedly Dell experience, and that's a good thing. There's hust enough travel and just enough wiggle to let you pound on the thing without worrying that it's going to fall apart on you.
This is also the sort of laptop you'll turn to if you need some serious security. Windows Hello is on board, of course, but there's also the option for a fingerprint reader, NFC-based Smart Card reader, and a Federal Information Processing Standard (FIPS) 201 Smart Card Reader tucked into the side. Windows Hello is the most casual one, of course, and I found it to be faster than the fingerprint reader. But, again, we're talking security, not convenience.
And it's a small thing, but I'm digging the prominent power button. There's no mistaking where it is or what it does.
The smattering of available ports is nicely placed as well. You'll find USB-A ports on both sides, as well as the back. There's a single USB-C port on the left. There are plenty of options for whatever it is you need to do, including docking.
Image 1 of 5
What you'll loathe about the Dell Latitude 5490
You know going into this that it's a business laptop; the old-school VGA port is the giveaway there. That means this also isn't the smallest or lightest thing around.
The speakers, while adequate in volume and overall muddiness, lack any sort of real bass. That's fairly disappointing when you consider the size of the chassis. But that's not the sort of feature that gets priority when you expect it to spend a fair amount of time in an airport lounge, right?
Honestly there's not much to "loathe" about this laptop. The bloatware? Fine — but find me a Windows machine that doesn't have to deal with that. If I had to pick nits, I'd say I'm not a fan of the power connector being on the rear of the machine. But then again I'm not a fan of barrel connectors anyway.
I could gripe about the plastic-feeling body, particularly given that the unit I'm using here costs as much as it does. But, again, that's a small gripe.
The bottom line on Dell's Latitude 5490
This is a serious business-type laptop. It's also not the most economical device out there in terms of price.
But if you're looking to configure a machine that'll get you through one of those 70-hour workweeks — I'm told those are still a thing for some folks — it'll fit you quite nicely.
See at Dell (opens in new tab)