Dell launches Venue 8 Pro and Venue 11 Pro tablets in India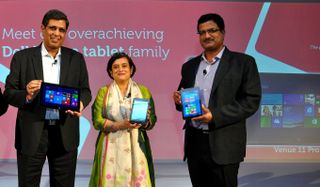 At a press event in New Delhi today, Dell India announced the launch of its latest family of tablets – Dell Venue – in India. Apart from a couple of Android tablets in the family, the company also launched two Windows-based tablets, the Venue 8 Pro and the Venue 11 Pro.
Dell aims to target the increasingly evolving and mobile workforce, especially in the age of trends like BYOD (Bring-your-own-device). According to the company, the Windows 8.1 based Venue 8 Pro and Venue 11 Pro tablets offer a mix of design, performance, and responsiveness. Both the tablets are backed by Dell Advanced Exchange Warranty for "seamless and hassle-free troubleshooting."
Powered by the Intel Atom Quad-core processor, the Venue 8 Pro is the thinnest 8-inch Windows 8.1-based tablet available, with advanced connectivity options and long battery life. The Dell Venue 8 Pro also keeps your work entirely secure with firmware TPM and Dell Data Protection & Encryption Security Tools, available for every model.
The Venue 11 Pro offers ultimate 2-in-1 flexibility, with the power of an Ultrabook. The Windows 8.1 tablet features a large, high-resolution 10.8-inch full HD IPS display, with 4th Generation Intel Core i3 and i5 processors and Intel vPro for manageability. The Venue 11 Pro also comes with a swappable battery, and snaps into full-sized keyboards or desktop dock options for a desktop-like experience.
The Dell Venue 8 Pro would be available sometime in February 2014 at a starting price of INR 26,499 while the availability and pricing for Dell Venue 11 Pro hasn't announced yet. Would you like to pick either of these or the Acer Iconia W4 tablet which was launched in India a couple of months back?
Windows Central Newsletter
Get the best of Windows Central in your inbox, every day!
It's beginning to look like Microsoft are making inroads...finally!

Pricing of dell venue 8 pro is just awesome. If we compare the price with iPad air which approximate 34-35 , we get ios 7 which is buggy,you can not multitask like windows 8, no desktop class experience even if it has 64bit processor. Now with dell venue we get full windows 8.1 desktop class experience,powerful apps , Microsoft office , now I can ditch my ipad 3 with my old toshiba satellite which runs windows vista :p.

I have been thoroughly enjoying mine, even with some of the snafus. The nice thing is Dell seems to be actively involved in improving the tablets as well.

Thrilled to hear this. Let me save some more money will get the 64gb variant. Does it include Microsoft office ? If it does not have one I will rather consider acre w4

The Venue 8 Pro includes Office, while on Venue 11 Pro it is optional.

thank you a quick reply abhishek :) will get this one in march/april :) office is a must in these tablets/laptops :D, will help me creating spreadsheets/presentations.i am still using office 2007 home and student edition :-p

If you really want to use a new version of office, you can get a monthly subscription of office 365. It only costs INR 420 per month and you get word, excel, powerpoint, one note, outlook, publisher and access PLUS 20 gb of skydrive space. And one subscription allows you to install it on 5 systems plus 5 mobile devices.

Save your money and just get the 32GB version. You can put in a cheap 64GB SD card. Another thing the magically expensive iPad cannot do.

dont go for 32... the OS takes a lot of space... leaving you very less space to install apps and softwares...its better go for 2000 more but buy 64... even tho u can use cards...

Agreed. I have 16gb with 64gb card but have to be more conscious when installing new apps..i only have 4gb left. There are tricks to move library to SD card, even install apps on SD card....apps setup on SD card didn't work for me as dell will occasionally won't recognize sd card setup this way or will b leggy...works very nice otherwise.

I didn't know about that issue. I hope Dell can fix that. My strategy of living with 32GB of space relies heavily on installing programs to the SD card.

I heard you can move the partition with the OS installation to a flash drive, should save many gb

haha thank you for the suggestion Aaron :) will buy a SD card its amust since 16 gb on my ipad is not sufficent :/

*powerful by...
typo on 3rd paragraph. it should be "powered by". :)

I wonder if they're selling the stylus as well, that's the only weak point in the 8 & 11 Pro.

Stylus are out of stock for some time now....not sure why...

it had problems so Dell went back to the drawing board

Pricing of Dell Venue 8 is high. ACER W4 priced at Rs 24,999 while its US price is $330. Dell venue 8 pro priced at Rs 26,499 in India while US price is $300. Acer w4 is better choice IMO, Here's why: With Acer w4 you will get free book case. For almost same price of Dell venue 8 pro 32GB you can get 64GB acer W4 and free book case. Acer W4 also has micro-HDMI and the only 8 inch windows tablet to have micro-HDMI. Acer W4 has Z3740 processor which has dual channel memory while Z3740D in Dell Venue 8 Pro has single channel memory.

The flaw in your theory is that you end up with an Acer product.

I cant speak on behalf of others, but ACER laptops worked fine for me and my friend.

And it still has a physical windows button instead of a capacitive one.

better still... asking a friend who is coming over from US to bring it over here for me... around Rs.20,000 ($320) for 64 gb dell...instead of around Rs. 28000 ($450) here in india... who cares for a waranty if the difference is so much...

The Toshiba Encore has a micro HDMI port too.

And the Lenovo ThinkPad 8, but its 1080p and like $400

Agreed. Would go with Acer as W4 is quite improved.

How about they start selling the stylus again I can't find it any where

This is an awesome device. Without doubt, the most versatile and useful computing device (with possible exception of smartphone) that I have ever used. I use this thing far more than my recently purchased £1,200 convertible ultrabook. Amazing piece of kit at a knockout price. Works flawlessly, including on my mobile connection. Windows 8.1 and devices like this make the iPad look plain ridiculous.

Are they loaded up with bloatware like every Dell laptop I have purchaed in the past, or did they leave things clean for a change?

Mine came with no bloatware. Also, since it's Windows 8 you can do a refresh that eliminates everything on the tablet except for the OS.

Waiting for this.. Gonna buy pro 11......

I love my Venue 11 Pro. The screen is so shrap, and tablet its self is smooth.

Only 2GB of RAM -- no thanks! The Dell US website shows there are version of the tablet with 4GB of RAM The Surface Pro 2 still wins for me with 8gb of RAM -- then it can actually be a desktop replacement

Okay, it's not like anyone is going to do hard gaming or graphics processing on an atom processor anyway lol, 2 GB should be plenty for the vast majority of tasks.

I want a Dell Venue Pro 11!