Dell is offering $370 off its Inspiron 3650 desktop PC right now!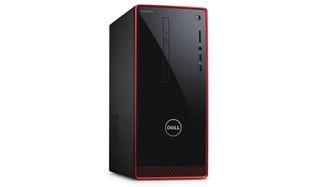 (Image credit: Dell)
Update: This deal is back! It runs through August 31 this time, so don't wait too long!
Dell is currently offering a huge savings on its Inspiron 3650 desktop PC (opens in new tab) with coupon code DELLDT579. Normally priced at $949, you can pick one up right now for just $579 after the coupon, which means you save $370 on the purchase. As far as specs, you've got an Intel Core i7, 16GB of RAM, 2TB hard drive and much more.
Whether you need to replace an aging machine or want something to have around just in case, you won't want to miss this deal. The promotion is only good through August 31, so don't wait too long to make your purchase. Remember, you'll need to use coupon code DELLDT579 for the full savings.
See at Dell (opens in new tab)
Windows Central Newsletter
Get the best of Windows Central in in your inbox, every day!
Jared started off writing about mobile phones back when BlackBerry ruled the market, and Windows Mobile was kinda cool. Now, with a family, mortgage and other responsibilities he has no choice but to look for the best deals, and he's here to share them with you.
I just got the same one on costco for like ~$150 more...

Does the motherboard have an M.2 PCIe slot on it? Edit: I found the service manual.. doesn't appear it does

How did you get this info? Can you edit your post to give us this information? What type of motherboard is this? Propritary to Dell?

I just googled the model numer and "service manual". http://topics-cdn.dell.com/pdf/inspiron-3650-desktop_Service%20Manual_en...

Do you, or do you do your trolling from your mother's basement?

Well there's been advers of Dell's and then later 'how to fix' articles for the same. I was just asking :)

Because only Dell has had problems? When you talk about Apple products, the first thing their fans talk about is how you should get Apple Care because they fix all the problems with the device. And then Apple gets credit for being the best at supporting their products. If Apple products were good, then you wouldn't need Apple Care, wouldn't need Apple support Geniuses (and why do you need a genius to fix a problem?). There are some people who have problems with their Dell machines. Yep. It happens. All the computers I have ever owned, except for my Surface Pro and Surface Pro 2, all of them have been Dell machines. Only once have I had a problem, and that was when I loaned my brother a laptop and he dropped it, breaking the screen. It was still in warranty and even though it was my brother's fault they fixed it for free. But we know you genuinely was not concerned about the quality of the device. You were just trolling. And while you are here, I have asked you this before and you refused to answer - with your hatred of anything Microsoft and anything related to them, whom do you get your computer gear from?

I personally have L1520 and Surface Pro. I don't hate Microsoft, on the contrary.

"I don't hate Microsoft, on the contrary." So you are here only for the trolling.

What about the video card?

AMD does not sell a AMD Radeon™ HD R9 360 2GB GDDR5 GPU. This is a typo. I'm finding out what is really in this machine. If it is one of the 300 series cards it can only be one of these: R9 390X
R9 390 ​R9 380X R9380 I am getting a response back from Dell in about 2 hours. I will edit my post if I can or I'll make a new one.

So did you ever get that response? I would really love to know what's in it. Thanks. Posted via the Windows Central App for Symbian

Not yet. The chat rep I spoke with last night said he would have to pass this on to their "Product Specialists" and I should hear back in 1 hour. 2 hours later and nothing. Had to go to bed. No update e-mail for the rest of today. I go to e-mail him back and I get a vacation response to that. Although he leaves his bosses e-mail as a secondary contact. Wrote to him with no response yet. I have tried to go through the checkout at Dell and put in the coupon code but the system won't accept it. I'm getting worried that this offer is not valid anymore. I should try opening a new chat session just to see what they have to say.

Edit: This product has sold out and is no longer available.

Dell "tech support" can't get the specs on their own machines. Classic... I remember in another life doing 3rd-party support for Sony products which included PCs and I would learn about new models out from customers calling in. LOL They won't even be listed on their website.

Sure they do. http://www.amd.com/en-us/products/graphics/desktop/oem/# Loking on the 3 Series tab shows the R9 360 model and it's specs. It is a resonably good for mid-level gaming.

Not a typo, R9 360 is basically a rebrand of R7 360 for OEM use.

Be warned that this PC comes with Windows 7. Since the free upgrade to Windows 10 promotion is over now, you'll have to spend another $100 if you want it.

Probably the reason of the discount. Posted via the Windows Central App for Android

it comes with windows 10 pro DVD that you can install. windkws 7 is preloaded. bought one last night. plan to add SSD. great deal. comes with 2GB radeon card. only comes in one configuration.

Can you let us know if this is a full desktop? Or is this a re-brand of something with laptop parts in it? I am curious about the power supply, and if we can add a real heavy graphics card to it?


Are any of you experiencing coupon code problems at checkout? It does not seem to be appling the discount.

This offer has expired contrary to what the article says due to overwhelming demand for this product over at Dell. I just tried to make a purchase and the coupon code was not being accepted so got into a chat session and found out the reason why which is listed in my first sentence. Sorry guys.

Same here, tried to pick one up and the coupon code wouldn't work. Found out it's for the same reason you indicated.

Why does this atricle show it was posted on 8/3 but some of the comment posts are showing the reply was 4 or 5 days ago?

They updated the article.

Apparently doesn't work now :(

it's a good deal for its price to be honest

For laptop parts and a gimped powersupply that won't support any new videocards sure......
Windows Central Newsletter
Thank you for signing up to Windows Central. You will receive a verification email shortly.
There was a problem. Please refresh the page and try again.