Dell takes on the Surface Pro 4 with its Latitude 5285 2-in-1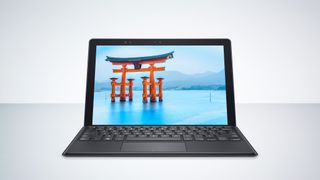 Microsoft Surface Pro line just got some new competition courtesy of Dell's latest 2-in-1, the Latitude 5285. Introduced at CES 2017, the Latitude 5285 looks very similar to Microsoft's own 2-in-1 offering. The internals back that up, with the only major difference being the Latitude's slightly lower resolution — but still good — 1080p display.
On the inside of the Latitude 5285, you'll find Intel's latest Kaby Lake processors, up to 16GB of memory, and up to 1TB of storage. Meanwhile, that 1080p display measures in at 12.3-inches and sports a 3:2 aspect ratio. The Latitude 5285 also packs a kickstand at the rear, along with a detachable keyboard cover.
As for ports, you're looking at a single USB 3.0 port, 2 USB-C ports, a microSD card reader and a single micro SIM card slot. For the business crowd, there are also optional security features like a FIPS 201 Smartcard reader, fingerprint reader and contactless SC Reader/NFC.
If the 2-in-1 has piqued your interest, the Latitude 5285 is set to go on sale on February 28 for $899.
Windows Central Newsletter
Get the best of Windows Central in your inbox, every day!
Dan Thorp-Lancaster is the former Editor-in-Chief of Windows Central. He began working with Windows Central, Android Central, and iMore as a news writer in 2014 and is obsessed with tech of all sorts. You can follow Dan on Twitter @DthorpL and Instagram @heyitsdtl.
I won't lie. This looks like a good package. Not like I would buy it over a Surface but good, nonetheless.

I'm selling a good amount of Switch 12 Alpha or Miix or T303 devices, which are also considerable pricewise.

Only good doesn't sound good enough for $899.

While $900 is premium, it still is good value. But if you're going to spend premium, you might as well go for the best and grab a Surface instead.

Surface doesnt have latest gen hardware, though. If the manufacturing quality on this Dell is good, it outperforms the Surface in any way.

Meh. It'll take a month or two for it to come to my market and then we'll be month away from SP5 release. I'll wait.

You couldn't pay me to take anything Dell. Junk machines.

Not recently. Since Michael Dell took his company back because the ****** management before was destroying his name and legacy, the products are way better than they were in the 2000-2010 era. The new stuff since 2015 has been really surprisingly good. I was like you and would never touch then before, but I have to say I like the new hardware.

We had a LARGE client back in 2009 who refused to let us put Dell servers in, even though we found them to be very reliable. Made us use HP servers at a 40% premium. His reasoning was that Dell was broken as a company and wasn't interested in seeing how they would fix it.

Did they put a non SSD hd in this thing?

What I want is a Surface Book competitor.

I will never understand, for the life of me, why these PC companies keep giving their products weird names. Latitude 5285? How about Latitude Pro, Latitude Light, Latitude Mini, Latitude X, Latitude 12. Something simple and easy to remember. Surface Pro, Surface Book, Surface Studio, XPS 13/15, Spectre X360, Macbook Pro, Macbook Air, Ipad Pro, Ipad Air, Ipad Mini.... Easy names to remember. Of course, those devices are not well known only because their simple names, it's because they're great devices, but it helps a little. Nobody wants to remember 5285 in a product name.

It's a little confusing until you look over a list of product names. 5 is the quality of the model (3 is low range, 5 is mid range, 7 is high end; 9 is tops but I only see this in desktops), 2 is the size (12 inches), and 85 is the release number (75 was the previous one). It does get a little technical, but I found it interesting once I understood it. I recently bought a Latitude 7350, then saw the 7275 which I thought was older due to the lower number. Now I realise it's a newer release than what I got. This, being a 5285, sounds newer than the 7275, but probably has some lower specs to make it not worthy of the 7 number. Maybe a 7285 will be out as well, with a better processor.

Yeah, I kind of guessed it would mean something like that. But most customers don't know that and don't care. It's just making it confusing for them. Like you said, saw the 7275 and thought at first it was an older model, which is the kind of stuff i'm sure is happening to a lot of people. All those number you wrote in the last paragraph gave me a headache hahah

Sorry about the headache! I have been fighting one so I might not have made sense. As for confusing consumers, it happens all the time with every vendor, both technology and non. Some people like names with cars, whilst others prefer model numbers. In the end, though, for me it is a game of specs. As long as I get the hardware I want in my system, I'll rarely refer to it by its name or number again.

Haha no wasn't blaming you for the headache!! Just saying that all those different numbers were proving my point that they're not easy to remember and confusing :) I think you agree with that. Maybe we're just a little more geeky to go and look for what they mean, but the average consumer would prefer to have simple names to remember I think.

That was Steve Jobs' mentality with Apple devices. I have an iMac. An iPad. An iPhone. No models, even though there were differences between them. T'was the ultimate "average consumer" company. Even though the devices knew themselves as the iPhone3,1, iPad4,2, iPadMini2,1, and so on.

It makes sense for their Latitude target market which is Enterprise, not consumer. Dell has been doing this for years and when you have 15,000 devices to deal with it makes things easier.

That's just ridiculous. None of that means anything to the customer, and shouldn't. It's like strapping a user manul on the outside of a box without any other markings and expecting it to sell 😜

As BaritoneGuy mentioned, the Latitude line isenterprise-centric, not consumer. Still, you're not incorrect. But think of processors like Intel. They do the same thing.

hmmm if I was a Dell fanboi 5285 might move me to purchase.

Nice to see Dell putting their chips in the game

Have you ever tried to search eBay for the iPad pro? You then have to shout at the screen trying to figure out which one is the 9.7" version. etc. When I search ebay I'm gllad that I have the 5285 designation to help me. Eventually Microsoft will have to calll teh Surface pro somethingv other than 'Surface Pro 11'

Just did... typed "ipad pro 9.7" and that's what came out.

For now. Next year it will be more difficult. Like with the non plus (nothing pro about, even the 'simple' naming is wrong) version. You really confirm his point ;)

Haha yeah I agree. I'm not saying I like the iPad Pro, I don't. Was just showing why simple naming can help keep a product's name in people's mind. And the names becoming more and more difficult with Apple products, compared to the Steve Jobs era, is in line with how the whole company is confused nowadays. It's not a good thing.

HP does it - Pavillion, Spectre, ENVY, Elite, etc. Lenovo does it - Yoga, ThinkPad, etc. Dell, as usual has to be dumb.

"Dell takes on the Surface Pro 4 with... " A 1080p screen. A haa haaa. Other than that I wonder if they'll have a nice dock (Other than the standard).

I have to be honest the resolution of the Surface screen is about the least useful feature it has.

I really like the direction Dell has taken since going private.

Come on Dell... Please up your screen resolution. Its the only part of most all your products that suck and it falls short here too =(.

Not really going after the surface if it doesn't have a pen!

If it is going against Surface it will have a pen.. The current Dell 2 in 1. I forget the name. 11 inch or so has a pen. Used it with my former job.

Lame product name, but promising features.

1080p is always good because Windows does not scale very well...try running remote desktop and you will see. 1080p also is good for battery life.

I'd buy it in a second if it charged from USB-C on either side. I just can't understand why no manufacturer does this... :-/

I wanted to get the Dell XPS 12, but backed out due to reviews of a crappy battery life. Hope this is not the same. May end up getting it.