Dell unveils impressive 27-inch Ultrathin monitor with HDR support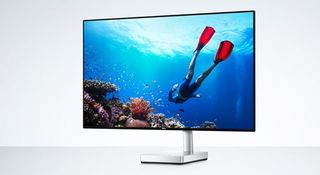 Dell is definitely off to a good start ahead of CES 2017. Alongside a new convertible version of its XPS 13 laptop, Dell has also taken the wraps off of a new Ultrathin 27-inch monitor (opens in new tab) that is sure to impress. Apart from being nice to look at, Dell claims the new S2718D also packs the "world's overall thinnest profile" to boot.
Exact dimensions aren't yet available to back up that claim of overall thinnest profile, but Dell has revealed a bit more that should be equally impressive. The monitor looks to pack the same Infinity display tech that you see on its XPS 13 and 15 laptops, offering up barely-there bezels and an overall smaller appearance. The monitor also packs a QHD (2560 x 1440) resolution and support for HDR10, meaning you'll get to check out more vibrant and vivid colors from content that supports high dynamic range. As for connectivity, Dell is keeping up with the times by throwing in USB-C on a dedicated hub at the rear of the monitor.
Full specs (such as refresh rate and response time) aren't yet available, but the new Dell 27 Ultrathin display will go on sale starting March 23 for $700 in the U.S., Dell says. Worldwide availability will follow at some point after that.
Windows Central Newsletter
Get the best of Windows Central in your inbox, every day!
Dan Thorp-Lancaster is the former Editor-in-Chief of Windows Central. He began working with Windows Central, Android Central, and iMore as a news writer in 2014 and is obsessed with tech of all sorts. You can follow Dan on Twitter @DthorpL and Instagram @heyitsdtl.
That's a lot of money, but that thing looks incredible.

Looks really nice but personally I'm lookint to stay at a minimum of 3840x2160 for any monitor that I buy from now on.

lol, I on the other hand just want to stay at FullHD, and it's starting to be harder and harder to find 1080p monitors.

What are the reasons to stay at HD? Is it a scaling issue in an app you use? I know there are some problems, just curious what they are. For me, I want something with the same aspect ratio and scaling % as my SP4 as it doesn't switch all that nicely when I dock...

Nah, I just see no reason to use higher res displays. The diminishing returns kicks in real fast. On my phone I don't even need fullHD, yet 4k phones exist for a while, and on a monitor, even 2k is a lot, not to mention 4k and 8k. Maybe on a GIANT TV. And aside from that, the extra power required to push higher res can be used more adequately. If a game's (or anything else actually) graphics suck, the resolution is not important.
And they're also cheaper. You can find a decent fullHD for dirt cheap once 4k starts to gain market share.
I'm basing all of this off a fact that I have a not-even-fullHD 22" screen at home (1680x1050) and I literally can't see the pixels on it. There's enough pixels to make an image look good.

I thought the same as you till my vision started decreasing. Now, I've tried 4K and don't want to go back. I could see and read smaller text on a 24" 4K than a 34" ultawide QHD. Just upgraded to 27" 4K at home. I can snap a remote desktop session to 1/4 the screen and still read everything.

Yes it really down to the user. Some people are good and dandy with a 1920x1080 image and that's great. I on the other hand can't stand it and it looks bad to me. So hopefully there continues to be enough options for everyone. Those who like HD and can't see pxels on it and those who want to go to 4K or higher.

144Hz? G-Sync? FreeSync?
The design with almost no bezels is superb, I would consider buying it if it had G-Sync, even if it is a bit pricey.

Now that's a sharp looking monitor.

I don't think you realize what you had written...you could have said Sharp, as in the manufacturer.

Looks great. It looks like I need to save up my money as this spring is going to get very pricey.

Looks nice, but the hp 27" 4K screen just can't be topped for the price.

I want 3 external displays, 2 portrait one landscape with a laptop sitting below powering all 3 - Im leaning to a Dell XPS 15, what do you think of the chances of them releasing a convertible 15?

Well right now there is xps 13 and xps 15 so I say very likely

I love the thin bezel, but the perfect monitor for me right now should be as following: size 27-29 aspect ratio 21:9 g-sync resolution qhd hdr windows hello and usb hub with power type c to charge future devices

Other than me not really caring about gsync, that's my ideal monitor as well.

Addendum: I would want the guts behin the screen, not in the base as in this one. I like to mount my monitors on Ergotron arms for positioning, so it needs a VESA mount.

For the love of all things touch, when will manufacturers start producing some up to date large monitors with touch support? I was hoping that this years CES would be the time.....

Beautiful. The only thing I dislike is the base. I hope they make a version with a regular base.

I wish it was touch, I would buy it in a second!

Kinda looking like the Surface Studio! I like it.

Hopefully, this display will suppoort FreeSync 2. A man can dream, right?

Okay, suppose I want this to be the hub for a docking station into which I can plug in one of several laptops? Can I plug a keyboard and mouse into this monitor, so that if I then connect a Thunderbolt USB-C port to it, they keyboard and mouse will work on the laptop? I'm really looking for a turn-key docking solution that nobody seems to be coming up with.

LG has actually made what you are looking for. It was announced when Apple showed off the new MacBook Pros. Just Google "LG UltraFine". They make a 5K and a 4K version.