Dell XPS 13 9350 vs 9360: Which should I buy?
Dell's latest XPS 13 refresh offers a more than just a familiar face. Here's how it stacks up to its predecessor.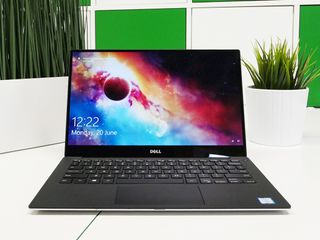 If you're at all familiar with Dell's popular XPS line, then the latest entry in the series, the XPS 13 9360, probably looks pretty familiar. However, this latest refresh carries a couple of key improvements over the previous XPS 13 9350 that are worth considering if you find yourself choosing between models at retailers like Amazon.
While individual configurations can vary quite a bit, here's a breakdown of how the XPS 13 9360 and 9350 compare to one another purely on the base specs:
Swipe to scroll horizontally
| Category | Dell XPS 13 9350 | Dell XPS 13 9360 |
| --- | --- | --- |
| Processor | Up to 6th-generation Core i7 (Skylake) | Up to 7th-generation Core i7 (Kaby Lake) |
| Internal Storage | Up to 1TB SSD | Up to 1TB SSD |
| RAM | 4GB, 8GB or 16GB | 4GB, 8GB or 16GB |
| Display | 1080p non-touch or QHD+ full touch | 1080p non-touch or QHD+ full touch |
| Graphics | Intel HD 520 or Intel Iris 540 | Intel HD 620 |
| Ports | USB 3.0, 3.5mm jack, SD Card, USB-C Thunderbolt 3 | USB 3.0, 3.5mm jack, SD Card, USB-C Thunderbolt 3 |
| Battery | 56WHr | 60WHr |
| Colors | Silver, Gold | Silver, Rose Gold |
Perhaps the biggest highlight of the XPS 13 9360 is its upgrade to Intel's 7th-generation Kaby Lake processors. Though mostly seen as a relatively minor refinement of the 6th-generation Skylake processors that inhabited the XPS 13 9350, the move to Kaby Lake does bring its advantages.
As you'd expect, Kaby Lake should brings modest bump in general performance across the board. Where that should be particularly noticeable is with graphics-intensive tasks thanks to the improved integrated Intel HD Graphics 620. In other words, if you like to do a bit of light gaming on the go, the XPS 13 9360 should provide a decent bump in performance over XPS 13 9350 models equipped with Intel HD Graphics 520. In fact, Intel made quite a show of the fact that its latest integrated graphics can even handle a bout of Overwatch.
Intel's Kaby Lake chips are also billed as being much more efficient at decoding and handling 4K video. While that won't necessarily matter much for powering the HD or QHD+ displays offered with the XPS 13 9360 itself, it's good news for those with a 4K external display.
None of this is to say that the XPS 13 9350 is totally outclassed by its newer sibling. The 9350's Skylake processors should continue humming along quite nicely for some time still. And if you happen to find a substantial discount on the high-end Skylake model equipped with Intel's Iris 540 graphics, it's worth at least considering since they should rival the newer model's graphical power.
On the more minor side of things, the refreshed XPS 13 includes a slightly bigger battery — coming in at 60WHr of capacity. That's compared to the 56WHr battery packed inside of its predecessor, the XPS 13 9350. While it's a pretty small bump, any increase at all is welcome, especially when combined with the greater power efficiency that Kaby Lake should bring. In all, Dell claims that the XPS 13 9360 should net up to 22 hours of battery life when equipped with an FHD screen, while QHD+ models should see around 13 hours.
Wi-Fi performance, which was a sore point for some on the Skylake-powered XPS 13, should also see a nice improvement on the XPS 13 9360. That's thanks to the inclusion of the new Killer Wireless-AC 1535 that should help both speed and connectivity.
Lastly, those looking to add a little more style to their selection will be happy to know the Kaby Lake refresh includes a Rose Gold color option for that familiar exterior. Yes, the XPS 13 9350 included its own Gold color option, but come on: this is Rose Gold. If keeping up with the latest trends in tech aesthetics aren't your thing, however, the standard Silver is available across all configurations.
Which should I buy
As with previous refreshes in the XPS 13 line, it makes the most sense to go with the newest option on the block — in this case, the XPS 13 9360 (opens in new tab). Not only is it currently your only option if you're ordering direct from Dell's main store, but it just makes more sense to go with newer, faster hardware no matter how small the gains. Factor in the fact that prices remain the same across configurations, and it's hard to argue against going with the XPS 13 9360 over its predecessor.
There are always exceptions, however, and things are no different in this case. Since both models feature the same spectacular Infinity Edge display and exterior design, you won't be missing out on anything from a visual standpoint. Yes, general performance will take a hit, but it should remain adequate for most uses. If you can find an XPS 13 9350 at a significant discount, it's worth considering. However, in most cases, you'll want to go with the newer XPS 13 9360 unless you're able to save a significant sum.
See at Dell (opens in new tab)
Dan Thorp-Lancaster is the former Editor-in-Chief of Windows Central. He began working with Windows Central, Android Central, and iMore as a news writer in 2014 and is obsessed with tech of all sorts. You can follow Dan on Twitter @DthorpL and Instagram @heyitsdtl.
There are 1080p w/touch versions of the 9350, but they're hard to find. I've only seen them on Microsoft's online store.

1080p versions have matte screens, I don't think they come with a touchscreen at all.

Again, check Microsoft. They /do/ have 1080p touch displays, presumably glossy.

Wrong description on website in that case. All 1080p dell xps 13 and xps 15 displays are matte and non touch.

Are you sure? MobileTechReview on YouTube also said a few months ago that they started to offer a 1080p touch display. I highly doubt the Microsoft Store would purposely change the data on their site just to lie.

Check out mobiletech 1080p xps review, it is matte and non touch. Check the various comments from Daniel on this site about matte non touch screen. If still not satisfied then order one directly from dell and check out yourself.

Again, Lisa herself said within the past 2-3 of her Dell XPS videos that they do have a 1080p touch version.

Dell does NOT sell any 1080p touch+ glossy screen, you only have two options: 4k glossy, touchscreen vs 1080p matte, non-touch. Proof of the pudding is in the eating, just buy and check for yourself.

I don't understand why people are denying the existence of a 1080p w/touch display variant. Microsoft Store chat, people on Twitter, and MobileTechReview all confirmed it.

Because it does NOT exist, just try and buy it and then post your review.

Multiple people on reddit have also confirmed the existence of a full HD touch display in the XPS 13 (9350). With all of the confirmations, I still can't believe you're denying it. I can only assume you are now trolling.

Multiple people confirming means nothing, just get a 1080p glossy, touch screen Dell XPS and post here in forums or on youtube or even give me youtube video link of any other buyer. Dell does not sell it, even the Dell official website does not sell it. And how is asking for a video or picture proof trolling? Just asking you to show a real laptop with 1080p touch screen or else you can buy and show it here.

I mentioned trolling because: You aren't even remotely considering the fact that a FHD w/touch model actually exists despite evidence leaning towards that. You are unwilling to check yourself.

You are the definition of a troll, because: 1. You have not shown one proof of existence regarding 1080p touch XPS. Just one youtube link or even a review link will do. NOT speculations but actual laptop pictures or video. 2. You are not ready to check Dell's official website and display options provided, which are clearly posted on the Dell XPS webpage.

1) No speculation. All based on people's own experiences. 2) I have zero concern over what Dell says. Microsoft is the seller. Also, here's your proof: https://youtu.be/YkKvJNOtsUo Are you happy now?

Thanks for the youtube link, yes i accept now. Dell should update their website which still does not give this option to buy and Microsoft store is limited to just 1-2 countries. So, you buying the 1080p version or 4k version?

Ever since the 9360 came out, Dell hasn't listed any 9350 configuration on their site for sale. If I was in the market for one, the 1080p version easily gets my money.

The touch version is also available from the UK Dell site
But it's listed as 3200x1800

I think a general rule of thumb with generation changes like this is: If the difference in price is more than $100, I'll take the older one. Kaby isn't a massive leap, and I'm never one to run a device to death (meaning battery life has diminishing returns to me after about 3 hours). That said, I'm still not ready for a mobile PC myself. I need to get a new GPU for my desktop before anything else, and I want to see Zen in action before I buy anything.

Guys, can you provide some more specific info on that 22 hours of claimed battery life? Everytime I see that I think it must be a typo. That is so far beyond any other machine I've seen so find it hard to believe. I realize that would be based on video playback only so it's "best possible" but even if the thing could sit idle with the screen on the lowest brightness for 22 hours that would be insane. So, is that real? What did the last gen model give? What's the next closest any other machine gets? Even the 13 hours of the QHD/touch screen is crazy good, but 22 hours??

I have the Broadwell (9343) 1080p version. It still reaches 14-15 hours, a year and a half after I bought it. I'm not surprised that 2 generations and a bigger battery can extend it to 22 hours.

Is the broadwell model the ones that have a plastic bezel and the newer ones have glass?

I want a 1080p touch of the 9360. :(

I got the xps 13 9350 variant with i7, 8gb ram, 256gb ssd, qhd+ screen... Brand new open box for £800 GBP recently and it was a cracking deal. I'm very pleased with it and for what I use it for day to day , I wouldn't notice performance difference between it and 9360.

May I ask where did you buy it from ? I am in the market for a dell xps 13

Does anyone know if they added eGPU support to the Thuderbolt this generation? I had my eye on the 9350 which worked with eGPUs with a little weaking as they were not officially support by the device. Im hoping this 9360 supports it

Of course I will buy the 9360

Because I will always determine the processor first to buy a desktop or laptop.

Might get the "Developer" Edition later this year, my current laptop is a bit too large to carry everywhere.
Windows Central Newsletter
Thank you for signing up to Windows Central. You will receive a verification email shortly.
There was a problem. Please refresh the page and try again.