Dell's got a new little Inspiron Windows PC for your desktop
Dell has released its latest Windows desktop PC and while it isn't one for the performance hungry it does have its charms.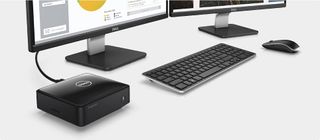 The Inspiron Micro is as its name implies, but still housing a full Windows 8.1 with Bing PC and enough ports for it to be genuinely useful on your desk.
There are two versions, one with a Celeron J1800 CPU and one with a Pentium J2900 CPU, with the former costing from just $179. Other specs include 2GB of RAM, a 32GB SSD drive, 4 USB ports and a full-sized SD card slot. For fans of wired internet there's an Ethernet port built in, so no adaptors required, and the Micro also has 802.11 ac Wifi support.
The Pentium powered model will set you back a little more at $229, but neither of these Bay Trail powered machines are aimed at the power users. Instead they'd make a great little desktop for work or for the kids, and Windows 8.1 generally runs pretty well on low-powered hardware. Check them out now at the Dell Store linked below.
Source: Dell (opens in new tab)
Richard Devine is an Editor at Windows Central. A former Project Manager and long-term tech addict, he joined Mobile Nations in 2011 and has been found on Android Central and iMore as well as Windows Central. Currently you'll find him covering all manner of PC hardware and gaming, and you can follow him on Twitter and Instagram.
Who has SD Cards now? This should have had a microSD slot.

Its better to have an SD slot that is both forwards and backwards compatible. Most MicroSD cards are bundled with an adapter anyway.

absolutely, SD is the way, microsd slot, pfttt

Everyone who still uses most digital cameras for one.

All of my digital cameras take microSD!

If they have SD card slot in their DSLR , then they should buy another lappy to use their SD card.... If company gives MicroSD slot..... As Micro SD adapters are available ..., its comfortable to have SD slot

SD cards are generally cheaper than MicroSD. MicroSD is no way better than SD when it comes to performance. It is only practical to use microSD on small devices like mobile phones or small tablets. For a device this big, SD card is just fine.

Some sd card are considerably more expensive than the micro variants, especially for use with pro camera gear - buy yeah, you're spot on.

Is that a Dell Keyboard and mouse in the image? What model is it?

I guess that keyboard belongs to Microsoft

Then you would guess wrong

http://accessories.us.dell.com/sna/productdetail.aspx?c=us&l=en&s=dhs&cs=19&sku=332-1396

Can I play games like GTAV on low settings with this thing?

Maybe lower your expectations. GTA V install is bigger than the SSD in this ;-)

Didn't noticed SSD space , until inread this comment

Lol didn't noticed :P
Thanks Rich

Your better of buying a £400 gaming laptop with i3 or i5 processor if you want to play gta V this is £500 http://www.windowscentral.com/e?link=http2F2... great for gaming

An Intel Core i-series cpu and the option to expand internal storage and memory would be nice.

Core i-series' stock coolers are almost as large as the entire device :D

Sure, but if MS is capable of making a custom fan, then dell should be, too!

I want it... Will give me a lot space to work...

To me, I think desktops are out. I would prefer a laptop and hook it up to monitors / keyboard / Mouse when needed. That ways I have mobility AND a workstation.

Yeah, USB C will be great for this. One USB cable for charging, video out, etc...

I still love to have a desktop. I find the keyboards more ergonomic, and because it is always in one place, it is always ready to go. Plus it is fun to open it up and upgrade and tinker...

@funkyGeneral; Thousand ups on that.

That's why I have a docking station at work. I use one cable to connect the laptop to the docking station and that in turn connects me to a full keyboard, mouse, large screen and the network via a gigabyte Lan. When done, disconnect the docking station and off I go with the laptop

Yep. Laptop with docking station gives you a truly mobile desktop.

Desktops FTW! Laptops are B$..

Actually, notebooks are out. Desktop at the desk, tablet on the couch and on the go. Best combination of upgradeability, performance and mobility, as well as price efficiency. Meanwhile, a notebook would be a compromise in all of these aspects. When it breaks, you are fucked and its price for performance makes it more expensive than getting a more powerful PC and a tablet. However, this device sounds more like something that you'd give a child for schoolwork or connect to a TV to make it into a smart system.

I don't think they will be all too soon. Laptops are most of the time not nearly as powerful. As a real workstation they do either not pack the specs or the cost efficiency.

I want a box like this where I insert my Windows 10 phone with continuum support.. Then eject it when I'm done.

Or rather a stand. Maybe something like the DT-910! With qi charging of course

This or the HP Stream mini

I like the hp stream mini. I had bad luck with a dell mini

they are identical ... i am betting Dell and HP are using the same OEM source for these

Wow, a whole computer for less than the price of a Surface 3 docking station.

Yeah, I want a docking station but it's way overpriced :\

I was thinking.. can this be an extension to a laptop/desktop? Like use it as additional CPU/RAM/Storage?

Hi Again - Would this be powerful enough to run Windows Media Center on? The idea to setup the media center on Windows 8.1 as it is going away in Windows 10.

The hardware should support it pretty easily. The problem is that you have to upgrade the OS to Windows 8.1 Pro, plus another $10 for WMC itself. The software is almost as expensive as the hardware.

Nice, but not sure it's for the kids. In my experience kids need video cards costing 2-3x the price of that box.

Replace your Roku with a full PC?

I don't see power cord connected?

It has it's own cold-fusion reactor inside

LOL, just pointing out so, people don't think this has battery like laptop. I understand they want to show nice pictures but they should be truthful also.

I prefer the Asus Vivo PCs, they have Core i3/5 options, support SSD etc., very neat little units!

Look at the pipo x7/x8. Same specs for half the price.

This seems like weird timing for a new Bay Trail box now that Cherry Trail is just coming out ... it has like 4X GPU cores which I wish I have in my tablet

I was checking this out on the Dell site just yesterday, even has one for $ 199 that come with wireless key and pointer. Think I will hold of on getting a new PC until after Windows 10 Mobile Lumia Flagship Device is released on the T-Mobile network I can pickup in store.

Maybe it's just me, but I struggle to see how these machines could be used for work or for the kids. While the processor options are definitely not the fastest (neither are the graphics), in the cases where I have used the 2GB RAM/32GB HDD combo's (primarily the Intel Compute Sticks), after you apply your patches, perhaps even Microsoft Office, and a Anti Virus application, you are down to less than 10GB of usable space. I hardly find that suitable for any real work or for some of the things that kids tend to want to do with the machine (unless we are targeting younger kids 10 or below). Now, in looking at the source link, where this could be a useful item is in the line that states: Storage that fits: Get plenty of storage space for your digital files with up to 500GB hard drive storage in a surprisingly small package.
I'm not sure how you would configure that or if you would have to call Dell directly to get it the option, but that line makes me think that you could potentially outfit this with a bit more space, which would then make it a useable option. If not, as others have mentioned, there are better options out there.

Much better than a Chromebox.
Windows Central Newsletter
Thank you for signing up to Windows Central. You will receive a verification email shortly.
There was a problem. Please refresh the page and try again.