Dev responds to Call of Duty: Black Ops Cold War crashing issues on Xbox Series X
Consider playing something else for a while.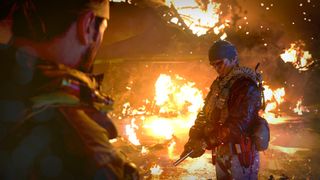 (Image credit: Activision)
What you need to know
Call of Duty: Black Ops Cold War is the latest entry in the long-running Call of Duty FPS franchise.
The game has had a rough start, with many issues and bugs revealing themselves after launch, especially on next-gen consoles.
On the Xbox Series X, this has led to multiple crashes and has even completely bricked consoles, according to user reports.
A Treyarch dev has responded to these issues on Reddit, hopefully indicating that the team is actively working on a fix.
A new Call of Duty comes around every year, for better or worse, and this year brought us Call of Duty: Black Ops Cold War, which earned a middling review from us due to its lackluster multiplayer. The newly launched game has also seen a ton of issues on multiple platforms, but especially on next-gen consoles like the Xbox Series X and Xbox Series S, and Playstation 5. One of the more serious issues is how Black Ops Cold War is consistently crashing Xbox Series Xs, and even completely bricking them in some cases.
Reddit user Junesfoshiz (via CharlieIntel) shed some light on these issues, discussing how Call of Duty: Black Ops Cold War crashed their system every 4-5 games, until eventually their console would simply not start up anymore. Reddit user FoxhoundFPS, a Treyarch developer, responded to this thread and to the reported crashing issues afflicting the next-gen powerhouse.
According to the dev, they're investigating "all crashes," and his "immediate recommendations are to make sure that you're using the correct version for your platform. Players have also shared that disabling Ray Tracing on XSX has helped." Call of Duty: Black Ops Cold War also has a Trello board to monitor community issues and to provide progress updates on incoming fixes and more.
In our own investigation, we found that the most likely culprit behind the crashes is related to how Call of Duty: Black Ops Cold War handles next-gen upgrades. Rather than use Xbox Smart Delivery, an intelligent system that installs the best possible version of a game for your console automatically (and for free), Black Ops Cold War has two different versions of the base game to choose from, and only the more expensive one includes the upgrade for next-gen consoles. Even with the cross-gen version, however, the Xbox Series X will still play the Xbox One X version, leading to crashes and eventually more serious issues.
It certainly doesn't help that Call of Duty: Black Ops Cold War has extremely confusing box art and messaging.
If you're having these issues, make sure you're playing the correct version of Black Ops Cold War for your system, turn off ray tracing for a while, and consider playing another of the Best Shooter Games for Xbox. If your Call of Duty: Black Ops Cold War experience is great, consider one of the Best Controllers for Xbox Series X|S to ensure you never lag behind, and one of the Best External SSDs for Xbox Series X|S so you don't run out of space for this massive game.
Another Call of Duty
Call of Duty: Black Ops Cold War
Hey, it's another Call of Duty!

Call of Duty: Black Ops Cold War explores the dark times of the West's battle with communism. With support for 120 FPS on the Xbox Series X, with full cross-play and support for mouse and keyboard play, this is the most PC-like Call of Duty on Xbox Series X yet.
Zachary Boddy (They / Them) is a Staff Writer primarily focused on covering the latest news, the best Xbox and PC games, and the most interesting hardware. They have been gaming and writing for most of their life, and have been with Windows Central and its sister sites since 2019. While originally brought on to write about all things Minecraft, Zachary has since expanded to write about practically everything that Windows Central covers. You can find Zachary on Twitter @BoddyZachary.
And with that, my decision is made. I won't be buying either version of the game.

I haven't bought Call of Duty for years and that isn't going to change. There are far better games out there that I would rather play instead.

Broken game, don't buy it

Well the suggestion to use the series x/s version on the series x/so is wrong. I was having this issue with the x/s version on my series x and I even disabled ray tracing. It still crashed my series x. But I then downloaded the Xbox one version of the game and boom! Problem solved. Zero crashes since. This problem was likely caused by a update because I didn't have any crashing problems for the first week it was released. I had played many hours no problem. Some update then caused my Xbox or cold war game to crash several time an hour. Use the Xbox one Verizon of the game till they figure out the issue. Unless you want to buy another series x.

So I was playing on xbox one x.... Get only nuketown teamdeatmatch March making is worse takes hours to get match they say that hardpoint domination killconfirmd are also in nuketown well did not got it in 3days. And now my ****** new xbox shut down and won't start. Can I hold them accountable for it ? I lost just 250 dollar because of theirs **** game..... Freaking idiots I hoped after ops 3 and 4 they learned their lesson but it is turning out they again facked up a simple game.... I do not anymore reccomand this game better buy MW if you don't have it that gives more fun and better play then this crap
Windows Central Newsletter
Thank you for signing up to Windows Central. You will receive a verification email shortly.
There was a problem. Please refresh the page and try again.